Surface Duo gets first monthly update [Update: Changelog is live]
The latest Android security patch and usability improvements are expected.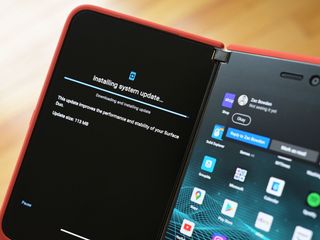 (Image credit: Daniel Rubino / Windows Central)
What you need to know
A fresh update is rolling out to Surface Duo devices today.
This is the first of what are expected to be monthly updates for Duo since its launch.
We expect Android's October security patch and general usability improvements to be included.
Microsoft rolled out the first of what are expected to be monthly updates for Surface Duo today. This update is expected to include Android's October security patch, along with usability improvements. It's likely we'll see some of the bigger bugs still present with the Surface Duo squashed with this update as well.
Update: So far, these are the version number changes we have noticed:
Touch version: 4.302.139.0 to 4.305.139.0 (new)
Build: 2020.812.86 to 2020.910.72 (new)
Kernel: 4.14.117-duo-d-2020_812_28+ to 4.14.117-duo-d-2020_910+28+ Sept 26th (new)
Security Patch: September 5th to October 5th (new)
Launcher: Version 6.2.200706.89893 (unless you're on sideloaded beta, then it does not overwrite)
Update 2: Here is the official changelog from Microsoft (opens in new tab) for today's update (unlocked only, for now):
Addresses scenarios outlined in the Android Security Bulletin - October 2020.
Improves call stability and experience.
Improves touch stability.
Improves Facebook Messenger single screen experience when launching by clicking on Facebook chat bubble.
Improves device stability.
This is also the first update to arrive since the day-one update Microsoft's provided on the day Surface Duo launched in September. It comes in at 113MB in size.
To check for the update, use the following steps:
Connect to a Wi-Fi network.
Select Settings on your Surface Duo's home screen.
Select System.
Select System Update.
Select Check for update.
Select Restart now.
There are no release notes available at the moment, but we'll update this post with the granular details once they are available.
We have heard from sources that AT&T-branded models may not get this update until a later date next week due to verification.
Surface Duo is available now starting at $1,400.
Order today
(opens in new tab)
Two screens are better than one

Microsoft delves into the future of foldables with an ambitious dual-screen device, featuring two ultra-thin 5.6-inch AMOLED displays bound by a 360-degree hinge. This pocketable inking-enabled Android smartphone marks the latest in the Surface lineup, geared for mobile productivity.
Main
Dan Thorp-Lancaster is the former Editor-in-Chief of Windows Central. He began working with Windows Central, Android Central, and iMore as a news writer in 2014 and is obsessed with tech of all sorts. You can follow Dan on Twitter @DthorpL and Instagram @heyitsdtl.
Downloading now. Hopefully this includes the launcher updates that people were testing a few weeks ago.

Feels smoother with gesture navigation

Currently spamming the Check for update button on my AT&T Surface Duo, no update yet. I'm hoping Microsoft has an update deal like Apple has where Duo OS updates aren't restricted by carriers, resulting in delayed updates. Considering there is only one official carrier release at the moment, I am hoping for same day updates for the unlocked and AT&T Surface Duo.

I've heard that AT&T will be longer :/

Oh, I remember the days of windows phone, when AT&T verification took weeks.
Hoping this time is a bit faster, but I'm not holding my breath...

Thank you for the information.

Verified. No Update on my AT&T Duo yet.

Zac says he hears next week for AT&T users.

I can wait... Like I've been saying, my 2 biggest issues are 1. Several aspects of the camera experience, mainly the spastic behavior of the screen orientation.
2. Audio over BT is very low, and lacking processing, such as Dolby sound processing to improve quality. But, I know these weren't priorities with this first update.

I've heard others talk about the audio over BT, but i haven't had that issue with either my Surface Earbuds or Surface Headphones (gen 1).

I've been having problems with mine not connecting via USB-c pass thru for wired headphones. Anyone with the same problem?

Yes, I've had this problem. It takes a second or two before the person calling me can hear speak when I'm using wired headphone to take calls. I think it may be fixed with the update. So far I haven't had this issue as of late yesterday. I'll continue to monitor

I don't think it's really what you would call an issue, rather it's just not as good as the sound quality on my Note9. The Note9 has a lot of sound virtualization options, and Duo's settings are sparse. I literally kept my Note9 for music in the car.... And, the camera. 🤷🏾‍♂️

rodneyej, I've seen the camera screen orientation problems (camere freezes for about 1 second when rotating the phone, and is generally just very slow to shoot when pressing the button), but Bluetooth audio seems fine for me across several Bluetooth connections (car, 2 different sets of earbuds from different brands, shower speaker, home stereo, etc.). Is that definitely a Duo issue in general? Could it be something specific to your Duo or Bluetooth device?

No, it's not an issue as in there's something technically wrong with it, rather it's just not as loud, and precise, as other devices. Sound over BT sounds less full than other devices. Duo needs an EQ, and some type of volume booster built in.

I'm an AT&T customer, but bought my Duo from Microsoft to avoid these kinds of delays.

Good luck with that. AT&T is notorious for release weeks after. They have to build their bloat into the updates. They never release day of as unlocked. When I had the Duo I specifically DID NOT want the AT&T version because this is one phone I would rather MS control the releases and not the carrier.

Luckily I really don't have any major issues, so I can wait. It's true, though, AT&T always takes ages to release updates.

Same here. I really don't experience any annoying bugs (knock on wood) .. I'm OK waiting for ATT to push out the updates and hope THEY don't add any bugs.

I had Insider builds with wp so I don't remember the issue after wp7 mango. Hoping that happens now with duo. I'd sign up for Insider right away.

But, Duo never really has had as much AT&T bloat as a lot of other AT&T devices I've had.. Why would they start now? They are just waiting to see how the update performs on unlocked devices first (verification process)

Even if they don't add a bunch of bloat, for this type of phone, I would much rather have the update managed by MS. This phone is delicate.

It's practically the same update... And, I don't see where Duo's update potential would be any different than any other device. What do you mean by "delicate" from a software sense?

Maybe we should spam att lol

It's not going to get them to release an update any faster. They have a system of checks and balances in place and they're not going to get away from that... I bet AT&T's update is ready, but they are taking advantage of holding off to see if the update affects the unlocked devices first, which it could negatively.. This saves AT&T from any misperception that it's their fault if something were to go wrong. 🤷🏾‍♂️🤷🏾‍♂️🤷🏾‍♂️

Update installed. So far the only change I've seen is Edge opens without the 7 second pause.

Edge does seem zippier to resume - basically instant now. It'll be curious to see in a few hours/in standby what happens. I've heard the reason that happened was Edge was built to support many older versions of Android, and that support is also the cause of the lag. MS is (or is planning) basically splitting the builds between "everyone else" and "Duo."

Been using edge as new instance. When u click the icon. When it in standby that also clears the website but my older Android held the website till I closed it. Does the update restore that behavior?

Reminds me of the Nokia WP days.

Camera screen switching seems much smoother now, and without any noticeable bugs. One of the ways they have enhanced this is by opening the camera app in the left screen when the Duo is opened, reducing the need for the extra step if you want to take an outward photo. Folding the device back correctly places it on the correct side for whatever you are doing.

That's the way I always wanted it to function by default.

Sweet. So I wonder if the cam itself has tweeks too?

It doesn't appear so. Hopefully next month!

Cam definitely behaves better when flipping the screens over

Update info now listed for October update https://support.microsoft.com/en-us/help/4578416/surface-duo

Would be cool to have an update video that shows the new performance.

And, have all those reviewers do another review after this update.

Yep, they definitely should.

Nice! Been waiting for this, and installing now.

Was debating financing the Duo through AT&T vs. Microsoft. It looks like Microsoft just won the argument.

My update did NOT update the Launcher to Version (beta) 6.2.200904.91704. My Launcher is 6.2.200706.89893. (I don't know if this was new to this update.) What's more reading theads here and elsewhere, I gather this update does not overwrite a beta version of Launcher, that is, if someone chose to sideload it. So, maybe whoever saw (and posted about) the new Launcher version was only seeing the beta they sideloaded. What are you seeing?

That makes sense. Will update.

Thanks. Helps avoid confusion. Now, can anyone say whether 6.2.200706.89893 is an update? Or is it the same one we had after launch.

version 6.2.200706.89893 after the update.

Talking about AT&T! Meanwhile I'm still on July 1st security patch on my LGV60 on T-Mobile smh. I'm about to switch to AT&T.

I wouldn't switch just for updates. AT&T doesn't exactly have a stellar record!

Nice update. Waiting for this one. Did a second reboot after the installation completed. Overall speed and response seems better. Edge launch is quickly now. Hope call experience is better.

My camera still freezes for just under a second when rotating the phone (not flipping it, just rotating between portrait and landscape). I haven't seen others report that. Is that just me?

That's not a bug, that's the camera AI switching from face cam/selfie mode to worldview mode - see how the image changes too.

It appears we need some education on the Duo camera app. Maybe there is an article already out there on this.

Dan, I can't visually detect any change to the image just from rotating. I do see that when flipping the phone between selfie and worldview. Note that I'm talking about just rotating between portrait and landscape, not folding the phone to switch modes. This brief freeze occurs regardless of whether I'm in selfie or worldview mode. On further experimentation, I think it's freezing the video to rotate the flash, timer, and ellipsis icons. That's pretty silly, because it doesn't rotate the words on the other side of the screen and other cameras just rotate icons seamlessly without freezing the camera. Still, now that I know what it is, I can live with it. If not a bug, at least a poor UI implementation.

Just received the update on our AT&T Surface Duo.
Windows Central Newsletter
Thank you for signing up to Windows Central. You will receive a verification email shortly.
There was a problem. Please refresh the page and try again.