Microsoft details a workaround for virtual machine bug in Windows 10 build 10049
Microsoft has gone into more detail today about a nasty bug affecting machine virtualization in the recently-released Windows 10 build 10049.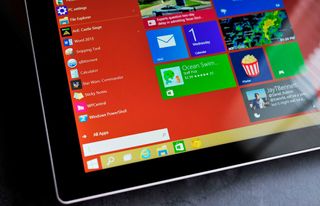 Windows 10 build 10049 was released just yesterday, but it was recommended that those running virtual machines hold off on updating due to a bug with virtualization software Hyper-V. Microsoft went into more detail on exactly what the bug is, and how to work around it in a blog post today:
The bug stops us from being able to correctly register one of our system drivers if you choose to install Hyper-V. It should be noted that if you already have Hyper-V enabled, and then upgrade to 10049 - everything works fine. It is only if you install build 10049 and then enable Hyper-V that you will hit this issue.
If you want to use Project Spartan and Hyper-V on the same system - what you need to do is:
Install an earlier version of Windows 10
Enable Hyper-V
Upgrade to 10049
Alternatively, as noted yesterday, those using virtual machines in the Windows 10 Technical Preview can move to the slow ring and wait for a build with a fix for the Hyper-V bug to roll out there.
Source: Microsoft (opens in new tab)
Windows Central Newsletter
Get the best of Windows Central in in your inbox, every day!
Dan Thorp-Lancaster is the former Editor-in-Chief of Windows Central. He began working with Windows Central, Android Central, and iMore as a news writer in 2014 and is obsessed with tech of all sorts. You can follow Dan on Twitter @DthorpL and Instagram @heyitsdtl.
And now for Firefox... Just wait... Its coming... I can feel it... Some day... Any day now...

Good to know. Although this mentions Hyper-V installation, might want to clarify that this affects running a vm within Windows 10, rather than Windows 10 as a vm.

Mate I think this is running VM on windows 10, not win 10 in VM. this bug existed on 10041 and earlier builds .

Yes, absolutely a good point! Thank you. I am one of those running Windows 10 in a VM, so I for one really am relieved :)

I don't use Hyper-V personally I like more VMWare, anyway I was unable to use it with Windows 10 as Host, but with 10041 I stop having problems with it and neither I have with the 10049
Still hope to have a Hyper-V fix soon for the folks who use it, that I know there are many

It's required for Windows Phone development ;)

I know that it is required, but I'm not a Windows developer (neither mobile of any platform)
Still I think that Hyper-V is great, just personally I prefer VMware

I used to use Virtual Box, but latest versions have had so many issues, both with the OS I'm running it on (Windows 8.x+), and the OSes i run on it (Windows 2000, various linux distros, Windows 3.1, Windows 95). I switched to VMWare, and i gotta say, it is nice; Don't like that I can't specify a premade VHD as the disk durring creation of a new machine, but it's nice. However, I find it cool that Windows now has it's own built in virtualization technology, and wish more computers supported it so I could give it a try. If i had a compatible PC, I'd give it a try, and probably switch to using it instead if it met my needs.

As I know you can choose an already create VHD when creating a new VM in Workstation 10 and 11, don't know old versions
And I have already use Hyper-V but for work I need Kali and other specific linux distribution which are not compatible with Hyper-V, still I think that it is a really good virtualization software

Just wondering why not directly install the preview on the VHD you created? It runs native that way and you can dual boot it with your current setup. Unless you are testing all VMs at once, I think directly installing on VHD would be better.

Hmm.. I've been avoiding my copy of VS 2015 because I knew there was a bug there... guess I didn't need to. Now just need the XAML designer fixed.

I upgraded yesterday in my Hyperv virtual without problems

No this is not true. The first time I upgraded from 10041 to 10049, with Hyper-V enabled, I got error 0xC1900101 - 0x30018. I had to disable Hyper-V from Program and Features, and then upgrade to 10049.

Finally installed in my vm today :D took a few tries

Anyone one else notice the new Battery Menu you get when clicking the battery icon in the task bar? :) loving the new features! Also, when using Project Spartan, after going to multiple websites that test your browser and tell what your using,lots of things say Chrome 39, or IE12, one said simply IE. Also, Google's own website to show what browser your using says Spartan is "Chrome 39" lol

I use parallels on my mac (would love to get a surface 3) and the first time it went in to the black install screen but stopt. Second time it won't finish install at all. Is this due to this bug?

No, this article refer as using Windows 10 as the host and running other vm on it using Hyper-V

Thnx. I will use the insider app
Windows Central Newsletter
Thank you for signing up to Windows Central. You will receive a verification email shortly.
There was a problem. Please refresh the page and try again.