Microsoft dispatches firmware update for Windows RT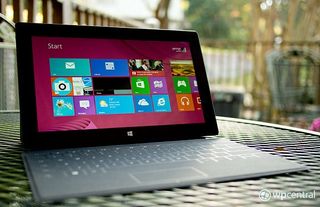 There's a firmware update available for your Microsoft Surface running Windows RT. There's really not much to the update but is designed to provide system improvements to audio playback when in Connected Standby and provide additional capabilities for handling firmware updates when your battery is low.
The update also includes a handful of security and non-security fixes and updates for Windows RT.
You can check for updates on your Windows RT device by swiping right on the screen to pull up the side bar menu. Then tap on settings, tap on Change PC Settings at the bottom of the menu and Check for Updates will be the last setting listed. All totaled, it takes about five minutes to download, install the updates and restart the Surface.
Source: ZDNet (opens in new tab)
George is the Reviews Editor at Windows Central, concentrating on Windows 10 PC and Mobile apps. He's been a supporter of the platform since the days of Windows CE and uses his current Windows 10 Mobile phone daily to keep up with life and enjoy a game during down time.
Good. Gonna update it when I get home tonight.

I want a fix for the limited connectivity on Wi-Fi problem.

There's a registry workaround at the moment that completely stops this from happening, in my experience. It does limit you to 802.11g speeds, but it's not really that big of a deal.

I've never had this issue but on the Surface forum I'm on users that did say it was fixed on a previous update. You might also want to check for a firmware update on your router.

Not certain what the update that supposedly fixed the WiFi limited problem actually did because I have that issue every day i go to work. And that's with two surface devices. I've been meaning to check out the work around. But i have to say, this problem is really annoying, especially having to restart the device every time to get on the internet.

Try disabling and re-enabling your wireless adapter instead of a reboot.

This fixed a problem I had with displaying videos on web pages like WPCentral.

I would like a fix for high disk utilization making my surface unresponsive.

Yes I'd like this but this is a problem like all pcs have lol. I want Xbox music to stop being a dick

Don"t use Xbox Music! I use Win8 Ent and my experience is that Xbox music is the app to avoid. Find a substitute...VLC, WinAmp, Zune, or whatever's available. Xbox Music, in my experience, has only been unstable and generally unreliable and frustrating.

While there are substitutes in the windows store, xbox music is the only one that can utilize my Xbox Music Pass.

I want then to fix the SD card to work with the library like they told me on the phone when I ordered it. The work around make a mess of my memory.

I have zero problems with Xbox Music on my RT.

Which workaround did you use? I mounted the SD card into a folder and haven't had any trouble yet.

Which mounting technique dud you use, if I can ask?

This surface rt is frustrating.

Equally frustrating... people who post random, vague, over-generalized complaints without explaining what they mean.

Sorry sir, I had a defective unit that's why I was highly perturbed. All is well got it exchanged.

What frustrates you exactly? For what it is, it works pretty well for me. You just have to understand its limitations. It may not be a full W8 laptop, but then again its a lot closer than an iPad.

Would also be nice if we could have the sd card in our libraries without a workaround.

The "workaround" is more like a solution

Would be nice if SkyDrive could sync to an sd card. Not in need of a pro but can't buy a surface or any RT tablet if I can't work with my SkyDrive files offline. Know what I can do in that regard?

Save files to a USB stuck before you go offline on your surface? Go to places that have free WiFi like Starbucks? Buy a mobile hotspot device or purchase a cell phone plan that includes mobile tethering? These are some options.

This is a Windows "limitation" and it's one of those things that they really could and should "fix" if they put some time into it.

Completely agree. They told me on the phone when I ordered my Surface, that the SD card is to store my library items such as music, video, and pictures. So hurry up already and fix what you sold me on.

I would think that they could just have the Xbox Music/Video apps always look at the sd card as a target without having us have to tell it to.

I really don't care if RT unified an sd card like WP7, but if I can't edit my docs or pics or browse my current SkyDrive sync on my WRT tablet it is useless to me. I really want a surface too as my laptop replacement and that is the holdup for me.

The "workaround" works fine for me.. My default save locations for docs music vids and pics are all on my SD card. No mess here. I know it would be nice if it would just index the SD card natively, but if the workaround works, what's the big deal?

The problem is with indexing removeable storage. This is a windows limitation, not just an RT limitation.

Rt will be dropped at some point. Lack of apps and a laggy tablet kinda pisses me off. Feel like I got cheated.

RT is an almost-identical port of Windows 8. RT is capable of everything Windows 8 is capable of, just locked down. Those "locks" can be changed at any point with an update, so I think that is a rather bold prediction.
A simple update could allow desktop applications to install and run on RT. This has already been demonstrated through hacks.

Yes and no. RT is an ARM-based OS. It is capable of everything that Windows 8 Metro UI is capable of, yes. But not the behind the scenes things like running desktop apps. Yes, there is a hack that allows apps to be installed and run, but only apps specifically compiled for ARM-based systems. You can't use a hack, download Call of Duty, and play it, for example. And the desktop apps that the hacks have managed to get running severely hinder battery life, so in truth the windows 8 RT is like half of Windows 8 proper. But in the tablet form, that's fine for me.
Do I wish it had more apps?
sure.

Do I wish it was a little snappier in some ways?
sure.

But for a tablet with 10 hours of battery life, a netbook-sized bundled keyboard, and the full MS Office suite, I'm quite satisfied that it does what I need it to do.

Apps will happen and I'm not seeing any lag at all in the tablet. Its been pretty amazing actually. I can get about 98% of my work done on the Surface RT. And I use the heck out of it, not just casual entertainment stuff.

Not to sound like a dick, but you shouldn't feel cheated because you should really know what your buying in the first place. For now RT tablets are indeed for early adopters, at least until the app store matures some more. I advise anyone interested in them to look instead to the Atom tablets that are almost the same price point yet offer better performance and full Windows 8.
The story may change when Tegra 4 hits the market, but then again, Intel isn't lying down either. I don't know if RT will be "dropped", but I do have to wonder about its future when Intel is quickly catching up to ARM in energy usage. I'll probably always want to have the capability to install x86 apps.

no i knew exactly what i was getting.

I dont find RT laggy whatsoever and app selection will only get better and better. It will not be dropped.

Side bar menu? Or Charms?

Idk all the fuss mines runs like lighting only proble. I have with Xbox music is I can't delete songs not on my tab and causes it to play samples when online or skips it when off

Can't use other media players cause they don't play DRM

Everytime I delete songs from my Xbox music it pops back up even though not on the comp and can't redownload them either

you know what bothers me? i am not sure if it is just my surface or not, but i can't seem to set my surface to NOT install updates automatically, an only check for them and inform me, like my windows 8 pc. anyone else having the same problem?

I believe it does it on it's own schedule

Just go into the update menu of windows and set how you want it.

We could do with another performance update

The update seems to have given me 4 rows of tiles on my start screen. I like it!

I'd restart it. This is a bug that happens on occassion.

Yes it is a bug, but if you put the proper registry entry you can get 4 rows and it stays after reboots, although it does reduce the size of the onscreen keyboard since its a scaling hack.

What is the registry fix?

Rebooting with your Touch or Type Cover closed seems to be the most common cause of this bug.

Also, as soon as you turn your screen off and then on again, it'll be back to 3.

I love my Surface with a passion. Wish the kids who know nothing about it would stop pretending to know something about it.
ALSO, friendly reminder; Back up those IECOMPAT xml files in case this update replaces it.

This is sorta unrelated, but does anyone know of an app for the surface that will allow me to annotate PDF files? I can't seem to figure it out...

What about the Adobe Reader?

Yes, look for an App called PDF Touch.

What M$ needs to dispatch is a Surface price redux. Period.

Maybe they can dispatch you a job so the price point won't break your bank.

Brutal, LOL. I do agree, if they want to be competitive dropping the price a bit is needed. More market share brings more developer interest for paid apps. Paid apps brings a percentage to MS. Perhaps covering the loss in margin on the hardware side...

Excellent! Finally fixed the audio!
Continues to play when you hit the power button and when going into standby!!!

Does this fix the mute bug? When I open the type cover the windows mutes the audio some of the time.

Update also made sound louder. Noticed a big difference watching videos and using ESPN app.

Bluetooth audio now works with my Braven speaker-excellent!
Windows Central Newsletter
Thank you for signing up to Windows Central. You will receive a verification email shortly.
There was a problem. Please refresh the page and try again.