Microsoft ends Windows 10 version 1607 support for Home and Pro editions
If you have a PC that's still running the Anniversary Update, you may want to upgrade ASAP.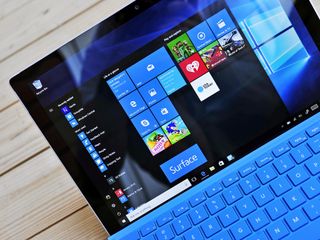 Alongside the release of the April Patch Tuesday updates today, Microsoft also formally ended support for Windows 10 version 1607, known as the Anniversary Update, for Home and Pro users. PCs that remain on the Anniversary Update will no longer receive Microsoft's monthly updates going forward, potentially leaving them insecure.
In a note accompanying today's Patch Tuesday update for Windows 10 1607, Microsoft explained;
Though Pro and Home users are impacted by this move, Windows 10 and Education editions will still receive six months of additional servicing for version 1607, ending on October 9, 2018. Long-term servicing channels will still receive updates through October 2026. However, Enterprise and Education editions aren't all in the clear: Today marks the end (opens in new tab) of additional servicing for Windows 10 version 1511 as well.
This is all part of Microsoft's Windows as a Service (WaaS) model, which sees the company releasing more frequent major updates, but with a shorted general support period for each update. Though the Anniversary Update may no longer be supported for Home and Pro users, the Creators Update and Fall Creators Update will continue to receive monthly security updates in the coming months. Microsoft is also expected to release its feature update for spring 2018 any day now, so it will be added to the list soon.
Windows Central Newsletter
Get the best of Windows Central in your inbox, every day!
Dan Thorp-Lancaster is the former Editor-in-Chief of Windows Central. He began working with Windows Central, Android Central, and iMore as a news writer in 2014 and is obsessed with tech of all sorts. You can follow Dan on Twitter @DthorpL and Instagram @heyitsdtl.
How long have we been using W10 now? 3 Years?

And many more years to come. Thanks to WaaS. :)

Close to 3 years if we're counting from RTM

My two main home computers are still on Windows 8.1 and still loving it! Heck I'm typing this on my SP3 which is still on 8.1. There has never been a better OS created.

As I clearly stated... "There has never been a better OS created."
:)

Actually Windows Vista and Windows 7 was the best (if it wasn't for all that User Account Control warnings popping up every time).

Windows 7 let you alter the popup level and, personally, I never saw any UAC pop ups on Vista once everything was installed.

That's what I thought until I opened Microsoft Store on a Windows 10 machine of mine. Then I instantly upgraded all my PCs.

3 years and still a mediocre junk tested by guinea pig insiders.

Waas a half assd service. It was a half baked OS and finally it is looking finished. Three long years of buggy suffering. And the new one is so badly deployed that it won't install in the stick because of lack of space to install in c: What a mess has MS become. I guess there is less of a chance of failing

you are the only one that thinks Windows is a terrible OS. Everyone else here thinks that the newer faster updates are a definite improvement.

You're wrong. I think Windows 10 stinks. So buggy.

There are a few desperate fanboys here that would put up with any junk coming out of Nadella's @$$..

I agree that the RTM of Windows 10, both desktop and mobile, sucked. However, they fixed most of the usability breaking bugs with the anniversary update, and things have only improved from there. Windows 10 Mobile remains awful, however. VASTLY inferior to 8.1 on so many levels it's ridiculous. Then again, Microsoft pretty much gave up on mobile the day Nadella became CEO.

Runs fine on my Alienwares and Surface Pro...

It's also the end of support for 1607 on Windows 10 Mobile. You could have mentioned that

Doesn't really matter. Wincrap 10 mobile is dead anyway

This is actually windows as a DIS-Service.
There are machines that were updated to win10 but are not able to be updated to "current" version.
I have a tablet which has a processor that is no longer supported.
So I guess if I roll it back to 8.1 I will again have service until 2023. How stupid is that?

:))) Microsoon's version of stupid. Ever since Nadella took over they have reinvented the meaning of stupidity.

I was just thinking that. Win 7 and Win8.1 get support until end of life. Not sure I would have updated to Win 10 if I had known they'd only support the latest 3 versions, or service packs, which are essentially what these different versions are. I work for a small managed service provider and we blindly started allowing W10 machines at various customers and we've started to see these full window pop ups of support warnings on older versions of W10. Customers are asking why these major updates have not been installed. It's embarrassing. Seems our service of "white listed" updates from Labtech did not include them so we suddenly realize we have dozens of unprotected W10 pics out there. This sort of sucks. I liked it better when Windows got regular smaller updates and service packs were released every couple years. Managing it all was a lot simpler.

Sorry fans but, Windows 10 is turning into bluffware. It's getting too much stuff, too many background services. When it comes down to it, Windows 7 or 8.1 is Windows with out the fluff.

I really wish they would work on making existing updates actually successfully update on everbodies systems before going for new updates. I have a couple computers that update just fine and now two that will only update if I do a fresh install. Every single time I try to do an update it ends up locking up after the reboot when it does that % counter and then does a roll back. It's been doing that since damn near the very first Win 10 updates. We've had some similar issues with test computers here at work and that is part of the reason we are still on Win 7.

So I left an anniversary win 10 PC at my grandads, shut off, in the basement, 2000 miles away. After the 10th I cant even update it to creators, even if I fly there?

At work the PC kept coming up with the message to update, I said yes, it failed midway through, every single time. So it didn't update. I don't care, as it's not my PC anyway, but the messages to update keep coming up, even though the cutoff was two days ago.

Is it possible to directly jump from RS1/2 to latest RS4? I mean will I need to install the pending RS3 update first? Sorry I'm on Windows 7 so don't have any idea.