Will Microsoft's smartglasses strategy be overshadowed by rivals?
Virtual reality (VR) and augmented reality (AR) wearables are still in their infancy, but Microsoft is preparing the foundations to bring the technologies together into one device. But it won't be the first to do so.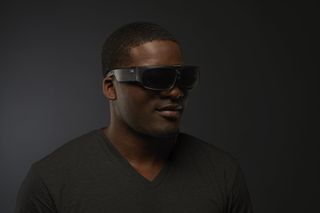 AR and VR wearable technology are different and inspiring. The lenses of VR headsets are opaque, which occludes the surrounding environment, immersing wearers in a digital world. Gaming, exploration, content creation and more are some VR applications. Microsoft's partners have already begun bringing affordable VR headsets to consumers.
The lenses on AR headsets, like Microsoft's HoloLens, are clear. Thus, wearers can see their surroundings while they interact with digital artifacts or holograms overlaid on the real world. AR-enhanced surgeries and car manufacturing where adjustments are made to holograms rather than expensive physical prototypes, are examples of AR uses.
What if the distinct strengths of AR and VR were brought to one wearable device? Microsoft's HoloLens creator Alex Kipman, recently garnered attention by announcing that Microsoft is on that very path. But peering outside of Redmond reveals that companies like Samsung and Osterhout Design Group (ODG) may grab consumer mindshare for such a device before Microsoft.
Growing pains
Some AR wearables, like ODG's smartglasses and Microsoft's HoloLens, are self-contained mobile computers. Conversely, Google Glass is a streamlined, phone-dependent AR peripheral. Unlike AR wearables, most VR Mixed Reality headsets need to be tethered to PCs.
AR and VR wearable technology are expected to become more streamlined, more powerful and mainstream over time. Currently, ODG's R7 smartglasses, Google Glass, and HoloLens are establishing wearable AR technology in the enterprise (ODG's recent R8 and R9 smartglasses are consumer-focused). Conversely, VR's initial foothold is aimed at the consumer space.
The goal is a single user device where lenses would transition from opaque to clear for VR or AR experiences.
The Windows 10 Falls Creator update has expanded Microsoft's Mixed Reality platform (which powers Windows AR and VR) to provide the foundation for just that functionality. Samsung's "Monitorless" concept and ODG's R8 and R9 smartglasses, have already given us a glimpse of what the future may hold, however.
Samsung 'Monitorless' AR/VR smartglasses
Samsung's Monitorless smartglasses concept allows a user to remotely view his desktop. Via a WiFi connection to a Samsung smartphone, the glasses would use a high-speed connection to reach a personal computer. The glasses would function as the remote "monitor" to the connected PC, while a phone or even a gamepad could be used for interaction.
The glasses, using electrochromic glass, will allow the lenses to transition from opaque to clear to provide an AR or VR experience.
Monitorless is not a standalone computer like Microsoft's HoloLens. It's also less sophisticated in that there's no gesture, voice or gaze control or immersive audio experience. Monitorless provides a simple remote PC (or a projected smartphone screen) experience via wearable tech. The point here is that the concept, which may make it to market, introduces VR and AR on a single device.
ODG smartglasses vision
ODG CEO talks about converging VR and AR on single device.
ODG's R8 and R9 AR smartglasses, though not as complex as Microsoft's HoloLens, are impressive. They are standalone wearable computers based on Android Open Source Project (AOSP) and ODG wearables generally have a strong presence in the military and enterprise.
The company's 2016 partnership with 20th Century Fox via its media assets like the WSJ, Fox News and more, are expected help ODG CEO Ralph Osterhout bring its devices to consumers. Osterhout said:
ODG's smartglasses also received THX certification which guarantees that movies viewed via the R8 and R9 smartglasses are being seen as the directors intended. The visual standards ODG has set for its immersive media viewing VR experience combined with the data-driven vision of the AR experience creates a platform for a single device that provides a strong AR and VR experiences.
Osterhout introduced that very capability via an attachment that converts the wearable from an AR to VR experience. Though, not as cool as lenses that transition between transparent and opaque states, it does provide a real experience, on an actual device that can be purchased this year.
Microsoft's platform play
Microsoft is aiming to provide the platform to enable AR and VR on an individual, and looking forward, a single device. This is a very different and broader strategy than its rivals device-centric approach. Via Windows Mixed Reality and the Windows 10 Fall Creators Update, Microsoft has provided developers with tools to help make the company's vision a reality. Microsoft has provided API's that enable an app to function as both an AR or VR app.
Microsoft's approach can potentially power an industry of partner devices. VR Mixed Reality headsets may be followed with HoloLens-like AR headsets and which may be succeeded with AR/VR smartglasses. Microsoft and Osterhout envision cellular connectivity will ultimately be part of smartglasses. Osterhout, even noted that adding telephony would be just an additional six dollar production cost to the AR/VR product he's already bringing to market.
Microsoft's platform play may make the breadth and depth of its AR/VR strategy difficult for rivals to combat in the long-term. On the other hand, Microsoft is also slow with bringing products to consumers. Samsung already introduced a concept and ODG has already introduced an actual product.
Will Microsoft's vision of a single AR/VR wearable be overshadowed by the competition?
Get the Windows Central Newsletter
All the latest news, reviews, and guides for Windows and Xbox diehards.
Jason L Ward is a columnist at Windows Central. He provides unique big picture analysis of the complex world of Microsoft. Jason takes the small clues and gives you an insightful big picture perspective through storytelling that you won't find *anywhere* else. Seriously, this dude thinks outside the box. Follow him on Twitter at @JLTechWord. He's doing the "write" thing!