2012, Microsoft's Epic Year?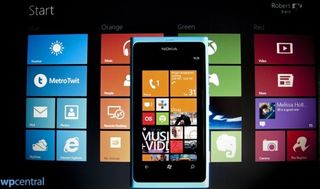 Steve Ballmer took to the stage yesterday at Microsoft's annual powwow, the Worldwide Partners Conference. Steve was as bullish as ever calling 2012 an "EPIC!" year for Microsoft. Steve is always excited but this time Microsoft does have it 'going on'. Why is Steve so pumped, and what makes 2012 a year of "epic"?
Product Launch Extravaganza
This year will see Microsoft simultaneously launch Office 15, Windows 8 & Windows Phone 8 - the first time all three updates have come along at the same time. As Steve says himself, it's going to be a "huge!" deal. Why so huge? Late 2012 will see Microsoft not only bring their entire line-up of products together by implementing their Metro design UX across the board, they will also be ushering in the deep layer underpinnings for a total platform refresh.
Microsoft is finally bringing their entire eco system together as one cohesive story. For the longest time we have had many similar, but fundamentally different products from Microsoft. At times, it has been difficult or impossible to get these products and services to play nicely together. That's all about to change. With Windows 8 and Windows Phone 8 now sharing a similar UI and codebase new experiences will become a reality. Combine that with a powerful suite of cloud services, a rich Marketplace full of Apps, Music and Video and we see a powerful and compelling story emerging.
The Living Room Play
The story of course doesn't end there, we also have the Xbox360 in the living room providing a crucial link to the biggest screen in the house, the TV. In the last few years the 360 has gone on to own that place in the living room. The missing piece in the eco system story is now the enhanced Xbox companion product, which they now call SmartGlass. With this new 'Play To' enhancement, we should finally see a viable competitor to Apples Airplay emerge and put an end to the Xbox360 existing in its own walled garden.
Rapid Consumer Deployment of Windows 8
Steve Ballmer estimates that around 375 million PCs could be sold within the next 12 months. From October, they will all come pre-installed with Windows 8. Whilst they will be a rich mix of tablets, PCs and desktop machines, they will all have one thing in common. They will all have the WinRT underpinnings and by proxy, Marketplace access. If you are a developer and Steve Ballmer is right, then you'll have a target audience of around 300mn for your application in the marketplace.
Again, that is not all. Microsoft has also re-imagined the way they will ensure existing Windows users move to the next version of the OS. Every single person that has a copy of Windows, whatever version, will be able to get the next version of Windows for only $39.99. It is imperative that Microsoft make the transition to the Windows 8 eco system as quick and painless as possible. With an upgrade this cheap and accessible, and considering how painless the process will be, it should mean we'll see some serious numbers making the switch. The underlying story here, although MS predicts 300mn of new PCs will sold in twelve months, the total number of Windows 8 users after the upgrade could swell that number to around double that.
Hardly A Stone Unturned
I would be remiss in not mentioning the advent of Surface, their stunning tablet products designed from the ground up to highlight Windows 8. A product that on its own is an epic move from Microsoft; it will be the face of Windows 8. I suspect Surface will be the best tablet you'll be able to buy running their new OS for some time. That is unless OEMs can finally get their act together and produce some stunning new hardware.
With the combined launch of Windows 8, Windows Phone 8, Office & the updated Xbox story all happening at the same time, we're going to see a tidal wave of advertising. For those of us who follow tech news, every little twist and turn along the way will still seem pretty exciting. To the normal person its simply going to look like Microsoft re-invented itself. I expect the knock on effects of this 'glow' to bolster the entire ecosystem and hopefully we'll see more and more people taking the plunge with Windows Phone.
Yes, Steve - I admit it's going to be epic.
Get the Windows Central Newsletter
All the latest news, reviews, and guides for Windows and Xbox diehards.