Price tag for Windows 8 Pro upgrade is just $39.99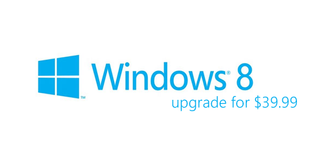 With the anticipation and impatient wait for Windows 8, many have been wondering what the fee will be for upgrading from a previous version of Microsoft's operating system. The team have announced on the Windows blog that the cost to consumers who wish to take advantage of Metro, among other Windows 8 Pro features, is just $39.99.
Competitive pricing that follows Apple's approach with the latest Lion instalment, Microsoft is set to open up Windows 8 Pro to a larger audience. Those who are running Windows XP, Vista, or 7 installations will be eligible for the upgrade discount. What's more is that you get Windows Media Center for absolutely nothing at all. Good job, big M.
By buying the upgrade through Microsoft's website, the Windows 8 Upgrade Assistant will walk the consumer through the process step-by-step, making it as user friendly as possible. From detailed compatibility reporting (hardware and applications) to actually downloading and installing Windows 8, the assistant will make the consumer's life easier.
Items that can be carried through the process include settings, personal files and apps (depending on what system you're upgrading from). Of course, as well as the upgrade option, one can always choose a fresh installation. Once the Windows 8 Pro upgrade has been purchased, it can be transferred to external media, and Microsoft also offers an option for a DVD to be posted (for a fee).
Who can upgrade? Microsoft is planning to support 100 countries and 37 languages. The full price of the Windows 8 Pro upgrade at local stores will be $69.99 during this promotion, which lasts through January 31st, 2013. But if you're like us and are building your own PC, or are trying Windows 8 out in a virtual machine / on a separate partition, you can purchase and install the Windows 8 / Pro System Builder product.
Source: Windows Blog
Rich Edmonds is Senior Editor of PC hardware at Windows Central, covering everything related to PC components and NAS. He's been involved in technology for more than a decade and knows a thing or two about the magic inside a PC chassis. You can follow him over on Twitter at @RichEdmonds.
I'm all for making it cheaper for people to upgrade. This will put Metro in a lot of hands. Well done, Microsoft!

MS is clearly taking the page out of HP's playbook that HP never got to. Put your mobile OS on every PC shipped, or shipping, and you have an instant user base for developers. And provided the Apps run on xBox, PC and Phone 8 with no extra work MS has taken it a step further. I applaud the cheap price as anyone with an old xp machine can run it, and will for $40. 5 please.

As a Windows Media Center specialist, I wish they put more effort into Media Center than just copying it from Windows 7. I have a lot invested into Windows Media Center, with extenders for MS to just drop it

So far as an OS I question Windows 8, just because the metro interface is not that great with a keyboard and mouse but, I can see it being awsome for a tablet.

Maybe Smart Glass might replace that experience.

Really wish they did something with Smartglass and Media Center... it would of been sweet !

and I forgot to say above, $40 for any Microsoft OS upgrade from a past version is a good deal, no question. Great job MS for not having a $100 upgrade cost as normal

I love Media Center as well and am glad to see it's included in this upgrade. It will be interesting to see if Win 8 multimonitor support will affect the cableco's limitation on number of screens with Media Center. MS has a real opportunity here.

I can't seem to understand why people keep talking about the Metro Start screen mouse and keyboard functionality. It works fine for me, but even further, I would say the if you setup frequently used items in the taskbar and in hidden docks in the desktop included in Win 8, you will never see the Metro Start Screen except when initially clicking the Desktop tile or if you lock it while on the start screen. only other scenario is if you have a portable device that docks/undocks; if it is used as your desktop/laptop/pad....one device multipurpose, if it is a pad or slate (touch device), when you undock it, you would use the Metro Screen primarily because you would pin your games, news, fun things you like on the start screen unless your doing productivity work and again you would only see the start sceen when initially launching desktop mode. I never knew dumb some tech savy people could be until in came to windows 8

By the way, the offer includes free Windows Media Center

I am a heavy Media Center Extender user. We LOVE to stream our music via the XBOX and Media Center while a photo slideshow is on. Simply love it. We hope we never lose this.

Seems like MS learned something from Apple :) Good job :)

yeah... Microsoft copied Apple...right /s dunno why, but they did.

Copied what??? The OS is Microsoft's own. If you're talking about pricing, that's a joke retailers and companies lower pricing all the time, true or not true??? But now I guess you can tell MS they can't lower their pricing

Troll I-head..... Apple wishes they had not awoken MS...as since win7 they have been on quite a roll with quality of OS, enterprise, and overall innovation

Wow... I have been still working with Vista on my laptop and home desktop. I was gonna upgrade to Win7 soon and wait for W8 if or when I needed to purchase a new PC or tablet. But this is a deal that is way too good to pass up.

That's it! I'm buying 10 upgrades for the price if one windows 7 ultimate. In yo face

Wow that's cheap, I remember only paying $29.99 for W7 but that was only for college students.

What if you already have Windows 8 (consumer preview)? Will PRO be discounted even more? Free? (wishful thinking?) lol

$40 for one install via download or three installs, like on the past disc versions?

If I were to guess, I'd say one install. But I'm naturally pessimistic to prevent disappointment.

That's what it sounds like. Disc for me. Have three machines ready for an upgrade of OS.

I read somewhere that you can get the ISO.

Either way, the pricing is cheap enough. If you were running a company and price an OS that cheap, I'm sure you would make it a single download; I would

Is there any reason once you upgrade that you couldn't dual boot?

And the answer is that dual boot is no problem at all.

There is. In any MS Upgrade, the old license becomes toast. You can't go back or dual-boot. No VM either. For any of these applications, you need to buy the Full Retail or the OEM System Builder License, according to the original MS Press Release. Pricing will be "reduced", but System Builder pricing has not been set as of this posting.

This is MASSIVE. What Microsoft is doing here is trying to get Metro out to everyone, tablet or no tablet. By this time next year, I'm sure there will be more Windows 8 installs than iPads and Android tablets combined (new Windows PCs plus the current ones getting upgraded). Nobody is going to want to miss out on this huge market.

Great price. I would have upgraded any just like I do when MS comes out with an upgrades. I gotta say that I am so impressed with the change in strategy within MS. It is clear that there has been some change in thinking around Edmond.

Will MSDN Academic Alliance Universities get Win8 on launch?

I'm pretty sure they will & for free. I think I'll also buy this upgrade in addition to the free copy to upgrade an old laptop I have lying around.

Well it makes sense, if they get money from oems and they sell it cheaper to them. and this is kinda like a consumer oriented OS. it makes sense they give it cheap to consumers! specially the upgrade, i mean, alot of people with buy it since it cheap which means millions of windows 8 PCs the first months, and that would help developers to develop better apps for store, etc, etc.

Im glad Microsoft is doing this, if before people upgraded being "expensive" not they have no excuses not to upgrade. you know for me Win8 is better. if Aion worked on it, i still would be 24/7 using win8.

$40 for an upgrade, even for three generations old XP computers. How is that not huge? WIN7 couldn't even upgrade from XP. I will be buying upgrades for Christmas presents. Yo I hear you like tiles!

Men I thought $399 for surface pro.. I almost shit my pants

But my PC is not touch screen

*sigh* it works perfectly fine with a keyboard...... dont like it, dont upgrade it.

Can't stand when people complain about that

Question...I bought a Laptop preloaded with Windows 7, I'm I eligible for the discounted upgraded to Win8?

if u just bought that PC after June 2...you ca. upgrade to w8 pro for 14.99

This is HUGE! As Ballmer said, this is for "developers developers developers developers."

I won't get it until the slate/surface comes out. Without a touch screen interface, the OS is not really intuitive. Working 8 with a mouse is cumbersome.

It will be a bit awkward with Windows 8, because I'm a gamer, but I'll deal with it.

eh? it works perfectly fine with games. i used to play aion until some update broke it. and now i have to use win7. but when i use win8 everything is better

I think I'll need themes to re-enable Aero and maybe even the Start Menu, but darn that's a good deal. I just can't decide if I want to give up 7 :/

The new logo is definitely growing on me

What if I need to re-install the OS when something goes wrong. I won't be able to access my computer if the problems needs me to re-install the OS so shelling extra $ for DVD is the only choice?

There is a handy 'Refresh PC' & 'Reset PC' in the PC Settings if you ever want to start from scratch. There's a post about it on the building windows 8 blog. You can also make your only install media through the upgrade assistant so you can get the $40 version with no worries.

The only question I have is if manufacturers are going to have the gesture based touchpad driver for existing laptops like my Dell XPS 15Z? I love it and it already has the i7 Sandy Bridge in it.

What about upgrading from the release preview? Still 39.99?
Windows Central Newsletter
Thank you for signing up to Windows Central. You will receive a verification email shortly.
There was a problem. Please refresh the page and try again.