Microsoft Ergonomic Keyboard (2019) review: A worthy, modern evolution of a legendary keyboard
Microsoft's latest ergonomic keyboard is also its best. And the price is right, too.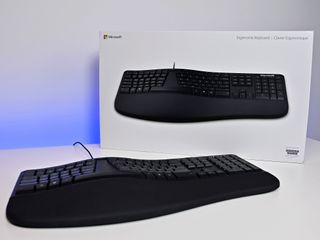 (Image credit: Dan Rubino / Windows Central)
Since 1994, Microsoft has been at the forefront of what it dubbed "natural" keyboards, now often referred to as ergonomic keyboards. This series of keyboards are designed to more accurately represent how are arms and hands are meant to lay rather than when they're crunched, wrist-to-wrist when using a laptop.
The new Microsoft Ergonomic Keyboard looks to be the successor to the 2005 Natural Ergonomic Keyboard 4000 (not to be confused with the more recent Sculpt Ergonomic (opens in new tab) and Surface Ergonomic releases).
As a long-time user of the 4000, Sculpt, and Surface Ergonomic keyboards, I have some thoughts about this new one.
(opens in new tab)
Microsoft Ergonomic Keyboard (2019)
$60 (opens in new tab)Bottom line: Microsoft's latest ergonomic keyboard costs less but delivers even more value. With new dedicated keys for emojis, Microsoft Office, and the new snipping tool, plus an improved typing experience, this is the most comfortable ergo keyboard around. Too bad there are no backlit keys.
For
Larger keys, more consistent travel.
Improved layout and modern design.
Affordable.
Plug and play.
Against
No backlit keys.
Learning curve.
Microsoft Ergonomic Keyboard design and emoji
The Microsoft Ergonomic Keyboard is a comparatively light keyboard, weighing just 35.98 oz, including the cable (1,020 g). It's made from all plastic and has a hollow feel to it. While light, though, it won't slide around your desk due to the rubber feet.
A single USB Type-A 2.0 plug is needed to power the keyboard, so it is not wireless. Disappointingly, the keyboard is also not backlit. That choice was likely to keep costs down, but it would have been amazing to have an option to purchase a more expensive version with backlit keys. It's worth pointing out, too, that this is a skinny cable. I'm not worried about it breaking or fraying, but I do appreciate how little room it occupies, letting you have a more minimalist look.
Image 1 of 2
The most significant change with this 2019 model is the addition of a few more relevant dedicated keys. There are new keys for the Windows 10 emoji picker, Microsoft Office, and the new snipping tool. Other dedicated keys include one for calculator, task view, locking the PC, and Windows search.
The top middle row houses the expected media keys, including mute, volume controls, play and pause, skip, and forward tracks. The media-player button defaults to opening Groove, but users can program that button (and others incuding emoji key) using the optional Microsoft Mouse and Keyboard Center application (opens in new tab). There are three numbered keys on the top left that can be assigned a macro or to open any app you want.
Like other Microsoft ergo keyboards (except for the Surface Ergonomic), this one includes a wrist riser that can better help angle your wrists upward. On previous keyboards, Microsoft used magnets to attach that riser, but now there is just a plug that snaps into the bottom. While this doesn't matter in day-to-day usage, I like the magnets better.
The material used for the wrist rest is interesting. It's not the leather found on the Natural Ergonomic Keyboard 4000, nor the Alcantara (which gets very dirty) on the Surface Ergonomic keyboard. Instead, it resembles that of the Sculpt Ergonomic. It's a soft, nylon-esque material that is darker than the Sculpt and presumably will get less dirty and hold up longer. It feels excellent and makes typing that much more comfortable due to the quarter-inch padding underneath.
Microsoft Ergonomic Keyboard typing
Typing on the Microsoft Ergonomic Keyboard is excellent, but some context is needed as Microsoft has various keyboards, all with different key designs. The travel on these keys is much deeper than the Surface Ergonomic and even Sculpt Ergonomic. Instead, it matches the Natural Ergonomic Keyboard 4000 more closely.
However, the keys on the Microsoft Ergonomic Keyboard are significantly larger (especially the arrow keys) than the Natural's, resulting in fewer missed keystrokes for a more consistent experience. But while the travel distance is similar (depth), the newer keyboard has a much better bounce-back, alleviating some effort when typing. While the Natural Ergonomic Keyboard 4000 is excellent to type on, the keys are also a bit mushy. That is not the case here.
Likewise, the Natural Ergonomic Keyboard 4000 has a notoriously loud spacebar key that felt a bit too difficult to depress. That is fixed here with the spacebar feeling like the other keys and not requiring much effort at all.
Finally, the "wave" design is more accentuated on the new Microsoft Ergonomic Keyboard than on any release so far. This change likely reveals a more precise manufacturing and the latest science on the matter. (Microsoft famously studies this topic extensively in its Human Factors Group (opens in new tab).)
So should you buy the new Microsoft Ergonomic Keyboard?
If you are still holding onto your Natural Ergonomic Keyboard 4000, the Microsoft Ergonomic Keyboard (2019) is a natural upgrade. The pedigree is similar, but it's clear Microsoft has dramatically improved and updated some of the core features of this series. Typing is more comfortable, and the keyboard looks more modern with a cleaner, more straightforward design.
The new keys for emojis, Office, and snipping tool are excellent and charming touches. Emojis may seem goofy (depending on your age), but they are trendy, and that is only increasing as the workforce gets younger. And if you don't use them, no big deal.
If you're coming from the Sculpt or Surface ergonomic keyboards, this one will feel different. That's because the key travel is much deeper than those, which some users prefer. This keyboard is also wired, making it much more reliable than wireless models. And you don't have to replace or charge batteries. The Sculpt keyboard used a wireless dongle, which works well, but you still need to keep spare batteries handy. The Surface Ergonomic is Bluetooth, which can suffer from interference and occasionally fail.
Image 1 of 2
For those who never tried an ergonomic keyboard, the new Microsoft Ergonomic may be worth a shot. At just $60, the price is one of the lowest of this series, making it quite accessible. There is a learning curve, though, and it will take wat least a few days of practice to get used to the design. However, as people in comments here will attest, once you go ergonomic, it's tough to go back.
For me, I'm glad Microsoft made this keyboard. My only real complaint is the lack of backlit keys, but due to the benefits of typing on this improved design, it's a tradeoff I'm willing to accept.
Typing right
(opens in new tab)
Microsoft Ergonomic Keyboard (2019)
The most comfortable way to type

Microsoft's Ergonomic Keyboard for 2019 is an excellent follow-up to the legendary Natural Ergonomic Keyboard 4000. With larger keys, better key actuation, fixed spacebar, and now dedicated keys for the Windows 10 emoji picker, Office, and Windows snipping tool, it's also the most useful. That $60 price is quite fair, though for a wired keyboard we would have preferred backlighting.
Windows Central Newsletter
Get the best of Windows Central in your inbox, every day!
Daniel Rubino is the Editor-in-chief of Windows Central, head reviewer, podcast co-host, and analyst. He has been covering Microsoft since 2007 when this site was called WMExperts (and later Windows Phone Central). His interests include Windows, laptops, next-gen computing, and for some reason, watches. Before all this tech stuff, he worked on a Ph.D. in linguistics, watched people sleep (for medical purposes!), and ran the projectors at movie theaters because it was fun.
Great review. This really does sound like a great keyboard. Readers should not gloss over those shortcut keys (Task View, Calculator, etc.) - I'd find them very useful every day. (I hate hunting for key combinations other than alt-tab or Win-spacebar, and the calculator doesn't even have one.) Plus macro keys? Awesome. But I'd have to spend time typing on one of these to know. I'd rather a "mechanical" feel to the keystrokes, and these are probably rubber dome - but sometimes rubber domes can be good.

Thanks. If in the States I wonder if Best Buy will get them - they tend to have a lot of KB's on display these days. If not, definitely a Microsoft Store. These are def rubber dome AFICT.

Best Buy has them, I've been considering getting an ergonomic keyboard for a while and picked one up today on my way home.

But the old 4000 keyboard is still pretty good and the cost is also low 😊👍

It is and I recently picked up a new one due to that low price, buuuut this one is way better, trust me.

Can you reprogram the office/emoji keys to something useful like the context menu? If not, that's a serious flaw in the keyboard and decreases its utility immensely.

Hardly an immense issue, though I'd be surprised if there wasn't a way round it if indeed the software couldn't assign a new function. Personally I still find I can type windows+R, then calc, quicker than the time it takes to find the shortcut key on my keyboard, but at least MS have made them dedicated, so it's not hunt the function button, then the shortcut, like my Logitech.

You can remap the emoji key to whatever you want, but not the Office key.

One question remains.. when does the (updated) wireless version come out?

Microsoft 3RA-00022 Surface Ergonomic Keyboard: This is the only wireless one I have seen from Microsoft. I tried it but it doesnt seem to be on par with this wired one in my eyes.

Are there any backlit egornomic keyboards? I've been unable to find one. :( Well, found one, but I need Nordic keys. :(

now give me this same keyboard in bluetooth and they can take my $$$$. AND the bluetooth one needs to support multiple profiles (3) like other wireless keyboard and the widely popular Logitech wireless mouse (MX Master series)
Until then, nope, not going wired.
The Surface ergo keyboard lacks 10 key and quick buttons.

I've used their ergonomic boards for close to two decades now. Since I'm not a gamer, wireless works best for me, and I have two Sculpt ergonomics. All I ask is that MS add a caps lock light on their next version of those boards. Bottom line is I love 'em.

"All I ask is that MS add a caps lock light on their next version of those boards. Bottom line is I love 'em."

This one does! A small circle LED is in the Caps button (same with NumLk). Hopefully, Sculpt gets them next, but could be a few years it seems.

I'm going to have to try this out. I hate how loud/distracting the spacebar key is on the old one.

Having used brown and red cherry equiv switches at home and work for the past 2 years now, I've turned into a mechanical switch and no going back guy.

I left a quickie first take of the wired keyboard and mouse in the community forums, if anyone is interested. I don't think too many people read the user reviews there...

I'm not a regular of the forum (in fact, I didn't even know this site had a forum until you mentioned it), but I read your review. I didn't know MS released a new mouse also. Question: is the mouse pretty much flat, or does it have a pronounced slope from left to right? (There aren't many pics of it online that I could find.) And the scroll wheel is metal right? It looks pretty nice, may be a candidate for replacing my current Logitech, although I find vertical mice to be the most comfortable for me.

I have friends who MUST have a numeric keypad on their keyboard. I, however, prefer to have a smaller keyboard, such as the Microsoft Ergonomic Keyboard, so that my mouse is closer "at hand."

No backlit is a deal breaker for me...not sure why they didn't add it. Don't all the Surface keyboards come backlit?

no, at least not on the surface ergonomic keyboard which is what I currently use. It only has a tiny little LED circle on the Caps Lock key that lights up when you toggle it on/off.

It looks like no one has asked this yet, so I'll be the one to bite the bullet.... Thoughts on it working on a Mac? I own a 2017 15" MacBook Pro and run Windows through Parallels.... I currently use the Surface Ergnomic Keyboard but it's starting to freeze up a bit on typing lately. (I do a lot of typing in Word)... I did used to use the 4000 with my Macs and for the most part really enjoyed that keyboard. But this new one looks beautiful and since it's wired..... Anyone out there that's tried it with a Mac? I'd love to know your impressions, thoughts, etc.!