Microsoft fixes download issues with the Windows 10 touch-based Office apps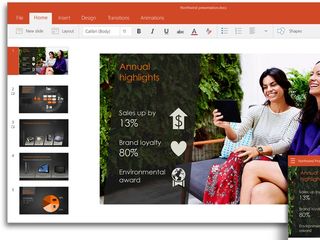 If you had problems downloading the newly launched touch-based Word, Excel and PowerPoint apps for the Windows 10 preview on Wednesday, you might want to try getting them now. Microsoft is reporting that those issues have now been fixed.
Microsoft didn't state exactly what went wrong when those app were released yesterday, but the company is now saying, "We're happy to report that we've fixed the issues. You are now able to search the Windows 10 Store for Word Preview, Excel Preview and PowerPoint Preview to download the apps." Just as a reminder, these apps are accessible via the beta version of the new Windows Store in Windows 10, and not in the regular version of the store, nor in Windows 8 or 8.1.
By the way, most of the features in all three apps are available for free during this preview time period, but that will change when they are officially released later this year. Microsoft states, "After preview, some functionality will require a qualifying Office 365 subscription."
Source: Microsoft (opens in new tab)
Windows Central Newsletter
Get the best of Windows Central in in your inbox, every day!
Well-needed. But how come family safety applies to the beta and not the normal store?

I haven't used the beta store yet, but I do use Family Safety with the 8.1 store on my laptop and tablet. Helps keep the wee lad safe when he's logged in on a device. Maybe I'm remembering it wrong, but I do remember having access to it from the Family Safety web app. Is it accessible in beta store? I'd be curious to know....the Family Safety stuff is hugely important to me as a parent.

Clearly because they plan on implementing it for the Store when they roll out Windows 10, which I found annoying to set up when I first got WP8.

Yeah, I didn't think it would be free. :c

I'm confused... Why does iOS get most Office features for free, while the Android and (upcoming) Windows versions are gimped unless you cough up? I understand Microsoft needs to make money, hence limiting features unless you buy Office 365. I expect no less. I just don't get while iOS gets most of them free, especially when it's one of the larger mobile platforms (and therefore more of a gold mine).

I think the same free features there would be free here.

I think that the free features on ios will also be free for windows 10 tablets and phones which use this touch version of office Cant comment on android though, not sure about that

Except news flash: the other OSes don't get it free either. I downloaded it on Android and I could only read docs. couldn't write without Office 365. Luckily students get 365 for free...

Yeah, but my district uses Google Apps and iPads heavily. ;~; (I'm the only one in the district who took the offer, and it is very useless for reasons I just described.)

Yup you need a 365 sub to edit otherwise you can read but not tweak.

On Android, just tablets < 10 is free....

Isn't it free on Windows tablets and small laptops. On regular desktop machines it's not free, just the same as OS X.

they are great... I use them today and all are Great for touch - thank you Microsoft!

Are macros enabled? Can information be pulled from a separate workbook (external references)?

Been using them since yesterday and they're gorgeous on the Surface Pro 3! I'm wondering what type of "features" they are talking about when needing to pay for an Office 365 Account.

Is it worth putting W10 on the SP3? Used W10 on my PC since "release" but I'm not sure about putting it on my SP3. Any touch / pen issues?

I have the original SP and I haven't had many issues since I stopped using my power saver battery mode. Things run pretty smooth. Don't use chrome though and for some reason internet explorer doesn't want to open, which for me isn't an issue because once Spartan comes out I wont need to use any "desktop" browsers anymore.

I haven't had anything bad happen so far. There have only been two minute long instances where I had the "Sad Face" crash screen. But thankfully Win8 and Win10 are great about easy/instant recovery. They sent in the error report and booted right back up fine. I haven't had any other real issues than that, chrome not accepting input half the time (but I think that's chrome itself) and the Wi-Fi connection being forgotten everytime I put it to sleep. Pen works great, touch works great.

And as i always suggest...Just make sure you create a Win8 recovery USB drive before installing. Never hurts to be prepared. Hehe.

Unfortunately you can't use that recovery drive after you install 10. But I've been running 10 as my primary on a SP3 with no real issues. Battery was pretty bad until the update the other day quick almost doubled it (back to how good 8 was, if not better). There was an issue with hardware accelerated video to start with but that was fixed earlier this week.

You can use that recovery drive. I restored Windows 8.1 from my recovery drive after I noticed how unstable Windows 10 was on my SP3. Recovery drive restored everything back to 8.1 like a charm.

Would recommend installing it in virtual machine.

You CAN use the recovery drive. See the insider page page for details. http://windows.microsoft.com/en-us/windows/preview-faq-right-for-me-pc?o... If you want to go back to your previous operating system You'll need to reinstall your version of Windows from the recovery or installation media that came with your PC (typically DVD media). If you don't have recovery media: For Windows 7 or Windows Vista: Before you update, you might be able to create recovery media from a recovery partition on your PC using software provided by your PC manufacturer. Check the support section of your PC manufacturer's website for more info. For Windows 8.1 or Windows 8: You might be able to create a USB recovery drive. For more info, see Create a USB recovery drive. If you didn't create a USB recovery drive before you installed the preview, you can create installation media forWindows 8.1.

Me too, but I already had a 365 account prior to downloading the new office preview on my Surface so I wouldn't have noticed lol.

They could have fixed mytube download issue ffs!

Uhhh, wouldn't this be up to mytube! to address? Correct me if I'm wrong...

no problem here downloaded them yesterday and they working fine ... also looking awesome

Still don't work :( they work for my desktop but not my surface pro 3? Odd

Same here. Absolutely no change since yesterday on my SP3.

What features will I have to pay for in the future?

Same as on iOS. You get basic editing for free but need the subscription for advanced editing and collaboration features.

I meant specific features. Like what type of advanced editing? Picture editing?

The touch preview like seen here will be free. If you want the full feature set, you'll need Office 2016. Which, btw, you can try out as well from the MS Connected website if you already have a subscription for Office 2013.

Are they really unstable for anyone else? At least Word. I tried writing something last night and the app kept restarting and the file kept becoming inaccessible.

I don't know about that I downloaded them with some problems but it eventually worked. The problem I have is the beta store it won't update a couple apps like insider hub and an update for the store

First time I've needed to properly use the Store Beta. Wow it's fast! Much more so than iOS and Android stores, and light years faster than the original Windows Store.

granted, there are next to no users on it yet. I mean even you admitted that you had not used it yet and it has been out for 2 weeks now? On Android/iOS the store is the primary (if not only) way to get apps, on windows 10 it is both a seccondary method for getting apps, and there are not nearly as many users as the other platforms you mentioned.

I've never been able to use the Store Beta. Anything I try to download just crashes & re-opens it. Searched to see if I can find a solution & can't find anything. Normal Store app works OK though ... but no Office Touch for me :(

I have same problems...never been able to use grey Store, just won't install anything....hope it'll work soon :-)

Hmm, I wonder what will they tie into the 365 sub.

Quite likely it will follow the exact same pattern as the iOS one.

I was disappointed to go back and read Joe's tweet. I thought he meant the version for phones was ready...

last I checked these ARE the universal apps that will be used on the phones (minus a few revisions for the GUI on smaller devices). I would bet that they will be available on Windows Phone as soon as the win10 beta is ready for download.

wonder when they are going to fix the ability to pin these programs to the metro menu, or have them show up in the task-bar. Rather annoying having to dig through the all-apps list to get at them every time. Still, they did a great job, and it works pretty well when my xps12 is in tablet mode.

You can pin them to the start screen.... As with any app universal or not.

You can pin them to the start screen.... As with any app universal or not.

Can't update, can't login time will tell. Every second week there is a fix to the previous kb....

The downloads for the word, excel and Powerpoint are still not working for me. The app size when installed is not the same size indicated in the store beta.

Still not able to download on machines signed into Local Account, getting the error code 0xC03F7000

Yep still won't download. The store beta thinks the download is 0.0MB of 0.0MB then give error code 0xC03F7003.

I can't doneload either. I also get the store thinking the download is 0.0MB of 0.0MB then giving up with error code 0xC03F7003. I'm running build 9926 with all the latest updates in a Hyper-V VM.

Still not downloading... After pressing install button nothing happens...

I was having the same problems when using Local Account - I switched to Microsoft account and the downloads worked. ** edit ** I just installed Win 10 for the 1st time - completely different feeling (pretty happy) than when I first tried Win 8 (supreme rage)

New store finds it but can't install it (or anything else) Old store doesn't find it. Nor Cortana. Lame.

I was unable to download with one of my accounts, the other account was fine. I am getting a 0x8009030E error on the account that is failing.

Still doesn't work, neither on my tablet nor my dekstop PC.
Windows Central Newsletter
Thank you for signing up to Windows Central. You will receive a verification email shortly.
There was a problem. Please refresh the page and try again.