Microsoft Flight Simulator 2020 to generate $2.6B in hardware sales
You're not gonna fly that plane with a mouse and keyboard, are you?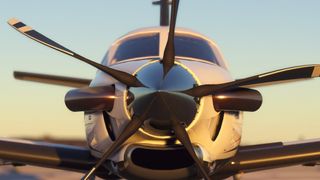 (Image credit: Microsoft)
What you need to know
New research says Microsoft Flight Simulator 2020 could be quite the cash cow for hardware vendors.
It is predicted the game could generate $2.6B in hardware sales over three years.
It includes purchases of everything from new PCs to joysticks and even VR equipment.
A new report says that Microsoft Flight Simulator 2020 could generate $2.6 billion in hardware sales over the next three years.
According to Jon Peddie Research (JPR:
JPR has analyzed the sales impact of MSFS, and the prediction is based on the sales of everything from PC builds, component upgrades, new displays, and more specific flight simulation peripherals like flight sticks, throttles, rudders and more.
It's no secret that the best experience for any flight simulator involves more specialized equipment than a mouse and keyboard. If you're interested, we've even rounded up the best joysticks for Microsoft Flight Simulator and the best yokes for Microsoft Flight Simulator to get you started.
Senior Analyst Ted Pollak noted:
Between the hardware needed to run the game properly, and the best accessories needed to truly enjoy the game, it sounds like MSFS 2020 could provide a huge boost the PC gaming economy.
The Legend Returns
(opens in new tab)
Microsoft Flight Simulator
Microsoft Flight Simulator 2020 has taken to the skies, promising a cloud-powered globe, with authenticity on an unmatched scale. It's out now exclusively on Windows PCs, offered in three flavors.
Pick Up A Stick
(opens in new tab)
Thrustmaster T-Flight HOTAS X
The best budget stick around

When you happen to be restricted by a small budget but want something better than a mouse and keyboard for Microsoft Flight Simulator, this is the perfect all-in-one solution.
Windows Central Newsletter
Get the best of Windows Central in your inbox, every day!
I know the feeling, it would be 2.600005 if I wasn't in lockdown.

Been waiting all year to upgrade. New Sim, New gfx cards, bnew cpus
It's a miracle :) Also y'all know about other manufacturers like virpil and vkb right? When I see best premium and its a ten year old offering whem there's those and the new WinWing I have to wonder

Euhhhhh I suspect I already contributed to this $2.6B by purchasing the Honeycomb Alpha Yoke & Switch Panel Flight Controls last week based upon Your review. Btw on my full-specced Alienware Area-51 and my Dell Ultrasharp U4919DW curved 49inch monitor it's a flabbergasting experience, unprecedented, getting addicted already after 2 days....

I was able to use my 5 year old home build computer and still managed to be auto selected to "High-End" settings. So far its looking pretty good. I almost found my house but can't fly that slow.

It's mad to think how big this game is considering it's just a flight sim. Looking forward to giving it a go on my pc to see how much I need to spend to get max out of it 😂😂😂

I've been involved in the aviation community for nearly 20 years, even though I'm not (yet) a pilot, and simulators are actually very popular among pilots who aren't even gamers. Especially as they get more realistic, they can be used as a free way to maintain some level of proficiency when you're not able for whatever reason to fly the real thing. I'm on the board of directors for one of the largest and most active EAA chapters, and we have one simulator that is a 3 screen setup with the full yoke, radio, instruments, throttle quadrant, pedals, whatever else.... We use it for our youth program. We also have a console system on wheels that one of our members built, and that setup has six laptops, with six external monitors (for a two-screen experience), some with yokes and some with joysticks, to allow kids to use them while waiting their turn at our Young Eagles rally (youngeagles.org), where kids 8-17 get free airplane rides. There's no way the laptops will run the new version (and that's not important, really), but we're going to need to upgrade the big simulator's computer in order to run this version. It's running an older version of X-Plane and Flight Simulator X (whichever the user chooses to run), for now.

I can totally see this. The 15+ year old yoke and pedals that I have, someone has listed on eBay for $300. I can't see how he'll get that, as that's about what I paid brand new, but hey, good luck. On Amazon and eBay, the Saitek and Honeycomb sets are all listed for MINIMUM 50% more than list price, and all the places that have them listed for the right price are out. I'm going to go ahead and list my CH yoke and pedals on eBay, and put in an order for a Honeycomb yoke and Saitek throttle quadrant and pedals. Anyone with half a brain will wait until the stock is restored and not pay the $370+ for a $250 or even $170 yoke. Thankfully, at the beginning of the plandemic (before prices started going up), I bought a new gaming computer not for gaming, but to process the videos for my church, so I've got that expense out of the way and don't have to justify it to the wife. I just want to upgrade the yoke and pedals now. I'll be using this primarily for flight training, not just playing, so she's going along with it.

Damn, I was wondering why I suddenly felt the need to buy a joystick (yes, I will still call it that) after 20 years of not owning one!

Don't bother, this POS software probably won't recognize it or will configure it to spin you in circles. This is a beta POS

If there is one MS franchise that will make upgrade my PC it's AOE, can't wait for the 4. I never got into the Flight Simulator franchise. But I can totally understand people passionate about this franchise and willing to spend lot of money to upgrade their setting.
2.6b seems to be a lot but I wouldn't argue with these numbers, I mean I have no idea about this market and community.

I hear you. I never had a system that could run this properly, so I never tried to get into it in the past. I really wanted to try it this year because the visuals (and the game in general) are just amazing. I know you are against Game Pass, but I think you should really do the trial and just try this game for a bit (if you can run it properly). I can't really put into words the feeling of being able to fly over your house in a game. Mine is probably more accurate than other areas because I'm a few miles from a major airport, but still.