Microsoft Flight Simulator 'Top Gun' Expansion delayed to 2022
The movie tie-in expansion for Microsoft Flight Simulator will take off on May 22, 2022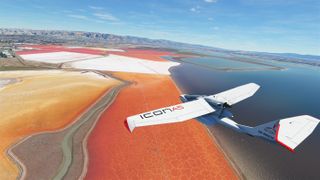 (Image credit: Xbox Game Studios)
What you need to know
Microsoft Flight Simulator is a long-running videogame series about experiencing the trials of being an airplane pilot.
An upcoming expansion based on the Top Gun movie franchise has been delayed to May 22, 2022
Microsoft Flight Simulator is the latest entry in Microsoft's long-running videogame franchise, where you to pilot a variety of aircraft vehicles in realistic situations. This game pushed the boundaries of cloud technology to deliver stunning graphics that even gave the many of the best CPUs on the market a run for their money. This elevated Microsoft Flight Simulator to become one of the most visually striking games on the Xbox Series X and Xbox Series S.
The latest expansion for Microsoft Flight Simulator, Top Gun: Maverick is based on the upcoming movie of the same name. The Top Gun: Maverick expansion will feature locations and jets from the movie, but not a huge amount is known about any additional features that could appear.
Top Gun: Maverick (starring Tom Cruise) is a sequel to the classic 1986 movie, Top Gun, a story about young men joining the military to become fighter jet pilots. However, due to the movie Top Gun: Maverick being delayed until May 27, 2022, Microsoft has announced that the expansion will follow suit and be delayed until May 22, 2022.
Be sure to take a look at our roundup of best flight sticks for Microsoft Flight Simulator in the meanwhile, and keep an eye on Windows Central for the latest Flight Sim news.
(opens in new tab)
Microsoft Flight Simulator
Microsoft Flight Simulator heads to consoles

Microsoft Flight Simulator is now available for Xbox and PC. With cloud-powered weather and hyper-realistic visuals, Microsoft Flight Simulator is a relaxing and enchanting experience, also available for Xbox Game Pass.
Alexander Cope is a writer for Windows Central and iMore that has been gaming since the 16-bit era.
Windows Central Newsletter
Thank you for signing up to Windows Central. You will receive a verification email shortly.
There was a problem. Please refresh the page and try again.