Bill Gates and Paul Allen founded Microsoft on this day, April 4, in 1975
Today, April 4, is Microsoft's birthday.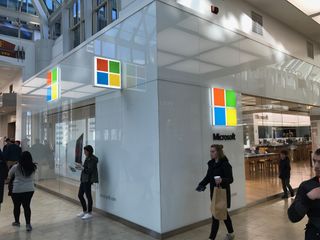 Or more specifically, childhood buddies Bill Gates and Paul Allen officially founded the company we all love (most of the time) on this day in 1975.
Without getting into too many details (this is a blog, not a history textbook), the company, originally named "Micro-Soft," was formed in 1975 and based in Albuquerque, New Mexico. By no coincidence, that Southwestern, U.S. city was the location of the electronics company, MITS, which made the Altair 8800 computer, according to History.com. In creating the new company, the goal of both Gates and Allen was at first to create software for the Altair 8800, so it made sense to set up shop in Albuquerque.
Several years, later in 1979, Microsoft moved its HQ to the state of Washington, in Bellevue, where both Gates and Allen spent their formative years.
In 1981, Microsoft licensed its MS-DOS OS to IBM for use in its first personal computer (PC), the IBM Model 5151.
The company introduced the world to Windows in 1985 and nothing was ever the same since.
In 1986, Gates and Allen moved their company to Redmond, Wash., where its headquarters are still located.
In 2001, Microsoft debuted the very first Xbox and changed console gaming for good with the subsequent launch of its Xbox Live service.
The rest will forever live in history books. A bunch of other important stuff obviously happened in between these events, but the point is that it all began forty-two years ago today.
And if not for that fateful day, there'd be no Windows, no Xbox, no Surface, no Microsoft Stores ... no Zune — OK, that's pushing it — and no Windows Central. (No Windows Central!?! The horror, the horror.)
For all of these things, we're eternally grateful. Thanks, Bill and Paul.
And happy forty-second birthday, Microsoft. Here's to another four decades of changing the way the world uses technology to better itself.
Related reading:
Get the Windows Central Newsletter
All the latest news, reviews, and guides for Windows and Xbox diehards.
Al Sacco is content director of Future PLC's Mobile Technology Vertical, which includes AndroidCentral.com, iMore.com and WindowsCentral.com. He is a veteran reporter, writer, reviewer and editor who has professionally covered and evaluated IT and mobile technology, and countless associated gadgets and accessories, for more than a decade. You can keep up with Al on Twitter and Instagram.