Microsoft France apparently confirms Candy Crush Saga is headed to Windows Phone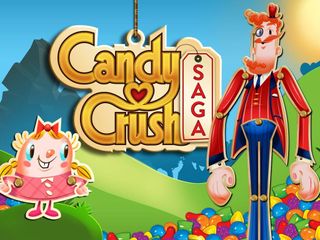 An apps marketing manager from Microsoft France may have confirmed that one of the most popular mobile games, Candy Crush Saga, may finally be coming to Windows Phone, after a video allegedly showing the game in action was posted on YouTube earlier this week.
The video, which has since been removed from YouTube (though it was re-uploaded to another account, embedded here), showed the game allegedly loading on a Lumia 625 smartphone. Later Yann de Canson, an Apps Product Marketing Manager at Microsoft France, posted this message on his Twitter account "Vous aimez les bonbons ? vous allez adorer ce qui arrive sur #windowsphone !!! ;)" That roughly translates to "Do you like candy? You will love what happens on #windowsphone !!!"
While this tweet is not a 100% confirmation, it's certainly looking more likely that Candy Crush Saga might be close to arriving on Windows Phone. We have contacted the game's publisher King for comment but so far they have not sent back a response to our inquiries.
Source: Yann de Canson (Twitter), Via MonWindowsPhone, FraWin
Thanks to Samir and @NotCassim for the tip!
Adding to this, I can confirm 100% that this game and video is legit. Candy Crush is coming to Windows Phone soon.

Nothing to elaborate on. It is happening, this stuff is not a hoax and the Microsoft France guy is not fibbing.

I only hope this is not the popular game that Rudy said that he was porting to WP. I want two new games, not one. :P

None of my friends plays this anymore. At least it will have facebook integration?

Agreed. ios and android users will say "been there, done that"

Still play everyday Posted via the Windows Phone Central App for Android

Look at the video. Then you know..

Can you also confirm if King are bringing their other games onto the platform?

If the release of Candy Crush proves to be successful, then normally they should be bringing their other games, as that would make sense since they gain new users, which is what most these developers are after.

Yeah .. in a tweet, Thomas nigro (vlc developer) also hinted today

That's the second best news for WP users. The best one was VLC for WP.

So its only SnapChat... And Google apps left. *For me*
By the way, I love myTube and 6snap. But, Windows Phone needs more official apps.

Ermahgerd. Unfortunately for king, im pretty sure that Pastry Paradise has one upped it already, and is the better game. Though would be great to have both when you run out of lives... Yes. I can see myself wasting lots of time at work...

Agree on Pastry Paradise.

Snapchat and Youtube indeed. Add instagral out of beta and here we are

It's an app for people that have crappy cell phone cameras that makes them look fuzzy and dated on purpose.. kind of like saying "I meant to do that" when you fall on your face. Fortunately, on windows phones, you don't have that problem.

Agree, especially when using 6snap causes Snapchat to lock my account and force me to change my password.

Never played and never will :|

Finally! One less reason for gp to ignore WP.

Good for all those who want it bad...but for many like me the game is very dumb and silly...would like some more action titles to come to WP

It's a lot more fun when played live... https://www.youtube.com/watch?v=BHMzVlmVFBI

OMG! finally!!!! hope they bring Soda Saga too

Nice! We are catching up. Although I don't play this, but others do.

Is this the real link? http://www.windowsphone.com/en-us/store/app/candy-crush/aab733bb-d681-44...

Never mind... It's not. Lol

Please read the reviews on that thing..

Daniel , last August I've tweet(actually blabbering) at them and they telling me that they're not making the apps for WP is at the moment and when they do they'll announce it. I reply back : "Hope that u will not abandon us as WP users". "Fyi ur apps are on top of WP user wish list" Lol. Btw the Top Eleven dev also have a plan to port their game for WP but don't know when it is.

I hate to be a buzz kill, but I don't care about this game anymore. It wasn't available during its peak for WP: Ignored. I really don't care, but it is good to have for the WP platform.

Thanks, but its lived out it's life

KING waited until the game was dieing on iOS and Android before they released it to Windows Phone. Developers are assholes when they do this.

Agree. It was the same with Word With Friends and a whole bunch of other games as well. When you no longer see them played on FB, you know they'll get to WP a few months later...

You managed to misspell both "its" and "it's" in that sentence. Impressive, in a sad way.

Except, drumroll, he spelled them right. The word you are looking for is grammar.

Wrong. He misspelled "its" as "it's" and "it's" as "its." The fact that both misspellings are homonyms still make them misspellings. If I say, "I ate the hole thing in a whole," I've misspelled both "whole" and "hole."

Nope. It's not a spelling mistake. It has absolutely nothing to do with them being homonyms. He spelled them correctly but misused them. That is a grammatical error. If you can isolate the word from the sentence and it's correctly spelled then it is not a spelling mistake. The mistake (especially in this case) is that it's placed in the wrong part of the sentence structure. I don't know how many school papers you've graded but if you're a teacher and you've been telling your students that this is a spelling mistake then you've done them a disservice. Also the sentence you used as an example is grammatically incorrect whether or not you substitute "whole" for "hole."

English must not be your first language. If you can isolate a word from a sentence it IS misspelled it it's the wrong bloody word. "Its" is the most commonly misspelled word in the English language and is almost invariably misspelled as "it's." That might arguably be a grammatical error since it bears on usage but it is ALSO a spelling error because the word is spelled i - t -s and not i - t - apostrophe - s. "It's" is a misspelling of "its." Get it? And that sentence example is grammatically incorrect- what the hell are you talking about? You're probably the sort of person who still thinks that split infinitives and using prepositions at the end of sentences are mistakes. They're not. Spelling errors are concrete; grammar is largely a bunch of arbitrary nonsense.If you're teaching your students this sort of discredited idiocy you're confusing them.

There's no reason to get hyped. The terms are commonly conflated and sometimes people use "spelling mistakes" as an umbrella term, even teachers and other academics. I was being pedantic. Taken by themselves neither "its" nor "it's" are spelled incorrectly. The fact that people commonly mistake contractions for possessives is why you'll find "it's/its" on many lists for commonly misspelled words. I'm just telling you that titling it as a misspelling is a bit of a misnomer. I was being deliberate in correcting you because I found your original comment rude. You didn't have to make strawman arguments about split infinitives and prepositions just so you can add another reason why you think I'm "wrong." Peace.

Always late to the party. Totally Ridiculous. How can anyone take WP serious

Sweet!! Posted via Windows Phone Central App

Shame on you Daniel for feeling the need to shit on WMPoweruser. There is no need for that type of behavior. I enjoy their site as well as this one. They reported this news before you did. How would you feel if Paul Thurrott took a shit on Windows Central? They're just sharing their love of Windows Phone and Microsoft products, as well as providing Microsoft information, just like you.

If this will support 512mb devices then its win for WP as low end android are not supported

Finally Windows Phone caught up with Candy Crush, another 2 years to go for the rest. *pop corn*

Hoping all of King Games would come also soon in Windows Phone like the famous now which is Candy Crush Soda Saga and Farm Heroes Saga. Hoping for this!!!!

With Xbox Live I suppose.

This year only for 1gb ram .... 512mb support expected in 2016 !!!!!

Lumia 625 (in the video) have 512mb ram

People still play this crap? :P

Ya I don't understand how people play silly games like candy crush, temple run, angry birds etc etc etc..i used to love playing road rash as a kid..bring it to wp mam!

I want Street Fighter 4 or latest, Worms (OMG!) & Plants vs Zombies 2!

Marvel Vs Capcom would be awesome too!

Honestly I never understood team17 for not.making worms on wp... So easy much incentive with Xbox achievements and I'd love it even more if I could play my android friends Buuut I know that ain't possible

I live near the Team17 HQ.... I'll go and jab them while......

Road rash for wp??! Omg..I'll be the first one to buy it if not free.

xyzzyspoon... Anybody... ;)

I shit you not, road rash was in the store emulated, I had it but when I restored my phone it disappeared from the store

Hell yeah! Road Rash and Street Fighter 2 would be f'ng awesome.

I wish somebody would do circus circus from the
80's and the one with the paint brush (cant remember its name).

Make Trax. So many grew 80s games...

I'm glad its coming, but I'm afraid it may be too late.. :/ Atleast this means it'll be on tablets too, to match android and ios.

I agree, I played candy crush like crazy at the begining of 2014, and stopped about 6 months ago because I got tired of being stuck on the same level 120-something forever. They are too late now, and I think no-one will care. Its really quite sad, because I think an earlier port of this game would have really helped adoption of windows phones in general.

Looks to me like there are 2 possible scenarios here: 1. Gamers are losing interest or the market is saturated on iOS and Android, so they figure they could port it to WP and extend its viablility for a while longer or, 2. They're purposefully releasing it late after interest in the game has died down and when they don't get many downloads from the Windows Store they'll say, "This is why we didn't develop for WP initially because there isn't enough interest in the platform to justify the port." I'm like you in that I feel that if apps were released simultaneously on all platforms with the same fit and polish across the board, you would probably see increased interest in WP.

Yes. Let's bring fixed odds gambling (disguised as a game) to Windows Phone!

Oh my god like totally... Finally!

God bless Microsoft France and their plentiful leaks.

It's never too late for a new smartphone user like me

Yeahh...and also I never found it interesting.

My family still bitches about it not being there. I don't care, but now the complaining will stop. Win for me.

Oh please, the most annoying thing on Facebook is candy crush requests

Guess you didnt figure out the ignore and block button for apps yet.

I didn't know they had a block button as I'm mostly on FB app, but now I'm going to search for that button on a PC. Thanks for the info.

Lol.. indeed. One of many reasons why i dont have facebook anymore.. Is CandyCrush playable without facebook?

Yes, it is. I've played it on my iPod touch without a Wi-Fi connection (hence without being synced to my Facebook page). Of course, you can't compete against other people that way, but it's definitely playable.

Who cares.....!!! I don't.....!!!

@josonjoy1986:
Can't care less about that particular game myself, but I welcome every big name addition to the Windows (Phone) store so we can get rid of that app gap-myth...

If only it were a myth! But sadly it's the truth.

Couldn't agree more with your statement.

Problem is not the app gap but it's the app quality. If the apps that at available were of better quality than on other platforms then it would have been all Windows...ftw!!!

Nobody cares about this anymore, can we please get an official snapchat?

But I don't care about Snapchat?

That's cool coz I think a lot of people don't care about Snapchat, all they care about for messaging is WhatsApp.

The point I was making, I think you missed it...

Here in India...none of my android friends asked me to join snapchat.

Daniel can we have we heart It official apps?

Nice one. It may matter to some people and even get them on the platform. I don't care about it, but I know people who do.

I'm looking forward to the new Halo!!!! That's what I'm waiting for!!!!

I hoped this day would never come

People moved on to candy crush soda or something..i hate this game..so don't care..

Yes. The new game candy crush soda is the popular one now, also from King. I saw the advertise on TV

I still dabble with candy crush, but moved on to soda saga now. This is good, though, with a recent update on my iPad, these games no longer plays. I'll be glad if sin for King doesn't mean "the end of 2015".

About a couple years late.

About time...jeez!
Happy for that though

It'll come just in time for it to become unpopular as less and less people are playing. Then the developer will blame windows phone for poor sales and lack of downloads.

O plz.... Already fed up with candy crush requests on fb :p

Cool? When do we get hangman? To little, to late. Besides, the company railroaded some poor guy that originally created the game to pay for his terminally sick brothers hospital bills. No thanks.

Hangman is already in WP store, right?

Who the hell cares. I'm already annoyed by those CANDY CRUSH requests I get over Facebook..

This is further punishment for using that travesty that is Facebook ;)

Fug Candy Crush we have better Alternatives (not a single best alternative we hav 3) - Frozen,Maleficent,Pastry Paradise.......ONLY THING to care for is CLASH OF CLANS and Hope Supercell Attempt to make a Port....*sigh* Bfore....anything else... Those who agree pls reply and send a feedback to CoC support forum pages pls.... #WP rockzz

they won't do it. they dont care about us. Ages of empire FTW.

Why but Why I WOULD LOVE TO PLAY COC ON MY LUMIA 1520 *Sob*

they don't care about user base. they just want profits. let's hope it'll come to WP. remember when CoC is iOS only? they said they've no plan bringing CoC to Android. but it's rlsed on Android OS few months later.

Nah fck dat I rather have Call of Duty: Heroes for mobile devices over CoC

I've been mailing their support for a long long time now..everytime there is a similar response. They say not now but they will look into all possibilities. Let's hope it comes soon & at the same time hope it comes for 512mb ram devices as well :P

Then it will be too late too like candy crush

Yep NooooO.oooO.O0.0..o!!!

Tarzan would roar, "NoooooOOoOoOYoooYOooYooo!"

good news for me... either i play or not..but official app is coming mean ...that windows phone is growing ....day by day! #happy

I'm glad it's coming but I think it would have been more beneficial to all parties involved if it was sooner rather than later. It's hard not to have a "sour grapes" mentality with these type of releases but I guess it's better than nothing. Will be interesting to see if they charge for the game along with in-app purchases.

CCS- no need. frozen free fall is there COC- no need. AOE is there and domination is coming too. the games we required now from mobage and warner brothers specially and with windows 10. the store will full of good games.

CoC is a Must coz AoE failed Miserably.....

No, it didn't, my android friends want aoe to replace there coc.

Sorry, but Clash of Clans is the only game I would want and would help promote WP. I have to disagree about AoE. AoE sucks and is quite boring.

No way king has declared no candy crush.I got info from wmpoweruser.com that king stopped development. News just to amuse us. Posted via the Windows Central App

I advise you stop reading crap sites run by people with no knowledge. Using WMPU as a source is like using graffiti on a bathroom wall, which is probably more accurate then what they write.

Ok Posted via the Windows Central App

Sei solo un coglione montato -.-

all the news on WMPU is same as windowscentral that to with same headline and even same sequence, and we all know who copied LOL ....

wow, you're actually an @$$h0le.. hmm who knew. get off your high horse son. I have been following any windows phone/nokia blog and from my reading experience you all have written stuff that didnt turn out correct. Are you hurt when other blogs reveal stuff that you know nothing about? you do realioze there are over 100,000 microsoft employees right? I also can confirm Candy Crush is coming to WP but you don't see me being a D*ck about it. I had high hopes for you Danny Boy

WMPU posts stories without verifying anything. While you'll see some accurate stuff there, you'll also so completely unsubstantiated rumors on there and they are treated exactly the same as "news" stories.

@awneze I agree with you. @Daniel Rubino please be respectful towards others if you want respect.

I actually read Wmpoweruser all the time. I dont believe everything they say but they aren't a bad resource

Listen to Dan the Man here :-) Windows Central App for Android- Lenovo IdeaTab A3000

Wow! You know I would really like to use only this site for my WP news but I can't find them in all this crap you post. It's a good thing that I can understand the difference between a baseless rumor and real news I guess.

Daniel Rubino you have disappointed me with your comment, even if wmpoweruser is wrong or whatever, you should not be so arrogant and full of yourself.

That comment is outrageous. There was a time when I liked you, but then you showed this side of yourself. If I were your boss, you would be in serious trouble for making such a statement.

I advise you to be polite and respectful towards others. :)

Mr. Rubino, I do like windowscentral.com and I respect you. But your arrogant and bashing comment is way over my acceptance. Please, bear in mind that you are not the only Windows Phone site on the Internet. There are many other sites which could be considered as "fan" or "enthusiast". Maybe the accuracy of them is not a 100%, but serious ones are always including the source. If the reader is intelligent enough, he can make its own opionion whether to trust the info, or not. I really do wish you to respect that fact. Even though, in your eyes, they are not worthy of that. If nothing else, be a professional and get over it. That being said - I am disappointed in you. I expected more. The last, but not least, I do visit those sites on a daily basis, including wmpoweruser.com. This comment of yours will not change it.

Yea Over the 100% of Internet almost 99.999%..... Are Hoax, Fake , Trap call it whatever.. Websites run by Crappy Shameless ppl to get famous

You're trusting the wrong website man...

wmpoweruser? u serious? lol.

wpcentral? u serious? lol.

I thought they renamed this website, maybe I'm wrong.

Too late. Better bring the latest version, but not the two year old game

It is not popular already

go die king. your end is near.