Why Groove Music's OneDrive integration is its killer feature
We all choose specific music-streaming services for different reasons. My favorite is Groove, and it's for one reason: OneDrive storage and streaming. Here's why I think that's a killer feature.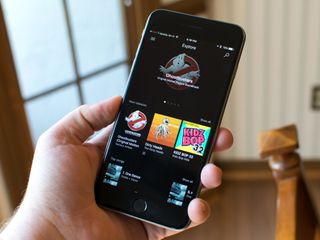 Music-streaming services are cutthroat businesses these days, with Spotify taking the lead for the trendiest, especially with the all-important youth demographic. Where Microsoft Groove fits into all of that is a bit of a mystery, because the company seemingly doesn't advertise it on iOS or Android, nor does it make a compelling reason for non-Windows 10 users to adopt it.
I'm not here today to tell you why Microsoft Groove (opens in new tab) is poised to take on Apple Music and Google Play Music – it isn't. However, I want to share why I use Groove and see no reason to switch.
The cloud is key to music everywhere
Spotify has killer playlists. Apple Music has the iPhone. Google has millions of Android devices. Those are formidable positions to have in the music-streaming business, but Microsoft Groove, at least for me, wins out for its integration with OneDrive.
For years, I've stored MP3s across a few computers, tucked away in various folders, sometimes stuck in Amazon's servers. Adding to that chaos were the hundreds of physical CDs hiding away in closets, with their sad cracked shells and fading album art.
On a rare day, I had the combination of being bored and ambitious at the same time. That lead to me to finally sitting down for a few hours to organize my music folders, rip CDs, and put it all on a massive external drive. While that felt good, it was also worrisome – what if that backup drive failed? I've had that happen, and it's terrifying.
I then remembered that Microsoft began letting users put all their music into OneDrive, which in theory, is safer. Only having read the headline and not the details, I considered it. The directions were simple: Upload all your music to your OneDrive folder labeled "Music." Microsoft will handle the rest.
How to use Explore and Your Groove in Microsoft Groove
All in all, I had 20GBs of music now safely stored in the cloud. But any cloud storage locker could do the same whether it was from Google, Box, or Dropbox. So what is so special about OneDrive?
Groove is everywhere
There are two killer features to Groove Music that for me make it worth my time:
It's everywhere.
It can stream all your music from OneDrive.
The status of Windows 10 Mobile in 2017 is, well ... it's not an option for most consumers. Nonetheless, Microsoft began to push Groove music clients to iOS and Android (back when it was just Xbox Music) back in 2013, and with it came support for streaming your music collection from OneDrive.
That's a significant advantage because asking a person to use Groove Music with the requirement that they need to be on Windows 10 Mobile is just ridiculous. But if I can get the same experience – at least for core features – on iOS and Android, that changes things.
And being able to stream or even download my entire music collection – all 20GBs – to my Xbox, my PC, my iPhone, or my Android device is quite frankly amazing. Even if I didn't have any of those I could still access and even play that collection through any web browser, putting my music collection anywhere at any time.
It's comforting to know that if I were to buy a new phone in 2017 – any phone – within minutes I can fire up the Groove Music client and have instant access to my organized music collection. With a simple long press, I can download albums, playlists, or individual songs all without having to jump through any hoops.
Groove Music isn't perfect
I'm the first to admit that the above scenario and use case does not match the habits of everyone. Many people – especially younger people – simply do not buy albums or have a vast collection of music that they need to store in one place. Customized and curated playlists are the killer feature for them.
There's also the issue of uploading 20GB of music. A user would need access to a decent internet connection – preferably fiber optic – with a good upload rate to make that one-time process not painful and laborious.
Finally, the limited storage of OneDrive without paying for more is also an issue. Microsoft is good about tossing out a few gigabytes here and there for new customers and those who enable auto-uploads for their camera rolls, but to hit 1TB status of available storage you need to be an Office 365 Home customer – a $99 a year toll. While I think Office 365 is an awesome service, many people just won't have enough OneDrive space for all their music. All of this assumes a person wants to use OneDrive instead of Apple's Cloud or Google – and maybe they don't.
Choose your own path...
When people ask why I use Groove Music, I say it's because of the lock-in I now have with Microsoft. My entire music collection is on OneDrive, and when I buy new music – whether it is from Bandcamp or Amazon – it gets uploaded to OneDrive so it can be on all my hardware. That and I just really like the Groove Music app, regardless of whether if it is on iPhone, Android, or Windows 10 – it just feels familiar.
The idea of switching to Spotify just is not in the cards for me, because of these reasons.
The same works in reverse, however, and I'm not sure how Microsoft gets customers to switch. I hope for a Groove Family Pass sooner than later, as that is still one of the most requested features.
Everything you need to know about Groove Music for Windows 10
In the end, we all use music streaming services for our own reasons. Even if Groove is not your first choice, thinking about where you store your music collection, and how you can get the most of it, is important.
Let me know in comments what is your solution to this problem and why you do – or don't – use Groove Music.
Windows Central Newsletter
Get the best of Windows Central in in your inbox, every day!
Daniel Rubino is the Editor-in-chief of Windows Central, head reviewer, podcast co-host, and analyst. He has been covering Microsoft since 2007 when this site was called WMExperts (and later Windows Phone Central). His interests include Windows, laptops, next-gen computing, and for some reason, watches. Before all this tech stuff, he worked on a Ph.D. in linguistics, watched people sleep (for medical purposes!), and ran the projectors at movie theaters because it was fun.
Does the Music folder in OneDrive take up from your total available storage?

Yup, it's just like Photos though that gets "seen" by your other devices/integrated more. I have 1.13 TB of storage mostly due to Office 365. As I note, the OneDrive option only makes sense if you have a lot of storage available, which is a downside.

Do I need to subscribe to groove music service to use this feature? I'm asking because it is not working at all on my phone. I have created a folder Music in root directory of one drive. Still it does nothing in the music app. Music is no where to be found in the app. I'm a WM user.

No you dont. I'm not a subscriber and I see all my 15GB of music, and download it to my S8, Lumia 950, Surface Book, etc..

You can't make your own folder and name it music. Had the same issue with my wife. Make sure you're logged in through your web browser then follow this link and put all of your Music in there. https://onedrive.live.com/?id=music

Still not working bro. Any solution?

Well this feature is not available in all countries can't use it in greece because groove is not available here as a service but only as an app.

I can understand that. But I have changed my region to US and I can access all the services and features including groove music pass. Looks like I also have to change my country in my outlook account. BTW thanks for the info

I have Office 365 too. I really wish they would have storage pools that could be shared among the users at expensive of the individual allotments. For example I get 5 x 1TB accounts right now. Why can't I have 1 x 4TB shared pool and 5x 200gb individual drives. This would be much more useful to me.

Yeah. Because normally most people don't use whole 1TB of storage they only use around half of it and half goes wasted.

If you have a groove music pass you will get a extra 100gb for onedrive..

They need better family options. Like adding a family OneDrive account where shared music can be pulled from. My wife and i have some music we both like, but i don't want all her songs. With that said, photos also need to be uploadable to a family album. Kind of like family calendar.

This... Why can't it look at a shared music folder from someone in the same Microsoft family. I want to have a central music storage place for all users that doesn't take room on all drives.

@JimStrav, what you're describing could have been an extension to the under-rated feature - Rooms. I miss that feature a lot and since being replaced by Groupme.. It's not been possible to get people to install and register onto messaging client. Most people use Whatsapp, Viber and facebook messenger. Skype not so much except for only video calls.

@TechFreak1 Zune would do that easily. You didn't need a family plan. All you had to do was connect any of your family members phone to Zune and give it a name and you could download any music to any device with only one account. The only caveat is that you needed to sync the phone at least once a month to keep the songs on any particular device. More importantly with Zune or Xbox Music the $14.99 plan was the best. You could download and keep 10 songs per month for life. In the earlier days when songs were .99 that was a savings of $9.90 per month. Later on when the songs went to $1.29 that was a savings of $12.90 per month making the overal cost pittance. But for some reason people couldn't figure that out and didn't sign up for the $14.99 package. It was the BEST music deal EVER! The good ole days! Well I had many years of 10 free songs per month. That was great! Some could argue that you paid for the songs up front. But the savings still outweigh just paying $9.99 per month without being able to keep anything FOR LIFE.

I started Groove service last month. Music on my 950 and PC. My wife wanted to listen to music. So I loaded groove onto her iPhone, signed into Groove using my name. Groove knew my OneDrive. Then we figured out how to make music available offline. Now my wife simply goes on Groove through the PC, adds music to her playlist. Opens her iPhone and allows the playlist to sync. Thus, her songs are available offline. Takes awhile for the songs to download. However, there is a problem. Some songs from CDs we have owned for a long time will only play on my 950/PC and will not play on her iPhone. Something about digital rights will not allow access on her iPhone. Does anyone have an explanation for that one? BTW, loaded Grammarly in Edge. Works great. Makes me a better writer.

To what format did you rip those CDs? Maybe the iPhone cannot play protected WMA files?

I had this issue, the way I fixed it was to access groove via a browser, delete the song from the playlist, sync devices so the playlist is current, then re-drag the song back to the playlist.

I recently got into the Groove Music Pass when they were doing the buy 1 month get 6 free, and I have been using it heavily since. I also have a large collection that I've been curating for 30 years, and like Dan had a bored/ambitious day where I ripped every album. I then took those rips, collected every Song of the Day download (thanks KEXP), and stuff from Bearshare and Napster days and then sent it up to OneDrive...all 32GB of it. It was laborious, but worth it in the end, though it is still frustrating when some songs don't seem to play because of licensing or other issues (even when perfectly legal). I'm still learning how I want to use Groove around my house, car, and office, but I'm very happy with it. I just wish they'd advertise it now!

Groove is the best imo. I love it!

Love Groove! Works great for me.

Most users that have say 5 - 10gb of music would fill onedrive without paying for the storage on top of their subscription cost. So that cost needs to be factored in. However storing your own music is now becoming something of a problem for "people of a certain age". Most younger people seem quite comfortable with playlists of favourites and not owning their music. Particularly people who rent and dont have too much space to put those CDs. Even MP3s being stored is kind of an older person problem. By far the biggest problem with Groove is lack of a famly plan. Right now Spotify offer plans that include every family member. Serious music services need to be family friendly and allow Dad and Mum pay a sane bill for their teens music.

Google Play Music offers a similar feature, but allows up to 50,000 songs to be uploading without eating into your data allowance. The downside of course is that it's not supported on either Windows Mobile or Xbox.

I have my collection in Google play and onedrive as i have both Android and windows phone. I use them as back ups for each other.

I just can't believe they pulled the storage us leagcy users used to get. 5GB is not enough. They should have left 20GB for those of us who have been doing Windows phones and One Drive since they were brand new.

You could submit a request to keep the storage when they announced the reduction. I did that for both my wife and I. Both still have 15GB free plus 15GB camera roll bonus.

I had all my music on Onedrive, until my phone told me it could not upload any more photos because my Onedrive was full... I had to errase the music....

Like the article, wife and I will probaly move from Win10M, her IOS and I Andriod. Looks like we are good to go as we both have 1TB OneDrive. OneDrive and Groove should have us good to go not only for Music but docs, pics and so on. Thanks

Another good thing about Groove subscription is that it automatically adds 100GiB of OneDrive space. So, you don't even need to get an O365 subscription if your personal music collection is less than 100GiB. And if you're not using that 100GiB for music, you can still use them for documents and other files.

Hmmm...not me. I've only got 40 and most of that is from various legacy freebies.

Interesting. Maybe its region dependent. Mine is US. I have 1TiB from O365, 100GiB from Groove, 15GiB free and 15GiB camera roll bonus. Total 1.13TiB.

I've been using Groove for a few weeks now. Is there a cross-fade option? Saving judgement for another few weeks.

This ability to store and access my physical albums in the cloud is clutch for me. I have ~120 GB of music and the ability to play any song at any time from my personal collection is amazing (The 3 solid day upload time to get it all up there was a pain, but ultimately worthwhile). Also allows me to feel secure that I won't lose all the vinyl to digital rips I've done (They're a pain and I don't want to redo them if a drive crashed). That said, I'm sure I'm a special case, but it's a pretty great service that does cover my usage and works across all platforms. That said I'm in the group who wishes for a family pass with separate user accounts (No way my wife's Linkin Park and Blink-182 CDs are going to mingle with my stuff in the cloud...).

Like you, I keep my wife's music far away from mine, we were on a trip one time and she didn't have her phone. I figured I'd be nice and log out of my groove account and into hers so she could listen. Upon logging back into mine I learned that it does not save the offline files you previously had for listening without the internet 😒

1. No offline playback on Android so it's always sucking up your data.
2. No thumbs up/thumbs down thus you can't rate music. (which is especially bad on PC because you can't then create an auto-playlist and sync that to your phone!)
3. No Sync to phones... at least Android and WP please!
4. No option to cache stuff from OneDrive on the device for offline playback without eating data. Once these are fixed it will be a good app. Until then it has promise but still doesn't even match Media Player.

I can do 1) and 4) no problem on my Android device.

Yeah, the app was updated to bring it in line with the windows version.

Ya, you're wrong James.. Sorry to be the bearer of bad news, but your complaints are ill-informed. 1. On Android choose to download any music or "Make Available offline" and you can listen offline. 3. You can sync across devices, wrong again. Go to settings. 4. Isn't this a repeat of complaint #1? Just download it to your device.

Maybe he meant no offline to SD Card, as this isn't possible unfortunately. Otherwise a great app. Shines even more with personalised playlists on Windows Phone without a groove subscription.

This is the only reason that halts me from putting all of my music on OneDrive and then caching it. I have an S7 with 32GB of storage. It's an okay amount, but I also have 13GB of music, and 32GB isn't enough after factoring apps, updates, etc. I do however have a 128GB SD card. It's a shame the Groove app doesn't cache to the SD card.

Can't you save to your phone then Transfer it to the sd card? I hope you can cause I want that. Edit:, how do I make it off line? I don't see an option on my S8.

OK, I'm new to Android (Previous WM user for many years) and I have to agree with James. I've switched my playlists to Offline, and I'll download a few songs, but the majority of the downloads simply fail. I've contacted MS support on this and they say it's a widely known issue that they have yet to fix. And I'm trying to download them to my phone (Galaxy S8+) not to an SD card. So I can't really say that offline playback is really available. I still carry my 950 with me just to play music when I have no internet.

Until then it has promise but still doesn't even match Media Player.

And that's saying something becasue WMP has been all but abandoned since Windows 7. I think even paint has seen update since then (just to add a "paint 3d" button to be honest).

I sort of agree with you James, I do a lot of outdoor activities. Like 4 wheeling where there isn't a phone signal. Even thou I have all my playlist marked as make available offline. The songs still take miniature pauses, trying to connect somewhere... maybe its phoning home, I dont know. This happens on my windows phone, or even my IPhone (work and personal). Even when I am out mowing the lawn, I get this problem, and usually I have 2 bars on the outside of my house.

The OneDrive feature is available in the Groove app regardless of the whether you actually pay for the Groove service. I currently have a few months of the service free using my Microsoft Rewards. Not sure that I will keep it. It they offered a Family Sharing plan, then maybe.

Onedrive is why I use Groove as well. I put all my music and my wife's music on there (currently 32GB, not fully uploaded yet), and we can both access from any device. Generally we are on wifi or have good network coverage, but in the cases where we don't you can download it to your device. Works great for me because I was (am?) constantly switching devices.

The OneDrive capability is the main reason I use Groove. I looked at other options but to be able to put it on the OneDrive and play it anywhere I have my account linked is very nice. It's a feature that I don't think Microsoft has touted enough!

I have 600gb of music on my Onedrive but I don't use Groove since I moved to Android.
I don't want to waste my data streaming, I use a 200gb sd card to play offline music. Onedrive is good to store and download to other pc's when I want something I don't use so often but I recently had a big issue when I did a clean up of my tags and Onedrive got stuck updating 170gb of music.


I'm considering switching from Spotify to Groove. Spotify's killer feature is supposed to be their playlists, but I find them frustrating. A high intensity workout playlist with Adelle's Hello as one of the first 5 tracks, all the owrkout playlist are rap and hip-hop centric (please just 1 rock based workout playlist), and on Windows mobile the Spoitfy app wasn't working well before they abandoned it, and it's getting worse all the time.

I'm not a fan of streaming, eats up my monthly bandwidth on my cell plan. And I've got an almost 400GB folder of MP3s. I keep copies on all my PCs and I bring a portable drive to my parents for storage in case of fire or theft (including important documents I don't want to lose as well).

You may consider building a playlist. Make the playlist available offline. This would reduce the amount of music loaded onto your device and also avoid using your available bandwidth. This is what my wife does.

Groove on Android sucks, it's brutally slow and I don't want to use steaming or take 1000 years to upload my files to OneDrive. Why it can't just read the files off of a SD card is beyond me. I'd go right back to a Groove sub if they fixed that. But they won't.

There's another reason Groove sucks on Android - they ONLY display in portrait-mode! It's fine if you're using it on a phone, as you can hold it any way you like... but on a tablet - especially the ones with an attached keyboard, you have to turn your head to the side to see what you're looking at (or pick up the tablet with keyboard and hope you don't accidentally touch the screen and screw something up). I've let them know about it - MONTHS AGO... yet nothing has changed (although I haven't checked lately... as I'm using Real Player Pro, now). Isn't Google Drive 20GB for free? Doesn't MS make more money than Google? Can't they afford to have the same amount for free? They're not getting my money for an Office365 sub, because I don't need or use it (I use Word Pad for word processing... don't need anything else in the Office package).

I agree, Groove on Android won't play my music files I loaded from Groove on my PC.

I also have problems with Groove on Android. The music stops for no apparent reason.

Here's one thought I've never seen addresses well. This may be blasphemy, and RIAA may come after me, but what about a shared music collection.
When my wife and I got married, we merged our CD collection. As we went digital, that collection went digital. Easy enough. My wife and I share a computer at home with separate logins. (This hasn't always been as smooth as MS would want you to believe.) On this PC we have one large (2Tb) drive, with a Music folder. If we wanted to leverage the Groove/Onedrive paradym, I would have to copy our Music folder into each account. HOWEVER, our OneDrive folders are cached locally, so now, we would have 2 folders on this system with all our music. If we have a collection as large as yours (20Gb), that's a lot of storage to double up? Thoughts?

I would just upload all of your music onto each account, but set the music folders to Online only so you are not using any physical space on your machine.

We just keep all the music on my account. Then my wife logs onto Groove from her iPhone using my account. Simple. For the PC, she can log into my account on the PC. But we don't listen to music much around the house using the PC. We use a record player. Tried to get the Sonos to work through the net work connected to my receiver. But seems to be unreliable.

Look at my post on this. My wife and I share the same library. We created a third account that is used on our server and that account shares the music folder in OneDrive to both of us. Or, pick whichever of you will do the sharing (probably you) and then add that shared folder INTO the other person's main folders (it will show up as Music1 or something similar). One reason we chose the third account option was that it resides on our server, which allows it to do all the backing up (and using a lot of disk space) on the server instead of my machine or my wife's. Since we have Office 365 Home, all three of our accounts get 1TB storage each, so the server keeps its hard drive sync'd to OneDrive all the time without interfering with our machines. Oh, I forgot to add that by having the Music folder for the "central" account on a server, I can also have that folder shared on our local network and it becomes a mapped drive to all our devices (and is available to the Xbox, too). Access to pictures, videos and music DIRECTLY over our LAN is dramatically faster than either of us pulling from the cloud. The cloud just becomes a backup to our server AND our cloud access for wireless streaming.

Why won't Groove let me create more than 100 playlists on Android? Anyone know if that's the limit?

Thanks for tip... I didn't spend days ripping my CDs, but months... 414GB at the moment. I hope Groove handles FLAC and high res files? Will it cache albums on the phone?

I tried out the OneDrive syncing feature several months back and it was conceptually great but in practice frustrating. Biggest issue I had is the way the app handles tag information for my music. It broke down some of my albums, so I cannot loop those albums as i always do when listening to music. For those music that i have both locally uploaded version and online-purchased (from Windows Store) version, I see duplicates and some other more frustrating bugs (don't remember what they are exactly). I stopped using it because of these experiences, and not long after, MS took away affordable OneDrive options (I need close to 100 GB if I sync all my music), so I never looked back.

It's all based on the album artist tag not the artist tag. This is very common. I always ensure the album artist tag is consistent across an album. Never had an issue. I use MediaMonkey on the PC as it's tagging capabilities are amazing and it can handle very large collections.

Exactly right...album artist is the key. However, I do find that Groove all too often still messes things up. Every single album I purchase and rip/download I go in and verify or fix the metadata. Every time. Yet I've lost count of the albums that Groove has the completely wrong cover or somehow splits songs up because it thinks a song belonged to a different album (e.g. a Best Of or some multi-artist compilation album). I just with Groove ONLY used MY metadata completely.

Yep, Groove I a the killer... Of my internal memory... Despite having a 128GB SD Card, groove, on android, download my offline music in my internal memory, not SD Card!! Until this is fixed, groove is a no go for me... I manually put my music on my SD Card and use my excellent default music app (Sony)...

Plex throughout the house so a no go for me. It has gotten silly, Google Drive here, OneDrive there, local storage here and there, all because the different devices won't talk to eachother.

Groove on pc or on mobile dont have chromecast support so its useless for me for any music streaming. I recommend cloudplayer on android, who provide chromecast and onedrive support.

I would use it a heck of a lot more if it worked with my Chromecast audio.

Here's my tip... If you have an O365 home subscription and happen to have a spare account, you now have 1Tb dedicated to music. Seeing as you can log in to Groove with any Microsoft account this is perfect for large collections. Plus the OneDrive app can handle multiple accounts making it easy to upload to multiple accounts. Finally, if you have an Android head unit in your car, download Groove on to that so you can have instant access to your entire collection there too...

I stopped paying attention as soon as you said Android.

Ray Ozzie. Still killin it !

The name they usedis because... Groove Networks was a software company based in Beverly, Massachusetts. Founded byRay Ozzie, the creator of IBM's Lotus Notesapplication, the privately held company specialized in productivity software that allows multiple users to work collaboratively on computer files simultaneously.

My Sony Xperia has a music app (former walkman) that currently allow Google drive integration for your personal library....

If the feature were AT ALL elegant or reliable, I'd agree. It's been absurdly hit-and-miss for me with getting playlists to show up across devices. In fact, it's so unreliable that I stopped using it in Forza Horizon 3 altogether. It threw playlists in perfectly the first time I uploaded them, but when I replaced those with new playlists, they never showed up after numerous efforts to resync and replace them. I really wish they'd just stop being so greedy with forcing cloud services on us for a change. Let me store music and playlists on my XB1 locally. It saves upload time, bandwidth from uploading AND streaming, and probably gives me a more reliable file system to play music from.

Nice Advertissement article Dan ;)

Weak comment, Foxhound91 :)

Coming from somebody with a fertile imagination (surface phone, cshell...), It's a disapointing comeback. I was expecting more. Try again :)

Wrong writer. Zac broke the cshell story and I haven't said anything about a Surface phone in the last year.

And you're already getting a defensive stance or should I say : retrenchement stance ;)... Without even having to go and check, you spoke about surface phone in your podcasts of this year. Otherwise, you were talking about it since 2012. But anyways, that's not the subject here. So, let the money Groove ;)

I agree with the article, for the most part. And a some sort of Family Pass would be helpful. But way I deal with this NOW so that both my wife and I can take advantage of a single library is one that Groove/OneDrive don't handle too well: Shared Folders. I subscribe to Office 365 Home. I actually grant THREE account access to this: mine, my wife's and a third account I created for our home sever running W10. This allows each to have 1TB of storage. All music, videos, pictures are stored on the server, which is set to automatically sync those folders to server account's OneDrive. Folders are shared to my wife and I. OneDrive allows you to "add" shared folders to your own. The PROBLEM is that Groove doesn't immediately recognize a Music folder OTHER than the one native to the logged in account. Even if you rename your own Music folder to something different so that the shared one is the only Music folder, Groove has a hard time recognizing it. While I can stream from it, very often Groove hangs or forgets. So, it's an imperfect solution, but it's better than the alternatives. Particularly since we have over 100GB of music alone (I not only ripped every CD we ever bought, I also painstakingly digitized every cassette and every vinyl album or 12" single we had, most of which you cannot find in electronic form anywhere).

It still can't shuffle playlists of over 1000 songs. That's the deal killer for me, though I don't fully use another app cause there's no other app that reads my playlists besides Perfect Music, but when changing or restarting tracks on PM it just reshuffles the playlist and it's frustrating.

OMG. I playlist of 1000 songs? Yikes. I have a couple of playlist of maybe 30 songs each. I think at that point I'd rather just have Groove shuffle play my entire library rather than curate 1000 or more songs. Or choose Genre and shuffle that.

Yup, I have a library of over 10,000 songs, so it somehow makes sense to have a playlist of the songs I like the most which includes all kinds of genres, so shuffling by genre is not an option. iTunes does shuffle them very good on PC, Mac, or iOS.

I've been curating that playlist for years, my music collection is of over 7,000 songs so having different playlists with different genres is sort of normal. I like many kinds of music.

Groove and OneDrive are Amazing.... love to use them every day

I have a 600+ CD collection that I started back in the late 80s. I finally stopped purchasing CDs about 8 years ago. Back in 2006, I too set out on the grand adventure of ripping all of my CDs to MP3. I managed to make it through about 300 of them. I purchased a nice 1TB external HD (for several hundred dollars) to store all of them on. It lasted about a year before it crashed and I lost everything!!! Not only the music, but about 10,000 digital photos too! I learned my lesson the hard way. Ever since then I ONLY store EVERYTHING in the cloud. OneDrive won my business years ago! I also love Grooves integration with MY music, but I hate that there is no "free" version. I adopted the free version of Spotify when it was first released back in 2012(?). I don't stream much to my mobile devices, so I have never subscribed. 99% of the time I listen to music at work while at my desk. The lack of a free version to stream music I don't own is the only reason I have not moved to Groove.

Google has Google Play Music, which you forgot to mention. I've stored all my music on Google Play Music and the storage is separate from Google Drive

Yes, that's true! However you can just store 50 000 songs there! (The last is IRONY!)

(And 100 000 songs if you have a Samsung phone . . . Just sayin' !)

I can imagine that Groove is great for this case. For me, Groove's selection of streaming music is just not there. There's too many holes for what I listen to, when I can use Spotify and it has less holes for the same price, along with also being almost everywhere too.

I didn't like how it couldn't properly duplicate many tracks stored both on ObeDrive as well as local storage, plus the lack of placeholders made management a PITA on lower storage devices. They need a macOS app, as well. The website requires flash which is neither preinstalled not getting installed on my iMac. In the end I moved back to a local windows account and deleted my Microsoft account. I much preferred the way Google Play handled this in comparison to OneDrive, and their web interface is far more accessible across desktop operating systems as it used HTML5. Microsoft needs to update their iOS and Android apps if they wa by this to be taken seriously. A so, Movies and TV needs to use HTML5. It's unusable outside of Windows unless you're willing to install flash or use a browser with it embedded for the sole purpose of accessing their services. Too stagnant on the client side. Don't like the raw folder/file management for music. It's buggy and just seems like a sloppy "quick fix" solution compared to Google Play and Apple Music. I don't mind paying for a "better solution" if it's something I use heavily.

**** Microsoft and **** Nutella. I've been a long time supporter for Microsoft and I'm definitely not anymore.
Yes I'm using Groove music on my Lumia 950 phone which is my last Microsoft Mobile device I ever purchased. Now I searched for Groove for Android and what it says is This application is not available in your country. I had to change country to USA if I wanted to use Cortana on all of my devices since 2014. Why these limitations? No one else except Microsoft has these. And this is one of the reasons so many people are moving away from Microsoft.

This makes we want to find some time to rip all my music sitting in my Sony 100 disk player. I'll have to find the time.

I used to have a Groove Music pass, but dropped it for Spotify when i shifted to Android. Mainly because of the lack of family plan, plus Spotify is data free with my mobile provider. I can stream for hours and not lose one mb of my monthly data.

Well, to do what I mention above - stream/dl entire collection on OneDrive - you don't need the Groove Music Pass, it's just free. You do need the storage on OneDrive though.

All those old anime songs I downloaded from Gendou.com follow me wherever I go.

I uploaded my entire collection, Cd rips and all to OneDrive about a year ago, totaling around 120gb. Literally right before reading this article I flipped the switch to remove duplicates copies from Groove if a song is uploaded to OneDrive. Next up is to convert that wav files to wma lossless. For whatever reason Groove doesn't see them in OneDrive, just on the native device.

Not sure why anyone would convert from WAV to WMA [Lossless], when they could use FLAC. FLAC is supported by everything - even Apple devices will support FLAC in a few weeks. You don't want your personal music collection in a format like WMA. We sometimes arrive at a point where being a super fan leads to stupidity. This is one of those points.

I also have a flac archive in OneDrive. For whatever reason Groove will only see the files if they're local to my device. Groove only appears to pickup wma and mp3 files from OneDrive. Hopefully this changes in a future update. I do have a large sd card, but i reserve that for videos.

Fiber optics does not imply fast connection, nor does fast connection require fiber optics. I wish people would stop this nonsense.

In the US, where I am based, it is accurate to say this. If you have a cable modem (coaxial) your upload speed compared to FiOS will very likely be abysmal. Either way, this is a moot and beside the point of this article.

Correct me if I'm wrong, I thought FiOS fiber was an asynchronous service. ie, Upload speed is far lesser than download speed. My dad has this in VA and its simply awful for uploads but wonderfl for downloads. I personally have gigapower which is fully synchronous whether you get the 300mbps or 1000 mbps plans and is the only provider that I know outside of google fiber offering a truly capable upload speed. There may be other local providers elsewhere that offer this but FiOS doesn't in my experience unless your market has options I am unaware of.

It's not on Android TV (and I have tried to request this on the Feedback app as there is no official Twitter PR team to tell) and so it's not really everywhere. It's the one key reason why I normally don't subscribe (although I did this month because of the Labour Day deal they gave last week for buy 1 month, get 6 months free) because I'd love to just access my music from my Sony TV but can only do so using Google Play or Spotify. They could also have a Roku and Apple TV app because then it would truly be everywhere and I would've thought wouldn't be too difficult to achieve when they've already gotten core iOS and Android apps being actively developed and improved? Dan, can you talk to someone on the Groove dev team to make a suggestion please? ;)

Can you store and play back in lossless over OneDrive?

Only wma lossless currently if accessing through Groove. Any file through OneDrive directly. At least from my experience.

"and when I buy new music – whether it is from Bandcamp or Amazon" Noticed the obvious absence of "or Microsoft" which I completely understand. I have too much music get nuked in Groove due to the copyright owner cancelling the license sold through Microsoft. From now on I will buy all media from a non-Microsoft source (and rip if purchased in physical form). Pro tip 1: If Groove refuses to play a song, try forcing a download to the device first. I have some music (bought through Microsoft) that used to allow streamed play, but now the license only allows local play. Pro tip 2: If you buy the same music again, Groove will continue to refuse to play it until you delete the song, which forces an update to Groove's DMA database.

Not true, I do buy from Microsoft, but didn't include it because it is automatcially added to my collection. I mentioned buying from outside because it requires an extra step - drag-n-drop to OneDrive.

Gotcha. Auto-add to the collection is a big point in favor for buying from Microsoft. But after losing a few dozen buck's worth of music, I can't bring myself to buying music from Microsoft again. However, if you keep all your emailed receipts it is possible to get a refund. It takes a LOT of time and effort working with a support rep, though, in part because the receipts don't always have complete info to fully identify your purchase, and that is if they will agree to refunding your money.

Agreed! I've not really bought much music since 2012 but the ease of integration between my actual collection and my subscription collection makes it the best option. I used to swear by iTunes and iPods until maybe 2010 - Then Zune (with a subscription) and Windows Phone changed everything. I've tried to move to Spotify but it's simply not as good for my use. That Groove also has a pretty great Android and iOS app (though it is missing a fair few features such as decent list sorting) means I can use it anywhere. It's a shame that while the subscription is still great, it's not more competitive, and with no free ad-supported version either there's no real incentive for people to switch, unfortunately. Groove could be a contender if Microsoft wanted it to be, but I think they're content that it just exists and will happily let it continue to float on as is without any major changes that would cost them extra money.

Groove is awesome on Windows 10. Problem is, Nutella has chased most of us to Android or even iOS. While I can't speak for iOS, Groove and Android is absolutely AWFUL. Damned if you do, damned if you don't with this guy.

I can't agree that it's absolutely awful on iOS/Android - that is where I primarily use it these days (OnePlus 5) including at the gym every night. Sure, W10M version is better (better controls, lock screen access, sees your SD card, share songs), but those are not deal-killers for me at least.

Not arguing with you, but it is missing many key features like swipe to change track. The worst thing missing is you can't search your personally owned library on Android. Try doing a search and the results are only for what is available to be streamed in the store. Unless I am missing something and you know a way around this, it absolutely cripples the app.

"And being able to stream or even download my entire music collection – all 20GBs – to my Xbox," Please tell me how to download my music from OneDrive to the Xbox for playing in Groove Music. I've been streaming my owned music under this configuration for over a year, but would prefer to just play it locally on the Xbox.

That desktop wallpaper link?

My biggest pain point with Groove (though I've been a subscriber since Zune) is it will only stream to one place. Get it going in the Den, walk to the Kitchen and start it there. Walk back the Den and it will say, can't play here it is playing somewhere else. That's anoying. Honestly don't know if other services are like that though. Really should play the same thing multiple places when using the same MSA. May be some sync challenges, but hey, MS is a software company I hear. Second issue, as has been mentioned is lack of a Family Plan. Not really a personal problem but a service offering problem that keeps Groove at a disadvantage. That surely affects the effort MS is willing to put into it to solve the other issues.

Groove would be perfect for me if not for the poor selection. I've been a subscriber for a long time but find the international selection sorely lacking. I also listen to alternative genres like EDM. And most of that music isn't offered. I guess if you listen to the everyday Top 40 kinda popular stuff, Groove is perfect. For me, with musical taste beyond that, I just can't find what I want to hear on Groove. Will be switching to Spotify since it's also coming to Xbox.

I was forced to movento a android phone because 9f paypal and ebay and many more leaving windows mobile. What ibdisnt know was that I'd be forced to use google play too because bother Fontana and groove sucked on my android phone. Groove doesn't read my sd card slot for my music 2hich is a huge problem for me and I'm guessing alot of groove lovers. Let's be honest here. Most people need a sd card for their music collection and don't want to stream it as we all don't have unlimited offline data download. What makes this situation even worst form my and Microsoft's point of view is not only doesn't groove support my android phones as cars but it's also the best selling android phone series of last year and has many many users who might have liked grip. It's the s7 edge. So it doesn't matter what killer feature groove has if it can't read all my music on my phone.

Also as microsoft no longer showed support for their mobile phone space and that has impacted on developers leaving the platform, I don't want to invest in onedrive. I thing groove and one drive is awesome but what's the point if there isn't even a mobile phone offing from windows mobile good enough for me to ue3 for it. I have a feeling microsft might get to understand this in the next year or 3 when peopme are no longer on any windows mobilw devices cause no ones gona use groove soon. Not from a consumer point of view. No mobile phone= even more shrinking in all other markets around qindows 10

Daniel - Why not mention Office 365 Personal for the 1TB of Onedrive storage? It's $69.99 a year and for most that don't need to share it's completely sufficient. I use it for my home PC, my Surface 3 and my Icon. It is a more attractive price.

So, just like Play Music's upload feature to sync your own music to it without taking a chunk out of your Drive quota? Mmkay.
Disclaimer: I don't use Play Music either. But it's had this for years.

They also have family plan, which gives me + wife subscription for 15$. Don't see how Groove is superior, Google has same 10000 songs upload..

I quite like the desktop app and I hear Microsoft pays out to artists more than Spotify and other big streaming apps. And I like to support musicians as much as possible. But for me the most annoying thing is most music doesn't hit Groove at the same time it hits other streaming services. So when a new album comes out, I typically have to wait a few days to a couple weeks before Groove has it. And sometimes the album art is wrong. Or the band profile imagery is from 10 years ago and half the band has changed. Then, when I add a single to my collection and the album comes out a month later, it duplicates the song, or the album takes on the album cover for the single instead of the actual album cover. It's very glitchy. I love the OneDrive feature for my music that isn't available to stream from local artists or just clips of songs and unreleased stuff. Groove is far from perfect. It has potential. I hope it can get polished up. It has had issues that have annoyed me for years and no solution. Makes me wonder if Microsoft sees a future in music or if it's just another project that they forgot they still had.

I'm a huge GROOVE user but I cant find a way to Equalize my music on IOS when using Groove.....How the hell are we supposed to do that? The app has no EQ and IOS EQ from Apple Music doesn't affect the music played through Groove....am I forced now to either suck it up and listen to FLAT EQ music or give up Groove?

I love it! the feature where you can create playlist based on your music (uploaded via onedrive) is simply awesome!

@Daniel, Do you also have to change the type of the folder? Currently from the Netherlands I can only set the newly create folder to either "Documents" or "Pictures". Do you have "Music" at your end? Thxs.

Aaaaaaand they killed it. ::sigh::

"The idea of switching to Spotify just is not in the cards for me, ..." Oh how a few weeks later might have change everything. I'm going to enjoy Groove/Xbox music till the last minute. Xbox\Groove is my second most used app. This article inspired me to start backing up my music. Now after the kick in the gut with the killing of Groove it has slowed that process down. Shameful. :(
Windows Central Newsletter
Thank you for signing up to Windows Central. You will receive a verification email shortly.
There was a problem. Please refresh the page and try again.