Microsoft has a new Xbox 360 bundle with a free copy of Peggle 2 for $179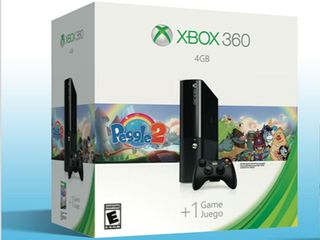 Microsoft has a bundle of cool game bundles for the Xbox One console on sale for the holidays, but it has not forgotten the older Xbox 360. This week, the company introduced a new $179 version of the nine-year old console with a 4GB hard drive and a code to get a free downloadable copy of PopCap's recent casual game Peggle 2.
In addition to the console, Peggle 2 and a wireless controller, the bundle also has a code that can be redeemed for one free month of Xbox Live Gold service. This bundle joins the previously announced 500 GB version of the console with two free games, Call of Duty: Ghosts and Call of Duty: Black Ops II, for the price of $249. Walmart is selling a blue Xbox 360 500 GB console and controller with those same games for the same price. Target has its own exclusive $249 bundle with a 4GB Xbox 360, three free games (Kinect Adventures, Kinect Sports, and Forza Horizon) and a Kinect sensor add on.
Which Xbox 360 holiday bundle is most appealing to you?
Source: Microsoft Store (opens in new tab)
Windows Central Newsletter
Get the best of Windows Central in in your inbox, every day!
Not worth it. Got my Xbox one bundle for $167.

Sorry dude, you got ripped off

I don't think you know what a troll is.

A troll is anyone who makes comments to create confrontation. I think he achieved that with MrTechRat. Lol

I just picked up an Assassins Creed bundle for $251.40 out there door. I applied a 5% coupon code then $100 for an PS3 trade in I never used plus a $10 gift card from preordering Destiny. I don't even care for AC so I get to sell those and bring my cost down even further. Btw anyone interested in buying Black Flag or Unity?? If I had the money to spend I would totally buy that blue Xbox 360. I think it's f'n rad! I don't care how old the platform is.

Surprised they're still actively selling the 360, let alone still promoting it.

I think there are people who want to buy cheaper game consoles and that may be the solution if they want an Xbox but they can't buy XboxOne

Agreed. Just like low-end Lumias. However, @ $350 with a game (Sunset Overdrive or others), I'd recommend spending the extra cash! 360 had an edge with the media center stuff, but Xbox One is catching up. It's definitely clear that it's a MS priority to make One so much more than just a gaming machine.

This was the original plan. Keep the 360 going for cost conscious, emerging markets, and those without consistent fast internet. Then make x1 online all the time with games online and the works. But internet trolls kind of killed the vision in the weeks before release

And not to forget, the 360 has a lot more games still :)

In the end, this week also affect XBoxOne sales for me supports to the XBox line, in then end, it's about the games and the Xbox live service that really makes the money, not the console

For that amount of storage, that seems marginally expensive.

Honestly, that's not bad even if you're just in the market for a media device. I really want an X1, but its a no go until they have the Comcast app. I use that as my DVR replacement

What the hell are you gonna do with 4GBs?

Plug in a cheap external like I did

Not install games? I was fine with 4gb until GTA5 :)

And is the Xbox 360 9yo already?! Man im getting old :o

Yes i know i can edit, just wanted to reply to my own shizzle xD

before i forget, peace on you!

At least its a code unlike the compilation disc that came with the arcade bundle

Saw an Xbox One bundle at Costco this week with 2 Assassins Creed games in it for $334.99. I'd rather pony up an extra $100 for a year old console than pay $249 for a 9 year old 360 with two CoD games...

Yeah Sams Club has the same Assassins Creed bundle (Im there now lol)

$179 is too much for it. They need to get it down to $130-$150 max.

Give away some free Xbox please!

This crap version of the 360 usually sells for $129.99 on Boxing Day. Even then, it's overpriced.

My 360 s is getting sluggish wonder if I can push it over the edge.

It's a bit cheeky selling it at such a high price isn't it? Some less tech savvy parents will get this as an Xmas present for their kid not knowing it will be phased out within the next 2 years
Windows Central Newsletter
Thank you for signing up to Windows Central. You will receive a verification email shortly.
There was a problem. Please refresh the page and try again.