Microsoft Health will be making its way to Windows 10 PCs shortly as a UWP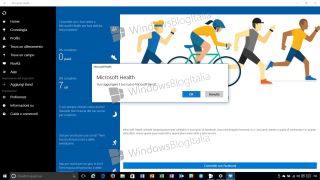 Microsoft Health may be making its way from your phone to your desktop in the near future. The folks at WindowsBlogItalia have scored a preview of the build and detailed some of the features, as well as some changes that are said to be heading to the mobile app.
Currently, the Microsoft Health app is designed for Windows Phone 8.1 and the Microsoft Band and Band 2 but it is also compatible with Windows 10 Mobile. That will soon be changing as Microsoft moves forward with their new OS and revamped core offerings.
The app description, (via WindowsBlogItalia), reads:
There will also be some changes heading to the mobile app, which includes:
Completely transparent tile;
The information contained in the section Home are now all translated into Italian.
Section Home, as well as to show steps, calories burned, etc. Now also shows a description.
Under the Preferences section has been inserted Box Home with the ability to enable or disable the transparency and the live tile.
You can customize the items to show in the live tile.
Besides the limitation of today's current app using older APIs and design elements, it is restricted to only phones. With a Windows 10 version of Microsoft Health the app can live anywhere - phone, tablet, or PC - giving users more flexibility.
These updates are not yet available, but be sure to keep an eye out for them to arrive in the Windows Store.
Jared started off writing about mobile phones back when BlackBerry ruled the market, and Windows Mobile was kinda cool. Now, with a family, mortgage and other responsibilities he has no choice but to look for the best deals, and he's here to share them with you.
I agree. I have been waiting for a "desktop" version for quite some time. I have wanted the web dashboard integrated into the phone app for a long time. Having this on a larger screen will be better for assessing the data. One feature I really would like is the ability to download my own data output. This has limited me to not using these devices for some of my health analytics projects.

Wondering why they are using that ugly 8.1 UI in the app though. Need to replace those icons with the Windows 10 segoe assets. Zachary Bowling - ZAD Apps

Oh finally. This will be great on desktop.

Finally! Been waiting quite a while, glad to see it's arriving soon.

I hope they bring those new features to the WP8.1 app too, since many of us are still unable to upgrade (Hi Verizon!).

You totally should use Release Ring and update your phone ... =)

Not worth the risk. My Lumia 928 may be three years old, but it runs WP8.1 like butter. I'm not going to give that up, especially since I have several delisted apps and games on that phone that I don't want to lose. The only way I'll upgrade is if Verizon actually sells a new Windows phone with WM10. Otherwise, I'll keep using this 928 until it dies, and then I'll just replace it with another 928 from ebay. I don't care if it's the year 2022 and I'm still using a 928 on WP8.1. It's better than the alternatives: Android, iOS, or an unstable and unsupported WM10 on it.

10586.218 is totally stable =) and is supported by MS, not Verizon. You probably will start to lose apps since they're going to be Win10 exclusive, starting with Instagram.

You are right to not upgrade. I have used Windows 10 on my 928 since it was first released on the Fast Ring, and performance is horrible. I finally gave up and switched over to AT&T. Glad I did, because it is cheaper for the same level of service and Windows Phone is allowed a place on their network. International travel will be better because I can just swap out my SIM for a native carrier SIM. Hated not being able to do that with Verizon. You should switch. I was with Verizon since 2002, and they didn't offer anything to keep me as a customer. Now, I am saving $70 a month.

Have you performed a clean installation? Because installing build on top of build isn't anything good.

Yes. I did a hard reset for every new Build released. The 928 is not on the supported list of phones to receive Windows 10. My guess is because the user base numbers are small and so Microsoft doesn't have enough data points or resources to work on this device. That is alright, I was planning on buying a 950 XL. I just gave the phone to my 7-year old. :)

Great move. I also migrated my whole family to AT&T - just for the 950 - and never looked back. No coverage issues, and an saving lots of money on top of it. My 928 still serves as my Waze navigation source in the car (via hotspot to my new phone) because the app causes screen burn-in; and WP still doesn't have a social-network based traffic app that comes close.

Great, I hope this new UWP MS Health app fixes the scaling issues on phones with high DPI and finally enables Continuum support.

Sweet! Here's hoping that now that it'll be UWP, it'll also come to Xbox One when UWP apps are (finally) allowed to be published to Xbox One. Might also be nice to finally link the Xbox One Fitness app to Microsoft Health, which I have always found to be an obvious omission. Posted from Windows Central for Windows 10

Actually I think its already linked to microsoft health. Unless you're referring to something different

Personally, I don't really need to see Microsoft Health on my Xbox One. But, I would definitely love to see integration into Xbox Fittness, and for the Band to be able to know when I'm playing a Kinect enabled fitness-oriented game, like Kinect Sports.

I'm hoping for the same thing. It would be nice to if Health and Xbox Fitness shared data. Might encourage some of my Xbox Fitness friends to get a Band as well.

Badly need to do something about how and the way you make routines. It is AWFUL.

Tried the website, it's amazing, much better than pretty much anything else out there (just missing food/drink/calorie intake).

I hope this will bring an end to the BT issues with Band 2. I have seen a vast improvement with the latest W10M update but I have to uninstall /reinstall the MS Health app to get the Cortana functions to work on a weekly basis. Jason Using Verizon's ******* Child Lumia Icon

Ever since .218 and a re-pairing last week everything is working smoothly on my 950: syncing, notifications, cortana and KB.

Best news I've read all day. Daniel, any chance you could please outline what steps you took to re-pair? Also, is Cortana via Band now working correctly with Windows 10 without first having to unlock the phone? That's probably my biggest annoyance. The only time I use Cortana from my Band is when I step away from my phone, but I'm still within Bluetooth range. If I used my phone recently and it isn't locked, then it works fine, but otherwise it just tells me something's wrong. Posted from Windows Central for Windows 10

I still seem to have sporadic keyboard issues personally. Posted from Windows Central for Windows 10

The real F*****g question is when will they merge health and health vault apps? I can track my calories in health vault but not health. This kind of of overlp was supposed to go away?

What do you mean with you can't?

Microsoft only lets you track calories burned, based on data obtained from the Band. It'd be useful to also let you track calories consumed, instead of having those two in different places and therefore harder to track the overall picture. Posted from Windows Central for Windows 10

Oh right, now I get it =)

Sorry I wasn't clearer....

I don't even use Fitbit's built-in calorie intake tracking on Android/iOS, let alone HealthVault's (ewww), much better to use MFP, it's pretty decent on W10M too. But yeah, would still be nice to have it built into Health, just like it is in Fitbit, would prolly be crap though, & I'd prolly go back to MFP.

Great but first make it available in other regions for windows phone as well. Currently its only available in US .

Your post confuses me. What else is there besides the US? GWAR! GWAR!
BLOOD FOR THANKSGIVING!!!

What da heck! GWAR is my surname.

Right on! GWAR is my Surya! GWAR! GWAR!
BLOOD FOR THANKSGIVING!!!

Will it be available in each country? Because I have to change region from India to USA to download current app. I hope Microsoft will publish this UWA to every country.

Is the Band actually sold in India? If so, then I agree, that's a terrible oversight (and if it's not sold in India, I have no clue why not, but at least we know why the software isn't published to the Indian store) Posted from Windows Central for Windows 10

Nokia Withings is sooo much better :)
https://www.windowscentral.com/e?link=https%3A%2F%2Fwww.kqzyfj.com%2Fcli...

Makes sense. This will probably come shortly before the Anniversary Update does, given that a Companion App (like this one) is required to enable "Windows Unlock" with a wearable, which is part of the Anniversary Update.

Good observation. And from a timing perspective, it would make sense to release it soon, along with the current rapid release schedule in the Windows 10 Insider Fast Ring. Posted from Windows Central for Windows 10

Waiting for long.... will make life easier!!! Also, would be great to link with Xbox health and exercise related games.

What took them so long to take care of an important app on their own platform? you would think all Ms apps would be the first to go UWP.

Well, I guess it wasn't a priority, the health dash on the website is pretty comprehensive and the windows 8 app does the job somewhat. Posted from Windows Central for Windows 10

Everything translated into Italian? Noooooo.... ;)

My thought, as well. What if we don't speak Italian?! ;-)

I hope this allows direct sync between band and computer without using phone. (Something that you can do with Fitbit).

Lets see if a Uwp version would finally read the steps from the motion data. Posted from WC for W10 running on my 930.

Can anyone tell me that does this app counts steps,distance walked, calories, without the band. I mean like Microsoft health and fitness did in 8.1 on phone even in background, cause I havent find any app that counts steps on phone (w10m) while running in background aaaand without using GPS

MS should fix all the bugs,so far MS Band2 is a failure because of the health app

Can they add a Hiking activity calibrated correctly? I launched Run the other day to do 7.6 miles, using trekking poles, and it said I accumulated 4000 vertical feet in 2:45 hours?? I'm in shape, but not THAT much in shape!

All I want is the offline step counter that they had on w8.1 with the old health app. :(
Windows Central Newsletter
Get the best of Windows Central in in your inbox, every day!
Thank you for signing up to Windows Central. You will receive a verification email shortly.
There was a problem. Please refresh the page and try again.