Microsoft launches Holiday Gift Exchange - enter daily to win $500 voucher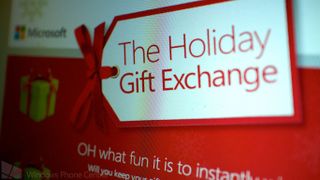 In conjunction with Microsoft's 12 days of deals, they are also running the Holiday Gift Exchange until December 20th. Starting from December 9th, you can complete the entry form to "open" the gift you're presented, or click on one of the alternative gifts shown on the site to see if you're an instant winner. You could win a $500 gift code to microsoftstore.com.
The game is open to residents in the United States that are 18 years of age or older. You can play once each day. Here's how we played the game today:
Enter your info to see your gift. Open it now or swap it out? For our first try, we decide to swap.
If you decide to swap, you can choose from nine other presents.
Let's see if we get lucky today:
Bah humbug! We didn't win today, but we can try again tomorrow. In the meantime, the game recommends the players to check out Microsoft's 12 days of deals. The first day kicked off with the Dell Venue 8 Pro for $199 (normally $299). If you were lucky enough to be among the first 20 customers at your local Microsoft Store, you were able to grab the tablet for just $99!
While we've not been able to confirm its accuracy, we have the leaked list of promotional items for each day. There are some great deals there that you might be interested in. For example, you can get the Nokia Lumia 1520 for free if you're one of the first 20 people at the store on Wednesday, December 18th.
There are 12 Grand Prizes in total for the Holiday Gift Exchange. Your odds of winning this game depend on the number of entries they receive, so we recommend trying every day.
What would you buy at the Microsoft Store if you win? Let us know in the comments!
Source: Holiday Gift Exchange, Via: @MicrosoftStore
Windows Central Newsletter
Get the best of Windows Central in your inbox, every day!
Where do I play this game?

The link in the sources: http://www.holidaygiftexchange.com/#fbid=_BWdfi4cwMj

holidaygiftexchange.com. it's the source link at the bottom

Good grief, does Microsoft need to clean up http://microsoftstore.com. Yesterday I found no less than four entry points to the Dell Venue Pro 8, and each were different in pricing and other details, or brought you to the Placeholder Error File page. Today I click on the 12 Days of Deals on the http://holiday.microsoftstore.com page (where you go when you click the deals link on the home page). The Venue Pro is still featured as today's deal, but depending where you click in the deal banner, you end up in varying unrelated pages. At least it's all running in the cloud, eh?

Perhaps the people who designed the Obamacare web site who were fired were hired by Microsoft to work on the Microsoft Store sight.

Even more strange, why no Canada despite us having Microsoft Store physical locations and getting the 12 Days of Deals?

Microsoft only wants the US to have a nice Christmas U_U

Because you'll just be eaten at Christmas dinner anyway.

Only the US again. Funny since the US has some of the lowest Windows Phone adoption rates.

Which is why Microsoft is trying harder there.

Until the other markets, especially European who are the ones actually keeping Microsoft from drowning (windows phone in particular), get really tired of this crap and go back to android and iOS and Playstation and chrome and google search.

why are you so bitter over a contest you will never win?

Not even all of US. Void in New York and Florida. That's what happens when you've got to jump through a gazillion regional laws.

This has nothing to do with Windows Phone. This is the Microsoft store, which just happens to be a U.S. company having a promotion in the U.S. The Disclaimer says void in NY :(

All of this constant complaining about US only this, US only that, how about quit whining and crying and watch for things in your own country. Daily I see promotions, tons of them that are not available to the US and you don't see not one person complaining about it. It's a US based business offering it, get over it. There are plenty of promotions outside the US for you to get involved with.

Here in TX we have free gun promotions all the time... Oklahomans need not apply.

Lol, and BBQ, lots of bbq

You're probably one of the endless people screeching about AT&T on every post, even when it's in regards to another carrier getting and update or feature in some other country. You don't see us getting hysterical and basically telling them to STFU. People always want what they can't have, and will complain about it loudly.

Actually, no, wouldn't touch ATT and I have zero problems with updates or features nor am I anywhere near hysterical or told anyone to STFU. Move along now.

Whenever I see comments loudly complaining about other people complaining, I always read them in a shrill, hysterical voice to give them the justice they deserve. Telling people to quit complaining and get over it is basically telling them to STFU. Now git along lil' doggie :P


This is first and foremost, a .com website belonging to the United States. Microsoft would make their own promotions on .co.whatever if they ran one. Nokia does this shit all the time in Europe. .co.uk or .co.fr. or whatever. Microsoft Canada has had their own versions in the past under .ca

Also, you can use Bing rewards (40 points, 35 points for Gold) to enter almost daily for a $500.00 Microsoft Store Gift Card till Dec 23

That awkward moment when you have to use Firefox because a Microsoft contest won't work in IE11... (the button at the bottom of the entry page doesn't work for me)

I've seriously switched to Firefox and Xmarks in order to enjoy all that Microsoft has to offer....

Haha I had to use Firefox too.

It didn't work for me in IE 11, Chrome or Firefox. Perhaps I need to fire up Safari on a Mac

Nice. it worked perfectly on the iPad.

Odd because it worked on windows phone which uses IE

Not on my L920. When you have to choose your local store, the drop down list wouldn't go past Arizona. Honestly, how can MS put up WebPages and not test them on their own browsers?

I almost posted the same thing. way to be on top of things MS. and they wonder why less and less use IE.....

US exclusive again. SOD OFF Microsoft!!

I can extend the compliment if you're feeling left out.

Dude, judging by your use of UK slang, I'd hasten to point out that you guys get deals every day across the pond that we would kill for in the US. Look around for a UK centric WinPhone site and grow up take your bitchin and sod off - in that order!
Unless you're my Cousin Andrew lurking on this site, in which case kindly stop embarrassing the Family Cuz!

Nice! When I click "get started" on my Surface 2, nothing happens! I love it when Microsoft websites don't work on Microsoft devices.

What about Guam! No love for Guam?

Santa here. Not avail in North Pole! Bummer!

Europeans didn't know about America before Columbo. Maybe Microsoft needs someone like Columbo, to discover Europe?

The detective? Great show!

So their giving out 1520s? Or sign a service contract and get the phone free?

I am sure it's free with contract.

Anybody win anything? haha I tried a few different email addresses and got nothin'

Hey guys, join the petition for Microsoft to make deals worldwide: https://www.change.org/petitions/microsoft-make-the-windows-phone-and-wi...

Cool, I'll be playing this daily. I was able to score 3 Dell tablets @ $99. I was focused and didn't even have to be outside camping for some ridiculous length. Easy. I'll be checking out the upcoming deals and see if I need to be present to snag something else. Overall, the tablet is great!

ugh Florida. Just another reason to hate this place. Why do i think Rick Scott has something to do with this.

Well I tried the game, swapped out and Won! Sort of - my "Present" was a Garmin Sport watch worth $120+shipping on Amazon. All for the low, low price of $129(not sure if shipping was extra, or if I had to schlep to the 'local' store at my expense) + a $25 gift code for MS.com. A pretty lame deal unless I've been Jonesing for this watch. To claim it I followed the links, which took me to a MS shopping website that required I select my 'local' store, only that process failed to render properly on my Windows Phone so I couldn't get any further even if I wanted this great "Present". I could feel the lump of coal hitting the bottom of my stocking. I've said it before, the new CEO of MS should keep the Enterprise part of the Company, and fire every person responsible for their useless and incompetent Marketing to Consumers.