Microsoft Ignite 2018: All the most exciting sessions
Interested in what's going on at Ignite? Or attending the show yourself? Here's a handful of sessions that are worth keeping an eye on.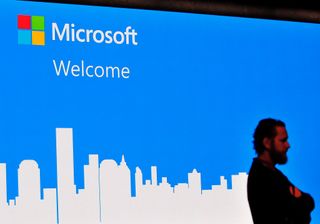 Microsoft Ignite (opens in new tab) is just around the corner, and you can expect to see lots of new announcements regarding Microsoft 365, Azure, IoT, and more for IT and enterprises at the event in Orlando, Fla. In addition to all the announcements, there will be hundreds of hands-on sessions that dive into new features, services, and more.
I've been looking through the sessions list in search of the most interesting sessions, and it looks like there are plenty of them (opens in new tab) that dive into subjects ranging from Surface to Windows 10 to Mixed Reality.
Here's a short list of all the sessions we think will be worth watching. If you'll be at the event, you may want to attend. If not, there may be recorded versions available in the future, but we're not sure. However, you can bet we'll be at these sessions to bring you any news that comes from them. So, keep it locked to Windows Central.
Surface Family Engineering: An Insider View
The first session that caught my eye is all about Surface and engineering products. Tim Golik will lead this session and talk all about how Microsoft builds Surface hardware alongside Windows, Office and more to provide a consistent experience no matter what you're doing.
Session details
Date: September 27.
Time: 11:30 AM EDT.
Description from Microsoft: Come to this session and learn about Surface Go, Pro, Laptop, Book and Studio hardware. Our product maker, Tim Golik, will provide you with a deep dive tour of Surface devices and their differentiated design. The session will also provide an in-depth review of how we build Surface hardware alongside our Windows, Office, and Azure engineering teams to provide the best and first implementation of the latest Microsoft technologies.
See session (opens in new tab)
Windows 10 and Microsoft Office 365 ProPlus lifecycle and servicing update
This session looks like it's going to talk a lot about the decisions behind servicing Windows 10 and Office 365 together, which means the topic of "two updates a year" for Windows 10 is likely going to be talked about quite a bit. The session will also outline why this update cadence is great for businesses and IT administrators managing PCs with Windows.
Session details
Date: September 24.
Time: 4:00 PM EDT.
Description from Microsoft: Together is better! Digital transformation is sweeping the globe, bringing with it an onslaught of cyber-criminal activities and making software-as-a-service the new normal for IT. Learn why Microsoft is embracing a servicing model across its portfolio and aligning product releases to help you get current and stay current across our platforms and deliver simplicity, security, productivity, and innovation within your organization. Get tips on how to move from a project-based to process-based approach and introduce service management maturity and change management processes to remain agile and accelerate the ability to stay current with the latest releases, all while ensuring the highest levels of security.
See session (opens in new tab)
Does new hardware matter?
In this session, Intel's Director of Strategic Planning and Architecture, Michael Nordquist, is going to deep dive into the subject of new hardware, and talk about why new hardware enhances security and productivity for businesses.
Session details
Date: September 24.
Time: 4:35 PM EDT.
Description from Microsoft: Is old technology getting in the way of digital transformation? New hardware is a vital element in bringing to life what is possible on Windows 10 from security to productivity. New camera technology makes facial recognition possible to log on to your PC securely and quickly with Windows Hello. In an hyper-connected world, new hardware running modern standby enables the most responsive, always-connected Windows 10 PC experience without sacrificing battery life. Learn more on how new Intel hardware maximizes Windows 10 experiences.
See session (opens in new tab)
Surface in the modern workplace + newest members
If you're interested in deploying Surface hardware in your business, this session is for you. Microsoft is going to dive into new Surface devices such as the Surface Hub 2 and Surface Go, and showcase how using Surface in the modern workplace helps businesses be more productive.
Session details
Date: September 25.
Time: 9:00 AM EDT.
Description from Microsoft: At its core, we know that the modern workplace truly comes to life for our customers when they can deploy the full Microsoft 365 stack on a premium computing experience with Microsoft Surface. In this session, learn more about the Surface portfolio and how deploying our devices enables the highest productivity and collaboration. Learn about Surface differentiators and why it's designed for the modern workplace. ​Meet the newest members of the Surface family - the Surface Hub 2 and Surface Go. Hear the latest about the devices and how to implement Surface in your workplace.
See session (opens in new tab)
Windows 10 in S mode: Why you should care and how it works
In case you were wondering, no, Windows 10 S is not dead. In fact, Microsoft has a session all about it at Ignite, where it's going to talk more about what Windows 10 S is, and why you should care about its existence. This session will likely focus more on why S mode is beneficial for businesses, but many of its talking points can be applied to everyone running Windows 10 S too.
Session description
Date: September 25.
Time: 12:30 PM EDT.
Description from Microsoft: Windows 10 in S mode powers affordable, cloud-ready devices that are simple, secure, and efficient. In this session we dive deep into recommended practices and discuss real-world lessons learned from the deployment and management of this new device experience. Discover how S mode leverages built-in, cloud powered, intelligent security from Windows 10 and how it uses the advanced capabilities of running verified apps from the Microsoft Store platform to deliver security and performance benefits.
See session (opens in new tab)
A better user experience in Progressive Web Apps (PWA) with Windows 10 APIs
Microsoft is all in on PWAs, so it's not surprising to see a session dedicated to PWAs on Windows 10 happening at Ignite. In this session, Microsoft is going to go all over all the basics of what a PWA is, and how a PWA integrated with Windows 10 offers a better experience to the end user.
Session details
Date: September 28.
Time: 9 AM EDT.
Description from Microsoft: Learn the basics of what a Progressive Web App (PWA) is and how to create an application that adds value when running on Windows 10. After a short introduction to PWA, the session demonstrates and explains how to access Windows 10 APIs in a PWA and use capabilities like offline machine learning when on Windows 10 and Microsoft Cognitive Services when running on a different system. See examples and demos of how to enrich applications with the power of Windows 10. Experience PWA in action on Windows 10 and Microsoft Edge; it's more than "just web," PWA now can say a friendly Windows Hello to Cortana and other Windows 10 APIs.
See session (opens in new tab)
Those are our picks for sessions to watch out for at Ignite. As mentioned above, there are hundreds of sessions happening at Ignite this year, and you can check out the full session list here. (opens in new tab)
Windows Central Newsletter
Get the best of Windows Central in in your inbox, every day!
Zac Bowden is a Senior Editor at Windows Central. Bringing you exclusive coverage into the world of Windows on PCs, tablets, phones, and more. Also an avid collector of rare Microsoft prototype devices! Keep in touch on Twitter: @zacbowden.
I love Surface news, but I'm kinda confused as to why it's being discussed at Ignite..... ❓❓❓

Ignite's background is TechEd, which was in large part for IT, although there were lots of sessions for developers, too. (When last I went.) So, I think a session on Surface at Ignite makes sense.

We all do. Surface has become the façade of MSFT.

Cool, an actual Microsoft related post. In other "news": Lulzbot Mini 2 desktop is a portable, professional quality 3D printer
Store 256GB of important data with SanDisk's $50 USB 3.1 Flash Drive
Get this CAD and 3D printing ebook bundle for just $20
Call the shots with V-Moda's $20 BoomPro microphone
These great Thunderbolt 3 docks turn your laptop into a desktop
Save 25% on various Optimum Nutrition protein powder flavors today Is this Windows Central or Ad Central?

I already told you.. This is iDroid Central.

It's actually "Windows 10 Central"! They forgot all about Windows 7 & 8.1 even though world majority still use those OSs. Above all they abandoned Win10 mobile even when it is still being updated by Microsoft and its apps still being offered in Store! Oh, the ads are just the business model they have to implement in order to survive....

And just what new things are happening with Windows 7 and 8.1.? BTW, as of August 2018, Windows 7 usage bests Windows 10 by a mere 2.47%. Windows 8.1 user are only 5.1% of the total. Source: www.netmarketshare.com/operating-system-market-share.aspx

We're actually going to be called "Who cares about netmann central" by the end of the day.

No, they are just following Windows 10's lead, putting ads into everything. Android doesn't have built in ads, that is a Windows 10 thing. Too bad your "Android has ads" narrative isn't reality.

You forgot all the cablecutters posts

Thanks for this Zac. I expect an article about the Hub 2 and anything you scope out about Core OS.

I wish someone would get up from the chair shouting "what the hell about smartphones, buffoons!"

Lol😂😂😂😂 I would love that.

Is Windows central going to have a presence at Ignite? If so, can i meet y'all while I'm there? Big fan!

Yes, Zac and I will be there.

I'll even take a picture with my Lumia 950

I work at one of the biggest IT corporations on the planet, and I can assure you during tech/business meetings on the highest level, discussing possible tech and tools we can use, by other companies, Microsoft is barely even in the conversation anymore and since we have access to almost all of the big players, the situation in the industry is the same. Microsoft is becoming so irrelevant that noone even cares. We are one of the olds, I don't want to think about the startups and next gen companies now, where kids and upcoming leaders don't even know what "Microsoft" is. When we (and trust me almost all of our software partners (a huge number of them from Forbes 100), which are the world best known corporations that you can think of) talk about Cloud adoption and such, Azure is not even in the conversation. People talk only AWS, Google and Oracle. MS Office has become a joke in the corporate world and people are jumping to GSuite, Slack etc. trust me. And before someone comes at me with some numbers and stats from Microsoft, remember that there are still contracts that MS depends on and just old companies that are so deep in MS' ecosystem, that out of lazyness they just prefer to stay there and renew their contracts. This is the bitter truth with Microsoft in business, that no MS spokesman or reporter is going to tell you, or they will try to twist the words by some irrelevant numbers, that somehow bend the reality. I recently heard of an entire software company in my country switching its whole infrastructure stack from .net to java and that says A LOT. Like REWRITE its entire suite of software that sells... (A HUGE COMPANY, im sorry i cant use names :) ) I like the argument that a number of Forbes #n were on Azure. LOL. If by "on Azure" Microsoft and its fan-journalists mean having 1 subsciption account, just to check it out out of curiosity, so I guess we are also on Azure, because we also have exactly 1 account in our entire 30k+ people corporation, that just sits there and noone uses, and we are also in Forbes 100... and that's facts. And if someone also comes at me with the argument of stocks and market cap, just go read some business book and how these things grow or fall. Microsoft is steadily going down the irrelevance spiral with a pace faster than F1 bolide. I will repeat what other people say - The mobile fail hit Microsoft so bad, that there is no recovery never, ever. It was not just a wave that they, missed to catch (as how naively Satya is saying), it was a turning point for the World, humanity and technology. Also, the perception of Microsoft, for many people is just bad, evil company that produces worthless, buggy, ugly with no taste (with stolen ideas (no i am not an Apple sheep)), inconsistent products far inferior to their competitors in almost every possible way technologically speaking, and stays bad since the 90s and that will never change as well. I am not the doom and gloom guy, saying Microsoft will go bankrupt or things like that, business and money-wise they will be fine for a loooong period of time. It's just will matter less and less for more and more people, having more and more companies surpassing Microsoft by every financial and business parameter out there. Sorry, I was a fan too

"Sorry, I was a fan too" Yeah, sure you were.

Believe it or not. That's why I read WC. Used to read it more often though, now it's just a shopping site as someone above me said and also a how-to-do basic change wallpaper stuff.
Windows Central Newsletter
Thank you for signing up to Windows Central. You will receive a verification email shortly.
There was a problem. Please refresh the page and try again.