Microsoft Ignite 2018: All the most exciting sessions
Interested in what's going on at Ignite? Or attending the show yourself? Here's a handful of sessions that are worth keeping an eye on.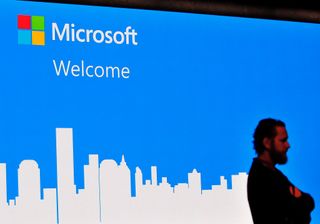 Microsoft Ignite is just around the corner, and you can expect to see lots of new announcements regarding Microsoft 365, Azure, IoT, and more for IT and enterprises at the event in Orlando, Fla. In addition to all the announcements, there will be hundreds of hands-on sessions that dive into new features, services, and more.
I've been looking through the sessions list in search of the most interesting sessions, and it looks like there are plenty of them that dive into subjects ranging from Surface to Windows 10 to Mixed Reality.
Here's a short list of all the sessions we think will be worth watching. If you'll be at the event, you may want to attend. If not, there may be recorded versions available in the future, but we're not sure. However, you can bet we'll be at these sessions to bring you any news that comes from them. So, keep it locked to Windows Central.
Surface Family Engineering: An Insider View
The first session that caught my eye is all about Surface and engineering products. Tim Golik will lead this session and talk all about how Microsoft builds Surface hardware alongside Windows, Office and more to provide a consistent experience no matter what you're doing.
Session details
Date: September 27.
Time: 11:30 AM EDT.
Description from Microsoft: Come to this session and learn about Surface Go, Pro, Laptop, Book and Studio hardware. Our product maker, Tim Golik, will provide you with a deep dive tour of Surface devices and their differentiated design. The session will also provide an in-depth review of how we build Surface hardware alongside our Windows, Office, and Azure engineering teams to provide the best and first implementation of the latest Microsoft technologies.
Windows 10 and Microsoft Office 365 ProPlus lifecycle and servicing update
This session looks like it's going to talk a lot about the decisions behind servicing Windows 10 and Office 365 together, which means the topic of "two updates a year" for Windows 10 is likely going to be talked about quite a bit. The session will also outline why this update cadence is great for businesses and IT administrators managing PCs with Windows.
Session details
Date: September 24.
Time: 4:00 PM EDT.
Description from Microsoft: Together is better! Digital transformation is sweeping the globe, bringing with it an onslaught of cyber-criminal activities and making software-as-a-service the new normal for IT. Learn why Microsoft is embracing a servicing model across its portfolio and aligning product releases to help you get current and stay current across our platforms and deliver simplicity, security, productivity, and innovation within your organization. Get tips on how to move from a project-based to process-based approach and introduce service management maturity and change management processes to remain agile and accelerate the ability to stay current with the latest releases, all while ensuring the highest levels of security.
Does new hardware matter?
In this session, Intel's Director of Strategic Planning and Architecture, Michael Nordquist, is going to deep dive into the subject of new hardware, and talk about why new hardware enhances security and productivity for businesses.
Session details
Date: September 24.
Time: 4:35 PM EDT.
Description from Microsoft: Is old technology getting in the way of digital transformation? New hardware is a vital element in bringing to life what is possible on Windows 10 from security to productivity. New camera technology makes facial recognition possible to log on to your PC securely and quickly with Windows Hello. In an hyper-connected world, new hardware running modern standby enables the most responsive, always-connected Windows 10 PC experience without sacrificing battery life. Learn more on how new Intel hardware maximizes Windows 10 experiences.
Surface in the modern workplace + newest members
If you're interested in deploying Surface hardware in your business, this session is for you. Microsoft is going to dive into new Surface devices such as the Surface Hub 2 and Surface Go, and showcase how using Surface in the modern workplace helps businesses be more productive.
Session details
Date: September 25.
Time: 9:00 AM EDT.
Description from Microsoft: At its core, we know that the modern workplace truly comes to life for our customers when they can deploy the full Microsoft 365 stack on a premium computing experience with Microsoft Surface. In this session, learn more about the Surface portfolio and how deploying our devices enables the highest productivity and collaboration. Learn about Surface differentiators and why it's designed for the modern workplace. ​Meet the newest members of the Surface family - the Surface Hub 2 and Surface Go. Hear the latest about the devices and how to implement Surface in your workplace.
Windows 10 in S mode: Why you should care and how it works
In case you were wondering, no, Windows 10 S is not dead. In fact, Microsoft has a session all about it at Ignite, where it's going to talk more about what Windows 10 S is, and why you should care about its existence. This session will likely focus more on why S mode is beneficial for businesses, but many of its talking points can be applied to everyone running Windows 10 S too.
Session description
Date: September 25.
Time: 12:30 PM EDT.
Description from Microsoft: Windows 10 in S mode powers affordable, cloud-ready devices that are simple, secure, and efficient. In this session we dive deep into recommended practices and discuss real-world lessons learned from the deployment and management of this new device experience. Discover how S mode leverages built-in, cloud powered, intelligent security from Windows 10 and how it uses the advanced capabilities of running verified apps from the Microsoft Store platform to deliver security and performance benefits.
A better user experience in Progressive Web Apps (PWA) with Windows 10 APIs
Microsoft is all in on PWAs, so it's not surprising to see a session dedicated to PWAs on Windows 10 happening at Ignite. In this session, Microsoft is going to go all over all the basics of what a PWA is, and how a PWA integrated with Windows 10 offers a better experience to the end user.
Session details
Date: September 28.
Time: 9 AM EDT.
Description from Microsoft: Learn the basics of what a Progressive Web App (PWA) is and how to create an application that adds value when running on Windows 10. After a short introduction to PWA, the session demonstrates and explains how to access Windows 10 APIs in a PWA and use capabilities like offline machine learning when on Windows 10 and Microsoft Cognitive Services when running on a different system. See examples and demos of how to enrich applications with the power of Windows 10. Experience PWA in action on Windows 10 and Microsoft Edge; it's more than "just web," PWA now can say a friendly Windows Hello to Cortana and other Windows 10 APIs.
Those are our picks for sessions to watch out for at Ignite. As mentioned above, there are hundreds of sessions happening at Ignite this year, and you can check out the full session list here.
Get the Windows Central Newsletter
All the latest news, reviews, and guides for Windows and Xbox diehards.