Microsoft introduces 'limited edition' Surface Touch covers and new Wedge Mouse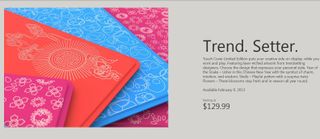 Looks like the Surface Pro isn't the only new item available from Microsoft come February 9th as the recent emphasis on hardware has the company releasing new Touch covers. Made with laser-etched designs from three artists, it's a familiar concept that Redmond has used in the past for 'limited edition' artist series Microsoft Mice.
The covers fetch for $129, which is the same price for a regular Touch cover. That's a good deal as it means you're not paying a premium for what is essentially nice graffiti. [Edit: Oops, turns out it's actually $10 more for these new designer covers, so there is a premium for the privilege]. The three designs come from Joy Deangdeelert Cho, Liu Qing (aka: LEFT) and Kate Bailey with Flowers, Year of the Snake and Skulls as their respective themes.
Of course if you have a Surface, you most likely have a Touch cover already, making this nothing more than a nice thought. However, for the Surface Pro, that device does not come with any Touch or Type cover, despite its starting price of $899. For those folks, you now have a way to make your Surface Pro extra special.
The other little tidbit is a new "Surface inspired" Wedge Mouse. We're not sure how this is different from the already existing Wedge Touch Mouse (looks less chromey?), but Microsoft has it as "coming soon" so we guess they're not the same. That little guy will run you $69.95 when available.
Source: Microsoft (opens in new tab); Thanks, Scott M., for the heads up
Daniel Rubino is the Editor-in-chief of Windows Central, head reviewer, podcast co-host, and analyst. He has been here covering Microsoft since 2007 when this site was called WMExperts (and later Windows Phone Central). His interests include Windows, Microsoft Surface, laptops, next-gen computing, and for some reason, watches. Before all this tech stuff, he worked on a Ph.D. in linguistics and ran the projectors at movie theaters, which has done absolutely nothing for his career.
I can't wait for the 64GB RT with no cover to be on sale. Same day as these other goodies supposedly.

I have a 64GB RT with touch cover for sale on eBay. It's used but in good condition and I have it listed for $500 and have had no offers yet. The last person who bought it didn't pay so it's listed again. Anyways, I would imagine a 64GB RT w/o touch cover would go for $600 new. The touch cover is great at protecting the screen if nothing else. Might take a look if you're interested, it's in good condition. My user name over there is gmcconnell34 if you're interested.

It's looks ok. Lets see if he will comment me on this

wedge mouse is silly. When come to usability, ergonomic mouse will always be priority, not the looks.

I was looking at the Microsoft Arc Touch Mouse as a companion mouse for my surface, seems to be really cool for portability. Daniel, i read somewhere that the new Wedge mouse is made of a similar material to the vapor mag shell on the surface. So that seems to be what's different about it. Which has me considering if to get that instead of the arc, from an astethic point, using similar materials as the surface on the mouse is really cool.

Ah, that makes a lot of sense...indeed that could be interesting.

Wedge Mouse is silly and expensive. Arc Touch feels way better.

I've had the arc touch for a year, best laptop mouse I've ever had. I would assume that it would be great with the surface as well.

Why use a mouse with a touchscreen tablet?

because there is a "desktop" mode?

The advantage I see to the Wedge mouse over the Arc mouse is that the Wedge is Bluetooth. I love my Arc but it's wireless USB. Just sucks to think of taking up the single USB port.

Actually it seems to be quite usable, I was surprised to see one guy using with with Macbook Air the other day. It has convenient form factor, and if someone is using it on MBA with it superb touch pad it must be good.

I have both the wedge and the arc... I love the arc but it is larger and not Bluetooth... I use it with my XPS13. It is bad enough that it takes 1 of the two USB ports on that ultrabook. I dare not let anything use my single USB port on my surface unless it needs to. I use the wedge with my surface, smaller and Bluetooth. It feels good in my hand. I am not using it for hours on hand, but using it with my surface in laptop mode is great. I would the wedge with my laptop too. They are both great.
Bluetooth mice are kinda hard to find... If the arc was Bluetooth, it would be one of the best mice around. As small as it is, I love the portability of the wedge.
I have really large hands btw... And the best mouse for long usage is the Logitech MX518... Love that mouse.

I wish they'd made the Arc bluetooth. I really enjoy using that mouse but also don't like the idea of it using a USB port.

MX518 is good, but have you used a G9X? I use it with my desktop and I simply love it. It has a weight adjustment tray and dual palm support. When you want a small mouse, remove the palm support and it gets 30% smaller.
But since its a serious speed gaming mouse, it is wired.

Daniel, your dedication to wp8/w8 is astounding, I would never expect articles on the weekend, and here you are working away...thanks man

:) Thanks, have a few more things for the day. Need to keep you folks entertained.

I get more new about Microsoft from than anywhere else. I have to say you are doing an outstanding job.

Thanks for that, I have most free time on the weekends and getting to read WPCentral is how I TRY to pass some down time, any bit of news is definitely appreciated on the weekend.

Like a UK release and pricing for the Pro by any chance? :D

That's a good question! Would like to know if these will be UK bound as well

Hey Daniel keep up the good work. I posted something in this thread about Microsoft Stores letting your print out custom sports team or your own art decals for you surface and other MS products (xbox, windows 8 laptops). I thought it was really cool, and may be worth doing an article on if there hasn't been one done already.

Yes, nice response time Daniel. It's less than 3 hours since I "tipped" this, on a weekend no less! :-D Yes, as a "dyed-in-the-wool" Logitch trackball user myself, not interested unless Surface Wedge Mouse has some unforeseen feature that makes it a true "Surface" family member (is it magnetic like the stylus, perhaps? Is it indeed much thinner than it looks?). Those type covers definitely add something, though. Can't tell you how many comments my Laser-Etched Aluminum HP TM2 Tablet has prompted over the past couple of years. Funny what people notice. ;-)

I doubt the Surface Wedge Mouse is any thinner, but the Wedge Mouse itself is tiny, if you've never seen it before.

Also, like mentioned above, it's made of a finish more similar to the Surface's VaporMg.

As I said up above, I think the Microsoft Wedge mouse is Bluetooth which makes it better use case for Surface.

The limited edition TouchCovers actually do cost a slight premium. The regular Touch Covers go for $119, while these new ones cost $129, the same as price as a Type Cover.

Yup. Overlooked that. Corrected.

What is funny is the natural response when you offer end-users/consumers something "unique" like these covers. You have people (like myself) chiming in about how I would like to see more colors and more designs. Black with silver or white etching in a real "manly" pattern. That red one isn't bad, but maybe more available on launch day?

Maybe Microsoft has plans for more designs. I hope so. But as is, at risk of sounding sexist, I don't think the current designs are going to appeal to most males.

Yup...i want some neutral colors. Maybe graphite or espresso colors.

why do you think that this is the best alternative with neutral colors. minkner

Pro with no SIM. Really disappointed in Microsoft :(

You can always put those USB 4G things...

I'm confused. MS explained that the cell connection (as well as NFC) were not possible due to the nature of the material used for the case, Mg. Did you expect MS to somehow modify the physical properties of Mg for the pro?

I just want a type cover in red

Bluetooth is a big plus but the Arc Touch is just fantastic. Not sold on the wedge yet.

This is somewhat related, so I thought I would share. Sorry if it's already been covered in another artcle I was in my local Microsoft store and I noticed the surface tablets had some nice sports decal stickers on them for this years Superbowl teams. I asked the sales person about them, and they printed them out there. They had a program running on a computer i the store where you could browse sports teams and other designs. They didn't have my college team as a choice, or I would have gotten one. They were only $15 for surfaces. What's also cool is the decals could be printed for other windows 8 laptops and tablets as well as the Xbox. The decals went on the back of the surface and on the border around the screen. Thought I would share.

I'd be happy if I could just get an ordinary touch cover that doesn't split. I'm on my third and currently waiting for that to be replaced. Give MS their due, they say I've just been unlucky and that they will get me a touch cover not from the original faulty stock ... eventually!

So they do have Touch/Type Covers that don't have the splitting issue? This is one thing always giving me second thoughts about getting a Surface Pro on February 9th.

I don't have that issue...

MS told me that the first batch of covers were faulty. The problem then was that the service centre had covers from the same batch, so my faulty cover was replaced with a faulty cover which was replaced with a faulty cover! MS say they will get my next cover from retail stock, which they believe should all be OK. We'll see! MS haven't quibbled about the issue at all, in fact I'd say they've come across as appropriately embarrassed that I've had a poor experience.

Those special Touch Covers are nice, but how about some new colors? I'm waiting for a Microsoft logo green!

Roccat Kova, most beautiful mouse for me, driverless too, but wired. Love mine.
Windows Central Newsletter
Thank you for signing up to Windows Central. You will receive a verification email shortly.
There was a problem. Please refresh the page and try again.