Microsoft Launcher 5.0 for Android brings new Feed UI, Timeline support, and more
A new update for Microsoft Launcher is rolling out in beta today that brings with it lots of new changes. Let's take a look.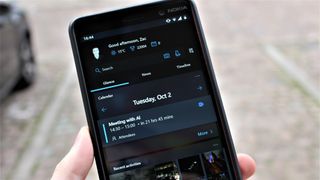 Microsoft has today announced its next big update to its Microsoft Launcher for Android, bringing with it a brand new Your Feed page, and support for Windows Timeline. I've been playing with it over the weekend, and so far it's looking pretty good. The new update introduces an updated Your Feed page that is now split into three tabs; Glance, News, and Timeline.
Microsoft has been promising Timeline support in the Microsoft Launcher since earlier this year, and it's now available for beta testing. When signed into the same Microsoft Account on your PC and phone, your Timeline activity will sync across devices, just as it does across PCs. If you browse with Edge on PC, all that activity will show up in your phones Timeline, and vice-versa. This even works with documents too; if you have the Office apps on your phone, you can jump directly into whatever documents you were working on with a single tap on your phone.
The News tab is essentially just the old news widget but extended out into its own area. You can customize it with your favorite topics too, meaning you can filter out any news items you don't really care about, such as politics, or technology, or lifestyle. This does mean the news widget that used to sit alongside your other widgets in the feed is no longer present, but I much prefer having News in its own tab anyway.
The new Glance tab is just like the old Feed page, but with a much cleaner UI. You can still add custom widgets to it, and reorganise what shows up where. The top of the Feed page has also been refined, featuring a cleaner interface that makes good use of space, while still showing all the relevant information, including Microsoft Rewards point, weather, and calendar events.
Microsoft Launcher 5.0 is rolling out today for beta users, and will likely roll out to the public in the coming weeks. iPhone users can expect to see Timeline support show up within the Microsoft Edge app as beta in the next month or so. What are your thoughts on the latest Microsoft Launcher for Android? Let us know in the comments.
Get the Windows Central Newsletter
All the latest news, reviews, and guides for Windows and Xbox diehards.