Microsoft Launcher 5.0 for Android brings new Feed UI, Timeline support, and more
A new update for Microsoft Launcher is rolling out in beta today that brings with it lots of new changes. Let's take a look.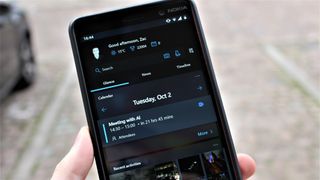 Microsoft has today announced its next big update to its Microsoft Launcher for Android, bringing with it a brand new Your Feed page, and support for Windows Timeline. I've been playing with it over the weekend, and so far it's looking pretty good. The new update introduces an updated Your Feed page that is now split into three tabs; Glance, News, and Timeline.
Microsoft has been promising Timeline support in the Microsoft Launcher since earlier this year, and it's now available for beta testing. When signed into the same Microsoft Account on your PC and phone, your Timeline activity will sync across devices, just as it does across PCs. If you browse with Edge on PC, all that activity will show up in your phones Timeline, and vice-versa. This even works with documents too; if you have the Office apps on your phone, you can jump directly into whatever documents you were working on with a single tap on your phone.
The News tab is essentially just the old news widget but extended out into its own area. You can customize it with your favorite topics too, meaning you can filter out any news items you don't really care about, such as politics, or technology, or lifestyle. This does mean the news widget that used to sit alongside your other widgets in the feed is no longer present, but I much prefer having News in its own tab anyway.
The new Glance tab is just like the old Feed page, but with a much cleaner UI. You can still add custom widgets to it, and reorganise what shows up where. The top of the Feed page has also been refined, featuring a cleaner interface that makes good use of space, while still showing all the relevant information, including Microsoft Rewards point, weather, and calendar events.
Microsoft Launcher 5.0 is rolling out today for beta users, and will likely roll out to the public in the coming weeks. iPhone users can expect to see Timeline support show up within the Microsoft Edge app as beta in the next month or so. What are your thoughts on the latest Microsoft Launcher for Android? Let us know in the comments.
Download Microsoft Launcher at Google Play (opens in new tab)
Windows Central Newsletter
Get the best of Windows Central in in your inbox, every day!
Zac Bowden is a Senior Editor at Windows Central. Bringing you exclusive coverage into the world of Windows on PCs, tablets, phones, and more. Also an avid collector of rare Microsoft prototype devices! Keep in touch on Twitter: @zacbowden.
Is the news feed still disconnected from the news app? Because, I always thought that was kind of weird. They should be the same entity. Opening up from the news feed should automatically open it up in the news app, once installed.

Launch Andromeda with Android Subsystem. UWP+ Android apps would be lit. Also people will buy Andromeda without the fear of app gap. These devices should be both foldable and in normal smartphone form factor.

Still disconnected and independent. Same issue with the todo widget. It connects to Wonderlist but not to Microsoft Todo app.

Hmm, Anyone from Sweden that have gained the update? It doesnt pop up on my phone.

It's an exciting day for Microsoft fans.

I'd still like to see Live Tiles as an option in Launcher. That would finally get me to give up my Lumia.

Agreed. Launcher at the moment is putting lipstick on a pig until it has, as a minimum, live tiles. At the moment I have just left android alone and launcher is just another skin so why would I want to do that when I can get the same functionality from the Android shop. MS has, once again, missed the boat by putting out yet another half baked app. If you need any further reason to dump MS then lookmat the various manufacturers promising foldables in the next year. MS under Nadella just talks and does not deliver.

Wishful thinking, won't happen on any other mobile os but theirs

You do know what the "Launcher" in the name "Microsoft Launcher" means, right? Microsoft do not control the OS and they do not control the apps. On Windows Phone and Windows 10 Mobile, developers actually had to write code to make a live tile do anything useful. How could a live tile on Android do anything useful when the OS provides no API and the developers don't write any code to make anything happen? There would be nothing "live" about a tile in Microsoft Launcher. It would just be a square that does exactly what the current icons do.

So how does Launcher 10 have live tiles?

It doesn't have true live tiles. They're basically widgets. Live Tiles to work for all apps would have to be developed at app level and there's no Android developers going to commit that time and resources to do that for a tiny tiny percentage of users who want them

will give it a try on my secondary device to see whats changed and if anything is improved over the 4.xx betas. but no update showing for me yet nor any apk files available.

Using it for more than a year now and wish it would come to Windows. I just love its flexibility. In comparison Windows Start is a lame duck.

I'm surprised you haven't been crucified yet saying that here.

Still waiting for it to show up.

Oh this is so damn awesome! The gestures are very cool for Glance, News, and Timeline. Yay!

Microsoft finally started to unify things. YESSS

So damn ironic all of the seamless integration/continuity aspects of Windows ecosystem I had prayed for, for years on Windows Phone 10 is here today (on Android) and still keeps coming. I am so damn impressed with how they're proceeding and the rate at which they're developing. I'm stunned. The other two things I'm interested to see is "Stickies" on Android (not that I use Stickies at all, but...) because Stickies now integrates with "Notes" in Outlook. The second one is the Android version of Excel being able to turn hand drawn tables into Excel Spreadsheets. So damn cool!

No one I have known uses Microsoft launcher. There are much better launchers in Android store.
There are even applications to mirror screen to PC and get notification.
Microsoft has become a JOKE.

And there are better phones, and better apps, this is WHY there are so many. What I like you don't like, but someone made a "launcher" that makes you happy so that's all that matters, isn't it?

10+ million downloads for Microsoft Launcher with a 4.6 rating. Get better friends. Or better facts. Or even better, do both.

Oh Danny boy, such a sense of humour.

It's very sad what has happened to Microsoft. Like Dan said they only have 10+ million downloads for a platform of over a 2 billion monthly active users. Many other launchers are in the 50 to 100+ million range. They could try what chrome did to get the leg up and download with other successful apps. I'm still unsure about installing a different launcher on my pixel 2 due to security implications.

After the 1809 update neither edge or the store would connect to the internet.
Changing the wireless connection type from "Private" to "Public" fixed it!

Man, the Outlook and ToDo app integration was the highlight for me when it came to software. Wish I could have seen how it worked in a video as photos don't explain this kind of thing at all.

Now if Launcher Todo would integrate across Outlook, and MS Todo. (I know, broken record)

Nice. It looks... more streamlined. Can't wait to test it. The update still not available in my region.

For anyone not seeing the beta update: long press on play store icon, select info > storage and clear data. Now check for updates again.

All most of us want from Microsoft Launcher is the Windows Phone interface - predominantly live tiles and gestures. Yes there are third-party launchers which try to replicate it, but they don't really cut the mustard. The nice thing about Windows Phone was its simplicity, with everything available at a glance (remember it was saving us from our smartphones); they should recall that vision and work on a second launcher for those visionaries. How about "Microsoft Tiles for Android"?

If you can find a utensil for cutting mustard, then stay away from that mustard

Nevermind, I figured out 👍.
Windows Central Newsletter
Thank you for signing up to Windows Central. You will receive a verification email shortly.
There was a problem. Please refresh the page and try again.