Microsoft Launcher beta update packs Cortana improvements and more
If you're a Microsoft Launcher beta tester, there's a fresh batch of improvements and fixes to check out.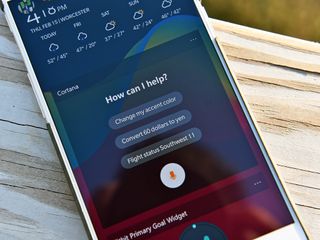 Microsoft Launcher beta testers can now start getting their hands on a round of fresh fixes and improvements to the app. Like the last update, this one focuses a lot on smoothing out the experience with performance improvements and bug fixes. However, there are some additional improvements for Cortana, along with support for more languages when sorting the app drawer.
On the Cortana front, you can now use the integrated digital assistant to control device settings like WiFi, airplane mode, mobile data, and more. There's also Cortana Notebook integration for third-party skills.
Outside of Cortana, Russian, Japanese, and Korean language speakers will now be able to sort the app drawer using those languages. Of course, as most of these updates, there's an additional smattering of bug fixes and performance improvements across the board.
Microsoft Launcher 4.7.6 is starting to roll out to Beta. Lots of under the hood fixes in this one. Many of the improvements came from fixing issues reported by you our fans!Microsoft Launcher 4.7.6 is starting to roll out to Beta. Lots of under the hood fixes in this one. Many of the improvements came from fixing issues reported by you our fans!— Vishnu Nath (@VishnuNath) April 9, 2018April 9, 2018
This update is headed out to beta testers now as version 4.7.6. However, the rollout appears to be moving rather slowly, so the update won't be available for all beta testers right away. Still, if you're enrolled as a tester, you can check for the latest version of Microsoft Launcher on Google Play now. Otherwise, you can sign up to become a beta tester (opens in new tab) or wait for the new features and fixes to make their way to the release version. Judging by the pace of previous updates, version 4.7.6 should make its way to everyone within the coming weeks.
See at Google Play (opens in new tab)
Windows Central Newsletter
Get the best of Windows Central in your inbox, every day!
Dan Thorp-Lancaster is the former Editor-in-Chief of Windows Central. He began working with Windows Central, Android Central, and iMore as a news writer in 2014 and is obsessed with tech of all sorts. You can follow Dan on Twitter @DthorpL and Instagram @heyitsdtl.
They continue to improve, but still have major oversites. Cortana still can't set a timer, although now she can set an alarm. Outlook on Android is still unusable for someone like me, that uses Outlook.com connected accounts to send emails via other emails addresses through outlook. Don't know what could possibly take so long for a company the size of MS to get things together. Blah.

On this same note, why can't my calendar events appear on my lock screen? Coming from Windows Mobile this is easily the feature I miss the most...

What lockscreen are you using? Mine appear using the Microsoft lock screen, but I think they appeared when I was using the standard Samsung one.

I use company email, school email, and two personal accounts with Outlook and don't have any issues. Is there a particular problem you are encountering?

I agree with you but for me Microsoft are losing me to Google more and more with there services. Moved to Google music well i was forced from groove music pass, moved to android phone due to wp being killed and I was also a big cortana user but got a Google home just before Xmas as a test to see what it was like and now own 3 of them and right now don't have a need for cortana which is ashame as I liked it but without Microsoft pushing the service like it was doing I don't see my self moving back any time soon.

3 spies in the home, wow. I know very few people now that uses MS for services as such, they use windows, but only because of software they use and a lot do not even use Windows now. One person who I never thought would move from Ms products have now replaced their windows phone with a android phone, changed their calendar and everything that they was using on MS services have now gone to Google. They even use Google docs instead of Ms online office. they have stopped at getting a google home.

Still no rotating home screen?

And no live tiles. And no integration with any of their other first party apps. No pinned mail folders from outlook. No deep linking to content inside any of the Microsoft apps. There are a lot of things I like about Android, but the UI is not one of those things, and although Microsoft launcher is largely an improvement over the stock Android, it's still not bringing the best of Windows Phone/Mobile over. With the customizability of Android, there's no reason they can't, and no reason they shouldn't.

I'm still using Windows 10 Mobile on my HP Elite x3.....Still clinging onto it and using it every day. I just cant seem to let it go. Nothing comes close.

Windows Phone 8.1 was superior to 10 mobile in most ways. Android is more capable than Windows Mobile now, but the UX still sucks. Honestly, the best user experience (outside of apps) to date was Windows Phone 7.5+ to about 8.0. 8.1 was still great, but not as clean and refined as 7.5x through 8.0. 10 was a trainwreck from the word go.

They need to focus on getting Cortana to run exactly like it did on W10M. Exactly. Including song ID. Hands-free texting/response and "Hey, Cortana" to set reminders were my favorite parts of that OS. I don't have Bixby or Siri, but nothing else that I've tried comes close to her. Now all she does is control (some) of the functions on my TV and Xbox. "Hey, Cortana..... Volume Up 2!"

And Cortana needs to remember her language skills. She can speak German on my W10 PC, but not on my XBox, mx iPad oder my Nokia 8. Why? It is the same language she already knows.