Microsoft launches Groove music service on the web, replacing the old Xbox Music site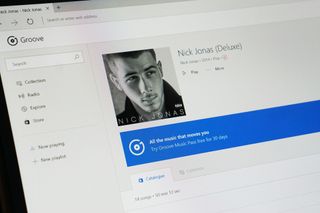 Microsoft continues its rebranding of Xbox Music services to the new name, Groove, with the launch of the web browser version of the service. Microsoft has already released Groove music apps for Windows 10, the Xbox One and Android.
Along with the new name comes a new URL for the web version: http://music.microsoft.com, with the old music.xbox.com address now redirecting to the new site. Aside from the new URL and name, the Groove web site offers the same features as the old Xbox Music site, including a way to stream music stored on a OneDrive account.
The new Groove apps are also supposed to be coming to iOS and Windows Phone as well, but as of this writing they have yet to be released.
Source: Groove (opens in new tab); Via: Neowin
Yeah noticed this this morning, while I was listening to music. Suddenly music stopped. Refreshed the page: voila! Groove! But for now only my playlists are working, radio doesn't at the moment. At least for me. Will be fixed soon I reckon.


Updated yesterday on my note 4, waiting on my ATIV S to update. Posted via the Windows Central App for Android

Yeah notices this this morning, while I was listening to music. Suddenly music stopped. Refreshed the page: voila! Groove! But for now only my playlists are working, radio doesn't at the moment. At least for me. Will be fixed soon I reckon.


Sorry, got apparantly two posts when spell editing the first one... webmaster, please delete!

WEBMASTER: kiss my ass kissmyass69

i felt weird as navigating to web player is little weird and earlier was easier imo.. but finally that XBOX name is gone.. yaayyy

the icons have horrible resolution

"Sorry, Groove isn't available in your region just yet.". As usual one coud say. Yea yea I know it's not MSFT fault but still they could use their position to sign some deals with record labels...

They need to launch a free radio service if they truly want to compete with Spotify and iTunes.

Or Google Play Music. Also need podcasts as well. iTunes is teh answer if you listen to Podcasts a lot. Nothing else is comparable at the moment. And it matters even more on Windows since dev support for those types of apps is kind of horrible.

Gotta ask once again. Does anyone has a problem like mine on windows 10.
The apps from store have stopped working.

i cannot get any of my music to play..constant error reading

Bought a subscription yesterday, got an error, got charged for an Xbox Music Pass and now waiting for a refund... Think something went wrong during the switchover. Still can't buy a Groove Music Pass...

Yeah, the website is great. I can actually add music to my collection, unlike in the Windows 10 Store. Serioiusly, how can you have a subscription service and not give users an in-app way to add music? Not to mention the Groove app refuses to load over half of my songs I already had with Xbox.

On a PC, go to Groove Music and search up the song you're looking for with the built in search function, it'll shoe results from collection and store. You can add stuff to your collection from there. I guess the store is meant for people who don't have a music pass right now but it is probably very confusing to the average joe who does have one but has no idea why he can't get anything from the store.

It's possible some of hte songs got removed from thier Library. I lost songs form my Zune Music Library because the Artists/Studios pulled them from Xbox Music. It's part of the reason I stopped using thier Music Service. That has *never* happened with iTunes, where I paid money and then couldn't download songs I gave them money for. Happened with a lot of songs on Zune/Xbox Music.

So all this time, and the only diff I see is a name change and VERY MINOR cosmetic changes? The people in charge of the media apps really do not get it. We have given them the flipping map for what needs to be done, but apparently they are so smart that they know what we want better than we do.

Best part for me: I can now listen to the service at work. Network blocks all Xbox.com sites.

I was hoping that would be the case for me too, but apparently not. I can play my OneDrive tunes, and play the song previews, but none of the actual groove tunes work for me

Finally a non-flash version - now I can use it on my LG Smart TV's browser!

Would be nice if they would update to be able to choose new music on wp10. Android can do it, then why not Microsoft?

Wish there were option for it to be dark

I think it must still be sitting on a server with "xbox" in the name. That means my work blocks it due to the possiblity of it being "game related." nevermind they don't block any other music site. :\

The URL now is, so maybe hope for the best https://music.microsoft.com

im waitin for "Microoft has launched Grov music service worldwide.." if spotify and apple can, why don't they?

This is how Music philosophy works for them:
1) If releasing the service world-wide makes sense, then we would just release it to few countries!
2) If DLNA/Airplay is becoming a industry standard, then we would remove DLNA support going from W8.1 to W10.
3) If social listening is the industry norm, then we would have artist-based radio which was an industry norm in 2005.
4) If people started loving "Play on XBOX" feature, we HAVE to remove it ASAP in next release.
5) If "Groove" is the most hated, outdated word today, lets rename our service as Groove music! So, yeah.. They are not doing anything wrong. May be Spotify and Apple are doing it all wrong..

Cause Spotify and Apple are awesome, and Microsoft clearly isn't. I think some people really drank a lot of the "Insider Program" Kool-Aid and seem to think they matter more to Microsoft than they did 3 years ago. That was for PR, and to give them a legit excuse to rush out a buggy OS release. Don't flatter yourselves...

Exactly the same layout as the previous Xbox Music page, just different colors. Which is Good, because I liked the previous page too. :) Microsoft really, REALLY needs to do some form of social integration though. Groove feels like a desolate remote island in a sea of interconnectivity.

Fail. Its based off Flash player. I will not use this then.


It is. I dont have Flash Player installed on my PC. http://i.imgur.com/RkooSe9.png

Good I hope they don't do what they did with Zune and start over. Just change the name and URL and lets get groovin

that's weird, artists are displayed in rectangles rather than their "circle based" approach

So...MP3s that are in my OneDrive show up as requiring a Music Pass--why?

Still requires Flash, therefore, still useless.

Requires Flash. Ha ha, why does Microsoft even bother?
Windows Central Newsletter
Thank you for signing up to Windows Central. You will receive a verification email shortly.
There was a problem. Please refresh the page and try again.