Microsoft launches Lumia 638 in India; to be available exclusively on Amazon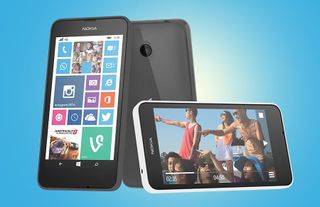 In an unusually quiet announcement, Microsoft today launched the most affordable smartphone 4G device in India, the Lumia 638.
The latest affordable Lumia on the block, the 638 features a quad-core processor with 1GB RAM. The device sports a 4.5" LCD ClearBlack display. In a first, the Lumia 638 will retail exclusively on the newly launched Microsoft Store at Amazon India at a price of ₹8,299 ($135). The device will be available for pre-booking from December 17.
Raghuvesh Sarup, Director – Marketing, Nokia India (a subsidiary of Microsoft Mobile Oy), had this to say during the launch of the device in the country:
The Lumia 638 packs in a 5-megapixel autofocus camera at the back and signature imaging applications like Lumia Camera and Cinemagraph. The lack of a front camera will be sorely missed by users. The device also includes the low power motion sensing, SensorCore, and a 1,830 mAh battery.
The new Lumia 638 comes bundled with an exclusive offer on Airtel 4G. Lumia 638 consumers on Airtel post-paid in Bengaluru can enjoy up to 5 GB of free data on 4G for 2 months post activation of their Airtel SIM on the new Lumia 638. This offer will be available till March 31, 2015.
Lumia 638 Specifications
Display: 4.5" FWGA display, ClearBlack LCD
Processor: 1.2 GHz quad-core Qualcomm Snapdragon 400
Camera: 5MP AF
Battery: 1830 mAh
Memory: 1GB RAM
Storage: 8GB internal storage, expandable up to 128GB
The Lumia 638 showcases a new matte polycarbonate design with changeable shells available in matte black and white. Yes, you read that correct, there are no usual color options available.
Microsoft has now several options in the market for customers looking for a sub-10k Windows Phone device. Which one is your pick? Tell us in the comments.
Windows Central Newsletter
Get the best of Windows Central in in your inbox, every day!
So it is basically a 630 with upgraded ram :/

It's basically 635 with upgraded ram

To be fair, the extra ram will make quite the difference

Why aren't you noticing the 4g antenna? I don't think any other OEM has a 4g Phone which is this good at THAT price point.... 4g is the next big thing in 2015 in our country...

we Indians prefer to find something to complain about :p

They should hv included flash

We still dont have 3g coverage in our area :3

I have got Airtel 4g damn it's so fast.. Coverage is not an issue.. But prices are bit high which makes a non starter

Thanks for poiting that out which I was about to say, plus Note this QSD 400 and not 200 plus it is Clear Black Display

I had a 620 with WP8.1, now I have 925 with 8.1 ... that 1GB RAM makes a whole world of difference

Agreed. If it had a flash this would present even more awesome value.

I think the much faster processor in the 925 is making the difference you're noticing, not the extra 512MB. Assuming you're talking performance, not the ability to install 1GB games.

I'd love that to be the case but the ubiquitous "Loading", "Resuming" and frequent app closures make me think more about the lack of memory than processing power. Especially noticeable is this in IE, where I load a larger page, on 620 it takes ages to load and when I switch apps, there's the "Loading" and "Resuming" page and then when I switch back to IE it needs to load the page again. On 925 this never happened so far even with large and complex pages. This kind of behavior points to memory problem rather than processing power (at least what I can tell from my limited operating systems education from university).

Yes this problem is on 620 when switch back to ie page reloads. This is due to lack of true multitasking I think Posted via the Windows Phone Central App for Android

And then CBD !!! Noticed that ?

Lumia 630/635 already had ClearBlack Display. Lumia 638 = 635 with 1GB RAM. Nothing else, nothing more. I think the extra RAM makes it a much better value.

It could be great if MS could solve touch sensitivity issue in lumia 535.Because of the issue nobody buying it .Another lost opportunity for MS. Posted via the Windows Central App

Already said they're going to fix that.

If you read Daniel Rubino's post yesterday he addresses the problem he also mentions a quick fix, regards touch sensitivity on MS Lumia 535.

You already told off MS for it on the article Daniel wrote about the fix...and now the rant like that comment never happened...? Meh...

Is that a video player (3rd image) or what?

Just for the showcasing/looks I suppose..!

I guess its some video editing app...maybe..

Interface kind of looks like the S40 or S60 video player!

You are right to point out this,..may be a unified xbox entertainment centre??!!

Roll in the complaints in regards to missing ffc, as they managed to put one on the 535 :P.

Oh come on! Even an average front cam and I would have bought it with my eyes closed. So close.

Open your eyes..And you will see a ML 535..!!

LOL epic. xDD Meanwhile I noticed how many Indians wanted this to come to India back when it was announced in China, they were thinking that it will just be a wish that won't come true.... Comments like "Bring to India!!! This is hotcakes!!!!" "This will become top selling phone in India!!!"
And now, when we really got it, the ENTIRE comments section is like "No FFC! Why Microsoft??? 535 has it! 535 also had it! 535! 535!" ... People never stop complaining, do they? http://www.windowscentral.com/microsoft-announces-new-4g-enabled-lumia-6...

It's not complaining but demanding what is there in the low-ender but not in the higher version..!! Microsoft's only fault here is that they released the NL 638 after the newer ML 535..!!

I agree with you there. This phone could have got a much better reception if the 535 hadn't come. If you disregard the lack of ffc it is a great phone. Btw does it have Flash? ;/

Hey, why are they launching a NL after they launched the first ML that's 535? I mean this should be Microsoft Lumia 638 no?

Wow good news.... But bad news for 520,525 users like me :(

Can I ask..?? :P :P What's so bad for the existing users..??

4G, bigger screen (that too with clearblack), and better processor

Really!!!
Bad news is that I bought my Lumia 630 @12,500 ₹ and now they are doing this
And then you cry why Lumia (e.g. Lumia 520) doesn't have good resale value.

In India, MS ll very soon start exchange offer. With 3 months old Phone, you ll get 65% value of it.

65% of current value or value on bill???

Well if you live in India and have your 630 for less then 6 months can't you trade it in and get this I thought I read and article about ms starting a trade in program over there.

So, just because you bought a low-end device, they should come out with better low-end devices?

Abhishek, can you please review the new Lava Iris Win1? There is considerable interest over that phone in India.

I bought it. Great bang for buck. Everything is great, battery life rocks, solid phone, good build, snappy and fast.
Only 3 points to consider-
1. Lumia 520 has a much nicer screen, this one is not IPS and that can be spotted immediately. No supersensitive touch etc. and touch not as smooth as on the Lumia. But still no deal breaker.
2. Camera is not as fast or as good as L520 but still pretty good at this price. I also love that the camera pics are not post-processed like in lumias. So no noise reduction and the 5mp pics look like they're raw, I like that.
Video recording resolution is a bit low but I don't mind that.
3. No Lumia app support (I could install some using fiddler but most don't work the way say should because the firmware won't match). However, the only app I'm really missing is Lumia storage check beta's option to store maps on SD. Unable to do that now. Comes with 2 scratch guards (one on it) and a flip-case in the box, really liked that.


So wtf why release the 635 if they going to put a better one out a few months later

It's not a better version as such. Only 4G requires a better processor. I personally would've loved it if it had a front camera! :/

Wasn't supposed to..But seeing that Carriers here were gonna unleash 4G so they had to atleast put a 4G candidate of theirs amongst the growing number of Droid crap..!! Won't be surprised to know that it's only for India..!! In time for hols too..!!

Its a Chinese variant....made available for India...

Yea..One was made for China and Indonesia..!!

635 was released by Nokia. 638 is released by Microsoft. Do you see the difference? Please don't say you are another believer of the theory that Microsoft had any control over Nokia before buyout was finished.

It is psecifically said Nokia Lumia 638 and not Microsoft Lumia 638. Check the Amazon Page :-)

The 638 was released by Nokia back in May, in China. That's why it still has Nokia branding.

Your wrong about that because by the time the Nokia 635 came out Microsoft had already finished there acquisition of Nokia so the had complete control of the development of the Nokia 630/635 they just didn't change the branding until the Microsoft Lumia 535. But for all intents and purposes the Nokia 630/635 is the same as the Microsoft Lumia 638 minus the extra ram. They were both built and designed by Microsoft.

Please. Lumia 630 launched May 12. Nokia devices acquisition was complete April 25. Do you really think anything can be done in 2 weeks? Iniitla production was probably done by then and shipping to retailers for training, marketing etc. Microsoft has not touched a single element of Lumia 630 launch - they have not designed the phone, not produced it, not shipped it to retails, not made carrier and retailers deals, not shipped it.

The 635 was never launched in India because 4G frequencies here are different. So the 638 is considerably a good option here. Alas, my 625's 4G is pretty useless here, because the radio in the phone cannot read the 2300MHz band here. If only some company launches 4G here on the 1800MHz, I'd get happier.. :D

Read the article again..It says NL 638..!!

No, it says Microsoft Lumia 638. // Edit: it seems it's still Nokia logo on the device :<

Because the 638 was available in China from time before Nokia's sale. So basically, India got the retweeked radio to work in India in the old chasis.

They're getting good at keeping things under wraps

Do check out the Lava Iris Win1 which has much better specs than the Lumia 638 for just 5k (without the 4G though).

Atleast I do. I bought the phone on day one and thus far it has been amazing, much better and faster than my Lumia 520

Do realise that Lava is of no use to me because they probably will never release a phone in my country.

Is the Mobile support led flash and proximity sensor?

This phone has been ready for months hence the branding.
At any rate it's good because the Nokia brand sells much more than Microsoft. Posted via the Windows Central App for Android

Numbers to back up that claim?

Deliberately I suppose cause Nokia name sells here the best..!!

There is not a single evidence that Nokia brand sells more than Microsoft, stop the gloating.

Umm it did.. Because agree or not..windows phone OWES its market share to The Name,NOKIA.

Apart from the declining marketshare and sales ever since they announced the deal, of course... Just wait and you'll see the quarterly results of Microsoft branded punts compared with Nokia branded phones. Posted via the Windows Central App for Android

You can't use that argument because the Microsoft Lumia hasn't been out long enough to make or loss market share plus your using incomplete numbers cuz that world wide numbers affected by china and the American smartphone market in other market WP market share is increasing. I think the lack of a flagship is what's hurting them the most at least in the USA . No matter what you always going to hate cuz Microsoft bought out part of you beloved Nokia and spead bull crap with no numbers or evidence to back up your clam. Of Nokia wad so good they would still be number 1 phone manufacturer there not they technically themselves don't make phones no more so yeah go live in you pipe dream I wont answer you back cuz there is no helping the homelessly delusional.

I'm sure in your head you believe that but there no proof of that with the new Microsoft branded phone only being released a few month ago not enough time to make that determination of course you will. But also there's the fact that the Nokia was losing money and market share well before they had anything to do with Microsoft to iPhone and androids. Lets face it Nokia was once the biggest phone manufacturer in the world but now nobody know who they are especially in America. I showed my Nokia 635 to my friend here's what he said. Nokia I thought they were them 25 dollar disposable phones he didn;t even know they make smartphones. Microsoft branding tho is strong according to forbes the 4th most recognizable brand in the world now I wonder why Microsoft switched the brand even if they could keep it I think they would have still change it the funny part is they still use the Nokia branding for there 25 dollar special dumb phones that tells you something

America is not the world, agreed Nokia is not a big name in US but in europe and Asia and South america, Nokia's brand sells, it was the reason WP has whatever marketshare it has, WP was always struggling in US and it was only growing in Europe and Asia its not due to Ms but due to Nokia.

People in India know Nokia....it will take a hell LOT of marketing to create a brand awareness... In favour of MS. The 200 mill odd people buying dumb phones of Nokia won't just accept the brand change to MS if MS wants them to be on their side......no body is doubting MS they are great company and a brand...but NOKIA here in India wasn't just a brand name...

That's the thing when Microsoft purchased the Nokia devices division they also got there dumb phones that Microsoft still uses the Nokia name on Microsoft don't have to convert everybody right away they just have to over time so lets say the 200 million Nokia dumb phones over there that Microsoft owns now. One by one year after year making the transition so gradual that by that Time Microsoft will be just as big if not bigger then Nokia like I said it a marathon not a sprint Nokia was once great it can be great agian just not as Nokia but Microsoft mobile and over time people will start to realize that them dumb phones they hold in there hand that say Nokia are made by Microsoft heck Microsoft just released and update to there Nokia dumb phones.

So tell me this were were all those Nokia customers in Asia Europe and south America. When iPhones and android first came out. Why did Nokia go from number 1 cellphone manufacturer to not making cell phones no more even before WP Nokia was in the decline with megoo were was all those Nokia fans then they jumped ship to and Iphone or a Samsung if Nokia was/is such a big name over there why did they lose market share there for years well before Microsoft came around. Truth be told the Microsoft brand as a whole is more valuable then Nokia always was always will be and this is a marthon not a sprint and Microsoft is in it for the long haul. People will get over Nokia and move on Microsoft has to be ready for that. Everybody always looks at right now they forget to look at what's coming and I think Microsoft has something big planed for windows 10 and phone and I'm glad they ain't rushing it better to take there time and make it perfect.

What the camera is it zoomable one ? In 535 that option not available

Hey guys it is handset they sold in China now they are dumping in India.India is dumping ground for players like apple xiaomi nd others.Anyway hope it is a decent success . Posted via the Windows Central App

India is not the dumping ground,microsoft has seen the lack of cheap 4g phones in India and is taking advantage of it by launching 638 at a affordable price

many dont use 4g in india :p

xiaomi and apple is dumping for sure because they are just releasing old models. but this is nit the case with microsoft, they want to be up in 4g game. it is quite a recent model

Why is it branded Nokia instead of Microsoft?

Because the 638 was available in China from time before Nokia's sale. So basically, India got the retweeked radio to work in India in the old chasis.

It doesnt even have any of the SENSORS.

Wat great? You dnt even have Proximity sensor & ligh sensor. It should be priced Rs. 5000/-

They have worked around those sensors, Brightness slider to fine tune the brightness and you wont find snapdragon 400 at that cost with the advanced sensor core chip....

Moto G is similar price as Lumia 730 though.

Moto g first edition would cost you same as this in retail stores & that also is upgradable to android L update.


Stop it moto g 1st gen is not available in flipkart maybe available in second hand in some shops .maybe. Posted via the Windows Central App

Or a fresh piece in some retail stores.

4G, snapdragon 400, 1GB RAM and a clearblack LCD display and you cry about the cost because of the SENSORS?? seriously is there a lower limit on cribbing about the cost everytime

In India, we all know whats the scenario of even 3g, so 4g is a far from realisation. If you r not nt from India u shouldt speculate. & for other specs, look at MOTO G.

i live in India and have been here for the last 7 years.. so its not about speculation.. marketting is important... most of the people go by specs and not on the underlying sensors as they have no clue what a particular sensor does...

I dont know about others, I am having all CLUES y sensors are important.

u have an idea about those sensors because you read websites like this... but majority of our population does not... ask any common smartphone user what a sensor does and he wont know anything.. all he will know is probably that it has a quad core CPU, x amount of RAM and x amount of storage and X megapixels camera..

whats the price of Moto G btw? and Airtel 4g coverage is very good in places where its launched, if u r happy with moto g, go buy one thats it, simple isnt it?

I am using 630 without any problem since Last June. Don't missing the sensors

I would buddy! As i am using 620 since SEP'13.

4g is coming next year if you follow news.... And it's great that Ms already has budget model that does a lot of things very well... Ms is finally early than late as it always has been I, mobile market! Have you even tried the 630 ....??

Hehe! I also followed that Its going to launch in Metros & Reliance going to launch. Everyone dont live in metros & neither all of them have Reliance in their hands. I think there hasn't been a true successor of Lumia 620, if u closely followed & used L620.

Lumia 535 is that successor don't go by the no. Scheme.

Are u kidding really? Lumia 535?? That laggy touch screen device. Jus compare specs of both, side by side, you'll get it! Touch response of L620 is crazy smooth like butter.

Yo're right. Even 730 is not.

730 is way better than 620 and 625!

which of the below cities is a metro? :P Mohali
Panchkula
Ludhiana
Jalandhar
Amritsar
Kapurthala
Phagwara
Hoshiarpur
Nagpur
Patiala
Pune
Nasik they all have airtel 4g currently

Can u read before u comment. I said Reliance will in metros. & i didnt knew these r not metros :P Thanx for telling. And listen i dnt care it has LTE or not, i care for SENSORS, if u can see the whole discussion.


Ya I read 4g going to cost same price as 3 g .This will be done to accelerate 4g.Sure 2015 is 4 g year at least in India. Posted via the Windows Central App

How sad! that 4 months back I bought Lumia 630 for 11k & then onwards MS continue to release much better models for cheaper price. They must give some exchange offer for 630 users. Though satisfied with ma phone.

This only is single sim..i guess you went for dual one so.. Don't be sad...

Even dual also coming for 7.5k now.

Price drops buddy...my 920 isn't even available in retail anymore :D ...

No reason to buy it when you have other better options like Lumia 730,535, and 1320

Hey 4g affordable from nokia.Some people are interested in 4g.But they should have added ffc nd flash it would be great but MS is always doing wrong things. Posted via the Windows Central App

Neither of those have 4g... Well except 1320 i think ...

When you can't even make a Skype call with your high speed 4G with lack of front camera what's the point ?

Only better option is lumia 730 over this but it cost 15000 rs.This is 8300 rs.Who gives you 4g in such affordable not even xiaomi . Posted via the Windows Central App

To be frank , I don't think 4G is accessible to more than 5% of India's population. So its not a killer thing as such.

This phone has been ready for quite some time.
And as it's only for India, it's better if says Nokia instead of Microsoft since it sells better under the Nokia-brand. And if Nokia allowed it, why not take the opportunity? Microsoft wants to sell the phones. Posted via the Windows Central App for Android

Nw that's a competitor to Lumia 535

a new phone without any surprise. strange Microsoft.

I wish this phone had a front camera. Then i would have definitely replaced this in place of my 630.

Kind of pissed they are making these 635 variants with more RAM. They know 512 Mb isn't enough

That's it this is where Microsoft take over with the 1 GB Ram. That was were Nokia lacked.
That 1GB-Ram & possibly Quad core is the only thing that my l625 is missing.

Exactly.. I do see the difference with having 512MB RAM in my 625.. The phone has got slower with the 8.1 upgrade... Lumia amber was perfectly fast for me.. But this cyan is too slow on 512mb ram..

Woohoo! Another low end phone! That's why MSmobile is a failure in the USA. Better hurry with a flagship surface phone as your 3% will soon be 1%...what a shame, bc the OS is great

Don't worry they will release only next year with windows 10 until then enjoy your lumia. Posted via the Windows Central App

There is a flagship WP phone that's less then a year old its called a HTC one m8. You can say all you want that its not a flagship but the specs don't lie.

they were several high end phones released this year stateside ... no one bought them ... why make more no one will buy? Mid and low level phones are selling well ... that is where their focus should be. The failure in the US is due to Apple and Samsung dominance ... and the public is app crazy and the microsoft app store is crap full of junkware ... the cell company employees actively discourage windows phone sales also. lack of a flagship phones has nothing to do with "US failure"

This low end phone is not for the United States pal.. Its for the emerging markets, like China and India

Yet another numbered phone to add to the pile of confusion.

Sigh...WHEN will they ever make a dual SIM 4G phone...

Are they still using the Nokia label for that phone?

Good eye. That is weird. I think it's because Microsoft is still allowed to temporarily license the brand from Nokia as per their agreement, and Nokia is a far more powerful brand in India than Microsoft, so they're going to milk it for as long as they can until they educate the public on what the deal is.

I won't be so sure. They released Lumia 535 with Microsoft Brand. I guess this is the work of Nokia. May be the last Nokia phone we will see?

This has nothing to do with Nokia. This phone had been ready for some time. That's why it still has the proper branding much like the 530. Posted via the Windows Central App for Android

"Proper" branding? Microsoft is improper?

It's nothing about 'Nokia being a more powerful brand'; the 638 was released in China back in May, before the change-over to Microsoft branding.

Huh, I wasn't aware this phone previously existed, I guess I missed that news. Makes sense, then. They're just launching Nokia's work in a new region.

Are they also selling the 635 in India? Cause this thing is basically a635 with double the RAM so it wouldn't really make sense to keep the 635 around. Also, are there any news whether this phone will ever be available in other countries as well?

no, India never got the 635.

Nopes.. 635 was never released in India... And I do not think it will ever go beyong the emerging markets.. Hence China, then India...

That was unexpected. But it's nice to see that Microsoft is suddenly showing so much love for what's perhaps it's largest mobile market! All these India announcements in the past few days and all. I'm American, but this is still fantastic news!

Sick of these low-end phones. If they won't release a really good high-end phone I'm leaving WP platform. Fuck it, I don't care anymore.

bye,no flagship untill windows 10

According to the rumours, you wont see a high end until at least June :-/ And why Lumia 930 is not a good high-end for you? Except Glance, it has all the features and good internals. Or opt for Lumia 1520 if you want your hands full :-)

Bye, nobody will miss you. xD

Agreed, it is great news. BUT..... There is not ffc. I've read the previous comments regarding 'buy a 535 blah blah' the 535 doesn't support 4G. Why should low end device consumers always have to sacrifice something? What was wrong with the 625? That had a good sized screen, and 4G but sacrificed RAM and clear black. The 535 has a great sized screen with ffc and is affordable, but sacrifices 4G, now the 635/638 is affordable too, and supports 4G but sacrifices ffc. Is this some marketing ploy by Microsoft to make everyone buy the more expensive phones? The inclusion of one or two more things to these budget phone would give Microsoft almost monopoly like status in the affordable handset market. That's my ten pence thrown in.

Agreed.... Your bet is probably the lumia 735... Its the best of the lot IMHO

I'm rocking the Lumia 1320 now. The 735 is the only windows phone which I look at and see what I think a Lumia should look like.

Tat pic shows Nokia brand name not Microsoft

4G phone? I'm smelling reliance jio is about to launch its service country wide.....

Haha.. And the smell is so mouth watering... :3

What's the point of launching an inexpensive 4G phone in India, when the 4G infrastructure is so poor here and even the 3G infrastructure is still not upto the mark. Microsoft should have launched Lumia 638 with 3G support instead. And at 8.3k, though the phone has 1GB RAM, there is no front cam and also the battery capacity is quite low. The Lava Iris Win1, which is only 5k, but has a front cam and a higher-capacity battery (1950mAh) with 1GB RAM, is a far better phone than this Lumia 638.

Then buy the Lava one instead ;) Posted via the Windows Central App for Android

A 4G phone doesn't mean you cannot use 3G in it..!! I have a 4G enabled 625 and Reliance 3G works perfectly.. I bet the area you are in has poor infrastructure for 3G networks, but where I live in, I have absolutely no problem using 3G services on either Reliance or on Vodafone...

really,they should have given atleast vga front camera and flash...

What is use of VGA camera useless say they should give us 5mp camera for selfie. Posted via the Windows Central App

That should have been a 738

I've the 630 n with recent releases like 730,535 & now this, I'm feeling so much bad for myself

A 4G phone without a front cam? What use 4G is for? Faster Browsing? :-/

No ff camera and no flash? But quad core? What are you trying to do Microsoft? Make everyone throw away their windows phones? I just don't get it...

It is a SIX months old phone that was made by Nokia, not MS. It was released in China then, and now is being brought to India.

Another flawed strategy by MS! Which frigging phone doesn't have front cam these days? In this selfie generation, it will be a negative point and will drive away many users... Kudos.

They have a phone ESPECIALLY for the selfie generation. 730/735.

And the phone is an old model previously released by NOKIA and not MICROSOFT in China.. What harm in their market expansion mate??

I think people will go for L535..

MS has a speciality, it trolls its own consumers! Releases a phone just months after launch of similar predecessor (eg. Lumia 635, 530) and makes the previous users burnn... Wow...

This strategy is not even followed by Samsung.Now days MS has become Samsung throwing everything nd see what sticks.But people in India will go for android because there is app for everything there.Tough luck MS. Posted via the Windows Central App

That 1GB Ram is a big reason to buy this phone. On my Lumia 635 I always have to close some applications to improve the speed when I use more than 5 apps

I think why anyone choose 638 over 535 for only 1 thousand difference

4G phone with no front camera? They're nuts..

there will be a choice of covers if you just order the 635/630 covers. they are very cheap!

Its a Nokia phone right? With no Microsoft Logo..

Does the 535 have a front camera?

What kind of launch is this.....no rumours,no teaser & no any hint.....well specs are interesting...i am using L920....and want to buy an entry level Lumia device.

WINDOWS PHONE DIES thanks to RACISM Satya will not make any more Highend Flagship like the cancelled McLaren simply because all he wants is to make more and more CHEAP LOW END Windows Phones for people(in a specific country) who can't afford Highend Flagships we will NEVER EVER SEE a FLAGSHIP ever again

I see too much hate.. And some burns... Apply ice love...

Disappointed,
They should have price it $150/- but with extra features.
So pupil can easily differentiate b/w newly Microsoft L535 n L638.
.
For me its a miss, but yeah company tactics would have been different.
All the best.

MS, please launch 830 to Indonesia. We need phone supporting LTE at 900Mhz.

Hmm 1gb ram is a nice move over 635

I'm so sick of this crap! Why do they keep people locked out of phones based on carrier or region?

lumia 638 is what 635 should be from the beginning.

Excellent phone for this price....

the device is great for the price... but i still dnt understand why microsoft is releasing so many devices for no reason... this numbering thing is just getting out of control... i mean what's next after this? i really don't think Elop is doing a good job and should be replaced by someone who will keep things simple. Why not keeping only 3 series of devices? an A-series for Affordable with at most 2 different models, a M-series for mid-range and a F-series for Flagship? This makes it easy to come up with better names, and will also help in creating devices while keeping in mind that future versions will be released. Wouldn't it be better if this one was named the Microsoft Lumia A2 for example? All i see is Stephen Elop trying to run microsoft mobile division like he did at Nokia, and i am afraid he will keep doing the mess he did at nokia.... what do u guys think?

You're right about the numbering system. it's a mess

Nokia? What? Ok Microsoft, confuse us again. Unveil the first Microsoft Lumia, then unveil a Nokia Lumia. The Lumia line up is turning out to be a confusion mess!

Wow now lumia 730 ,830, 638, have same ram , same processor , same gpu I.e. adreno 305, 638 will replace my lumia 720... Posted via the Windows Phone Central App for Android

As always, only for India and China. Not in the UK or US.

So this has sensacore that means is it capable of hey Cortana

Hey MS ever thought about releasing a flagship for the US, where you reside? Pls don't talk about yearlings the m8, 1520, or 1020

What does FWGA display means?

This or Lumia 535? I am sort of planning to move back to WP from Android again. :) Posted via the Windows Central App for Android

Lumia 638 is cheaper than 535. So the choice is yours

Just bought L730 yesterday.. Upgrade it from L625

Come on India, Lets Windows......!

guys i bought this phone and now no denim update. wat shdl i doo????/
Windows Central Newsletter
Thank you for signing up to Windows Central. You will receive a verification email shortly.
There was a problem. Please refresh the page and try again.