Microsoft launches new advertising strategy – you might just click on it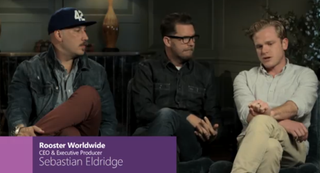 A team at Microsoft advertising set out last year to create "a series of new and truly unique ad experiences."
Today, they are finished and are presenting prototypes from their journey. Five iconic brands including All Saints Clothing, Mercedes-Benz USA, Vans Shoes, MasterCard, and Dell are ready to strut their stuff. Let's take a look at some of the ads Microsoft has been working on.
The first advertisement showcase, with All Saints clothing, mirrors the point of view of a consumer scrolling across the page. The ad opens up to a display a collection of models with the latest fashion. Consumers can click on various hotspots to learn more about the clothing or purchase what they see.
The second advertisement with Mercedes-Benz USA creates an "interactive digital narrative"; it pulls in media and content from various social networks to create an engaging real time experience. The ad is targeted at a younger demographic and wishes to showcase Mercedes' new CLA model car.
The third advertisement, for Vans Shoes, is my personal favorite. Consumers can design a custom skateboard park and then watch a pro skater ride it. The advertisement is nested within the Skype application and has you invite a friend to design the park. At the end, consumers can purchase merchandise they saw within the experience – if interested.
The fourth advertisement was created in partnership with MasterCard to entice card holders to access Priceless experiences. Consumers can click through customized various events on the multi-touch ad to find what they may be interested in.
The last advertisement, from Dell, attempts to showcase how the company is working closely with a Formula 1 racing team to help power the world around us. The advertisement, if viewed on a tablet, has a 360 degree room virtual room which can be navigated by rotating your tablet around you.
Advertisements are not usually perceived as a good thing, but do you think Microsoft is helping to make them a bit "less painful"?
Source: Microsoft Advertising Blog (opens in new tab)
I'm glad MS realizes that whatever form of advertizing they were doing before was very ineffective, and they are finally beginning to "get it"" .. I just wonder how far along WP could be now if we had a strong, and effective, ad campaign from to get go.

WP was the only phone used in Man of Steel. Nice to see them branching out.

I really don't have any complaints about WP advertising, except that the commercials they do have on TV could be aired a bit more, but besides that I'm beginning to put my focus, well bitching, on more OEM support... It just would be so much better if we had Sony, LG, Fujitsu, Dell, on board WP8, and more effort from the other current OEM's.. If we had all this now, you could count on WP heading towards 15% market share before the end of 2014.. I think.. Lol

No. Getting too many OEMs is what ruined android for me and Sony makes worst phones. Tighter partnership with better integration of hardware with OS . if wp8 becomes another mass market phone with every Asian semiconductor company attempting to make a phone with it...it will suck. android has a place and wp8 has its place..just like Toyota vs BMW.... LUMIA 920 is the BMW here

Ya know, I hate your guts, but I agree with you!!.. Lol! Just joking.. Yeah, you're right quality over quantity in this case.. But, we do need several OEMs that will make quality WP devices.. I'm not looking at Pantec!.. LOL!!

There's no way around Ads but even if I see a static ad I have interest in I won't click it. BUT, the add in the video link is actually interesting because it performs like an app and seems useful if I had interest in it.

same here, I never click on ads even for stuff I migh like, but Microsoft is making a great job at designing the ad in a way that does not feel like an ad at all, if I see something I like I might actually give it a try now if its done like the ads above.


These are amazing and totally innovative. I really hope they bring this to phone as well. Much less intrusive than an annoying banner ad at the top or bottom of an app. These bring ad experiences that are fun and blend into the app, which in my opinion bring in more creativity and beautiful app designs and experiences. :D

these cool ideas might force me to click on each and every ad inside windows 8 apps -.-

Really nice Ads/Apps!!! Nothing against MS for their beginning efforts with commercials dealing with kids/people dancing and passing/tossing the Surface around. But finally, commercials ads that shows what developers can do with the Surface/W8 tablets.

This is gonna be great. I luv the WP and W8 on my Surface RT experience. They just need better marketing and advertising. Also they have to do better at distinguishing Surface RT and Surface Pro.

I just wish they would make a proper F1 app for W8/WP...I tend to watch races with Skype chat snapped to the side so I can chat with friends during the race and the live timing from the F1 site on the rest of the screen.

It took 10 months for that filmmaker to make a 30-second spot for the car. I would have fired him after two weeks. For comparison filming for Star Trek Into Darkness took half the time and yielded 266x more video in the final cut.

Beyond that, I think it is good Microsoft his helping push Windows 8. Good PR for them.

Man, will they ever make an affordable tablet? I hope so

They need to get at the younger folks with lots of flash .

Is that Aaron Woodman in the middle of that still?

That's a cool way to showcase an ad.

My only gripe would be will people actually let an ad become an immersive experience when in the end they came to that site to consume their content, not an add. For the most part people ignore ads as they are now, so will people really pay attention to an ad that will cause them to spend more time away from what they came online for in the first place

I´m a MS and Nokia user and have always been. I really understand most of the things they do and the ones I don´t understand I let pass... But I don´t think I want to open Skype or MS Travel and be confronted with advertisement. I very much dislike google because of this.

X2...i hate advertising revenue based model for functional software's...i want to pay for good software and don't want to see ads. also...i really wonder about effectiveness of such interruptive ads

Microsoft is supposed to be spending 4.4 Billion on marketing in the next 2 years in the world. I saw the new Dell commercial for the tablets and its hilarious, and also I saw Super man Man of Steel. EVERYBODY had Nokia phones and they made it a point where you could see what kind it was. Stuff like this, if that company Hauwia even thinks about screwing with Nokia, I bet Microsoft will buy it so fast it will make their head spin. Microsoft is everywhere and I bet even though hes doing his philandering work, but at times it feels like Bill Gates is in charge of some of this stuff. Microsoft is marketing like crazy.

Now think about this, Microsoft is spending 4.4 Billion in 2 years, Nokia is supposed to be worth 15 Billion, now I think Microsoft is helping Nokia big time and I doubt that company Hwaia has the money to burn 15 Billion, but Microsoft does. :)

It was a very good post indeed. I thoroughly enjoyed reading it in my lunch time. Will surely come and visit this blog more often. Thanks for sharing.
Art Mojo
Windows Central Newsletter
Get the best of Windows Central in in your inbox, every day!
Thank you for signing up to Windows Central. You will receive a verification email shortly.
There was a problem. Please refresh the page and try again.