Microsoft sheds light on minimum hardware requirements for Windows 10 for phones and desktops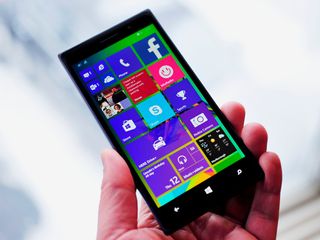 At the WinHEC conference in Shenzhen, China, Microsoft has revealed the minimum hardware requirements needed to successfully boot, run, update and service Windows 10. The hardware maker has shared details for desktops as well as Windows 10 for phones.
In terms of device hardware, the minimum amount of RAM is listed as 512MB, which is unchanged from Windows Phone 8.1. Minimum storage required to run Windows 10 for phones will be 4GB, although Microsoft mentions that mobiles that offer 4GB internal memory should have an SD card installed to facilitate future updates.
Windows 10 will support screen sizes from 3 inches all the way up to 7.99 inches, which may be an indicator that we'll be seeing a few Windows Phone phablets later this year. Resolution-wise, Windows 10 will support beyond-FHD displays, with QSXGA (2560 x 2048), WXQGA (2560 x 1600) and QWXGA (2048 x 1140) listed, suggesting we may also see Windows Phones with higher resolutions displays in 2015.
The hardware requirements mention that for QSXGA displays, memory of 4GB or greater is required, while 3GB (or more) is quoted for WXQGA and QWXGA. For full-HD displays, 2GB RAM is mentioned as mandatory, with 720p, qHD (960 x 540), WXGA (1366 x 768) and WSVGA (1024 x 600) displays need to feature at least 1GB RAM. For lower-resolutions such as WVGA (800 x 480) and FWVGA (854 x 480), 512MB is the minimum amount of RAM needed.
Microsoft has also announced support for several new SoCs with Windows 10, including Qualcomm's high-end Snapdragon 810, which offers an octa-core CPU paired with an Adreno 430 GPU and LTE Category 9 connectivity. Also included are the hexa-core Snapdragon 808, the Snapdragon 615, the Snapdragon 210 and Snapdragon 208 (a 3G-only version of the 210).
New hardware from Intel include the 14nm Cherry Trail-based Atom processors, as well as the upcoming Skylake architecture for desktops. The entry-level Atom x3 — which was announced at Mobile World Congress in Barcelona last month — will also be compatible with Windows 10. AMD's processor additions are in the form of the Carrizo and Carrizo-L, which are aimed at desktops and notebooks respectively.
For desktop, 16GB internal memory and 1GB RAM are the minimum hardware requirements needed to run the 32-bit edition of Windows 10, while the 64-bit variant requires 20GB storage and 2GB RAM. In adition to listing the hardware requirements, Microsoft has also announced a Windows 10 compatibility program for OEMs and partners.
Source: Microsoft
Thanks for the tip Martin!
Windows Central Newsletter
Get the best of Windows Central in in your inbox, every day!
Harish Jonnalagadda is a Senior Editor overseeing Asia for Android Central, Windows Central's sister site. When not reviewing phones, he's testing PC hardware, including video cards, motherboards, gaming accessories, and keyboards.
Well, my Lumia 1520 qualifies for Windows 10! I am relieved!

And so does every other WP out there.

Every WP8 device that is. :-)

You sure? I'm sure it said that at least 2gb ram is needed for a 720p screen. My 920 has a 720p screen and only 1gb ram :(

Read it again bro it says 1gb ram for 720p devices :D

I may be nit picking but will the (Lumia 920) 1280 x 768 screens fall under the 720p memory demands?

Read carefully.. 1GB is required for 720p

I read it wrong, sorry. Waiting patiently...

Same here. Owner of L1520 WAHAHAHA

Me too. That's why I find 1520 to be the best phone

So every phone running 8.1 gets it

Quite literally, all Windows Phones, except the 7.x ones.

Huawei W1 never got the 8.1 update so we won't see it there.

They will cancel it after launching W10

Yes, and replace it with Insiders Preview.

Requires at least Lumia Black or an updated enough formats for non Nokia/Microsoft phones. The Lumia 810 for example, only had Amber and thus could never go further than the latest 8.0 software. Talk about your dead ends, thanks T-Mobile =/

Huawei W1 never made to India, and whatever happened to W2 and W3 !

Download Preview for Developers

"Windows 10 compatibility program for OEMs and Partners"
Is this that Lenovo, Xiaomi partnerships?

lenovo is coming with a Windows phone in a few months, hopefully Win 10. Xiaomi Win phone I would be very interested in ...

Yeah I know that. I am enquiring whether the article is pointing to that particular partnership or something else for which I have to hot the source?

Wonder if anyone will bother with an 808. Seems kind of pointless now that newer chips are available. Pre-810, I could see it being used.

Yeah, exactly. 810 would be awesome.
A 20MP PureView shooter, 4.7" to 5.5" display, full HD, 5MP front shooter, a huge 2800-3000mAh battery. This would be the perfect flagship combo.

Agreed. Make the camera 40-50MP and we will have a perfect flagship !

With wireless charging and LED notifications and perfect for me :)

People want quality of the image. A 41mp 1020 was actually a gimmick. Why would you want such high resolution picture? I would say a 20mp pure view camera with a better sensor and ability to capture slo-mo. An interesting flash and all the rich capture and stuff

1020 is still the best camera phone. Its my favourite phone and a succesor from Microsoft would be nice. 41MP was not a gimmick. Look at the pictures on a TV or something and youll see the difference. The phone also makes great low light photographs

It was alright, it lacked what made the 808 great. Predominately the lack of a dedicated image processing chip let it down. Also it didn't have the NDR filter which was in it's predecessor, imo I believe it was rushed.

I have a Lumia 1020 and my wife's iPhone 5 takes much better pictures than the 1020.

Sorry but my 920 takes better pictures than my friends iphone 5 You must have got a bad phone. The 1020 should do better than that

Liar liar pants on fire!!

Saying 41MP camera was a gimmick tells how much u know about 1020 and it's camera.

Exactly! He's absolutely clueless.

Seems you want Lumia 1520

You have clearly never used the 1020, or understand how exceptional that 41MP sensor is.
I suggest you go and read the Nokia whitepaper. You'd then understand why a 2 year old phone running slow processors still delivers THE best photos on any platform!

With hdr built into the os

The 1020 is no gimmick. The lossless zoom makes it a winner. Shooting raw...two years ago...on a phone, was game changing. I take some brilliant photos with this phone. Saying "gimmick", doesn't make it true.

Only 5.5"? Damn... I'm 6'1" (185cm) with big hands, I would prefer 5.7"+.
I'd like a Windows Phone that supports carrier aggregation, though, so a Cat9-capable SoC would be nice.

You'll have XL model for you :)

I do like the idea of them having fewer models, and a regular and an XL model for each. I hope they continue this trend. It'll simplify things a lot.

It is surprising that you should call battery of 2800-3000mAh capacity huge.

It is enough for a device which has full HD display and is at 4.7-5.5"

Honestly - that's an average flagship. Competitors already have those specs. Lumia needs to win on specs for once (on high-end). QHD, 4GB of RAM (as seen in spec requirements), 3600 mAh battery, 30 MP camera and 5.2" screen with on screen buttons.

Just imagine the battery life. Frankly, QHD and full HD cannot be differentiated until you try to look for the differentiation. From 25 cm, both look almost same. QHD is just a bad thing for battery life until the tech behind batteries is not evolved and improved.

It's important for the spec war. I'm fine with FHD on 5" or smaller personally but Microsoft really needs to know it off the park with best screen and best camera on the market.

There are allegations that the 810 is running hot (part of the speculation as to why Samsung went full-Exynos, as opposed to having some variants carry Qualcomm silicon). If the 810's temperatures are a real problem, then it could be that some of the smaller flagships opt for the hexa-core 808, as they'll have less room for the hardware to breathe. That's in addition to the general ability to maybe lower cost. It wouldn't be surprising if Microsoft did a 940 with the 808 and a 940 XL with the 810, or maybe the 840 with the 808 and the 940 with the 810 (so the hardware gaps between the 800 and 900 series are more-obvious than with the 820/920, but not as great as with the 830/930).

No problem with the 810 in my Galaxy Note 4.

thats because your note 4 has 805

I hear even HTC is having serious issues with One M9 because it's running as hot as 130°F!!! Makes sense why Samsung ditched the 810. Nevermind the fact that most of the flagship Lumias already get super hot as it is. Let's hope Snapdragon will be able to fix it with the firmware update they have coming.

Actually, the 808 is a brand new ship ... Can't think of any device with it on sale today.
I think you might be mistaking it for the 805

There are previous articles mentioned that Windows 10 will be equipped with USB OTG capability :D http://www.windowscentral.com/microsoft-confirms-windows-10-will-support...

when new chips come out, old chips get cheaper. At that point they become good candidates for mid range phones that will have plenty of performance to spare for several years.

Well glad to know my Lumia 930 + 920 are both covered. As is my desktop and tablet.

My 1520, 920 and 630 ;) My desktop as well, but a bit tight with my 8.1 tablet. 16Gb internal, 1Gb RAM is a bit tight for it. But I supposed the compressed OS edition will fit nicely.

what windows tablet is that...16 gb, 1 gb ram ? 32 gb / 2 gb win tabs cost just 130 usd !!

Lumia 720 Still Lives on <3

720 here. wondering what will the 10th generation 720 called ? you know what i mean

720 is qualified for windows 10??

Yes all windows phone 8 devices will be able to run Windows 10

Exactly. Why is everyone so God damned surprised? They said every single Windows 8 Lumia would get Windows 10 ages ago! When was there ever any doubt that we'd all be getting the new OS? Why are you all releaved? LOL

So... How can I load Desktop Windows on my 1520? Says its got the juice. XD. Jk jk jk

Teach your ARM chip some x86 instructions, and you're good!

Figure this out, and you literally will be a billionaire. :)

Pretty impressive. But even better news of Tencent making League of Legends as a Windows 10 Universal app. Which is the biggest MOBA game. Including Smite, Gigantic, are already incoming as well. These are very interesting times as we see this Convergence of Universal Apps/games really taking hold. Hold on tight 2015 is Microsoft year. Well I mean after mango update, or windows 8.1 or Cortana, and the list goes on, lol

1. What here's impressive to you? Not disagreeing with your opinion, just wondering what you see that maybe I don't. It seems that Windows 10 is basically on-par with Windows 8.1 for hardware requirements, or maybe a tick higher, so that's more par for the course than impressive to me. 2. When they said LoL is universal, I'm wondering what that's going to mean. They could call it universal and not publish it to the WP and box One stores, and simply make the "universal" just apply to any and all PC form factors. Getting LoL to work on Xbox One or phones seems like an awkward task to go for, because even if it runs on those devices, the game really needs to have a mouse-keyboard setup to handle properly, and you're not going to have a happy experience on a phone or Xbox without it.

I actually hope they're bringing it to Xbox One and phones as well. That would bring back some incentive to play it again.

Yes I'm interested in see if they can make a moba game to run on a phone too. That would be incredible.

You can't call something a Universal app and have it only run on Windows 10 for PC's. Then it's a Windows 10 PC exclusive. Universal apps imply quite strongly that they will be available on PC, Tablet, Phone and XBox.

Windows 10 has alot going for it self, which would be a long list to write out. But the main thing is that it's a free upgrade for the first year which runs as smooth windows 7 with alot more features. So that's a win win Yes LoL will work with the Xbox one and Pc. I agree with you that might not be as efficient as a keyboard And mouse. Smite(moba) gas already have there game working with a Xbox controller.

Smite isn't League, so one doesn't affect the other. LoL might make it to Xbox, but I'm not sure how it's controls would map to a controller. It would likely be really inefficient.

I totally agree with you that Smite is not LoL by a long shot. Well have seen some control mapping for smite but never be as good as keyboard and mouse but with practice you can be ok

I wonder, could it be a good idea to port windows phone 10 to Raspberry pi 2?

Pretty sure that's what the IoT version of Windows is for. Its free, after all.

Well, ain't the Windows IoT gonna be like Snappy Ubuntu, where you only have a minimal GUI and only a terminal? I mean, if they can port the WP10 with some graphical changes to fit with the view and ETC it could make a pretty good os for the pi. And also that it runs on ARMv7

And it's already been announced.

Like, what do you mean? Is it gonna be a full Win10 GUI?

Actually, I think I see now.

Intel powered WP possible??

It's definitely possible, it's just a question of how feasible it is. We don't know what the next Atom SoC will need for cooling or how its hardware will compare to the latest Snapdragon at the time (possibly the 820). It's something that I wouldn't expect at launch, but maybe the Skylake-based Willow Trail in 2016 could find its way into some flagships.

I hope there's atleast 1. Im curious. Im still hoping for a Intel powered Surface phone, but I doubt it.

Thats means that my lumia 520 support win 10?Is this is true i will be hype for Win 10


They said so long ago: All WP 8 Lumia phones will be updated to W10. That includes bestsellers such as the 520, of course.

Yes your 520 will support it.

every device running wp8.1 will get it.that means L520 as well..how many times it has been mentioned already.haven't you seen lumia 520 running win10 tech preview on yoututbe yet?

It's not yet hit the 2-year mark, and Microsoft 36 months of software/firmware support for WP devices. The 520 should get updated, especially since it's the best-selling model of the OS's devices.

Yes. Lumia 520 would be upgradable to Win 10. But available features may vary between the low end Lumias and the high end Lumias.

yes, 520 is fully upgradable . :) thats where micosoft beats android. so many low end androids are not upgradable even to kitkat including few newer phones... but even with less specs 520 can move forward

For lower-resolutions such as WVGA (800 x 480) and FWVGA (854 x 480), 512MB is the minimum amount of RAM needed.

That means, YES!

Kokkhn j windows 10 release Hobe? Any idea guys?

april mas e microsoft build conference hobe, tarpor pawa jabe, asa kora jay ...

Wow 2gb for 64-bit now! Time for x86 to go.

Given that DDR4 has a minimum stick size of 4GB I can't see 32-bit hanging around much longer.

So higher resolution requires less RAM than lower resolution? 2560x1600 3GB but 4GB for 2560x1048?

You're typo, 2560x2048 not 2560x1048

So typo was in the article and has been fixed since my comment..

*Your* typo ;)
http://youtu.be/-FdKPEA17m4

Let them roll it then, what are they waiting for??? So we can all start previewing /testing.

I will buy a new phone. Maybe if the flagship is good ill fo for it. I have used Lumia 720 and Microsoft has provided good support for it. And for every damn low end mid range phone. I know 512 mb ram had limitations and now being satisfied with my 720 I will happily upgrade to next device. If the flagship is good I will buy it. If not then I may go for iPhone and use Microsoft services there as I'm used to Skype,Bing,office, 2 msn apps and OneDrive.

Lumia 525 contain 1GB ram after updating Lumia 525 to win10 does resolution of Lumia 525 going to change?

No. Maximum resolution is defined by the hardware and software. And I wouldn't think that they used a better screen than the current maximum resolution on wp8.1.

Typo, WXQGA (2560 x 1600) should be WQXGA

waiting on for my L620 :) Love MS

Awesome news! Hope my laptop's GPU plays well with W10.

What I like the most abt Microsoft is that its offering update to phones like 520 (which is like 2 years old). Google doesn't offer updates to phones which r hardly 1 year old.... But needless to say Google has more market share than WP

Try the nexus 4 its over the 2 year mark and the nexus 10 they still were updated

It's because Microsoft decided to make a shitty Lumia 530 and people don't buy into that. A fixed focus camera and TFT display in 2015?!? And this, after making a better spec lumia 520 almost 2 years ago. I know they have a minimal price but they give up just too much for the sake of being cheap. That's why Android has such a great market share, because they pop devices all the time and they have features.

It's not that bad most computer are at least 500gb HDD and not sure how this affects the SSD's

"2GB RAM is mentioned as mandatory, with 720p" does that mean lumia 920 don't get windows 10

Badly written sentence the 2GB is for the full hd display.

Might be an idea to maintain some consistency with your usage of "RAM" and "memory" you use them interchangeably throughout the phone requirements but then claim that the 32-bit PC version needs 16GB of internal memory and 1GB of RAM. This has the potential to cause confusion.

I was just looking in the comments to see if anyone else had caught this yet. I was thinking the exact same thing. When I got to the 16GB part I was shocked. Then I kept reading and realized what he was saying. But still...

For desktops 16gb storage is required not 16gb memory,typo *

I hope WP will have a function that we can change our core and stuff whenever we want, just like how we build our PCs .... Waittt, fan boys doesn't know how to build cheap but high spec pcs, I'm feelin sry from them lol

Have fun changing your "core" and "stuff" on your "WP".

The situation is same as that of the release of cyan update as it was also been released last summer but it wasnt as it was released late September and October ...so it is clear that w10 will also be released late September. October or November ...not this summer...i bet ...

Am having 630 and my internal memory is just 2gb left so do you think I can hav win10 in my 630

Yes you can. The worst scenario is, you have to use some kind of NPU software which erase all your internal storage content. :D

Wt do u mean by NPU software

As long as you have an external SD card, you'll be fine (the update will use the SD card to install).
Remember there are devices with just 4GB of internal storage that are eligible. they have only 800MB of free space out of the box!

Will external SD card support be removed for W10? I hope not.

Keep it simple, give us a list of phones that will be upgradable, not a specs list when most don't know the specifics of the phones that well.

Oh please, thats just ridiculous. If you don't now what a GB or RAM is in this day and age, LEARN. People aren't stupid.

Come on with that powerhouse flagship

They haven't mentioned the processor requirement! My 520 is still trembling waiting... :D

Can't wait for it on my 1020

Wow, really my Lumia 1520 will get windows 10 then....finally..

Great to see that MS still support 512mb devices. Power of Windows OS.

We might see a 7.99 inch phablet later this year?

My Lumia 930 is waiting! :) Posted via the Windows Central App for Android

Thanks Harish and Martin!

Well my desktop don't have 16gb internal memory.. I must admit I've never seen a desktop with internal memory, hard drive maybe

Why winshit doesn't go ANDROID I used to be like you waiting for winshit to come up with something useful and is 2015 and still no APPS NO CUSTOMIZATION AVERYTHING STILL on beta the apps the os never mind about the phones they're all crappie plastic cheap ugly even HTC came up with the M8 for Windows phone and failed I don't know what else to tell you guys but to get out of winshit and join ANDROID stabled lots of APPS nice premium devices

How about VGA on laptop and desktop? What is the minimum requirements? The article only mention about minimum requirements for ram and harddisk ( drive c )

that's great that a lot of phones quality, now lets see if the carriers/manufacturers or whoever will release an update smh

I wonder what the free space required to upgrade a tablet from 8.1 to windows 10 will be, seen as most 32gb tablets have only around 10gb of free space. I bet I'll need to remove loads of stuff before I can upgrade.

is the lumia 620 qualify for this? thanks!

Me likey likey me likey. Though why not SD410/415? Also, it would be nice to have Exynos and Mediatek on board.

So I'm confused. I still use a Lumia 928 and the MSM8960 cpu is not listed. So? No upgrade?

it will be nice idea to put these in a tabular format.. for easy comparision. thanks!

So an XBOX 360 would be able to run without problem WIN 10.....

Why is UEFI a requirement for computers? Page 8.

Snapdragon 808 isn't hexa core Its octa core but 32 but architecture -_-

theym should add the amount of space onto a phone so you get 32gig + whatever the os is, that would be a fari and nice change.

Okay my 920 is covered pretty well. But all I want to know, will there be a 4.5" screen FLAGSHIP device?

Oh look! My LG Pavilion dv4 is covered too! No need for an upgrade yet then.

Wouldn't it have been better to a list out of the requirements? It's basically a wall of text with numbers all over it. -1 for terrible layout.


In a world of superficious surprises, Microsoft releases Windows 10 for Windows Phone 7.8 and windows phone 8 with some features missing due to hardware limitations.. :) at the end of the day, happy customers will return.

The system requirements for desktop / laptop Windows 10 is quite low, Microsoft I believe has a Winner, with Windows 1.0, I mean 10. There may be another phablet on the way by Microsoft.

My Nokia Lumia 635 qualifies

Will Lumia 620 get Windows10 because I was to bored to read the article ?

FOLKS Windows 10 on desktop, Laptop, Tablets and Tablet hybrids is Microsoft's main priority now. Microsoft wants it theses devices for the back to school buyers. Windows 10 for Microsoft smart phones will get More Microsoft programmers to help complete it after Windows 10 RTM's If Windows 10 has some bugs when it RTM's and it probably will they will be fixed and patchs given to folks on patch tuesday updates or as soon as Microsoft programmers complete the bug patch. I think we could see a Windows 10 smart phone Flagship debut but People told it wont be up for sale until october. look for a big Microoft Surface Pro 4 event in July no later than mid August so it's different models can be on sale for the back to school crowd to buy. This is a must do for Microsoft since it's their Only tablet for sale. I wish Microsoft would make a 10 inch Atom CPU powered cheaper Surface Tablet computer for sale so low income folks can have a for real deal Microsoft brand tablet computer. it should sell for under 400 dollars to sell well.

Why are you all so surprised? You've known all you're Lumias are getting Windows 10 for nearly a year now.

I'm confused. Why aren't the RT devices just getting the same version of Windows 10 that Phones are getting? The hardware requirements for RT devices are the same or higher the Phones so this just doesn't make sense to me.

Will my Nokia Lumia 620 handle windows 10 I gues not :( ?
Windows Central Newsletter
Thank you for signing up to Windows Central. You will receive a verification email shortly.
There was a problem. Please refresh the page and try again.