Microsoft lists the new DT-904 wireless charging pad on the UK store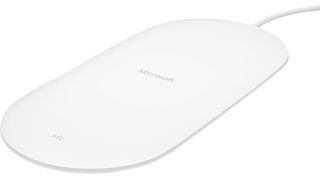 Microsoft is slowly rolling out the company's revamped Nokia wireless charging pad through its official stores. We looked at the DT-904 being listed in Portugal, and now we've spotted the same accessory in the UK too.
As we mentioned in our previous coverage, there's not a whole lot that's new in the DT-904, compared to the DT-903 by Nokia aside from the new Microsoft branding. Available in white, you can pick one up for your Lumia smartphone (or other Qi-supported hardware) by hitting the link below.
DT-904 for £49.99 at the Microsoft Store (opens in new tab)
Thanks, slysy, for the tip!
Windows Central Newsletter
Get the best of Windows Central in in your inbox, every day!
Rich Edmonds was formerly a Senior Editor of PC hardware at Windows Central, covering everything related to PC components and NAS. He's been involved in technology for more than a decade and knows a thing or two about the magic inside a PC chassis. You can follow him on Twitter at @RichEdmonds.
Will it support Lumia 730?coz nfc is there in L730??

No, ignore the other people telling you that this will work. The 730 does not have wireless QI charging built in, so it can not use a QI charger.
The 4G Lumia 735 does include the QI charging hardware though. NFC is not used for wireless charging.

What would NFC have to do with Qi?

It's a useless feature they put on all their wireless chargers. It's so you can tap your phone when you put it on to charge to kick in an app or something else. I've had a wireless car charger, desktop charger and the charging pad since I got my Lumia 920 (now on a 950 XL) and I've used the NFC feature once, to see why it was there.

Are using the Nokia Dt-903 on the 950? If so does it work well? Its $39.99 at the Microsoft store. If the 904 isn't changed other than branding I might get the Nokia.

£49.99? That's a bit steep?

They should make it free, right ? :D

0.20$ components inside. Should be free as its also prime real estate ad for Microsoft.

I want to shop where you do. $0.02 for qi components, low power Bluetooth components, all round notification light and associated components?

Count me in! I can't even buy most of this stuff in my country, so I pay the full price + currency conversion + shipping :/

No we should be paid to have it

Not free, just that the Nokia chargers released when the 920 came out wasn't £50 which given that wireless chargers are more prominent these days is too much for what it is...

Well, look at the price here in Portugal...

I'm still using the original ones from 920 times. Red, black and a white one. . Does me. £49.99 a we bit steep for all it is like

Same here I've a flat plate and a JBL speaker...both work brilliantly

Same. I also have the desktop charger and the car charger, both of which are useless with my 950 XL as the charging coils don't align. At least I can place my phone in a position where it will charge on the charging pad. That said, I've had a few nights where it didn't charge (like last night!)

These new charging pads suck compared to the ones that came out with the 920. I have the Nokia Version of this one and it's terrible. You have to move the phone around alot to get it in the right spot so the phone will charge (ICON).

that will probably be your icon. I believe my backcover of the 950XL is al over with charging plates so you dont have to bother with the direct position to much

I've had two ICONS and I've tried it on 3 Wireless chargers like this one.

The desktop charger and car charger I got for my 920 and used for my 930 both don't work with the 950 XL. The charging coils don't align. The charging pad works ok as you can get it to line up.

Nice that they bring it with NFC. If only Microsoft had a simple Idea how to use NFC in a bloody Smartphone Operation System.

Can the Windows Mobile 10 do some simple macros / series of actions if triggered via NFC tag, or still only stupid app-launch, and settings page opening possible on this crippled platform (I have experience only from WP8.1, thatswhy I am asking seriously). On Android, my colleague showed me he can do all kind of clever things with a Sony Experia using an NFC tag, and an app. That can switch wifi on/off + mute the phone + turn Bluetooth on/off when he enters the office and simply puts his phone on the NFC sticker on his desk. In the meantime, I can launch some apps on my ****** WP8.1... Oh yes sorry I forgot, since WP8.1 I can mark some apps as "safe to launch" so ATTENTION! I need only to confirm only(!) 1 popup message instead of the annyoing 2-3 ones, before it actually can launch the damn app. But I assume still no NFC improvement to control OS settings like Wifi turn on/off, BT turn on/off in the car etc. ******, ****** stupid MSFT OS. Pls confirm if I am totally wrong, or (the bad news) all I have said above still applies to the flagship mobile OS of MSFT!

Idk why Microsoft still hasn't come up with elegant solution and features related for NFC. Even making NFC macro is still outdate app that we can use. On W10M, still it doesnt support NFC+Wi-Fi direct and additional protocol to work with any Android devices to support Android Beam and Samsung NFC feature. Heck we need NFC activation for wireless Continuum. Like when we put the phone to the wireless charging pad with NFC, it can trigger Continuum automatically with macro. This even make more sense for monitors that will have wireless charging and NFC for Continuum.

NFC Continuum. I love the sound of that. Plonk on plate, start up wireless Continuum to my MWDA, connect to Microsoft all in one media keyboard, boom, set up for bed. Might have to get on board with this if it happens.

They really need to make that happen. Imagine if Microsoft even partner up to some OEM to make monitor enabled Continuum too. Microsoft just needs to realize and start building Continuum ecosystem on hardware. While they do that, they have to make sure W10M Continuum can run inside a window with full drag-and-drop functionality and optimized performance without the issues currently reported, especially with Edge and overall system slow down. Continuum cannot be fully realized without solving those first and it needs to be really desktop-like experience, not Windows RT-like experience.

Anyone know if the charge power is the same for DT 900/903/904?

What are the colour options?

Yeah, what's with black and white only options. For some really weird unknown reason (if there is), they suddenly stopped offering different color options to their new accessories and even on latest Lumia models. I hope they won't evrn dare to remove color options for Surface line which is weird since recently have color options for Pen. Wth...

I have both DT-901 (920 era) and DT-903 (same internal as 904). I'm having overheating and slow charging with 950 XL dual sim but not my older 1520 and 920. Not sure if it's hardware related or Windows 10 related. 950 XL get extremely hot unlike 1520 and 920 which are only warm. Anybody else having this problem? Thanks.

I bought the Nokia 903 last November to charge my 950 but I returned it because it does consume more energy than it charges the phone. I really like that it lights up and that it notifies you missed calls and low battery, its really cool, so I hope that the DT 904 took care of this issue so I can but it.

When your 950xl is 100% charged does the display start to come on and then go off randomly while on the wireless charger? Mine is doing this using the tylt stand up charger. Started since I've had it even now since upgrading to fast insider and the most recent firmware.

Yeah when it is full it turn on the screen as a notification i guess and stops charging. But the the battery level drops (as fast as lightning on these 950xls) so it starts charging again. It's basically going from 99% 100% 99% 100%. I have a good charger for Samsung notes and it does this but I also own some CHEAP Chinese ones that can't charge very fast because the screen turn on and off seemingly at random and not just when its full. Having Hello(power sucker) on the phone actually died while on the charger haha. Funny thing is that it works just fine with my L950xl. To be honest I have had better experience and battery with my 1520 on w10m than 950xl. Would never have bought the 950xl if I didn't crack the screen on the 1520.

Would it fit 2 phones I wonder? Is there a pad large enough out there? I've 1520 and GF a 735

Sure you can buy large mats for multiple devices. Guess they just put many coils in there

Around 70+ dollars in Swedish store. My god. Intill the 950XL works good Microsoft ain't getting a single cent and price must come down.

MSFT started to follow the Apple path: overprice all f* accessories. And if people will buy it, they will continue this trend (damn people, its just a f* CHARGER with a LED, not some hyper-complicated electronics gadget!).

In Austria its 69,99 EUR at the microsoft store site

Wmpoweruser had review of the previous model (Nokia branded DT-903) nearly exactly 1 year ago: http://wmpoweruser.com/quick-review-nokia-wireless-charging-plate-dt-903... Question to any current DT-903 owner: have those issues been resolved in the last 1 year, or MSFT released it, people gave out their money for this, and support non-exsitent for such issues? Seriously asking!

I have ownd a DT-903 (gave it to my dad this christmas) but not read that article. What was the issues? And my yellow love beast 1520 had never any issues with it. Very solid experience.

The notofocation led on the charger is not cleared anytime, if the app which makes the notifications is buggy and does not clear it properly. Some fade-out should have been implemented, that clears the led status if the resoinsible app havent done it. Really, read the linked article, it seemed very annoying, definitely would have annoyed me if I bough one. But I didnt :D

It's now also available in Poland for 299 PLN (~69 EUR, ~75 USD). https://www.windowscentral.com/e?link=https2F%2Fclick.linksynergy.co...

Incredible how they are charging so much for this! It doesn't even have some kind of fast charge meaning it is just at slow as any Chinese copy. It is basically just a coil for come on! Sure it has bt led notification but even with this it isn't worth nearly this much.
They are tapping into our inner sheeps... glad my sheep is dead.

Thickness is exactly 9mm.

A little steep but it's thin

I just took delivery of the DT-904 last Friday, ordered from the MS dutch store. Unfortunately, it does _not_ include a mains power supply, even though the (dutch, german and english (UK)) product pages on the MS store mention that it should have been included. From the UK store product description: "Recharge the charging plate with the included USB cable, which you can plug into a PC or into the wall with the included wall adapter." Similar texts are present on the dutch and german store pages. However, no such wall adapter in the box. On the back of the box there is a notice that you will need an external charger. The pad itself has a fixed cable with a USB-A connector on the end, so it cannot be hooked up to the charger that was included with a Lumia 950. You will need a seperate USB power supply with at least 1.5A output (as stated on the box). No fast charge. So far for the disappointments. The device itself looks nice. The lighting can be set to three dim levels. Unfortunately, the lowest dim level is way to bright for a bedroom at night, and the highest dim level is not bright enough for a daylight desktop situation. So you're pretty much back to using the "off" setting at night and the brightest setting during the day. My phone (950 with W10M) did not switch the light back on in the morning. I had to open up the gadgets app and set the lighting to a different dim level to turn it on. Not entirely flawless. I wouldn't say this plate is worth it's EUR 70 price. No power supply in the box and flaws in the extra features (which could be the software, but either way it isn't working as it should). Today I called Microsoft (the dutch store phone support) about the missing mains power supply / wall adapter. I've been on the phone for over half an hour. They confirmed that the product information indeed lists a mains power supply should have been included. Their proposed solution was for me to return the charging plate and order a new one. Even though I told them what was stated on the box about a seperate USB charger they still wanted to go through with this, in the hope that the newly ordered QI charger would include a mains supply. Of course, I'm pretty sure it won't. They were unable to escalate the issue to Microsoft (she explained that they were just an external call center) without me first returning it and buying a new QI charger because I was the first customer to call with this issue. Another 60 euro's (I got a 10 euro discount this time) debited. Sure, they will refund the other one sometime in the near future but I do have to pay for this in advance and bear the responsibility for any problems with the return shipment. MS really needs to include a charger with this product to make it a usable charger out of the box. 70 euro's (!) should cover that. Having customers go out and buy a seperate USB charger is just ridiculous, they just bought the most expensive QI charger in the market!. I tried several USB PSU's with mixed results in charging speed. My Dell tablet charger provided the best results so far.

Just got an e-mail from Microsoft: they refused my review about the charger not being included. No mention why the review was not approved. It seems MS is into review censorship. Very, very worrying.
Windows Central Newsletter
Thank you for signing up to Windows Central. You will receive a verification email shortly.
There was a problem. Please refresh the page and try again.