Microsoft releases Mahjong and a new Minesweeper for Windows Phone 8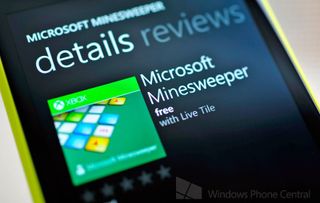 Besides releasing the Solitaire Collection today for Xbox LIVE and Windows Phone 8, Microsoft is giving users Microsoft Mahjong and Microsoft Minesweeper as well.
Although Minesweeper has been out since 2012 on Windows Phone, this is a brand new edition, so pay attention for the details.
Microsoft Minesweeper 1.0
The classic timewaster that has spawned many office jokes gets a late 2013 refresh for Windows Phone 8. According to the description:
Like the Solitaire Collection, Minesweeper features the Play, Pause, Resume feature to allow you to save and continue the game on various devices.
What more is there to say? It's Minesweeper for 2013. Grab it here in the Windows Phone Store or scan the QR code below. 512 MB devices supported
Microsoft Mahjong 1.0
Mahjong is a well-known game that many have been playing for years and it's now ready for Windows Phone 8:
Mahjong looks gorgeous and the audio is really well one. These aren't just ported games, but seemingly well thought out. And with various levels, including easy, medium, hard and expert, it should keep people busy for hours. The game is Xbox LIVE ready and like the previous games, has the Play, Pause and Resume feature as well as the ability to compete with your friends.
Pick up Microsoft Mahjong for Windows Phone 8 here in the Store to get started. 512 MB devices supported.
Thanks, Guilherme, for the links
Windows Central Newsletter
Get the best of Windows Central in in your inbox, every day!
Daniel Rubino is the Editor-in-chief of Windows Central, head reviewer, podcast co-host, and analyst. He has been covering Microsoft since 2007 when this site was called WMExperts (and later Windows Phone Central). His interests include Windows, laptops, next-gen computing, and for some reason, watches. Before all this tech stuff, he worked on a Ph.D. in linguistics, watched people sleep (for medical purposes!), and ran the projectors at movie theaters because it was fun.
Microsoft on a roll today...

Yeah big day, but I am still waiting for Microsoft Flight !! :-) @Daniel Rubino, can you guys get in touch with Microsoft Flight team to find out if they have plans to relase for Windows and Windows Phone Sotes? Also, any update on VLC metro?

No HOT! as in the back of my phone is on fire after playing this for about 10 min! Yikes!


Remember to cook an egg with it too!

Those comments. I loled hard! :v

Christmas came late this year.

No, it came 12 months early :)

So it seems that WP7.x is left in the dust :(

My mum has Lumia 900 and she loves these games. She's gonna be mad. Hahahah

Minesweeper was already available for 7.x

When MSFT themselves don't care about, appreciate, or build for WP7.x users, then there is a problem. Their PC OS users get supported for years (decade +) without having to upgrade beyond free service packs but mobile users are forgotten. Maybe not everyone can afford to throw away cash on a new phone (let alone monthly data plans for an old handset that can't do anything more than a feature phone). So you're stuck with a ghost town app market because developers are told that no one uses that version OS anymore. WP8 users laugh at us on 7.x but what makes you think you'll be supported when the next version comes out not too long from now. I would recommend no one get a WP until the next version comes out for that very reason. Unless you foolishly sign up for a predatory carrier plan that allows for early upgrades (you truly don't value money if you do). I predict that most people on 7.x will switch to a more supportive platform. The app count may be growing but only for WP8 and it still pales in comparison to the competition.

I was a 7.x user, and I know it was a complete fail that Microsoft developed wp7 based on WinCE kernel, what happened to them!? Desktop OS have decade+ support because since WinXP all of them are based on Win NT kernel, the same WP8 uses. Now I'm a Wp8 owner but I still know that was a smart less move.

I could have hung on with my HD7 running WP7.x. But after 2 1/2 years I was fine upgrading to my 925 running WP8. The mobile landscape is completely different than the PC world. Hardware changes much faster.

I realize mobile changes faster but someone on Gingerbread Android or iPhone 4/4s can do a lot more than someone on WP7.x. And I believe that part of that is the strength of platform and how they were built in the first place.

I think you're being a bit dramatic about the marketplace being a ghost town. I'm still on 7.8 and I have more apps & games than I know what to do with. Games come out all the time, or go on sale, so I'm forever trying to free up space (and find time to play them!). I'm seriously still waiting for a reason to switch to WP8. If the 1020 had microSD I would've jumped just to have a good camera and unlimited storage (swapping cards). 32 GB is paltry, so I'll keep waiting for decent flagship hardware.

Your experience is very different from mine. I'm not much for games.

I am still updating my weather app, Weather To-Go, for WP7. It is a lot of extra work and I have 2 separate code bases that must be synced with common changes. The UI is also slightly different so localizes texts are also different. Much easier to worry about only one version. I do it because I can see from feedback that many users are still on WP7, so to me there is still a decent market to serve, plus I don't want to let my users down.

I wish MSFT themselves shared your sense of responsibility to users.

Some things you just gotta let go. Windows Phone 7.8 is one of them.

I'm happy that you have disposable income. The American belief in such a thing allows the carriers and handset makers to cling to outdated business models. I hope the mindset will change this year and more Americans will become aware of how things are done in emerging markets.

Pick up a 520. Good phone running WP 8 for as little as $50 if you watch for sales. That doesn't take a lot of disposable income.

First response with a productive, fact-based, and persuasive counter. Thank you. I am attached to physical keyboards, however. And while that is a pointless topic due to minimal supply, it is what it is. I do like the 520, though. Small (I hate phablets), affordable, Nokia...

Now Taptiles please. And also bring Adera and all the others Windows 8 games. Come on MS, you can do this easily. Didn't you say sometime that port games/apps between Win8 and WP8 is easily?? I dare you to prove it! :P
PS.: I also want Food&Drink and Health&Fitness Bing apps...

+1. Taptiles is a great game. I would love to play it on my phone, I'm just not sure if the screen would allow to you tap with as much precision as with using a mouse.

+925 Hope Taptiles comes soon. You play the game with a mouse? Once you play using touch, you'll never play it with a mouse again.

Yeah...I play it on my desktop with Windows 8. Hopefully, Microsoft will bring it to Windows Phone - I'd love to try it out on a touch screen device.

Adera is not free (well, only the first episode is free), so if we have to rebuy episode 2 to 5 for 15-20$ then I will pass thank you. The MS stores are not unified so i doubt it will be a cross-buy/cross-play feature. Same goes with Taptiles, there are 3 DLC at 1,50$ each

Can we get real Majong please? Not tile matching crap. I want to scream Ron Don Thank you Mon.

Thanks for the review. Nice bit of classic fun.

Looks nice :) Finally some nice mahjong

Nice! I would love to see chess titans though!

The play-pause-and-resume feature is killer. Microsoft needs to push that harder and start advertising it. A few commercials with people playing games on their PCs at work, then switching over to their Windows Phone to resume while commuting home on the bus, then hopping on couch and picking back up on a Surface. I think people woudl be intrigued by that if they saw it in a commercial.

Love that Minesweeper is updated to sync to W8, but I really wish they were able to keep the adventure mode in.

So now we have 2 microsoft versions of minesweeper? Not complaining. The new one is clearly better but I don't know why they didn't just update the old one

Its most likely easier to port from W8 to WP8 than upgrade the WP7 app.

Took them a while...still, better late than ever. And Xbox-enabled, so sweet!

but I thought xbox games on windows phone were finished, we should just get used to it. Isn't that what you said?

3 of the most basic games that were on Windows 8 from day one finally make it to Windows Phone over 1 year later, how convincing!

Maybe we will get even more as the day goes haha

Awesome. Just need Taptiles to complete the set!

The minesweeper is not on every market...

I never get tired of this: https://www.youtube.com/watch?v=LHY8NKj3RKs "I'm here because I'm bored!"

Frogger; loved Frogger on my original Atari 800. Additictive music and a fun game.

Finally! I was waiting for these games to come to WP, I love them on Windows 8.

Just need tap tiles and I'll be forever doomed by time wasters

THREE Microsoft Xbox LIVE games? Oh, yeah!

Along with Final Fantasy 3, that makes 4 released today, and 6 in the past week! Woohoo!

Would have been smarter for MS to drip feed these.

The only downside to having suspend on one platform and resume on another is I don't get to re-earn all those achievements! OTOH, it would be cool if MS had platform-specific achievements for games like this... +10 Get up and go! You suspended on a PC and resumed on your mobile device!

Pity Minesweeper can't be played in portrait mode, it's otherwise outstanding.

Microsoft Bingo is out too, for free on the Windows 8 store with XBL achievements. Set the region to Canada if you don't see it in your store.

"512 MB devices supported." This should always be here for games supporting it. Or != if not.

I was hoping for an actual Mahjong game rather than solitaire.

Doesn't seem like that is anywhere.

Nokia, more phone storage space please. L925 only 16 gig, after os even less.

Solitaire collection out too ;)

Mahjong starts and plays fine then crashes after trying to reopen. L920 gdr3 preview.

This is what the 3rd Minesweeper game from MS? 1 in Logic Games, 1 called Minesweeper and now this one? Oh well, it's more free achievements.

Their Solitaire kind of sucks tho. :/

29Mb for Minesweeper? That's about 10 times bigger than the RAM of the first PC I played it on.

I don't know if this has been asked before - how does one get rid of the ads (if one can)? The solitaire game keeps on showing ads for mahjong and minesweeper - i have them already!

It was only mentioned once, but my 920 burns up playing both solitaire and mahjong. Kills the battery. They both look great, but basically unplayable for more than 5 minutes, are we the only 2 having this issue?

Nope, my 920 burns up on Solitaire very quickly.

Mine sweeper crushes by battery. I play for 10 min or so, and it uses up to 10% (or more) of my battery. This is on a 928 with GDR3

If Only They Bring Chess Titans To WP now...:) Been Really Missing That Game..

Would love to see chess titans too! If it has internet play, via the phone: i'm in!
Windows Central Newsletter
Thank you for signing up to Windows Central. You will receive a verification email shortly.
There was a problem. Please refresh the page and try again.