Microsoft Solitaire Collection comes to Windows Phone with Xbox LIVE support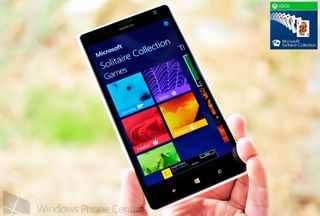 Great Ceaser's ghost, Microsoft has finally delivered on one of the all-time time wasters: Solitaire. Not only is this collection of solitary card games now available for Windows Phone 8 devices, but it even comes with Xbox LIVE support for you achievement hunters out there.
Microsoft Solitaire Collection comes in at 42 MB and with five different games, including Klondike FreeCell, Spider, TriPeaks and Pyramid. After 20 years of playing them on various PCs, it's great to see them finally arrive for Windows Phone 8 in late 2013.
The Microsoft Solitaire Collection has been available on Windows 8 for some time now, so we're not too surprised to see this game make its way to our handsets. But it's still a nice surprise, regardless.
Besides the great collection of game-types listed above, the Solitaire Collection has LIVE integration, for earning achievements, competing with your friends, submitting your scores to the leaderboards, and track your personal gameplay statistics.
The game also features Microsoft's "Play, Pause, Resume" ability, meaning you should be able to start a game on your phone, pause it and continue playing on your Surface or Windows 8 PC. That's kind of awesome and makes us want to start playing right now.
How about you? Anxious to get started? Pick up the Microsoft Solitaire Collection for Windows Phone 8 here in the Store or scan the QR code below. 512 MB devices are good to go too, and the game is free.
Update: Microsoft has also release Mahjong and Minesweeper (new edition) for Windows Phone 8. Read here for more info.
Thanks, Shreyas S., for the tip
Windows Central Newsletter
Get the best of Windows Central in in your inbox, every day!
Daniel Rubino is the Editor-in-chief of Windows Central, head reviewer, podcast co-host, and analyst. He has been covering Microsoft since 2007 when this site was called WMExperts (and later Windows Phone Central). His interests include Windows, laptops, next-gen computing, and for some reason, watches. Before all this tech stuff, he worked on a Ph.D. in linguistics, watched people sleep (for medical purposes!), and ran the projectors at movie theaters because it was fun.
That was my first thought too.

There is already a solitaire collection from MS available since WP 7.0: http://www.windowsphone.com/en-us/store/app/game-chest-solitaire-edition...

At least the 4th game with Xbox branding in less than a month.
Now, cry that it's not the particular game you want.

Add in Mahjong and Minesweeper and that's actually 6 Xbox games on WP released in the past week! To put that into context, only 3 Xbox games for WP were released in the previous 3 months (possibly 4...can't remember). So things are finally looking up again for Xbox on WP after a dismal autumn.

Can always rely on the comments to put a negative spin on WP news....

For some reason tanglewoodDEV ninja edited in his second line, making his comment negative whereas it was positive before. Not sure why he did that. Regardless of his misanthropy, I am glad to see the flood of Xbox games on WP this past week!

He wasn't being negative about it, he was saying that people will always find something to complain about. But enough of that, what's with your weird, Wilkie Collinsesque writing? :)

His original post was much more negative. He edited it later on to remove it, making the subsequent posts by me and theefman to be confusing. Unfortunately, this article is like a month old, so I cannot recall what he originally wrote. Congratulations, you win the award for "the first time I've ever encountered a Wilkie Collins" reference in a discussion forum!

Damn MS seem to be going hard lately pushing out Xbox love game....hope to see more coming weeks and quicker updates if needed

Mahjong as well, XBL-enabled. Lovely stuff.

Oh and mahjong and minesweeper are out too. or were they always out and i never noticed?

Minesweeper is there for more than an year

Two more: Minesweep and Mahjong too. I want Taptiles so badly!!
Can we expect Full House, Adera and others also coming?? :)

WSOP Full House hasn't been released yet for Windows 8, right?

I can see this inside the Xbox Game app for Windows 8. MS also released MS Bingo (only in Canadian store) and the Disney Little Mermaid...

Yeah, I noticed it pop up in the Xbox Game app for Windows 8 about a week ago, but without cover art and it always said it couldn't play on my device. So, I assume it means it's coming soon. I also heard about Bingo released only in the Canada store and Hexic released only in the Trinidad and Tobago store, but I've heard nothing about their release dates in other markets. I really want to play Hexic on my Surface! I also hope WSOP Full House has cross-platform play with Xbox 360's version like Skulls of the Shogun did. Also, a new game called Cold Alley also popped up today, Xbox game from Microsoft Studios.

Minesweep was always there, wasn't it...?

About time, no way I would have paid for the pay one

Now MS, please release this "play, pause, resume" feature to all developers and make this mandatory on WP. We deserve this! And you already made this on Windows 8.

Like this game couldn't be ported to WP7.x .-.

This whole article is confusing me. I've had this same game on my Samsung Focus since day one. Not sure how this is new....

Thats the old version.. the one with Solitaire and other things.. this is a new game, its a different story

You sure its the same game? This is Version 1.0.0.0 and was published today. This is port of the Windows 8 game

taptiles please. its a nice game I enjoy playing it on my windows 8.1.please microsoft port this one to wp8

Thank you Microsoft, will download as a sign of support, hopefully the raft of Xbox games means certification is getting fixed.

"Windows Phone 7.8 will be supported until September 2014". But what exactly did they mean with support?

Its a miracle finally something from MS, I hope they're working on froza motorsport port.

They should rename Klondike to something regular people understand. I'm sure 99% of the people all over the world have no idea the traditional Solitaire they've been playing on their PCs for years is called Klondike...

Ending the year strong! just like it was this year! woop woop!

Just installed and cant open. Anyone has that problem? Using 920

They should give Skulls of the Shogun for FREE as they did for iOS!!!

Dear god, please make them release "Taptiles" for WP too. Thanks.

Nice - would love chess titans though!

Swipe down from the top to access the bottom menu. It has undo and settings.
Edit: it looks like you can just touch on the table

Well it's about time. Also...if this array of Xbox titles could continue that'd be great. They still have Tap Tiles and others they can release on WP

The author is misinformed. There's a XBOX Live Solitaire Collection from Microsoft since WP 7.x, but it is paid: http://www.windowsphone.com/en-us/store/app/game-chest-solitaire-edition...

Wow, this is the hottest my phone has ever gotten. Lumia 920 playing one round of Klondike.

Same thing on my 1520... Also, battery drain seems higher than for a normal game. Pretty strange considering how "simple" the game is.

Yes, it manages to drain the battery even when the charger is connected. That is just insane. It gets so hot you can barely hold it. For a simple 2D game, that is unacceptable, quite simply. They need to reduce power usage a lot before I'll be playing this again. Lumia 920 as well. Did they even test this for five minutes? And apparently their own certification missed this horrible power consumption as well. This game should never have been certified in the first place.

Its things like this that have me almost ready to ditch the platform.

Same here. Wicked hot 920 and battery drain playing solitaire. MS, get your $ together! Its a card game.

Yep, also get that with 8X. And it freezes. Is it updating the sync server regularly in a way that blocks the UI? I don't have Windows 8; I'd happily turn off sync.

I just hope that this is a sign of things to come (more games and more support for Xbox Live on the platform). If Microsoft keeps putting out games with Xbox Live support, other companies will follow.

Klondike Solitaire caused my 925 to get ripping hot and drained the battery. Beware.

I want my poker back. I actually paid for it on WP7.

I don't know if this has been asked before - how does one get rid of the ads (if one can)? The solitaire game keeps on showing ads for mahjong and minesweeper - i have them already!

Oh, played (and won ;) klondike solitaire and no excessive drain - on a lumia 625. Haven't tried it on the 1520 yet.

My 920 got very warm playing Klondike. First time this phone has ever been noticeably hot. I hope that can be be fixed with an update because I do enjoy these games.

Have you tried putting ice cubes around the phone it works for my but my fingers get cold and got frost bite on my 2 thumbs so you have to be really careful .

The start on one device, finish on another feature is pretty cool. There's even an achievement for starting a game on a Windows 8 system then finishing it on Windows Phone 8. Hopefully the CPU usage can be tweaked in a future update to cut down on the heat and battery consumption a bit. Would also be nice to have the option to pay to eliminate the ads as you can in the desktop version.

Never known anything sap ny battery like this. But hooked on it.

Has anybody noticed the phone getting too hot while playing any of this game ? I was charging as well as playing Solitaire for 10 mins, the phone was resting on the table. When i tried to pick up the phone i was not able to touch the back of the phone, it was very very hot. All this heating problem for a phone thats less than 2 weeks old. Lumia 1020

It's the game. Happens on my 1020 as well. Like others have said; hopefully it gets fixed in a future update.

agreed, i played on my lumia 920 and its hot as hell. i did ask to nokia twitter, but they cant help.

Daily Challenges? Star Club? Not on phone version... That's the only way I play the game now, challenges because that's actually challenging.
Windows Central Newsletter
Thank you for signing up to Windows Central. You will receive a verification email shortly.
There was a problem. Please refresh the page and try again.