Microsoft makes it easier to switch to Outlook.com for Gmail users with new tools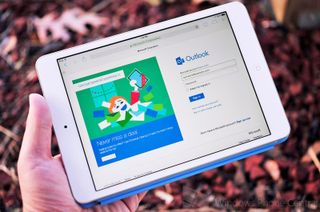 Microsoft has published a new post on the official Outlook blog, detailing some upcoming changes to the service that make it even easier to switch from Gmail. It's no secret that many consumers have switched from Google's email service to Outlook.com and Microsoft is looking to further push tools and services available to make the switch as seamless as possible.
These are said to be rolling out in the coming weeks, so sync on past the break to read up what's new.
We've covered Microsoft's revamped email service, Outlook.com numerous times in the past since it launched, replacing out-dated Hotmail. Sporting a cleaner interface and less clutter, it's a fitting email service for Microsoft's rebranding and new products - Windows 8, Windows Phone and Xbox One. So why is the company continuing to target Google?
According to a recent study by market research firm Ipsos (www.ipsos.com), almost 1 in 4 consumers would switch email providers if it were an easier process. The same study also highlighted areas consumers viewed as most important when selecting providers. Ensuring advertising doesn't affect the email experience, offering anti-spam protection and a clean, clutter-free interface were among the top features.
This is where Outlook.com comes into play, or so Microsoft hopes. The company is rolling out these new changes to make it easier for consumers to make the dreaded switch from Google. All you have to do is follow a simple process to import all your emails from Gmail, along with contacts and the overall structure of your account (folders, read status, etc).
The switch will even add your Gmail address as a "send-only" account so you can continue to send mail from that address on Outlook.com. Really neat.
Moving across from Gmail to Outlook
Follow the below steps to get started on transferring your mail to Outlook.com:
1. Hit this link and sign in with your Outlook.com account. Select "start" (if you wish for all your Gmail messages to be copied into a new set of subfolders, configure this under 'Options').
2. Now you'll be required to sing into Gmail and grant Microsoft's tool access to your Google account. Once this has been carried out, your mail will then be copied across and you'll be redirected back to Outlook.com. It's worth noting that your mail is only copied across. Everything else on your Google account is left alone.
3. As the import process is kicking off, instructions will be sent to you with details on how to set up email auto-forwarding. This is useful as you'll be able to have your Gmail automatically forward future mail to Outlook.com - saves switching between two email addresses to see if you've missed any mail (see below).
And you're done! Congratulations, you're now using Outlook.com with your Gmail configured to auto-forward future emails. The import process will continue even if you log out, Microsoft will keep copying across your messages in the background until everything has been moved across.
How are you finding Outlook.com?
Source: Outlook Blog (opens in new tab)
Windows Central Newsletter
Get the best of Windows Central in in your inbox, every day!
Rich Edmonds was formerly a Senior Editor of PC hardware at Windows Central, covering everything related to PC components and NAS. He's been involved in technology for more than a decade and knows a thing or two about the magic inside a PC chassis. You can follow him on Twitter at @RichEdmonds.
iPad Mini Retnia, to be exact ;)

How dare you? (I kid, I want the mini)

OS is goofy, but damn, it's some nice hardware.

That screen is the reason I haven't replaced my retina iPad mini with an 8 inch Windows tablet yet. The V8P has a nice screen, but I've gotten too used to the high resolution to go back.

Can anyone tell me what is wrong with the main photo in this article?

So here's a theory: People who own Windows tablets don't need to "switch" to Outlook.com. People who use iPads (and Samsung Tabs) are more likely to use Gmail. See the logic?

I use Gmail as a trash account...the stuff there is stuff I don't even want in my garbage account, which can be stuff I may want to follow up on. That's all its good for...

I used to use Yahoo! as a trash account, then I realized that it's not even good enough for trash, so I made a new Outlook.com email, easy to remove most of the trash (with sweep) and get to the "trash" that I want.

I do the same -- use outlook as my trash account.

Gmail is not at all safe. I hate it.

Slowly moving from Google. Since I can't integrate Google Calendar into RT I'm essentially moving away from it. Gmail will not die for the time being. You have Nokia to thank for getting me to make the #switch a year ago.

I love my hotmail account! :D

I made my switch to Outlook a year ago when I purchased my Lumia. I've been enjoying the experience ever since. Glad to see Microsoft making the Gmail switch a lot painless for future users. :)

I guess this makes it easier I was still trying to figure out how to actually switch completely.

I use outlook as my trash account for all my MS services and my Gmail account as my main account. Might make the switch soon.

When the hell with MS let you transfer Microsoft accounts to become aliases of other Microsoft accounts? They are making it easy for Google users to migrate accounts, but no such luck for MS to MS accounts. Seem stupid to anyone else?

I'm with you. Setup an outlook account and have it tied to my phone so all my app purchases are tied to that account, but my SkyDrive is only 7GB. I have a Gmail account that was setup as a Microsoft account and upgraded SkyDrive to 25GB for free back when that was available. I so very much wish I could link them together...

I'm in the same boat. Come on MS get with it. We NEED this ability.

Yes!!!!!! I came here to post this exact thing but I found your post first. As an early adopter of windows phone there was no outlook.com so my phone account is hotmail and that is where all my software purchases are tied to. I jumped on outlook.com as soon as it came out so I could get my preferred username and that is now my primary email. All I want to do is merge these two accounts and make the outlook account my primary and everything is tied to it. I really hate having to switch back and forth between the hotmail and outlook accounts.

The exact situation I am in. Wish MS would help us merge MS accounts.

Also, we used to have the ability to switch easily between the two accounts when logged in by just selecting the other account from the menu bar. I found that to be acceptable but not ideal. But then they took that feature away!! I still can't believe they made it more difficult to work with two accounts rather than easier.

I swear I wrote that myself. This is the EXACT situation I am in.

Yes, I'm one of those who ditched Gmail for Outlook. Now my Gmail account is used only for the crap sign-ins into crap sites.

Wait, why is my account still @hotmail? Is that still correct?

you have the option to have an @outlook.com, @hotmail.com, or an @live.com
just make an alias reflecting outlook should you wish

Ah, gotcha. I'm cool with the @hotmail. Thanks for the info.

I still have an @msn.com address, haha

I hope they bring a solution to switch seemlessely from Yahoo.com email address. I have all trash gmail accounts and I do not care about switching any of those. I still need to go away from my yahoo although my outlook.com account is primary account.

Fascinating, perhaps I'll finally finish transferring to Outlook. I hate still having a few tethers to Google, I want to be free!!!

How long until Google changes something to break the tool?

I don't wanna sing into gmail

This is sort of nice, but what i really want is to be able to import all my contacts, or check off the ones i want imported. Then i want mail from only contacts forwarded, not everything. Is that possible? I don't want to move ALL of that crap over.

Outlook.com is really the number one email provider.

I just wish outlook.com calendar was on par with Gmail calendar. It's the only thing keeping my wife from switching.

Yes, it is not as good. I auto forward all work appointments to gmail, it auto accepts the appointment and adds it to my calendar. Outlook.com does not, it is a pain having to accept on my phone as well. Also in Australia we have a lot of fortnightly appointments, this is just not possible to create on Windows phone, windows or outlook.com.

Okay since this a great tool, I have question Tabs that i have for gmail setup. Can it be set the same way. Mail for a particular sender goes to a particular tab for outlook. Its the 1 of 2 things of me getting rid of google completely other is youtube.

I'm not sure what kind of function tabs does since I'm not a proficient user of Gmail, but it sounds a bit like sweeping in Outlook to me. What sweeping does is that it aggregates emails from set senders into folders other than the inbox. Does that sound similar to the tab function?

I have lots of labels and filters in Gmail, presumably these can transition to categories? Import those and that would be great.

When they incorporated Google Chat into Messenger on Outlook.com, I thought I was ready to fully switch...but then my friends (all Android users) started using a group Hangout to chat throughout the day rather than an email chain. So until I can truly participate in a Hangout (non-video, just Chat) on Outlook.com or my Windows Phone...or I get new friends...I'll be stuck in the GMail interface for a while.

Jeez - I LITERALLY migrated my domain over to outlook last weekend... And a royal pain in the ass it was too.

Yup...right there with you. Should have waited, apparently. Oh well...

Have you tried clicking the link? I just get sent to my outlook.com inbox with no import options. Was going to use it for some of the smaller accounts I hadn't migrated (using windows live mail which is a royal PITA)

Will this work for domains using Google Apps?

Ya will this work with google apps

I hope changing aliases in Outlook will also take effect on WP. I set up my Lumia with a Gmail address and when I switched to Outlook, I can't use the new e-mail address on the phone because I will lose all the apps I bought. I do hope it will be something like there's a central Microsoft account but there are multiple e-mail log-ins you can use. I really want to ditch Gmail now, but apparently. I still can't.

This is exactly my issue with the whole switch. I have a MS account linked to my gmail address. So now I have to recreate a totally different MS account and lose everything from the old one?

I was able to change my MS account from my yahoo address to my outlook address. I just had to resetup my WP as if it were a new phone. I don't remember where it make the change exactly but it kept all my purchases intact.

I will reset this weekend if this is true, the microsoft site says otherwise.

Here's my issue: initially set up my Microsoft ID with Gmail address. Via Xbox unit can switch MSFT id to my outlook.com email, but will lose additional SkyDrive space in the process. Have not made the switch yet.

I'm seriously considering the switch but i'm curious as to whether gmails 'Send and Archive' feature can be replicated in Outlook.com After so many years of Gmail i just can't get used to how Outlook leaves responded to emails sitting in the Inbox. Hopefully they add the ability to pick and choose what shows up in the left hand tree too, again..like Gmail. Very tempted to switch though.

Can't stand Gmail UI but I have a free google apps account.

I tried using the link but it doesn't seem to work for me. I have tried using the latest Firefox and IE

Now how about accessing all my accounts in other places that are linked to my Gmail address, change those to my Outlook address... you get the picture, it's too damn annoying to switch accounts, as you have hundreds of accounts (bank, e-commerce, game platforms, forums, WPC, etc.) linked to the other email account: in my case, Gmail. Forwarding email just won't do, I want to completely close the Gmail portion of my Google account (still use a few Android apps...).

Been Hotmailing since before it was a Microsoft property. Outlook.com has been the best iteration of the mail service since inception.

Link does not work for me, i am just redirected to my inbox. Help pls :)

Same. I think they forgot to mention that it's not available yet... Or at least not universally available. Maybe it's a slow rollout and we were just unlucky?
Windows Central Newsletter
Thank you for signing up to Windows Central. You will receive a verification email shortly.
There was a problem. Please refresh the page and try again.