Microsoft Account alerts could be getting their own Windows 10 notification toggle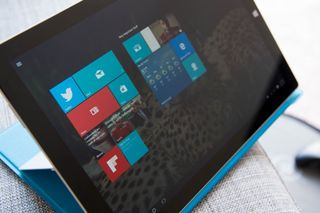 Microsoft may be testing a new "From Microsoft" notification option in the Action Center for Windows 10. It could be used to alert users to Microsoft news, specific alerts on services and more.
The Action Center is the main notification feature in Windows 10, offering alerts on emails, messages, and more to Windows 10 PC users. However, Winsupersite has posted word of a new notification option in the Action Center's setting menu called "From Microsoft".
The alerts were first spotted due to message notifications in the Action Center about the upcoming Microsoft Rewards program that will take over from the current Bing Rewards soon:
The article speculates the "From Microsoft" option could be used by the company to send alerts about subscriptions to services like Xbox Live or Office 365, or alerting parents to any account activity from their kids. This new option is not available on every Windows 10 PC, so it's possible Microsoft is testing this new feature with a select number of users before going rolling it out to everyone else.
Have you seen this "From Microsoft" option in the Action Center notification options? Let us know in the comments!
Windows Central Newsletter
Get the best of Windows Central in in your inbox, every day!
As long as this doesn't turn the notification center into an advertising platform...

Noticed the on/off button?

there are a few with no on-off button, not even shown in the list

Curious, which ones specifically?

defender, updates, "account is out of date" etc, cant even set them to silent, right clicking them on action center shows a greyed out option

So you want to disable system notifications that notify you when your system might not be as secure as it can be? Strange stuff no?

@EsHack you can switch off Security and Maintenance and Store in Notifications and actions settings.

those do not affect the notifications I mentioned, I already have security and maintenance to only show a banner with no sound, same with store

did you check under Settings->Update&Security->Windows Defender->Enhanced Notifications?

This is exactly the topic. I don't want Microsoft Advertisement in my Action Center that I can not shut down! I don't want every 10 minutes a notification about how great Microsoft Edge is or "Please Update to the new operating system Windows".

Skype preview doesn't show up in mine for some odd reason but does on my phone

On my sp3 all notifications have an on/off... Wich ones do you know haven't?

An on/off button doesn't help if the advertising is mixed with useful notifications. Don't go around dismissing comments without thinking them through.

We're talking Microsoft here... Not Google...

Don't go making comments without having facts first. Assumption is the mother of all fuckups...

This is a welcome feature. Msft have a lot of ways to earn money but I'm sure this isn't one of their practice.

These notifications exist in Windows ever since Windows 8 http://i.imgur.com/k0kjH5U.png

I get notifications from this every time my kids request more sceen time on family safety, also I got one today that says "Your credit card expires soon. Please update your payment info to keep using your subscriptions"

The family safety alerts are handy.

Also seeing that "From Microsoft" notifications regarding family issues

Not that we get much, but would like to see local weather alerts and missing persons.

I set up the IFTTT bot on skype for local weather alerts, so I get a skype notification when it will rain tomorrow. Pretty handy tool :D

That's clever. It may not be available in your region, but the Weather channel app is very good with these alerts. Rain, severe weather, even lightning strikes close to your location.

Just searched for it, seems to be available here in Hungary. I'll check it out for sure.

Cool. Maybe they can put some of that effort into not spamming me with constant notifications about the birthdays of every single Facebook contact. They pop up on my phone and PC, both in notifications and in Outlook reminders on my PC at home and at work. They are all over my calendar too. I try to delete them, and they simply repopulate. I like that I have Facebook thumbnails for contacts, and the convenience of a Facebook login to other sites from my phone, but this is obnoxious enough that I am considering just deleting Facebook from my phone entirely.

Open the calendar on your phone, tap the hamburger menu and scroll down to the Facebook birthdays and uncheck it.

That sounds like a setting I remember from either WP8.1 or early 10, but there isn't even a category for "Facebook Birthdays" or any Facebook items at all in the check list. Only two calendars and Holidays. Edit: I just turned off all birthdays, including my contacts. That's better than disabling Facebook. I hope the notifications go away on my desktop too.

Click the hamburger menu in the Facebook app and then go to Contact and Calendar Sync. The option to turn it off should be there.

That is something that you can change in your settings. Used to annoy me too. I cant remember which app it was, chances are its Facebook since that is the one which I don't use nowadays. Tried People & Calendar app settings but did not find anything there. Just go through the FB app settings & there should an option to disable that.

To answer your question, John. Nope. Never seen that notification :) It must be a US-only thing ;P
Windows Central Newsletter
Thank you for signing up to Windows Central. You will receive a verification email shortly.
There was a problem. Please refresh the page and try again.