Microsoft may have delayed Windows 10X and Surface Neo beyond 2020
Windows 10X and Surface Neo may not be shipping this year after all.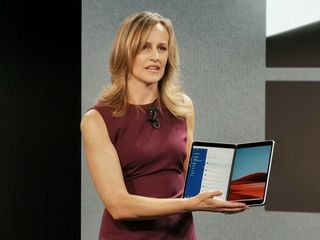 (Image credit: Daniel Rubino / Windows Central)
What you need to know
Windows 10X will not be launching in 2020.
This means PCs like Surface Neo are delayed.
Surface Duo still on track for 2020.
Microsoft's upcoming Windows 10X and Surface Neo products may not be shipping in time for the holiday after all, according to a new report from ZDNet's Mary-Jo Foley. This means that other Windows 10X devices from third-party manufactures also won't be launching at the end of this year like originally planned. Microsoft's dual-screen Windows 10X effort has been put on pause.
I have also heard from my own sources that Windows 10X has been delayed beyond 2020. Interestingly, Mary-Jo Foley says that Microsoft wants to prioritize bringing Windows 10X to single-screen devices first, a monumental shift in strategy for Windows 10X as a whole, which so far has been all about dual-screen support.
Windows 10X on a single-screened device is codenamed Pegasus, and is an effort Microsoft has been working on alongside bringing Windows 10X to dual-screen devices. It was a surprise when Microsoft announced Windows 10X that was going to be for dual-screen PCs as those who knew better understood that was not the case. Mary-Jo Foley's report suggests Microsoft is returning to its original idea instead of pushing for the dual-screen form factor first.
Unfortunately, we won't be seeing Windows 10X on any device form factors this year. Microsoft needs more time to finish the OS, and it's likely the ongoing pandemic hasn't helped in getting that done. The good news is Microsoft may be planning to bring some of the technological advancements found on Windows 10X over to full Windows 10, such as the ability to run legacy programs virtualized.
I'm still hearing that Surface Duo is on track for this year, and could launch as soon as this summer. But Surface Neo, and Windows 10X, looks to be coming at a later date now.
Windows Central Newsletter
Get the best of Windows Central in in your inbox, every day!
Zac Bowden is a Senior Editor at Windows Central. Bringing you exclusive coverage into the world of Windows on PCs, tablets, phones, and more. Also an avid collector of rare Microsoft prototype devices! Keep in touch on Twitter: @zacbowden.
WTF, Microsoft. Ridiculous.

You are aware a pandemic has shut down many businesses, and it's probably not easy to "remote develop" a new operating system.

Completely agree. It's possible they were probably already struggling with completing 10X in time, but now having to remote develop the shiny new OS has probably made matters even worse. I'm having a similar experience with chip designs I'm working on right now. Everyone in the lab has been set back at least 2-3 weeks, as some discussions, chip tests etc. are best done live, in person. Add to this the complications to hardware side of the Neo due to the global corona event, and it may easily lead to missing deadlines.

Yeah, absolutely. There's a reason many videos games have been publicly delayed. Thanks for sharing about chip designs, interesting stuff.

I would also think a whole lot of corporate resources are fully focused an azure and the big load on office, teams etc. to help companies deal more effectively with remote work. Azure could be experiencing a huge surge in demand and thus a huge new opportunity for MSFT to permanently grow its revenues. 10X and Neo are nice additions to the Surface Brand and the Windows ecosystem. However, cloud services are paving the road to riches for Microsoft.

A project that I'm working on as well has been set back by 2 to 3 weeks just because it's hard getting components.
I've left behind Windows10IoT and am embracing Debian for a project, as it's obvious WinIoT is not going to continue as a supported thing... As a result, there are a couple of discreet components that have good driver support under Debian, which is giving me the opportunity to implement those and improve my end product... It's just with all things Covid-19, I can't get the materials fast enough and when I have questions about drivers/libraries the vendors take longer to respond. That's said, who didn't see WIndows 10X as just another 'coming soon'....

And is probably the reason why Surface Duo is still on track. Don't fool yourselves. I said this after they had been showing off development progress of Windows 10X. It's unfinished, and honestly they can't assemble a single Windows 10 update nowadays. There is no way they were to put together Windows 10X by the end of this year. Pandemic has come to save them. They just figured, maybe 10X should be able to drive devices with 3 screens. I bet they did not think of this ahead when building architecture of the OS. Windows 10X is on the exact same schedule that Surface Hub 2 was/is/will be.

I understand delays due to the pandemic, but the shift in Win10x focus to single screen devices and existing form factors instead of dual screen (as called out in Mary Jo's article)? Come on, now. But hey, I'm sure it'll be totally amazing in 202x whenever it comes out.

Get back to us when you stop staring at your own navel long enough to understand what is happening in the rest of the world right now.

Good only, It is not ready yet for sure.

and it's not going to change

As is tradition. People always like to say they prefer to see things be polished at launch, but Microsoft just seems to have mastered disappointing customers and delaying things. I'm still not convinced we get the Duo this year, and I have no faith in a summer launch, given the state of the world. Heck, even if the pandemic weren't an issue, I wouldn't be surprised if MS were unwilling to do a summer Duo launch just so their fall lineup doesn't get laid to waste by the Neo delay.

The reason Duo is in the hands of Microsoft employees (not Surface team) for take-home usage is because it's in the final stages. Why else would Panos release a photo from the Duo if it were not close to finalized? There's no way it can be released next year as it's already last gen in 2020. The wave of 5G phones come in the fall and MS does not want to launch a phone in that environment for what are obvious reasons. Worst case scenario: Microsoft's smartphone market share goes from zero to zero.

Is it possible that with complications with hardware supply due to the pandemic, they skip this generation of the Duo all together and start working on an early release on the Duo 2?

Microsoft could cancel the Duo right up until the day before it ships just like Surface Mini. There's no evidence to suggest that is in the plans, nor have we heard anything to suggest that is going to happen. Instead, we have Panos sharing the first photo from Duo and MS CVP Brad Anderson tweeting out photos of him using the Duo at home this week. Near-finalized versions of the Duo are in the hands of Microsoft employees (not Surface team) and we have heard they would like a summer release 🤷‍♂️

They won't cancel it, it will be priced at 250 $ and will sell pretty well...

Sorry, there can't be "complications with hardware supply" if you order few thousands of devices. The problems may start with few millions and Microsoft is not ordering that much for sure.

Don't worry, Duo runs Android. Even if they don't touch it, it will be just as good as an Android device. No reason to cancel or postpone. Better yet, their manufacturing capacity is no more than what a pandemic market has demand for.

Ha ha ha. Another Windows Phone, Windows Mobile, Windows RT, Windows S mode in the making.

A delay of an OS during a pandemic versus OSs that launched but were unsuccessful are not the same. I know you know this.

Sure it's because of the pandemic. Suuure.

Considering alot of things are delayed and slowed down during pandemic, this is not surprising the development of Windows 10 X is affected, considering they were still way not finished with it for public release. So yes safe to say pandemic contributes alot to the delays. Heck we are having hard time waiting for our next stock of laptops for our company due to the pandemic affecting productions and shipments. China is yet on resuming it's full production capacity and now US is the new epicenter, this affects US tech companies as well.

Pandemic I get it. I get that. Where was the pandamic the last 15 years of Microsoft's delays and "journeys"? Just asking

We're talking about right now, not 10 years ago.

It is kind of saying, back in the day, my team was winning all the time. But the last ten years we have been lousy. We need new "leadership". Does anyone in this comment section deny that Microsoft is moving dramatically away from the desktop/PC ecosystem to the Cloud? I do like Windows. I own a Surface and a Go. I always enjoyed the Windows phones. I like cortana and I still use my Invoke speakers at work and at home. But if you look at what I spend time doing to make money, I use outlook for email. I use Edge for accessing my bank accounts. So I spend $450 a year on subscriptions to Office 365 for my business. I als spend $250 a month on a Saas service powered by Salesforce to run my business. Clearly, MSFT wants to get more subscription service revenue. Azure is what is powering MSFT future. Surface and Windows provide the largest ecosystem to access Azure. But iOS and Android also provide access to Azure. So since 2014, MSFT has dramatically redirected its companies efforts towards the cloud and away from the desktop. Will the Windows team figure out a way to drive growth? I think they are just trying to survive.

Cupertino California is where it was. It eventually spread and hit everyone

~5 years you mean. Only since W10 the tablet experience lacked a bit. And keep mind this is only for Windows tablet users, for laptop and desktop users (is way more people) W10 is arguably the best Windows OS.

Get real. Microsoft's fiasco started with the development of Longhorn/Vista and is downhill since then. Your memory is short

Software development doesn't need Chinese factories. Microsoft has all the tools in Office 365 to seamlessly work from home.

Oh please, please. The pandemic... guys we forgot the pandemic.
Oh, friends!

Understandable given the current situation. I just wish they'd release an ISO image and give you the option of installing Windows 10X on an existing Surface device like the Surface Go, which is just perfect for 10X. Just add the kernel, drivers, apps and legacy OS support and it would run far better than full Windows 10 [especially on the pokey first-gen one..had to go back to my old laptop since I couldn't take the slowness anymore..but that portability....trade-offs, trade-offs :(]

I'd rather surface duo be delayed and support 5G, but I suppose way to late in development for that.

5G will not make or break the Duo. It is hardly an issue for the next few years (except probably as a marketing point). In any case, by the time 5G is really ready for mainstream, pretty much all 5G chipsets on the market right now will be outdated. Just think back on how long it took to really deploy 4G. 5G is no different, and may even take longer.

5G requires a whole device redesign; I'm sure they're working on it now, but they didn't built Duo (which is now a couple years old) with 5G in mind. 5G has a lot of particular design constraints around antennas.

Hi Dan Honestly You should told them to partially redesign at least the NEO. I don't care that much for the Duo. The bezels are too thick.

I think it depends on how you look as it. For me I have a Note 8 and perfer the edges at the top and bottom of the screen over the new edge to edge screen when holding the phone for video. I also see it as an advantage on the surface to. That said not held one or seen one for my self to judge. I get why people want smaller/none at all but for me I'm happy with it so far. Only time will tell though.

They must not have been reading Jason Ward's articles about how 5g and eSim was Microsoft's next big thing!

What I see is that little by little microsoft is making windows 10 legacy become more like w10x and vice versa. A smooth transition so that it doesn't happen as it was from w7 to w8, if you put virtualized applications we will have something already close to the new system.

Yes, and in hindsight, this steady, iterative improvement is probably the better approach. Regardless of some of its aesthetic shortcomings Windows 10 has really come quite a long way, and it gets better with every update release. Today, the Fast Ring saw the WSL filesystem nicely integrated into File Explorer (complete with a cute icon!), allowing you to access any WSL Linux distro just like any other folder. And WSL has been the missing piece in my computing world lol! Now, I have Windows and Linux playing nicely with each other side by side and can get any job done with any tool I know how to use best.

This makes me thing if Windows 10 X will have WSL. Maybe in a form of container as well.

Hopefully they will shrink the ugly bezels on the surface Neo. They should understand we are in 2020. I like the UI but I can't swallow the design especially the bezels.

I doubt they're changing the design. This delay is mostly related to difficulties developing a whole new operating system when your entire workforce is working remotely. If the hardware is the hold up (unlikely) then it's just due to supply chain disruptions, not because of a redesign.

People freak out to much over bezels

I share your love of less bezel, but I think a new form factor may need a different approach. For example I have the Surface Pro X. Love the design, but the very small side bezels can and do cause unintended presses sometimes because they are so thin.

Hey at least the Duo is sort of a soft intro to what Windows 10X could be/do and prepare the way forward to their future plans...besides, I don't think *I* am ready for it lol 😂

Waiting... Waiting...... That's what written in our fortune.

Great work Microsoft! It's the right decision to make. I'm in the tech industry so I know how much a pandemic can slow down software development, let alone hardware + OS + inbox apps. The emulator is still going to be available, so developers can keep building and testing their apps for dual screen devices. This will also leave more time for the dev ecosystem to grow so that more libraries/frameworks can support 10X. Especially .NET 5, it will be available at the end of 2020. It will unify all .NET project to a single SDK/runtime. This is a huge benefit since Xamarin has always been using Mono for iOS and Android and .NET for UWP, hence the huge feature gap. .NET 5 will change this, and Xamarin Forms will finally be viable for developing UWP apps. .NET 5 will also bring .NET standard 2.1 and C# 8 to UWP, WinUI 3 to Win32, and much much more. Then, the dev story for 10X will finally be clear. This is a good move.

Ah nice, thanks for sharing that info.

I really hope the Duo is still on track. My S9 wants an upgrade and this device will fit me nicely! I almost went for the Ultra today.

You might as well wait a bit longer since the yearly phone upgrades are incremental anyway, your not missing all that much (if your phone is slow just do a OS reset or such and it will be fast again).

Phone OS resets to boost performance are still a thing??? I haven't had to do that since I got rid of my last Samsung in 2012. Currently rocking a OnePlus 5t for 2+years without needing a reset to boost performance.

To be fair, it has improved and it probably depends on what an user installs/uses on its device. A friend of mine did recently reset S7 since it was getting slow and that restored its performance.

Lets hope we get to try out 10x on current Surface devices as part of insiders programme

Interesting case of codename reuse, as "Pegasus" was also the codename for Windows CE back in 1995.

I am not surprised at all. Actually I expected that. And no, it's not because of COVID. I want slimmer Go with 10X and the latest ARM processor, no bezels, and audio jack.

😊😅😂🤣😝🤪... only if someone had seen this coming!

When it comes to put the blame on someone or something, let's not forget that Panos just took over. Probably he did and should not have been liking what he saw.

Shhhh! ☝ It's because of the pandemic.

I have been saying this for a while. It makes no sense to launch a new operating system and limit it to extremely high priced folding devices. That is one way to guarantee very low sales and a quick death. Get it working well on a single screen then you can start going for more ambitious devices.

You are literally the only sober person here. Most of the time. And Bowden. Most of the time.

So, the pandemic made them change their focus on 10X from Dual to Single screen devices?
Maybe the lack of developer interest made them change their focus from dual to single screen devices as well? I cannot imagine any developers thought "there was gold in them hills" after seeing the year early preview that Panos gave (what a head-scratcher that was anyway). I wonder if Surface Neo quietly disappears. Guess I'll wait and see what the next Surface Go is like.

As recently as around 2 weeks ago they held a Xamarin Developer Day event that covered (amongst other things) developing dual-screen apps for Windows. Now we are told to expect that they've decided to execute yet another change in direction? For the new platform to be delayed because of current circumstances is... somewhat understandable, but such a major pivot as to shift the whole focus of the platform to a different device form factor makes it hard to keep up. How are third-party developers supposed to support this thing if Microsoft can't be trusted not to change their mind so frequently?

I had an email request from one Microsoft employee regarding this and I clearly said if you have a business case for me that is fine if not you are bigger company than me you should support me and not the opposite. And I believe most developers sent the same and probably that is one of the reasons why this is canceling. This really doesn't make much sense without developer support and Microsoft failed to build the case for developers. Hopefully Panoy will realize this - it is not developers that hate Microsoft, but Microsoft needs to make a business case for developers first. Just having the name "Microsoft" is not and shouldn't be enough.

"How are third-party developers supposed to support this thing if Microsoft can't be trusted not to change their mind so frequently?" The same way third-party developers supported Windows phones after Microsoft changed directions 4 times. They ignored Windows phones. Let's face it. There are MUCH greener pastures for developers these days than Microsoft. No one is waiting, watching, wondering what MS will do these days. No one is thinking "Geez, I wish MS would release a new OS so I can make millions of dollars writing apps for it". So it is entirely probable that MS got zero interest from developers for this thing. The whole project - hardware and software - will quietly go away.

Yeah, I will be surprised if Microsoft actually releases 10X at this point. They might as well just throw Android on the Neo since that will be ready and developers are already there.

Yes, and I believe it will cost around 700 USD.

Nope. If they ever release the Neo it will probably start around$1500. Don't forget the $1k Surface X.

Surface X is more premium though.

Than the Neo?! I am not sure about that. There fancy hinge alone would jack the price up.

Yeah the hinge and body are fancy but the ProX has a fancy screen too, fancy kickstand, fancy keyboard with cradle charging etc. But especially that SD CPU is pretty expensive iirc, if the new Neo has a new (10nm) Atom chip than that only would probably reduce the sales price with ~150 bucks.

The keyboard doesn't come with Pro X, Neo has 2 fancy screens, and the kickstand is common for Microsoft now. No way Neo will be much less than $1500. Microsoft overprices Surface for a reason.

I mean NEO with Android on top. It is fair700. 🙂

Does Android run on Intel? The Neo was Intel, as was 10X.

So now everyone is going to port their Android apps to Intel Android? For a single device from MS? Not gonna happen. Neither is the Intel Android Neo. Particularly since the Duo is Android on Arm. No one - not even Microsoft - is going to produce 2 versions of their Android apps, to accommodate a single device from MS. An Intel Android device is simply stupid, backwards and completely not needed at this point. If the Neo sees the light of day at all, it will be as just another Windows 10 PC. Of course, MS could make the Neo run on Arm hardware, so existing Android and apps run on it. Then they have 2 Android devices. That doesn't seem very likely either.

Yup. They would need to switch to ARM. Intel works, but not too well as you said.

Not surprising. Most companies that leverage a large offshore contingent have had to slow things down as India is on very tight restrictions. As is the US.

i feel like this has more to do with software just not being there where they wanted.. might have little to do with the pandemic tbh.. also i feel like they are walking back on a dual screen foldable concept.

Agreed. I imagine the UI logic for dual screen is hard. But the other architectural aims are worth getting out the door. This is Windows without all the legacy junk in it. I bet it is amazingly fast. Can't wait.

Your must haves for surface go didn't have a comments section zac. Should it not come with a product placement disclaimer of some sort?

I have friends working for big software companies that make apps. Let me translate what issues Microsoft is really having. Microsoft has zero support from developers to make apps for dual screen devices. Why? Because they have been burned more than once. I would understand a delay due to the software not being ready due to the pandemic. BUT, you don't overhaul the design to 1 screen because of a pandemic. This device was never going to be ready on time. They are just taking advantage of the situation and blaming it on the pandemic.

That's all true. I said this before, but it's a really bad financial decision to invest in software development for another pet project by MS. They have burned others before pretty badly, both in hardware and software. They would have to come out and guarantee developers at least three years of keeping 100% of their revenue. Even that may not be enticing enough.

All major software tycoons have their pet projects, that is only natural for such companies. And some devs are also part of problem, eg Facebook app is/was buggy; that is not MS's fault but Facebook's fault for being lazy (which in turn scares away many consumers from the platform).
I think MS lacked some commitment for the long haul but devs aren't holy either.

It's juvenile to consider this a "pet" project. This is the modern version of Windows on how it should be architected. Store only apps. No startup tasks. No background noise/keyboard receive. Think.
Windows used to ugly, crash, insecure,battery drainer. All the things an iPad isn't. Windows is now pretty. Windows is now stable. The 2 things Windows does not do well is maintain battery and still not iPad secure. Win10X will be. I can't wait to see it.

Sadly I agree, the switch to single screen devices can't really be explained by the pandemic. As someone said earlier, it wasn't a very clever strategy for Microsoft to build an OS for devices that don't really exist.

This is such a shame. Was waiting for this as I'm due an update to my Surface Go. I'll either get the Go 2 or ipad Pro now, but was really wanting the Neo.

Given the state of the world we're in right now, a new product hardware and operating system launch was always going to be tricky. Frankly, it's smart for them to delay. The world is going to be a lot poorer over the next 12 months, and even die hard fans will have to think twice about spending £1000-1500 on a novel device with an unproven OS. Besides, I think any windows fan would rather see a complete and usable OS appear next year, rather than some rushed, Frankenstein dog **** hit the market early for everyone to hate on

Remember when Andromeda was shelved for a bigger version and everyone complained bc they wanted Andromeda first and not want to wait? Now they are ACTUALLY doing that and now everyone has something to say lol

I am an extremely understanding person, but time after time and delay after delay with Microsoft, has become a pattern. If anyone can pull this off and release the product its Microsoft.
I cant tell you how disappointed I am,
I had visions for this and have been planing to use this product. I really should have known this but I should have known.
Again.

Why is it MS's fault there is a world pandemic now? That's obviously the reason for the delay (both hardware- and software wise).

They changed their strategy from dual to single screen devices. That would have a much bigger affect on the delay.

The largest Tech company in the world can't work remotely ? they have offices all over the world, they know how to work remotely, they teach us how to do it. Xbox said they see no issue with releasing the new xbox ontime, this is what they do..

Even being able to work remotely they'd still want to see products to sign them off.

Maybe its a slow down in their supply chain and not their direct capability. Think on.

This is because they know it will flop... They have already lost the tablet market to Apple, this will be a massive flop anyway...

Good job it's not a tablet then. You've noticed Apple are releasing the Magic Keyboard right? I wonder where they got this idea from?

And who cares where they got the idea from. The truth is that Microsoft is again is pointing to so many directions that cannot keep at its pace. Surface X for example. A failure! Why, because people realize that day today is not worth the price, regardless of what Widowscentral says.

Bore off. Can't you just enjoy the fact MS are making something new and exciting?
I can't wait to try 10X

Disappointing but to be expected. I'm more concerned if they're switching focus to putting Windows 10X on laptops. Laptops are big enough to work well with full Windows 10 and it's windowed support. I'm not sure how well a full-screen only OS, like Windows 10X, would work on laptops. Although this could be conjecture as all it says is "single screen" and a small screen tablet style device would still suit Windows 10X well. Just don't force it on to laptops please. Of the two Surface Duo interested me more. I already own a PC style device (Surface Pro X).

"Laptops are big enough to work well with full Windows 10 and it's windowed support."
First it comes at a price, if Windows worked quicker many people would look at it differently if the laptop could cost 200$ less and worked the same. And then they will never be 'big enough' not to have viruses. "I'm not sure how well a full-screen only OS, like Windows 10X, would work on laptops."
Windows 10X is not a full-screen OS. If they simply used NEO OS to laptops there would be no delay. There are multiple shells.

I don't like Android. But I will prefer it with Android than another Windows OS failure.

nice it works for window 10.
http://www.trollingmotorbatteryguides.com/

MS should make this perfect this time. Consumers won't able to digest another half backed product. Hoping windows 10x fill the void available in tablet mode and would be a unique solution to a dual-screen device.

Come on, we were the one who waited for the rumored Surface phone when Windows Phone was a thing for years, we can wait for some time for it 😅

Duo Delay will be next....Microsoft doesn't know it yet...! And why am I not surprised...?!

Naw, most of the work is already done by Google. They were also able to get Edge out quickly for the same reason.

Let's forget everybody else that works on you do realize it's an open source project Lol oh well

So Mary Jo Foley since Windows 10 x is not coming this year lol now I believe it's coming this year

This was a really interesting read for the comment section. How can I got no reading this article . What I think is actually going on is surface go 2 will have Intel chips. I think it's launching with Windows 10 x this October.
Windows Central Newsletter
Thank you for signing up to Windows Central. You will receive a verification email shortly.
There was a problem. Please refresh the page and try again.