Microsoft Store for Business and Education could be on the way out
The Microsoft Store for Business and Education won't let you acquire paid apps starting April 14.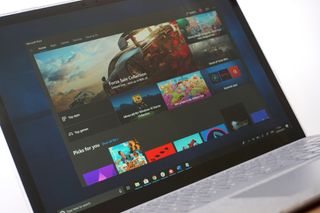 (Image credit: Windows Central)
What you need to know
Starting April 14, people will no longer be able to acquire paid apps from the Microsoft Store for Business and Education.
Existing apps can still be updated and free apps will still be available.
This may be the first step towards closing the Microsoft Store for Business and Education.
Microsoft may have just taken a major step towards closing its Microsoft Store for Business and Education. A notification is going out to customers that outlines that paid apps will no longer be available for acquisition through the Microsoft Store for Business and Education. According to ZDNet, this could be a step towards getting rid of these versions of the Microsoft Store altogether.
"Starting April 14, 2021 all apps made available for a base price above "free" will no longer be available for acquisition in the Microsoft Store for Business and Education," says the notification to customers. Apps already obtained through these stores can continue to receive updates, but people won't be able to get new paid apps from the Microsoft Store for Business and Education.
Microsoft also notes that free apps are not impacted by this change and that the change doesn't affect the Microsoft Store for consumers.
Twitter users "Hoyty" shared the entire notification on Twitter:
ZDNet's Mary Jo Foley reached out to Microsoft to see if this is a step towards closing the Microsoft Store for Business and Education. The company has not responded at this point.
Despite no word back from Microsoft, it does appear that this change is a move in that direction. Foley states, "It does sound as though the team that owns the digital stores decided that the Store for Business and Store for Education definitely would be deprecated. There was talk that June 2020 was the target, but that was pre-pandemic. "
Foley first reported that the stores could be on the way out last January. The timeline appears to have been delayed due to the global pandemic, though nothing is confirmed at this point.
News Writer and apps editor
Sean Endicott brings nearly a decade of experience covering Microsoft and Windows news to Windows Central. He joined our team in 2017 as an app reviewer and now heads up our day-to-day news coverage. If you have a news tip or an app to review, hit him up at sean.endicott@futurenet.com (opens in new tab).
Based on requirements to even use the Microsoft Store for Business and Education, it makes sense that monetization would be removed. I would assume that companies that meet the requirements are probably going to use Software Center to manage available apps and cost approvals for the organization. Since apps found in Software Center can be purchased through that channel and then installed via the Microsoft Store as needed, the charging of apps through the store seems redundant. Bear in mind, I'm making assumptions here, and not stating any of this as fact, it is just how I'm interpreting what I've read.

Good point... Microsoft should have merged Software Center and Microsoft Store for Business and Education together ¯\_(ツ)_/¯. If Microsoft wants businesses to adopt 10X... axing the monetization + store for business and education makes very little sense to me.

Yeah, they should just unify it instead if not modernized Software Center (which is kinda crap, though highly depending on how well made Powershell scripts and the installers are). Since we heard or it seems Microsoft is rebuilding new Microsoft Store with the existince of new Xbox Store. They should take that opportunity and use that also to host apps for corporate and education. Software Center can remain for legacy customers who still can't adopt the the shift, depending how much backward compatible of the new Store. Also they want business and education to adopt with Windows 10X, which currently only host PWA and UWP apps (Includes PWA that is contained as UWP). Yet, this direction without clear roadmap is confusing to adopt Microsoft technologies. Which is why many organization just content keep using existing legacy Microsoft features and technologies since adopting new one is often risky of getting killed, and not always replace the legacy one with better, but only to make things redundant.

I'd like to think that's the reasoning, and not a general sign of decline in the Store overall. I hope it is. However, if that were the case, smart product marketing would say to announce some win or improvement to the consumer Store at the same time as the headline, with this removal being a secondary announcement. Because they didn't do that, I think this is more likely another step along the path to bleeding out the Store, at least as a place for third party paid apps. These actions are so frustrating. Unlike some of the things MS has dropped, this one is incredibly strategically important. They should invest, iterate, improve, and reach the point where the current users praise it and demand en masse that developers put their applications in the store as the best way to get them (I've gotten a few added that way). If they still can't get many third-party apps at that point, then at least they know they did everything within their power to win, but MS has never treated the Store like it mattered to them. Hell, MS Teams isn't even available through the Store! Of course it's failing and due to MS mismanagement. Remember the MS that had that wannabe WordPerfect, called MS Word? Or the mocked and barely used version of Lotus 123 called Excel? Or the lesser networking stack to Novell? With all of those, their perseverance far more than anything else (those versions were all inferior to their competitors' initially) was what allowed them to ultimately become dominant in those spaces. Same with the original Windows Mobile overtaking Palm and IE overtaking Netscape. I'm not suggesting MS revert to the MS of 20+ years ago (they were quite the bully and alienated a lot of people who still resent MS today for the MS back then), but that attitude of perseverance at least for strategically important areas is something every business should learn from, especially Microsoft from its own history.

@GraniteStateColin Perserverance is in short supply with the current bean counters clutching Microsoft's finances lol. Joking aside, seriously Microsoft is seriously lacking perserverance crucial areas that they should be growing and that's the apps store + mobile. Had Microsoft perservered with the mobile division, Microsoft would have made a tonne of money from integration with Windows Phones with Continuum functionality in this current pandemic. I find it ironic that Bill Gates has been warning about a pandemic for years.... and Microsoft's bean counters decided to chop off the legs of profits from devices that would have enabled "people to do more" with continuum, UWA and the store. Speaking of the store, there is still no Linkedin App either.
Windows Central Newsletter
Thank you for signing up to Windows Central. You will receive a verification email shortly.
There was a problem. Please refresh the page and try again.