Microsoft Messaging app updated with Fluent Design in latest Windows 10 Insider Preview
Microsoft has updated its built-in Messaging app for the first time since 2016 with Fluent Design improvements.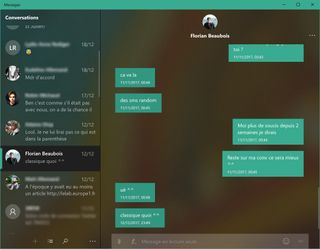 Yesterday, Microsoft released a brand new Windows 10 PC Insider Preview build for Insiders in the Fast and Skip Ahead rings that included several notable improvements. However, one such change was not listed in the official changelog: an updated look for the Microsoft Messaging app.
It appears that the built-in Microsoft Messaging app has received a Fluent Design makeover with Acrylic blur and Reveal effects. This is the first significant update to the Microsoft Messaging app since Microsoft pulled Skype integration from it back in 2016. Before you ask, it doesn't look like this update is rolling out on Windows 10 Mobile, at least not currently.
For those unaware, the Microsoft Messaging app in Windows 10 on PC is used to show SMS conversations that are synced from a Windows phone, as well as carrier-specific SMS messages on Windows 10 PCs with cellular connectivity. The app cannot be used to send SMS text messages on PC, however.
Perhaps these improvements are also in preparation for Microsoft's upcoming Andromeda device, which I talked about back in 2017 being a dual-screened, foldable tablet with telephony capabilities. That device will be able to make calls and texts, and as such will use the Microsoft Messaging and Phone apps.
Regardless, the new improvements to the Microsoft Messaging app are a welcome addition, and one that continues to align the rest of the inbox Windows 10 apps with Microsoft's new Fluent Design System.
Thanks for the tip, @falmnd!
Windows Central Newsletter
Get the best of Windows Central in your inbox, every day!
Zac Bowden is a Senior Editor at Windows Central. Bringing you exclusive coverage into the world of Windows on PCs, tablets, phones, and more. Also an avid collector of rare Microsoft prototype devices! Keep in touch on Twitter: @zacbowden.
It cannot show Skype msgs, it cannot send SMS, and it can only show the SMSs synced from WP. Why is this app still there if all its functionalities have already been migrated to Skype?

Yeah I don't see any use for it. I loved it when you could sms from it.

I agree! I never understood why Microsoft removed sms capabiities, I remember it worked in a preview build a while back...

I agree, and especially now that integration with Android is so close, they really need to bring that finding back. It is ridiculous that they took it away in the first place. Skype is vastly inferior as an SMS choice.

Hopefully they will start using it again with the savior device. I can't see why its still on my PC either (at least the synching is kind of working now), much less getting updates. When I do change to the savior not-phone phone, it's really going to suck to have Skype be my only SMS relay. Especially since I am sure it will be just as unreliable in the next year or so as it is now.

We. did. The. App. Is. Useless.

Yeah, for now. But why would they update an app unless they had plans for it in the future? Read the part about Andromeda, connect the dots. Otherwise, why do you even care? What has this app update cost you, personally?

Daym... people sure try hard to stay dumb... 😋

It's astonishing how much effort some folks put into that..

Some people like to be contrary and others have limited comprehension skills. I'll leave you to decide which applies here, Dan.

True. No need to read between the lines. The answer is already there. I'm wondering if they will move SMS away from Skype and back into the messaging app. Might not be that difficult considering it would really on be the WP community being affected by that change

I hope you are right, Dan. As I said in my comment, hopefully they do start using it again, because Skype is off and on unusable for SMS. I can't see them putting effort into it unless it has a future.

Well I'm going to wait and see as Microsoft could just be adding Fluent Design elements to bring it in line with the rest of the OS.

I wonder if they are going to bake in PC to PC communication into it? Any word on that?

Love the fanbaby downvotes....waaaaahhhhhh

Do you think it will just be for Andromeda Dan? Or could this messaging app also be the app for SMS messages sync'ed from Android / (maybe) iOS?

I could see it getting Android integration.

Presently, there is a big permissions problem with how things are working now with Android sms syncing via Cortana...So, I am a little like some here being doubtful... the Andromeda device isn't to replace your smart phone. I don't see the point?

Well right now it doesn't even seem to do what it little it is intended to do. I can't get it to connect to my iPhone, (one of the two supported mobile OSs at MS). In settings there is a Sync messages between devices button with a Learn More link that takes you to the very top of Win 10 help. Not helpful. There is a Related Settings with a linke to Change more settings for Messaging which takes you to the main page of Settings. Again, not helpful. If the functionality requires me to Link a phone, that doesn't work. It sends the link to my phone, which sets up installing Edge, but edge is already installed, and never seems to complete the association. So yea, no skin off my nose that the app is there, but it does absolutely nothing for me and the update just points that out. Fine, work on it, but if you aren't improving it, functionally, keep it to yourself. Just prettier isn't better.

The ideea is, why bother updating now, when the app is still useless and RS3 currently doesn't have all the APIs Microsoft intends to use for future Fluid Design System across all their apps in the future?

Why bother making progress? Is that what you're asking?

Costs nothing Dan, but give anyone who isn't excited about an app that has had so many promised potentials only to be deprecated a break. What happened to Skype SMS or integration with Cortana connected mobile texts. People is also turned to junk. So many ideas, so much potential, but very little execution.

I think the problem is that for all but the smallest minority of Windows PC users, this app has no use whatsoever right now. Either make it useful or allow users to uninstall it is my opinion

MS has never updated software or add features only to just cancel entire product lines.....in 2018. Lets give them the benefit of the doubt. I truly hope MS delivers some hardware this year! This update is a good sign, we hope

Andromeda... that'll be funny to watch. The percentage of potential consumer and business customers that have any remaining trust for Microsoft and their mobile plans is incredibly small. Maybe Andromeda will be great, but no one will trust Microsoft to not kill it if it doesn't get adopted as fast as they hope.

Agreed, the fact that they are working on it speaks volumes. I am starting to get really interested about the possibilities of the next release, its looking more and more like w10m has been an idea development platform and we are getting closer and closer to the actual application of the information and software that has been developed from it.

Useless for now, however when devices that run on ARM 'the always-connected-PC's'arrive, then .. not so useless. though it would make sense for the people who wanted to make sense with it.. as an example; i already have a tablet that runs full windows 10 with a sim in it, so yeah having the connectivity features within the messaging app in order to make use of my sim is quite useful or why would i even put one there aside from internet or even having the calling/phone feature app would also make sense for this.

they cannot make skype primary because skype is still banned in many countries. Resulting which those people will not be able to use the basic message sync feature also

Because Skype sucks as much as a toddler does. That's why. I wish it didn't, but it does so much I'd rather send postcards instead of SMS if I had no other choice.

Because Skype's design is so bad that some users (like me) are rather using Messages.

cause the new foldable device with always connected - pc - computing capabilities have a sim slot .. do people have to spell out things for you all the time ? or are you that slow ?

Thought they are getting rid of sim slot for the esim or what ever it's called

I'm so onboard for an always-connected PC that can handle text messages. As good as touch keyboards have gotten in the past decade, it's still much nicer to type on a full hardware keyboard.

As usual we shall wait and wait and wait.... And... Wait lol

Agreed. Completely useless app.

I agree, but probably because the Skype app is a slow, buggy, ugly, unreliable text-scrambler of a thing. And, everyone who points out this amazing failure to be able to send and receive SMS messages from your desktop isn't a "whiny fanboy". We used to be able to do that with this app--semi-reliably even. The Skype integration screwed it up-- a huge step backward. Is it whiny or rude to point out a technology company shouldn't take steps backwards?

Wish they'd just pick one and make it good! Messages was going to be good then they took its features away in favor of Skype. Skype is Skype...maybe messages can be good some day.

Ah yes. Updating a completey freaking useless app. Good job Microsoft!

If you can't see how this is laying the groundwork for future form factors and devices, well, I'm not sure what to say. But sure, get angry over an app update that has zero effect on you. Sounds smart.

It's called the Teflon Effect. It doesn't matter what the fact is to that person, it only matters what they think. Kinda like living in their own reality.

That in itself could be a problem. Off the top of my head I know of four Microsoft made messaging platforms; Messaging Skype GroupMe Teams They all do similar jobs, each slightly differently but with little to no cross over. My SMS messages may turn up in Messenger and Skype but not GroupMe. Compare that to Apple's strategy. They have iMessage and they have FaceTime. Just two clearly defined apps. That not only means that Apple can focus all their improvements on one or two apps, they can all focus their marketing message and mindshare on just one or two apps. I love GroupMe but I don't use it because my friends and colleagues don't use it. It had no marketing from Microsoft, the sign up wasn't easy and it had no real integration with Windows 10. Microsoft should make Skype the telephone and video calling app, put SMS into GroupMe and Teams and have them as the core messaging apps.

They see this flaw on the enterprise side so they are rolling outlook groups and skype for business into teams so its just one app. So eventually teams will replace skype on the business side and will have all of the same features.

The problem is, why invest time in this when it's not used and won't be used for the near future when there are current apps used that need attention more.

All of MS's apps need proper attention, and it will always be that way... How can this app ever reach a level of usefulness if it's always put on the backburner because something else is higher priority,, as you suggest?..... That's backwards thinking; the kind of thinking that put WP where it is today.
...........
On the other side, what makes you think that if MS plans to release a PC with messaging capabilities, in the near future, that messaging app isn't on a "high priority" list?.... At what point do you think it's reasonable for MS to start giving this app attention? It is January 2018.

This is the kind of stuff we've had to deal with since a lot of these ungrateful iDroid fans have infested this site.

I have an Android phone but use a Windows PC. I like the design of this app but show me ONE USEFUL feature of it in it's current form. That's what people here are talking about - updating an app that has no use to these people

OMG... It's totally impossible.

At this stage, in it's current form, the app is next to useless. Saying anything else is pure speculation. Let's be honest. Microsoft do these sort of semi-useless updates at times and never take it anywhere. We have all seen it in the past. There are times they do these updates and then make an app brilliant too. We can speculate this is laying the ground work, but is it fair to downvote or berate people that genuinely believe the app, in its current form, is useless. Is it really necessary for an author of an article to make comments to berate the people who click on the site, hence providing the income from advertisement views, when they say it as it is now? The app, in its current form, is 3 parts of useless to the majority. We can speculate this is ground work, but then Microsoft actually said they would bring SMS Relay to Skype for Android almost 3 years ago and that has never happened. Lets keep it in perspective here. Speculation is not the same as actually laying ground work. Of course, if you have proof it is truly laying groundwork and Microsoft have definitive plans to make Messaging more functional, then please say so and I will happily take the consequences.

I do wonder if Microsoft are wrong on am sms app for android and ios and they sync to pc seem we hare everything else ms offer on android and ios

Such a waste of time on such a worthless "app" that 99.9% don't even use, and just when you think microsoft can't make windows any more ugly they come out with this fluent design abomination.

To each their own, whilst this maybe a useless update to most, I actually like fluent design. It's not everyone's cup of tea. Though, I see this update worthless at this point, unless there is a device that can take full advantage of this app. But it appears, it could be in preparation for a device that they may release later. The foldable device, even though it could be happening, I will believe the day I see it. I shall use my 950XL, X3 and my S6 till then.

This update will come to Windows 10 Mobile by default. I have no doubt about that. Every Windows UWP app has received it's desktop equivalents update. The Store app, and Office apps, all have been updated recently, and the store app appearing on my 950 has all the new elements.
..............
We need to understand one thing going forward. Any updates that we see on MS UWP apps installed on our WM devices isn't a necessarily an "update for Windows Mobile devices"... In fact, it's quite the contrary. If anything we should see these as updates for Andromeda (or future devices alike), and as continued work MS is obviously doing for portrait/LS mode at smaller screen sizes. The fact that these apps are still being targeted at WM devices is obviously so they can be tested, and receive feedback on these apps, for their mobile configurations. Anyone with the least bit of sense in their head should see this as exciting as finding a new Andromeda hardware patent. So, I have no doubt that we will see the messaging app in WM get this update. And, frankly, it really needs it,, being broken right now, and showing duplicate messages..... #surfacescribe2018

Our store app doesn't have all the functionalities of the pc version. There are no Shop Xbox and Shop Surface tabs.

Well, maybe because it's still context dependent. The W10 she'll is adaptive, and the apps are hip to what device they are on. MS does everything for a reason, and I bet anything they do with mobile now is so they can benefit from it later.

That's exactly why Microsoft si loosing. They don't even care what is happening today. They care about building something that will be the best in 10 years. Just they miss the point that there is something called the competition. In 10 years no one will ask them whether their code is cleanest of all, whether their technology is not full of patches but built from the ground up for great things but whether they have any consumers. And that battle is happening today much more than it will happen in 10 years. Also, in 10 years there will be something to think about for the next 10 years and another reason not to deliver a good product today but wait for some better time.

Yup, as Kenzibit said. Also Calculator missing Currency Conversion feature that the PC version has.

No.. It does have currency 💱 conversion in creator update. But not below this version like anniversary and threshold.

I could send you a screen shot of this but I'm back to wp8.1 now. Boy wp8.1 is really a different league of its on. Feeling good to be back.

Not every device will have the same features... That's the entire point of CShell.
....
Also, if those apps have different version numbers they will be different. But, the majority are still getting these new updates, and features, on W10M

Except the People app on phones, that are forever stuck on RS2 didn't get the redesign the app got on PC that is available on RS3 and RS2

Neither did my old Nokia 6500 from 2002....

Hope i get this on my Lumia soon. If i sign back up for insiders, will i get that Update any sooner?

Unlikely, since this is for redstone 4 and legacy Mobile devices are still on "feature2". (haha feels weird calling Windows 10 Mobile phones legacy mobile as opposed to Windows 6 mobile). But hey, can't hurt to hope?

Even if OS is feature2, it gets API updates to be compatible with redstone 3 and 4 apps. That's why we still see app updates for Microsoft mobile apps.

Nope. W10M is already behind limited to just RS2 APIs.

I'm all for Fluenting all of the things but how bout an uninstall option for PCs that can't send texts...which is most of them...

Lol, what a useless app after they killed the SMS integration

Which makes you wonder why the updated it, something we alluded to in the fourth paragraph.

Sometimes, I wonder if MS stands for "Mostly Stupid".

If you're seriously sitting around wondering that......

it's ok dan, let's leave these trolls alone in the corner; they just gotta hate some brand or product else they wont be able to take a fresh breath of air every morning but I hope the new device comes out soon so that people like this can shut up and go back to the troll dungeons instead of looking so stupid in the eyes of people who know whats really going on in the world of technology : ) .. althought I may have gone a little too far but for a long time on this website what I've only managed to see are people who are on posts that may or may not be of their interests, just dishing out insults or trolling with blatant lies of things that they don't even know of and implying outcomes that no one can even predict far worse in cases where the facts state utterly otherwise, we truely need some kind of spam filter here or proper moderation cause I am truely fed up with having to deal with the sections of android/apple fans coming on to anything related especially on windows mobile just so they could attempt to troll with people, at one point it might be funny cause its pathetic but when it goes overboard then it becomes malinformation, this post might not be the greatest example because its a light hearted one but im sure you've seen far worse.

I hope the chat "bubble" (or box☺️) can be change to other color we like to use instead of following theme color accent. I can see that the whole thing is green such as 1px window border (hate it), title bar, highlighted conversation etc. You know, like this UWP WindowCentral App ☺️.

You've to wait till final release of this app.

Oh, please, the app is useless. First, MIcrosoft has been trying--and failing--to convince us that Skype should be our SMS client. Second, the synch is so incredibly unreliable. Since the Messaging app is unable to send anything, it's even more useless than Skype. Microsoft needs to make up its mind what it wants to do with SMS communication, STICK to it, and MAKE IT WORK.

hoping that soon we get the "new device" so we can make use of the messaging app that's updated here, cause that is the reason which you either forgot ? or .. oh well I'm done with assumptions, however, whats obvious is that when always-connected-PC's will be making it into production I'm quite sure the messaging app would have to function just as any other mobile app and let the device use those all those features that should be available on a device that has a sim in it.

Your smartphone IS and always-connected PC. I'm really tired of people thinking they're not the same thing. It's just another name for the same capability.

Well, unless it's a Windows Phone isn't not an always connected Windows PC.
........
The world doesn't care about WP
And, the world isn't gonna accept Android as a PC.... Not yet, at least.

If my smartphone is an always connected PC then I should be able to install my DSP Processor software on it right?

I've been using Skype to send SMS texts via my Windows 10 Mobile phone. It is awful. One of the most inconsistent and frustrating experiences I've ever had with an app--duplicate contacts, forked message threads, failed sending, failure to receive notifications, having to constantly reauthorize approved devices, having it surreptitiously switch from SMS to Skype messages, etc.. I hope they kill this failed idea of Skype as a default text client and bring back SMS capabilities to the UWP Messaging app.

Agreed., After a year of trying to use Skype alone for SMS I gave up.

This app is absolutely worthless.

Agreed, it does nothing useful. I get SMS synced from my Android to my PC using Cortana, this app never shows anything at all

This update is one of the most important I have seen for a long time. It is the only hope we have for the future of having a Windows "phone"/A phone sized device that runs Windows with telephony. Yes pointless now but without the phone and messaging app, so would any hope for the future.

"Perhaps these improvements are also in preparation for Microsoft's upcoming Andromeda device, which I exclusively revealed back in 2017 as a dual-screened, foldable tablet with telephony capabilities." - one complaint; I think someone should be looking over for idiosyncratic errors like the 'I' in that sentence. Not only is it poor journalism, it also sounds completely silly. The use of 'revealed' is also questionable; if anyone, it will be MSFT revealing it, not Windows Central, and certainly not Zac only.

I do get that this app will be usefull on the Andromeda device, if it will be released. But I still wish Microsoft hadn't switched messaging over to Skype. The Skype app is just an abomination. It would be far more useful being able to send SMS via the messaging app on Windows. The messaging app has not been useful in the last two years and on the PCs that I can use right now it still isn't.

This update is happening on current generation desktops/laptops where it has no point whatsoever amongst the Microsoft confusing messaging strategy that may, or may not, include the dysfunctional Skype. Mainly a legacy Windowsphone app. However, it is significant as it could back up the constant rumour of the Surface Unicorn. This is apparently "not a phone". A not a phone device would not appear to need a messaging app because it is not a phone. Of course being "not a phone" means the Surface Unicorn might have telephony features like messaging. This change, if it is for the Surface Unicorn, would seem to deprecate Skype ambitions to be the primary messaging tool in Microsoft environments. Alternatively, all of this could be wrong. It might just be that all the apps beginning with the letter "m" are being updated with the fluent design. I am reminded that Groove was constantly being updated and was one of the best UWP apps. Updating seems no guarantee of usefulness or longevity.

Just put this app on the Google Play store so I can sync my SMS with my PC ! Please !

To send SMS from PC, just use Cortana: "send sms"

The "Cortana" solution isn't reliable at all, and doesn't let you write a text manually with a simple interface. I found it to be a totally frustrating experience, especially when there are other soluitons like Mighty Text that actually work very well. Why MS can't figure out a simple solution for text relay is a mystery to me. I read somewhere that DELL will be including a solution on it's new line of systems, using a combination of BT and WiFi for SMS relay.

How I wish this would be a messaging segregator with plugins for other apps like FB Messenger, IG Direct Msg, WhatsApp, etc. But one can only dream.😪

It tells you what it is used for and why it still exists when you open it. It is for 4G devices to receive bill notifications from network providers. I'm sure it will do the same for 'Andromeda'

Yet I never receive bill notifications with it.

That's super interesting, and a massive tell-tale to what is coming. Great!!

Don't worry everyone, Surface Messaging will be along any moment now to fix everything!

Fix what? What needs fixing?

Holy crap, didn't expect to see a whinge fest in the comments. I imagine this update took very little manpower away from other projects.

Now if MS made a cross platform SMS app, now that would be useful (and no I don't mean Skype)

I just use TextNow. It runs on everything, so I can send/receive texts on any device: Windows PC, iOS, Android, even Windows phone. Been using it for years.

Windows Central Readers: This app is useless at the current moment, why did they only update the design? Daniel Rubino: OMG HOW FKN DARE YOU SAY THAT! THEY'RE PROBS GONNA ADD FUNCTIONALITY! HOW DOES AN APP UPDATE EFFECT U PERSONALLY?!/!?!?!?! Dan, all they are pointing out is that the app literally can't do anything useful right now. As to why you got so butthurt, is beyond question.

Suure, Dan's the butt hurt one.. 🙄

You missed the point, like your last shower.
.............
I bet you all the capabilities are already in this app, just turned off

I know there are ALOT of butt hurt fans here thats for sure...Daniel NOT being one of them!

From reading the comments it is apparant that half of the readers either didn't go past the headline or are just avoiding the obvious implication that Dan highlights in the article.

Exactly. There are two types here mostly. The MASSIVE HATERS. and then you have the flip side. THE MASSIVE FANBOY. Us in between are a small population here. The ones that like using microsoft products, but are not blind to other companies products. We are niether SCREW MS nor are we MS CAN DO NO WRONG and evevrything else is crap. BOTH of these types need to tone their "enthusiasm". It gets repetitive to keep reading the same comments from the same few people.

SERIOUSLY? You were one of the biggest MS MASSIVE HATERS on here a few months back. Advising people to AVOID installing Windows 10 as it was datamining all your personal info and SELLING it to the highest bidder.
You were one of the biggest, if not THE biggest, APPLE FANBOYS, stating that you would never touch another MS product.. Once a dick, always a dick
Just because your memory is failing, doesn't mean everyone else's is ;-)

speaking of BUTT HURT....BONZE shows up right on cue. BTW...I HATE apple computers crybaby....shows how much you know cryababy fanboy.

Ugh. They just made the side panel transparent. I wish they actually did the whole app like in the lead pic.

Microsoft could disrupt the market if such thing was given a mobile number and started working like whatsapp

I have my 950 linked and for some reason I have never been able to see my text messages from within this app. I cant get it to show anything, so I do agree, this app does seem to be a bit pointless (maybe that will change) To send a text message using Win 10 I type "send a text message" in the Cortana box and she sends via my linked phone....that has been working for a long time now.

And having gotten out of mobile, what difference does this make? I suppose we should all ongratulate Nadella for his visionary leadership in re-releasing AOL instant messenger for the 21st century.

My guess is something a little bit more mundane: The app skin was handed off to a few noob UI developers to get them their training wheels around Fluent. It's all well and possible that there is something greater in the works, but I work in SW too, and these kinds of things happen. New developers get their hands on the UI kit and they need to get used to working with it so they handle something that would otherwise be considered non-critical.

I was wondering what the 'messaging' app was that I accidentally opened once instead of VZW messaging app. Verizon, and I'm guessing other carriers, provides a servicable messaging app for Windows that doesn't care what OS your phone has. It's not perfect but I like using it because I can type into it from a real keyboard. I can't imagine that most people except the few crazies with Windoze phone would have any use for the Windoze messaging.

Why doesn't Microsoft just go back to their MS Messenger that was part of the essentials package you could download for XP? It worked, you could send files, video conference, request remote assistance oh....and CHAT!!!! What a concept! Skype sucks, skype for business is even worse! They they started pushing MS Lync for corporations, but left the masses out with nothing, so they turned to something else, like YAHOO MESSENGER (bleh)! I like the concept of sending/receiving SMS from my messenger service, but if its only one way...then WHATS THE POINT? C'mon MS, you can do better! STOP forcing everything you do as another integration of WINDOWS 10 along with a MS email account!

IIRC, I've used this app in the past to reply to SMS on the desktop. Granted, it's not that useful BUT of course it's going to have a wider functionality when it's used as the main messaging app for the Andromeda device. I don't know what the crapstorm is about, this is pretty easy to understand.

This app is pointless, unless it can do SMS relay with Android phones. Although, I think it'll be better if it's one app under Skype.

As a customer I dont understand why do I need so many messaging solutions from the same company. You can talk the whole day explaining the future and vision but all this is just crap. Microsoft and future vision and promises are nothing to rely on.

I recently downloaded messaging to my laptop and found it a bit useless until today when it actually did link up with my phone. I use WhatsApp on both laptop and phone which is such a good idea.

Okay, so I understand how many people feel, I felt that way for a little while too until I read some articles and did some research and compared that with what I have observed. While it is a reality that many of us are disappointed by the lack of anything being released, promised, or communicated plainly by MS, it is important to remember that we are talking about a very competitive field and MS is a major innovator in this field. Not all ideas end up on the finished product, but just like a famous inventor once said when he was asked about his repeated failures to create a working product he simply stated that he didnt fail even once, he instead figured out what didnt work and when those possibilities were eliminated it let to his discovery of the version that worked for the purpose. So MS in their experimenting and development of applications and methods of implementation can take all that information and compile a working release that incorporates the best of all their products. Microsoft at this point has all the software code and implementation strategies they need, and now with computer hardware getting to the size of a credit card is it unreasonable to assume that they could release something that will change everything? Look at the information we can deduce from... 1) Recent Patent Filings 2) Existing Framework of Windows 10 having provisions for Phone and SMS 3) MS updating and improving the framework for Phone and SMS in Full Windows 10 4) Computer Technology become available that can fit a full functioning computer into a phone sized device. 5) Windows Variants being developed to be Modular and adaptable by Manufacturers to be as comprehensive as needed by a particular device. I am sure there is even more, but this is just off the top of my head. With a market as cutthroat as this and competitors as unscrupulous as these Microsoft has to play their cards close to the vest, so until the timing is right I would expect Microsoft to remain silent and protect their investment.