Windows 10 build 17074 for PC: Everything you need to know
Here are all the features and changes Windows 10 is getting with build 17074.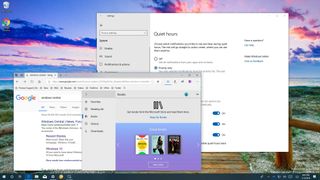 As part of the Redstone 4 development, Microsoft is making available Windows 10 build 17074 to Insiders with PCs enrolled in the Fast ring, and even for users in the Skip Ahead lane. This new test preview introduces a new set of features and several changes, which the company is planning to deliver in 2018.
Windows 10 build 17074 focuses on improving various aspects of Microsoft Edge. Quiet Hours becomes more useful with new features to avoid distractions. The Settings app gets a lot of changes, including new options to free up space, adjust sound, and add languages. You'll also find changes in the handwriting experience, and a whole heck of a lot of other good stuff.
In this Windows 10 guide, we'll get a closer look at the features and improvements Microsoft is preparing to release with the Redstone 4 update later this year.
Windows 10 build 17074
Start menu
The Start menu in build 17074 will start showing the links to "Documents" and "Pictures" folders in the left rail to make it easier for people transitioning from older versions to navigate and quickly find files. If you want to edit this list, just right-click an item, and click the Personalize this list option.
Action Center
Action Center now renames the "Clear all" option to "Clear all notifications" to make the button's action clearer.
Quiet Hours
On Windows 10, Quiet Hours is a feature that you can enable to stop interruptions when doing work, watching movies or playing games. The problem is that the options to use this feature have been limited, but now, Quiet Hours gets a lot of useful functionalities, including the ability to turn on automatically when duplicating the screen to avoid interruption during a presentation, watching movies, or when playing games in full-screen mode (limited to exclusive DirectX games).
You can now specify the times Quiet Hours should turn on in the new settings page, and it's also possible to customize priorities allowing important people and apps to ignore quiet hours.
The experience even includes a summary of the alerts you may have missed, and if you use Cortana, you can set this feature to turn on while you're at home.
Fluent Design System
This flight also adjust the Reveal effect part of the Fluent Design System when using the light theme to be more visible. In this preview and moving forward, the Reveal effect now shows a dark border when hovering items across the OS.
There are new animations for item headers, pane opening, and item selection events in navigation views. In addition, build 17074 removes the Border Reveal effect when hovering over items in lists and tree views, which means that now the experience only shows in navigation views.
In Microsoft Store apps, including Microsoft Edge, the command bar margin now adds two additional pixels of separation to improve the user experience.
The Clock & Calendar flyout has an updated Reveal effect to include a lighter background for the day in focus.
Settings
In this test preview, the Settings app is getting a significant number of improvements and features.
System
On Settings > System, the Sound page has been updated with a new section at the bottom of the page with new audio settings.
In the App volume and device preference page, you'll find settings to control the sound globally, and you can also change the volume for apps and system individually in relation to the master volume.
If you want to revert the changes, there is even a Reset button to go back to the default settings.
The HMDs page, it's now the place you can control the speakers and microphone for Windows Mixed Reality headsets. This page also includes a Speech option to enable speech recognition when using Mixed Reality.
On Settings > System, the Quick Hours page is new with build 17074, and it includes a lot of options to control the experience.
Using this page, you can disable, enable the feature using priority settings, or enable Quiet Hours with alarm alerts enabled.
You can also click the Customize your priority list link to access a new page that allows you to manage the notifications that can breakthrough Quiet Hours, including from calls, texts, reminders, people, and apps.
Under "Automatic rules," you can customize three rules that let you pick the times and activities when you don't want to be interrupted:
During these times — Allows you to set a schedule when you don't want to be disturbed.
When I'm duplicating my display — Stops notifications when using an external monitor to duplicate the screen.
When I'm playing games — Hides notifications when playing PC games in fullscreen, but this option is limited to exclusive DirectX games.
You can enable and configure each option as necessary. There's even an option to allow you to access a summary to see the notifications you missed during quiet hours.
On Settings > System > Storage, Windows 10 is improving the Storage sense page allowing to decide when the system should run the cleanup process when you're running low on disk space.
Under "Temporary files," you'll no longer find toggle switches. Instead, there is only one checkbox to enable the deletion of temporary files, and then you can use the new drop-down menus to select when to delete unnecessary files, such as those in the recycle bin and Downloads folder.
In the Storage page, you can click the Free up space now link to access the "Temporary files" page that now includes all the functionalities from Disk Cleanup. (Microsoft is touting these changes for build 17074, but it's was already included in build 17063.)
On Settings > System, the About page isn't getting significant changes, but you can now select and copy the computer name. On the left side, under "Related settings," you'll find a link to access System info. In addition, when searching for "computer name" now will show a link to access the About page.
Devices
On Settings > Devices, the Pen & Windows Ink page now includes a drop-down menu to let you select the font size for converted text.
On Settings > Apps, the Apps & features page includes a new "Manage app execution aliases" page to control app aliases.
In short, app developers can declare a name to run the app using Command Prompt, and in this page, you can turn on or off these names as needed. Usually, this option will come in handy if more than one app installed on your device has the same alias. (Microsoft is detailing this feature in build 17074, but it was already available in build 17063.)
On Settings > Apps, the Video Playback page ships with a new option called "Adjust Video based on lighting," as the name suggests the option is designed to change the video lighting based on the light around you to improve the viewing experience on SDR videos.
Microsoft Edge
Windows 10 build 17074 ships with an updated version of Microsoft Edge, which bumps the version number to 42.17074 with an EdgeHTML version number of 17.17074, and brings a slew of minor improvements.
Hub experience
In the new version of the web browser, you'll find a redesigned Hub experience that shows more content and makes it a little bit easier to use.
The new experience features a list of sections aligned vertically on the left, and there is a button at the top that allows you to collapse the view to see only icons and save space.
Autofill experience
The browser can now save card information allowing you to quickly fill payment forms in the future. If you're typing the card information for the first time, Edge will ask you to save your info, but the CVV code will never be saved.
Any card already linked to your Microsoft account will be available automatically as you fill out a payment form online.
If you want to add a new card manually, you can always do so using the Manage cards option in the "Advanced settings" page of Microsoft Edge, where you'll also find a toggle switch to enable or disable card information.
Favorites experience
There's not a lot going on with the Favorites experience, but the Favorites bar now will appear automatically on new tabs and start page if you have at least one favorite.
Microsoft also points out that you can now choose always to hide the favorite bar using the context menu, and you can hide favorite names individually, but again these changes were already available on build 17063.
Never save passwords
Another small but useful improvement is the ability to tell Microsoft Edge to never save passwords for specific websites. Once you choose to never save a password, the browser will no longer ask you to save any password for that particular site.
InPrivate experience
Starting with Windows 10 build 17074, the browser will auto-fill a saved password when using an InPrivate tab or window. Furthermore, you can now use extensions when running an InPrivate session. However, you'll need to grant extensions permission manually during installation or using the extension's settings.
Reading experience
Microsoft Edge also includes a new reading experience for PDF and EPUB files as well as when using Reading View.
The new look and feel moves away from an edge-to-edge toolbar beneath the address bar in favor of a floating experience that is more consistent and capable while reading any supported file format or using Reading View.
Also, whether you're reading a PDF document, EPUB book, or using Reading View, you can now use the full-screen option for a distraction-free reading.
If you're reading a book, you'll find a new Notes popover menu that allows you to see a list of the comments that you added to the book, which you can click to jump directly to the page where the note was posted. It works for notes as well as for annotations and highlights.
The Seek bar also includes a design similar to the floating toolbar, and you can now use Go-to-page (Ctrl + G) to find a specific page in the document.
On books you have purchased in the Store, the reading progress, bookmarks, annotations, and notes will now sync across devices a lot faster.
When reading an EPUB book or web page using Reading View, it's now possible to use the Grammar Tools button to access tools to help you comprehend whatever you're reading. Using this tools, you can break words into syllables and highlight nouns, verbs, and adjectives.
In addition, the library interface has been updated to include book recommendations or filter expired rentals, and when opening a book the books icon and title will appear instead of the link.
Other improvements to EPUB and PDF includes more explicit narration when opening, loading, and navigating books for people using assistive technology.
This new version of Edge also adds support for EPUB Media Overlays allowing more customization, such as highlight styles and custom audio. On certain books, you'll even be able to hear custom narration selected by the publisher. Also, there a few other Narrator improvements to enhance browse, search, and open books.
Improvements for developers
This new version of the browser includes support for CSS extensions for OpenType Font Variations, which allows one variable font file to work as multiple fonts with their own range of attributes. (You can check out this demo to learn more.)
Finally, developers can dock the DevTools experience vertically.
Input
Windows 10 build 17074 also introduces a new smaller embedded handwriting panel that will appear in the text field. The new panel will open automatically as you tap a supported field with the pen, such as a search box, and it will expand to provide a canvas that you can write in.
And because it's based on the handwriting panel already included on Windows 10, with the new embedded panel, you can use pretty much all the same functionalities. For example, gestures, edit writing, and more.
Also, handwriting recognition is now supported in more languages, including Hindi, Welsh, Sesotho, Wolof, and Maori.
Other changes
Additionally, starting with this flight, Microsoft begins to make available language packs in the Microsoft Store, in addition to the Region & Language Settings page.
Windows 10 ships with PowerShell cmdlet that provides the ability to retrieve logs for Delivery Optimization (Get-DeliveryOptimizationLog).
Adobe-style ".otf" OpenType Variable Fonts are now supported on Windows 10.
The so-called "Sets" feature continues to expand to more users with build 17074, but not everyone will get it.
Microsoft notes that some improvements have been added to Near Share, Windows 10 S devices will appear running in "Windows 10 Pro in S mode," this build contains the mitigations for the Meltdown and Spectre security vulnerabilities, and there's a new Immersive Reader (Beta) app listed in the Start menu.
Wrapping things up
Windows 10 build 17074 is indeed a lot smaller than build 17063, but it still manages to deliver a good amount of improvements, especially for Microsoft Edge.
It's worth noting that some of the changes Microsoft is officially documenting for build 17074 were already implemented on Windows 10 build 17063, such as the changes with the Reveal effect with the light theme, various settings in the Settings app, and a few options in Microsoft Edge.
Overall the experience of the preview is good, considering that it also has the mitigations for Meltdown and Spectre. However, it's still a pre-release version, which means that problems are expected.
If you're planning to test this preview, it's always recommended to use a spare computer or virtual machine — you should never run a pre-release on your primary machine.
What are your thoughts about these new changes? Let us know in the comments.
More Windows 10 resources
For more helpful articles, coverage, and answers to common questions about Windows 10, visit the following resources:
Windows 10 help, tips, and tricks
Windows Central Newsletter
Get the best of Windows Central in your inbox, every day!
Mauro Huculak is technical writer for WindowsCentral.com. His primary focus is to write comprehensive how-tos to help users get the most out of Windows 10 and its many related technologies. He has an IT background with professional certifications from Microsoft, Cisco, and CompTIA, and he's a recognized member of the Microsoft MVP community.
The big news about Quiet Hours is that it has (finally) been decoupled from Cortana, meaning that the rest of the world can finally use this feature. Previously, Quiet Hours was a feature of Cortana, so unavailable in most of the world. Now, about what that means for Cortana, well...

I think that depends on whether Nadella thinks it's an enterprise feature, a cloud feature or an end user feature. If it's the latter: bye bye Cortana...

Thank God for that! I hope the same happens to the rest of those things.

Quiet hours, fancy, really nice edge hub...

Killed my sound and caused missing letters on display (all programs and apps). I was forced to reset my Surface Book!

same here on surface pro 4... bad news

Same here! Glad I'm not the only one. SP4 missing letters and weird screen artifacts. So sad!

Have they fixed the virtual keyboard and how many GBs does this update add to the footprint?

I don't quite understand why I am unable to enable windows insider preview? Every time when I enable windows insider preview, I was told to restart however upon restarting I got back to the same page of getting started! Any idea what to do?

Usually takes 24 to be in a position to download the preview. Rejoined and waiting because the restart did not work.

'Phone link' does not work for me :(

Sounds good. My computer is getting a bit long in the tooth so I'll probably hold off for a "wrapping things up and focusing on bugs" build before I install... but I'm pretty keen for that moment!

problems with the intel graphics HD 520 need to be desactivated for the laptop working normaly, biy loosing lots of fonctions.hope to be fixed soon