Microsoft might be working on even more mobile productivity apps like Flow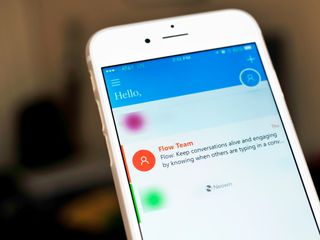 We know that Microsoft is working on a small email-chat app for the iPhone called "Flow", but it looks like that's not all the company is doing on the mobile productivity front. A new report claims that Microsoft has two more apps it is working on internally that might be similar to Flow.
ZDNet's Mary Jo Foley says the apps have the code names "Flip" and "Highlander". She states:
It's more than likely that all of these apps will eventually find their way to iOS, Android and Windows 10 devices, as part of Microsoft's plans to support all the major mobile app platforms.
Source: ZDNet
Windows Central Newsletter
Get the best of Windows Central in your inbox, every day!
HM.. Lets see
ΧΜ.. Ας δουμε

*Flip* will stick to its code name when it will publish in near future.

We can`t wait!! Δεν μπορούμε να περιμένουμε!!

I wonder if those new apps will be for iphone alone or also for android?

Somebody please say Windows phone as well lol

We'll be last, as usual. We're even a low priority for Microsoft, tbh.

Windows 10 to the rescue?!?

Honestly, we might not even get it.

With Microsoft's new Astoria and Islandwood projects, even if iOS or Android get their latest applications first they can easily port them over to Android once they feel compelled to do it.

That's cool. I'm sure they are working on software.

Yeah I'm liking this direction, they are transforming the experience in an area where they already have a massive user base I.e email and productivity.

Why don't they only focus on Windows Phone!!

They can't, windows needs to be everywhere like a virus

Well, maybe because more people more money?

Outlook and Skype don't have ads, so how more money? I doubt Flow will have ads.

Smaller market share, smaller customer base. :-(

That didn't take long. I wish people would really app treating the market share mantra. It doesn't matter. There are still millions of Windows phone users who are already predisposed to liking and using Microsoft products.

....or maybe these apps or features will be integrated in Windows 10 mobile?

They'll just use the dev tools to port the apps to Windows 10.

Same reason Google doesn't. We're a low priority to them. Kind of a side note.

Because the world isn't filled with windows phone users only.

That's a Microsoft issue. OEMs don't feel compelled to make phones with Windows.

Just get them on windows and integrate them with the OS and Cortana, then everyone is happy

Get them onto windows, but don't integrate with the OS. Use the API's to hook into the OS. When you build things into the OS, we get Onenote that hasn't been updated since it launched....

Personally what I think? I blame Pod 6.

That's so cool because iPhones don't have many apps.

1. iOS 2. Android 3. Windows 10. That is how Nandela rolls.

Yep. This guy make me miss Ballmer so much!

He's from my neighbourhood :/

highlander seems interesting :D

"...eventually find their way to iOS, Android and Windows 10" It should be menitoned in this order. Windows 10, iOS and Android.

They will probably hit the mobile devices first.

It mentioned in the order that which they will appear.

You know W10M gonna be very late.

I really appreciate what the developers are doing but I'm still disappointed that there is no app to send music to anyone.... Can't do it with Whatsapp nor with BBM..

telegram supports sending all files, including audio.

I switched to Telegram months ago. Uninstalled BBM (which I was excited for initially) and WhatsApp (Thank goodness).

Actually, you can send mp3 files via WhatsApp. Just rename the music file to .mp4 and attach it to your message as a Video file. The recipient will get it as a mp3 file.

Great!! I'll spread the news with my iOS users friends.

Microsoft might be working on even more mobile productivity apps like Flow... and only releasing them for ios/android.

okay. thats great. but pls windows 10 first! :)

If Microsoft so love IOS and Android, why do they have a windows phone platform?

This just gives me a feeling that Windows 10 mobile won't be a hit.

He means windows 10 won't fall to the ground

Microsoft, it's about time you wise up. Give some cool exclusive apps to your own platform and then think about iOS and Android.

No love for BlackBerry? :(

Flow, Flip, Sway... Sounds like Microsoft likes movement

At least MS is staying with trends... not supporting it's own OS first lol