Microsoft moves Windows 10 build 16251 to the Slow ring for PC Insiders
A new Insider Preview build is now making its way to Insiders in the Slow ring with new features and fixes!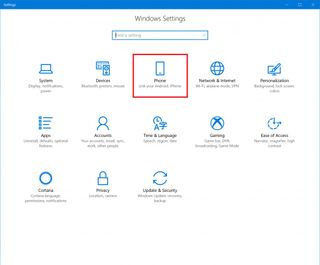 Good news, if you're one of the few Insiders who are rocking out on the Windows Insider Slow ring, Microsoft has a new build for you! Build 16251, released last week in the Fast ring, is now making its way to Insiders in the slow ring with new features and fixes!
Build 16251 includes all the new features and changes that have been added to builds since the last Slow build, including the ability to link an Android or iPhone device to your PC, more Fluent Design improvements, new Edge features and a whole lot more. Here's a list of notable changes in build 16251.
Windows lets you link your phone and PC: You may remember at Build we talked about PCs and phones working better together. With Build 16251, we are introducing the first set of features that enable "linking" your phone to your PC. This build's scenario is focused on cross-device web-browsing. Today, we're asking for you Windows Insiders to help us test this experience out using your Android phones. Support for iPhone is coming very soon, stay tuned.
Get web search results in Cortana without opening your browser: Now you can view the results that Cortana has for you without launching the web browser. For some questions, the Cortana pane will expand automatically, quickly showing you exactly what you need to know. It works with movies, celebrities, stock prices, weather, flight status – you name it!
Use Cortana voice commands to lock, sign-out, shutdown, or turn off your PC: We have now enabled the ability for you to use Cortana to turn off, restart, lock, or sign-out of Windows. While previously announced, we haven't fully enabled it via the cloud until now.
Use sign-in info to apply settings after a restart or update: The advanced Windows Update feature to use your sign-in info to automatically finish setting your device after an update has been extended to regular reboots and shutdowns. When you log in and initiate a reboot or a shutdown through power options available on the Start Menu and various other locations, Windows will automatically setup your account after it's has booted back up.
There are a number of known issues in this build that you should likely also be aware of:
If you installed Builds 16226-16237 and upgrade to this build, Storage Spaces will not work correctly. While Build 16241 contained a fix for the general reported issue with Storage Spaces in that build range, we discovered that the fix only applies for computers not already in the bad state, and need to do some extra work to return those already impacted to the good state. Special thanks to the Insiders that have helped us investigate this!
Trying to use the dictation hotkey (WIN + H) in UWP apps won't work – you'll see the UI come up and immediately dismiss. If you'd still like to use dictation, the microphone in the touch keyboard will work. You can right-click the Taskbar for an option to show the touch keyboard button if it's not already visible.
We're investigating your reports that after upgrading to the latest Insider Preview builds, some network settings are lost and revert to default settings. Static IP address configuration is reverted to DHCP. Networks which were marked as private are reverted to public. After the upgrade you will need to manually readjust your network settings back to your preferred settings.
Start, Action Center and notification toasts may at times have a background that is 100% transparent. A fix will be available in later flight – for now, if you encounter this issue, try ending ShellExperienceHost.exe via Task Manager or rebooting to resolve the issue.
Connecting to a VPN using a solution downloaded from the Windows Store may result in a system crash.
The battery flyout might show unexpected text for the % charged (specifically "%1!s!%2!s!% until fully charged").
When installing or updating a Windows Store app, you may see error 80070057. As a workaround, you can get the latest app by uninstalling the older version of the app from your device and reinstall latest version from Store.
We're investigating reports where Action Center shows it has some number of notifications but when you click to open Action Center, there are no notifications shown.
This build is now rolling out to Insiders in the Slow ring for PC. Enjoy!
Windows Central Newsletter
Get the best of Windows Central in your inbox, every day!
Zac Bowden is a Senior Editor at Windows Central. Bringing you exclusive coverage into the world of Windows on PCs, tablets, phones, and more. Also an avid collector of rare Microsoft prototype devices! Keep in touch on Twitter: @zacbowden.
It always looks strange everytime I see Android and iPhone highlighted by Microsoft. But maybe it's just me. :)

It would be kind of ridiculous for them to ignore 99.9% of the phone market...

I'm curious. Which part of my statement said they should ignore 99.9% of the phone market? They are a software company. They should try to sell or provide their software to any and all forms of systems. But I still find it "strange" when I see Android and iPhone prominant in Microsoft software. You know, their #1 and #2 competitors.

Well since microsoft is not in the phone business anymore....Might as well make money off those using the platforms that have traction.

This could actually work in MS's favor.. We just have to understand it from MS point of view.. It's all about Windows. If MS were to make a Surface Phone running Windows it would be best if Windows were more popular. If MS creates an extremely usable environment between Windows, and iDroid, that might build usage of Windows (and inadvertently the store) which will attract developers, and at the very least move companies to convert their legacy apps to UWP apps.. People need to be able to "not live without Windows"... And, as Windows is on smaller, more portable, devices adoption should increase for specific groups. It's really more about patching those leaks of people switching to Chromebooks, and changing perception of Windows.. Some iDroid users who NOW find Windows very useful might see value in a Surface Mobile device... Basically, a Surface Phone (or anything else Windows related) isn't any good if nobody (consumers) need Windows. Everyone is on iDroid, so Windows needs to have iDroid on it. WM is too small to matter right now, so we gotta look at the bigger picture. Fact is that if we really want a Surface Phone to succeed seeing MS support iDroid on Windows should make us rub our hands in excitement. Because, we ultimately know what iDroid on Windows can bring WP fans in the future.... A viable Windows based Mobile device that's respected in the tech world. Right now, Android, and iOS, are over here, and Windows is over there. MS is trying to change that idea without using WP... It's that simple, and it's all about perspective.

Yes, every Microsoft move is really a hidden ploy to develop surface phone, the device that only exists in imagination...

I'm not saying its "all" about a purported "Surface Phone"... I am saying that it's about making Windows cool again, and keeping Windows relevant. That's what I think is ultimate important.. We're Windows on Mobile fans, so obviously we will discuss the prospects of what Windows can bring to our mobile future.
.......
Now, why you're talking about others perception you're not perceiving my comment correctly, so you're no better, and have no room to talk.

I'm not a windows on mobile fan. It's never been successful, popular, or profitable. The longer the fantasy goes on that someday it will be, the more ridiculous it sounds.
......
Oh ok.

@rodneyej, I think you're exactly right. MS needs to support those platforms with Windows, because that's what users need from a central hub OS -- support the devices they own, or it's not useful. At the same time, providing services and software (Skype, Office, etc.) for those non-MS devices keeps them as MS users, which greatly increases their openness to trying other MS products in the future. Including, if it ever comes to market, a future mobile device.

That's what I'm beginning to see. It makes sense if you lay it out.
1. Android user has always used Windows at work.
2. Android user notices that Windows is beginning to include his phone.. A lot.
3. Android user starts to use Windows more.
4. Android user starts to need the same apps on his desktop that are on his mobile device.
5. Developers are Android users. Lol😉
6. Windows store becomes more relevant with a wider range of users.
7. Some word of mouth, some marketing, spreds the word slowly.
8. As the store becomes more relevant, iDroid devices become more synergistic with Windows.
9. Smaller WOA mobile devices become more useful, possible some that can fit in your pocket.
10. People see the benefits of having Windows, apps, and telephony all together in one device.
11. A niche market, but a slowly growing market, of new types of mobile devices is coming about.
12. That breakthrough Windows mobile device from MS, or whatever OEM, takes the concept of a Windows Ultramoble device forward.
.......
It doesn't have to be a Surface Phone that makes an Ultramoble Device popular... I bet this is EXACTLY what Microsoft is conspiring as we speak. Sounds like a really sound plan that includes systems that are already hugely successful, which is smart.

It also burns every Windows phone and Xbox user :(

Or, can it help?... Could it be a way to inadvertently bring apps to the store?

Yeah, pretty ridiculous. It's bad enough that just about all companies say their apps work on every device, yet never show Windows in the list. Now even WINDOWS is doing this!

Thats because windows mobile/phone/windows on devices 6" or less/windows on arm/ whatever the fanboys try to call it this week is done...over with...the .01% of windows mobile devices is not incentive to create apps. So in a sense they are correct. At this point in time, their apps work on EVERY DEVICE.

I do get annoyed when I can't run them even on a full computer. For example, my bank has an app for scanning checks and deposting them just by the photo of the check. Cool. I understand that they don't support my Windows Phone -- that's fair and not worth the effort. But they also don't support PC's. That's pretty ridiculous from my perspective. Even without an app, I could scan the check on my PC and post through a TLS web page, but nope, not supported. And where I live (which means this applies to many of this local bank's customers), a great many people don't have cell service, so many people don't have cell phones, or only have a feature phone for emergency use if they're lucky enough to have service where they are when they need it. But just about everyone has a PC with at least a dial-up connection and online access to their bank account. Seems stupid to me that they don't at least provide equivalent function for PC, whether via a Store app or the web site. Also, figure that there are millions of 2-in-1 tablet PCs in regular use. Those would run touch apps that run on Android beautifully. Millions of users with those. From those perspectives, I don't view Android and iOS devices as "all devices" if they exclude Windows PCs. Sure, you can exclude Windows Mobile, and still claim support for all devices, but not Windows PC's.

Nice, hopefully this one fixes the issues that I got on the last Slow Build resulting in Edge being super slow/unusable as well as missing Start Screen tiles.

Has MS posted this iso yet? I'm stuck on 16241 because my Windows Update broke and can't be fixed.

Yes I'm waiting for ISO too

Araç muayene istasyonu üzerinden yapılan araçlar kontrol sırasında daha hızlı ve beklemeden işlerinizin olması için yapmanız gereken araç muayene randevu için her hangi bir Tüvtürk istasyonu yada internet ve telefon üzerinden araç muayene işleminin yapılması gerekir. Bunun için alacağınız randevu gününde gelmek istediğiniz Tüvtürk istasyonu üzerinden yapabilirsiniz. Bir çok Tüvtürk işletmesine bağlı olan istasyon üzerinden araçların kontrol edilmesi ve trafiğe çıkması için genel muayene işlemi yapılmaktadır.