Microsoft Movies & TV needs to come to Android and iOS
Microsoft has a large library of mobile applications, but it still hasn't made a Movies & TV app for iOS or Android.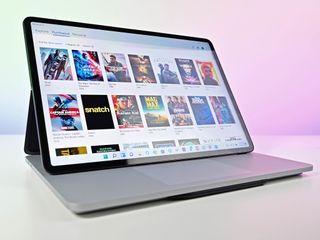 (Image credit: Daniel Rubino / Windows Central)
Microsoft has apps for streaming games to phones and using a virtual desktop on tablets. The company also has a vast library of other apps on iOS and Android. But there's one glaring hole in the company's mobile lineup: the Microsoft Movies & TV app. If you purchase movies or TV shows through the Microsoft Store, you can enjoy them on your Windows PC or Xbox console. But if you want to watch the content you've purchased on a mobile device, you're mostly out of luck.
I'm certainly not the first person to ask for Microsoft to bring Movies & TV to iOS and Android, but the app just seems past due. Microsoft invests heavily into its Android and iOS apps but has just left one consumer service off those platforms. Movies Anywhere works with Microsoft Movies & TV, but it has its limitations. For example, as a customer outside the United States, I can't use Movies Anywhere.
I bought the content, so let me watch it
I purchase content through the Microsoft Store, so I want to be able to watch it wherever and whenever I want. I have Netflix, Amazon Prime, and Disney+ subscriptions, but when I want to watch a brand-new film or just want to have access to a piece of media forever, I purchase it through the Microsoft Store.
To be transparent, I don't actually spend money on most of my movies. I rack up Microsoft Rewards points and exchange them for gift cards. But Microsoft seems fine with that setup and lets me buy all sorts of things. I have a growing library of my favorite shows and films, and sometimes I want to watch them on my phone.
In a world in which I can stream games to a phone, it's just odd that I can't stream movies and TV shows to all of my devices.
Competitors are on iOS and Android, so why isn't Microsoft?
I first thought that there might be some sort of licensing limitation to having a Movies & TV app on iOS and Android. I don't think that's the case, however, since Vudu and other streaming services manage to have apps on mobile devices and other major platforms. I imagine that Microsoft might have to sort out some licensing agreements, but they have good lawyers. I'm sure they could get over any hurdles.
While the film and TV industries are different, Microsoft had Groove Music on mobile devices back when Groove Music Pass was a thing. That shows that Microsoft is capable of making content available across different platforms.
Movies Anywhere doesn't help people outside of the United States
For customers in the U.S., Microsoft Movies & TV is just one of many services that works with Movies Anywhere. People can buy content from Prime Video, Vudu, Google Play, and many other services and then watch them across devices. That's all fine and dandy if you're in the U.S., but I'm not. In what might be news to Microsoft, there are, in fact, billions of people who are not in the United States.
This wouldn't be the first time that Microsoft didn't prioritize customers outside the United States. Many complain about Microsoft's U.S.-centric approach. I hope that isn't the case here, but it's difficult to see it from another angle.
It's 2022. What's Microsoft waiting for? Just let me watch my content on all of my devices.
News Writer and apps editor
Sean Endicott brings nearly a decade of experience covering Microsoft and Windows news to Windows Central. He joined our team in 2017 as an app reviewer and now heads up our day-to-day news coverage. If you have a news tip or an app to review, hit him up at sean.endicott@futurenet.com (opens in new tab).
It at least works with Movies Anywhere....

That doesn't help anyone outside of the United States.

Also doesn't help with purchased TV Seasons.

Or movies from a lot of studios including Paramount and Lionsgate.

Yip, 100% agreed. I've made a point of buying all my movies in the movies & TV app, avoiding diluting my library by buying in amazon, sky, Disney, etc so its bloody annoying not having an app on my android device to watch them, particularly as that android device is a Duo 2 🙄

I've been requesting this for years.
Just bought 3 films on my Xbox yesterday adding more to my over 500 movie and TV programme collection. Would love to have these available on my Android phone as well as my surface and xbox.

Do you download a bunch of your movies for offline viewing on a windows computer? Because I stopped buying stuff in the movies and tv app because the app crashes on multiple devices if I download a bunch of episodes\movies.

I think there should also be a Microsoft Store app for Android (at least for remote managing your PC/Xbox libraries if not for Android apps). I also think (and hope) that it's brewing silently. But thinking how even the quite simpler apps, like Photos are not made cross-platform in any way, there might be some internal issues at Microsoft preventing these from happening?

I dont think Movies Anywhere works if you rent a movie vs buying. And if they are going to add Android and iOS, lets also get them to add support for Smart TVs (like my samsung tv). I would LOVE to be able to rent/buy MS Movies right on my Samsung TV. I rack up enough microsoft rewards points that I'm always cashing them in to rent movies, but to watch on my TV I have to watch them on my xbox one, which doesn't do 4k. Native Smart TV support would be HUGE!

I do the exact same thing and have been waiting for this for years. Unfortunately i think we're all going to be taking a dirt nap when that happens.

I stopped buying Movies and shows from the Microsoft Store after they shuttered the Groove Music service. I refuse to throw money into a service that will inevitably be shut down. I would be comfortable buying again if Microsoft made a good faith showing of support by bringing Movies & TV to Android and iOS, or even to the web.

There's zero evidence Movies & TV will be shut down. Could it? Sure, but it's clearly not "inevitable". Based on a few comments Dan has made over the years about MS's relative happiness with the service, specifically on Xbox, and combined with the fact it's a very different model than music streaming which incurs huge upfront licensing costs for the provider, the probability it'll be shut down is much closer to 0% than 100%.

Instead I would like to see Disney make Movies Anywhere become available at more counties. They are already spreading Disney+ very quickly so why not Movies Anywhere as well. The services in Movies Anywhere already available in most parts of the world so I don't think this should be a problem.

Microsoft needs to make one

Glad you have raised this issue, I have a large collection of movies and TV and cannot watch them on my Android devices... How difficult can it be for Microsoft?

Let's start a vote if MS should release it on Android and iOS!

Maybe then I can get a crash Movies and TV app experience on windows! Use bluestacks, or something then.

Not having an Android version of the app is the only thing stopping me buying a Duo 2 and leaving my SP8 at home when working round the world. I have to carry an a working Dell for engineering and my Surface for Movies with I download before leaving the uk

It would be awesome if it was available on Roku devices as well, because I don't have an Xbox One, but there are times I wanted to purchase a movie from Microsoft, but knowing that I can't watch it with my family on the big screen hold me back.

Microsoft has Movies and TV??? TIL ...

I agree. This is almost as bad as apple's iTunes. This would have me feel much better about purchases of shows other in MS movies and TV.

Yes, Android app needed!!

Yes, it's truly neccessary. I live in Switzerland...we have no local Video-on-Demand service witch is really working well. I'm not a fan of apple products , but I rent or buy my movies on iTunes. I can watch them on my windows PC thru iTunes and on my TV with the Apple TV 4k. But, not on my android tablet (or my phone..). Google Play or TV (Google change their names all the time) is not a option...the video quality is bad , and they not have a huge library here in Switzerland. I wan't to use the Microsoft service. But, I want to play the movies on my tablet and my TV...

When it was said that other competitors have their apps: not really. There isn't a way to watch your movies purchased on iTunes on Android.
Google let's you play their movies on Android, Apple only let's you play their movies on Apple devices and windows. Microsoft can't behave like they do because they don't have a mobile OS.
And those are Microsoft's competitors.

It is with movies purchased on Amazon. Movies purchased on Amazon can be watched on iOS, Android and Windows.

Why couldn't you just watch this on a browser. I watch netflix on iPad via edge brower because I lost the AppStore password to download netflix and it does not work any differently from if I had the netflix app.

This totally needs to happen. Windows Central team can you please apply some pressure to Microsoft?

I don't understand why they can't just do an app for things that you already own if licensing is the problem. It could be like the Xbox app where they removed the store from it.

Never going to happen. MS is not a consumer company. And does not want/need to become one.

MS doesn't get me to buy anything from Movies and TV because they don't have it on all devices. Nothing they have I can't get on another service. That might change if they do put it on Android. They need Groove back as well. Even if it just is an MP3 player like it is on Windows. Problem is, they never got rid of Windows Media Player by putting all of its capabilities into Movies and TV and Groove. Movies and TV is a bad name for an app by the way.

It should work on a website, which would solve the problem by allowing you to stream your owned content from anything with a Web browser. I think you might be on to something, though, with the licensing issue. That may be part of it. Movies Anywhere is nice, but it doesn't include all movies and doesn't include any TV shows. I've been steadily building up my collection of both movies and TV shows on Microsoft Movies & TV over the years, but having been rug pulled by Microsoft countless times before, I'm worried the same will happen here because, as you point out, they're clearly not investing much into it (lack of apps on other platforms, for instance, but even for the apps on Windows and Xbox, it lacks some pretty basic features like the ability to make playlists, etc.).
Windows Central Newsletter
Thank you for signing up to Windows Central. You will receive a verification email shortly.
There was a problem. Please refresh the page and try again.