Microsoft Music Deals apps get updated with new buttons and more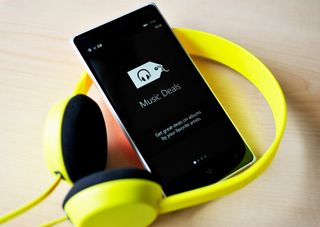 The Microsoft Music Deals apps for Windows 8.1 and Windows Phone have both been updated this week with some additions and improvements, such as some new Share, Pin, Home, and Help buttons.
Let's have a look at the change log for the apps, which helps Xbox Music users find temporary sales on albums.
Support for additional deals
Share, Pin, Home, Help buttons
Navigation and feature improvements
In addition, the Windows Phone version includes some Live Tile and UX improvements.
Do you use these apps regularly to find Xbox Music price cuts? Hit up the comments and let us know!
Thanks to Zapella for the tip!
Don't use it. I use my Xbox Music pass to stream or download it all.

This. Until artists get bitchy and remove the streaming rights to their music and force you to buy it outright. :/

I have two Artist whose songs go in and out of rights availability. Jetta and Ab-Soul. Other than that I've been good for over a year with the service. I have the playlist/load times issues we all have but its paltry compared to the $34 I paid for 12 months of the service last December.

Happened with my ACDC song Back in Black i want it fkkn back. how inconveniant

This app is US only, right?

Same to bad its not like the deals app 360 had where it would show the deals for that country

I wish they would show the songs that are on the album after clicking on the album to buy.

Right? I usually want to check which songs are on an album, and the only way to do that is to hit the price button, which leaves the app and sends you to the music app. Not the best approach for browsing the offers.

That's strange. My Music Deals app works with the functionality you are desiring. I bought two albums this week. Clicked on the link, showed all the songs and I could even preview the songs before buying the album. Are you sure your app is current?

I think he means being able to do that without opening the Music app. It'd be nice to be able to preview the album without leaving the Music Deals app.

Mix radio in India. Please make voucher available.

It's unfortunate that such an app is impeded by the lack of functionality of Xbox Music.

Does it also stop sending new deal alerts to deals that aren't actually new?

The deals are good. It's the app that is pathetic. It's your OS Microsoft, why can't you fix your own apps?

agree, the app is pathetic. It shou;d at least have info or links to info about the albums. I guess for $1.99 or less we're just supposed it buy it!!

The deals are good, but I don't understand why I can't use Wallet for the purchases. I don't want an X Box Music Pass, I don't want to add a credit card, or have the purchase added to my bill - I want to use Wallet! Nonetheless, I am about to uninstall this app since Microsoft doesn't want to take my money in the form that I want to give it to them.

Indeed. Aren't we due for another update at this point? We were promised every other week, after all.

btw, anyone heard anything about VLC, they said that it would be available this week but still nothing until now

Could be available. It was a possibility not a guarantee

Got some awesome deals, loving this app. I'm Rick James Bitch, enjoy yo self. lol

Damn bring xbox music to India !!! V dont want iTunes

How about an update to the x box music app

Where's the vlc ??? This week is almost over

Can someone get music deals on a Mac? My mom really wants in on these deals. She's 80, and is entrenched in their system.

The app only shows you the deals, the actual purchases still go through the Xbox Music Store. Meaning so long as you can access that to make the purchase and listen to the tracks (I.E: The web version of Xbox Music), anyone can still enjoy the deals. The app just makes it easier to find and to track the deals, but the offers aren't exclusive to the app.

I have never purchased music from the Xbox Music Store. Are you saying any music purchased is not available to download to other devices? It can only be streamed?

Purchased music is available for download on compatible devices. I just don't know the full spectrum of devices that are officially compatible. Windows and Windows Phone 8.1: Yes! Mac OS X: Unsure, might be limited to website. iOS and Android: I think music can be downloaded, but only when sorted into playlists and when a playlist is marked "available offline." Chrome OS, Linux and Other: Streaming via web browser only.

Thanks for the answer. I like putting all my music on my NAS. Looks like this is not an option.

Not something I need right away but thanks.


Guys off topic but.. Which should I buy..ps3 or Xbox 360?

Neither. Get a PS4 or XB1.

This is only for the more 'tech savvy' US again... Explanations on a postcard?

I broke my new coloud knock headphones which I bought yesterday
Windows Central Newsletter
Get the best of Windows Central in in your inbox, every day!
Thank you for signing up to Windows Central. You will receive a verification email shortly.
There was a problem. Please refresh the page and try again.