Microsoft and Nook Media update agreement; Redmond developing its own reader app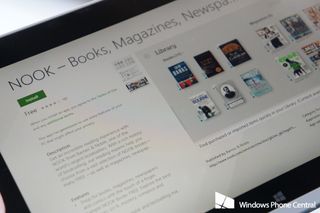 Microsoft and Nook Media (Barnes & Noble) have updated the agreement signed two years ago. According to a new 8-K filing by Barnes and Noble, Nook Media is now allowed to discontinue the Windows 8 app and cease development on the Windows Phone companion client at their discretion. Before you take to rioting in the streets, a replacement app is on the way for Windows 8, titled Microsoft Consumer Reader and we could well see a Windows Phone version from Redmond too.
Nook will instead be providing access to some digital content in Microsoft's new e-reader apps. Another such app in the works is the Microsoft Office Reader, which was shown off last year at an employee meeting and is said to provide users with access to online content, PDFs and textbooks. The Xbox team is also said to be working on a reading app, though it's unknown whether or not this will be the same as the Office Reader.
Microsoft releasing its own apps for reading will join the current Nook Windows 8 app, but if the Barnes & Noble is to pull support for its branded solution, consumers would have to download Microsoft's new reading app to access said content. And since this is Microsoft, you can bet to see a counterpart released for Windows Phone. A tweet published by the Nook support Twitter account also teased such a release (but we doubt they'll release a standalone app, rather integrating with what Microsoft publishes).
The original agreement didn't lead to a Windows Phone announcement itself, but we can't see Microsoft skipping over its mobile platform, especially when both Windows and Windows Phone are sharing code. The good news is we'll not be seeing lack of content from Nook Media, but it does look like the partnership will result in Microsoft releasing its own apps with Nook Media only providing access to some digital content.
Here's a snippet from the 8-K:
It's a rather confusing development, but we'll keep our eyes open for details surrounding these new apps from Microsoft.
via: ZDNet
Windows Central Newsletter
Get the best of Windows Central in in your inbox, every day!
Rich Edmonds was formerly a Senior Editor of PC hardware at Windows Central, covering everything related to PC components and NAS. He's been involved in technology for more than a decade and knows a thing or two about the magic inside a PC chassis. You can follow him on Twitter at @RichEdmonds.
"Microsoft Consumer Reader?" Really? Bleh.

Name sucks. But I hope they allow it to have easy access to content from other providers. Tired of one reader for Kindle content, one for books from O'Reilly.

There you go.. It should be called OneReader

Actually, that would be pretty awesome. Would be nice to have it all in one place on my WP and RT device.

Nope, seems like it's going to be called 'Xbox Reading' :) http://cdn0.sbnation.com/assets/3982279/xboxreading.jpg

This is a good idea and that OneReader doesn't sound bad either.

If they just called it Microsoft Reader - you wouldn't believe it was a Microsoft product.

I was going to post the same thing. Nadella needs to get a handle on everyone naming products.

It looks like a temp name for the App like a placeholder for legal usage, because the final name has not being decide yet. Its a common method the companies do when they want to sign legal papers with agreements early. Both companies did the exact same thing when they announced their first deal. Instead of Nook Media LLC they used a temp name of NewCompany (or something) on their announcement and legal agreement content. I highly doubt it they will release their Reader App under the "Microsoft Consumer Reader" name. :)

Exactly this, it could take awhile to decide on a name so placeholders are used. Problem is not many are familiar with this (in legal terms). Though on principle a placeholder name for a company that is signing a legal document will never work otherwise the whole contract wont be worth more than the leaf i just stepped on.

Yes, it is seriously a very lame name. Come on Microsoft what is wrong with you. You come up some great names then screw up with lengthy, boring, bloated, names. Get with the program. The mere fact that this is desgned for general public consumption it should be simple and easy to remember. If you are designing this for IT guys at the enterprise level then you can go with one of you 10+ word product names. But, this name makes it a loser out of the gate. What about just "View" or just "Reader" (although the later may be confusing wtih the "Readling List" app). "Hey Joe see the new Microsoft Consumer Reader app?" - Yeah that rolls off my tongue like chalk.

It's a placeholder, chill out.

Call it Cortana Reader, and have a feature where she'll just read the book to you. "Cortana, read Moby Dick."

Well, Microsoft aren't good in branding. :|

Ever since they signed an agreement, all we got so far was that Windows 8 app. What was the point in the B&N deal anyways? And yes, I read the article and title...

It is far more than just the modern Windows Nook App (and its content of course). The key behind the whole agreement was the Microsoft Account integration on Nook Media. Microsoft was super smart in this subject, they implemented nicely with account merging. In a sentence, Nook became the "unofficial-official" digital NewsStand and Book Store for Microsoft Ecosystem, a critical aspect of a digital ecosystem that Microsoft failed to deliver themselves. This agreement looks like to be the "Step 2", basically clearing things out. Microsoft will directly offer the UI and UX on the Reading Apps, all digital content owned on Nook will be transferable/retrieved using your Microsoft Account. There is no need for Nook Apps anymore. Microsoft will now have an official NewsStand and Book Stores for their ecosystem without having to start from scratch. To me it looks like a "Step 3" will follow later on with Microsoft announcing a complete buyout of the Nook Media, which is now a separate company from Barnes & Noble.

Exactly, its like begging; please stay with us! Nook is just another app like many others. Instead of this pointless retention beg, Microsoft should focus on Banks and other businesses to convince them bring their app to Windows and Phone stores -- for the first time -- in a LONG LOONG time!

+1, bring the (big and small) banks and you open upto a whole new demographic - Those who use nothing but apps or don't like using the browser on their phones to do internet banking. However there are already a few big names in the store i.e rbs, Halifax, natwest.

I have a magazine subscription with through Nook! What will I do!

You need to do nothing special. Just make sure your Microsoft Account is associated with your Nook Account.
All your content will transfer over when the time is right :)

This will be a glorious day. I have two nooks, and my content follows me between them and my computer desktops, but my Windows phone has no reader that synchs my B&N content. So currently my choice is to buy Amazon content and use the Kindle app, or break the DRM and use a third-party reader. I've never seen the point of MSFT investing in Nook and not having a reader for the Windows Phone platform.

Finally! I talked about this sort of before in the forums. Microsoft really does need their own reader app. And I thought using Nook would be a great way to do it. I originally thought they should just buy Nook from Barnes and Noble just for the Books. But signing a deal to use their digital content is way more feasible. They should of done this when they first made a deal with them...

As I mentioned in another post below, Microsoft already did have their own reader app. It was on PC and Windows Mobile devices around 2009/2010, but they literally stopped supporting it, turned off the servers, and anyone who used it got stuck with content using MS' proprietary .LIT format that's not readable on anything else.


Microsoft Consumer Reader, seriously?

I don't believe this refers to a app name but instead the core reader technology that would be integrated in various apps.

Let's hope so. But it is easy to imagine MS coming up with some bad name.

Microsoft consumer reader? This brings back memories of the Microsoft Reader app that I had. Microsoft stopped supporting it, in fact turned off the servers around 2009, and I ended up losing a couple of books I bought in their DRM .LIT format. So yeah, the company brings up a sour taste with the history of their previous efforts; that's turning into a familiar refrain these days.

I'm going to be so hip with my Microsoft Consumer Reader /s
That name seriously?

I hope their books are cheaper than Nook's.

Why not just call it books or bring back reader? And then just integrate the B&N content into their "store" like Xbox music and video?

How about Xbox reader or Xbox books

OneBook or OneReader surely?

Maybe OneShelf? OneLibrary (eh)

What is Windows 8 Phone? Something like HTC HD2 running Windows 8? Certainly not a Windows Phone 8.. I hope Microsoft is chosing the deserving partners..

Yeah, clearly an indication they were never really serious about WP. Probably why, I'm guessing, Microsoft thought to make their own reader instead of relying on BN

Really... NOOK! The eBook war is over and Amazon won. Its past time for MS to mend fences with Amazon so we get updated readers on our devices.

Lol. Amazon didn't "win" the eBook war, but merely the "eReader war". Nook is far better in both selection of books and hardware, in my experience, but due to Amazon being first and making a name for themselves with Kindle, Nook lost, even after adding the Play Store to their tablet eReaders. Nook is still backed by Barnes & Noble in their content selection, and their Windows Store app is far better (the Kindle app fails to open numerous books that the desktop edition opens, but the Nook app opens some Nook Device Restricted content that not even the Android apps could open. Not to mention the ability to import books & PDF's). Their book formatting seems better, I.m.o, and the interface is nicer. Nook is essentially the underdog. They have the books, the hardware, and even the software. But due to consumer knowledge (or lack thereof), they are constantly underrated and Amazon is chosen in favor over them.

This year end is gonna be great for wp, even the past year end was cool for us.

Why not resurrect the Courier name and use it for its e-reader app? If its meant to be a funnel to deliver content, eBooks, audio, newspapers and magazines, I think Courier would suit it perfectly.

I like the courier name for the newstand/reader part of the service. Include something like Amazon's whispersync tech and you've got a winner. It could challenge Audible and I've felt from the beginning that this was a play that would allow Microsoft to go strong into educational settings too. Posted via the WPC App for Android!

The Nook reader is not overly awesome by itself. Poor bookmark support across devices and limited customization on the nook hd drive me crazy. The nook app store is a joke. Now they rely on google play. I feel like BN never wanted to develop Nook as an app or platform. They just wanted to sell eBooks. Maybe with Microsoft developing a proper reader app we will see the BN library paired with a phenomenal reader app to boot!

Xbox Books. Achievements for reading. That's what they should do. Schools will love it
Kids will live it. I will love it. Let's make it happen, Microsoft.

Nice Posted via the WPC App for Android!

Being an actual user of both a Nook and the Win8 Nook app..... I bought a Nook and use it as a "ta-da" book reader. Apps are not important to me, and yes I know they're important to others. But on an e-reader? The Win8 Nook app is, IMO, one of the best and most useful apps out in the wild these days. Hope it, or some equivalent, stays with us for a long time. I do wonder what the fruits of the B&N / Microsoft agreement were meant to be. Anyone?

Isn't Nook just available in the US? I'll stick to my Kobo thanks.

Yeah, pretty much. I registered for an account and can't buy anything :P I could if I spoofed my IP address and faked a billing address, but it's not worth the hassle for a company living in the 80's

That "some" in front of "digital content" worries me. Makes it sound like I won't get all my books and magazines like I do with the Nook App.

I work at Barnes and Noble in their digital education group and we are also building an ebook reader for multiple platforms with the emphasis being on textbooks and not "recreational" books. So talk about making things even more muddier and confusing. There's multiple reasons why nook and various B&N technology initiatives around reading are struggling and losing ground to Amazon and the likes. I think this might be a great move for Microsoft and ultimately for consumers.

B & N bring able to focus purely on content helps them accelerate progress. That way the flood of windows 8 and we devices will serve as a boost to the bottom line. Posted via the WPC App for Android!

I can buy Amazon books, but B&N refuse to sell globally so they'll lose in the end.

"MS consumer reader" lolz, with that kind of name= big fail.

I bit the bullet and left Nook and bought a Kindle specifically because of their lack of Windows Phone support. I'm happy with my Kindle now, this came *way* too late for me.

I think it will be under the One or Xbox brand.

This is so late its like trying to close the barn door after the barn burnt down and was replaced by Condominiums. The original Nook was superior to the Kindle in many ways. But its lack of mobile support, dwindling catalog caused my family to all go Kindle. This is another example of the shambles that Balmer made of mobile support. Sad really.
By the time MS actually launches their own system all the B&N customers will be gone. Maybe they can attract some new ones but what can they offer to compete with the Amazon ecosystem?

Will see I have a kindle I rarely use. Maybe I'll #maketgeswitch

Will the new reader be able to read .lit formated books?

I've been a Nook user for years and have a Nook Glowlight, Nook HD and a Kindle Paperwhite. I am not optimistic about this venture: - Kindle and Barnes and Noble staff have years of experience regarding books and magazines and they know what readers want, where Microsoft knows software. Even then, Microsoft has a history of taking great software and making it worse, as it did when Zune became Xbox Music. - Microsoft typically doesn't make hardware and I suspect a dedicated e-ink reader is not part of there plans. - Nook customers could go to Barnes and Noble for assistance, Amazon has "Mayday"support but I don't see Microsoft providing that level of customer service. - Microsoft has a history of not supporting their own Windows products for Windows Phone, for example it has been almost a year and there is still no Reading List app for Windows Phone. - Microsoft is entering this game very late. Sony just left the American ebook market, Nook has been a failure, Kobo is about to have real trouble if they can't renegotiate contracts with publishers and Amazon is entrenched. I really want Microsoft to succeed. I love Microsoft products and I don't want Kindle to be the only game in town. I just hope they put people in charge of this project who know what they are doing.

I have the Nook windows 8 app on my Lumia 2520, and highlighting does not work right. From postings, it seems to be an issue. Otherwise it is a nice app. Hopefully Microsoft will get it right.

I'd sure like to know what the time table for this app is. I switched from Apple products (as well as a Nook reader device) to a Windows Phone as well as a Surface tablet about a year ago. In that time the Nook app for the Surface hasn't improved much at all and the app for the phone never meterialized. As happy with the switch as I have been for the most part, this is one area that has been very dissapointing. The news of this app sounds very promising but Microsoft seems so slow getting anything out.

They need to do something like this since Kindle shows no love for windows. Apple and Android both can access their personal books and Kindle also converts for you (would be nice if Onedrive had this option). This will help gain traction imho with the reading crowd I believe.

I wonder if Nook is still going to maintain their Android and Apple apps?

The Nook app was among the best for the Windows tablet ecosystem. I really liked the ability to read periodicals and local e-books. It'd be a shame to see it mothballed. On the upside, I'm really excited at the prospect that Xbox will finally release its own reading service to round out their entertainment options. Music, movies/tv, and now books to make them really competitive with Amazon, Apple, and Google.
Windows Central Newsletter
Thank you for signing up to Windows Central. You will receive a verification email shortly.
There was a problem. Please refresh the page and try again.