Microsoft to offer Windows 7 and 8.1 business support for limited number of Intel Skylake PCs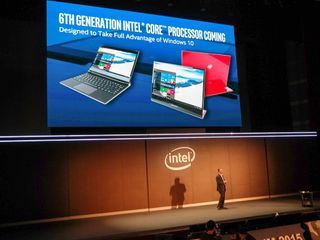 While a number of business and enterprise organizations are upgrading their PCs to Windows 10, Microsoft is also offerings customers who may not be ready to update a way to get new PCs with Intel's sixth-generation Skylake chips that can run on the older Windows 7 and Windows 8.1 operating systems.
Microsoft's Windows and Devices head Terry Myerson explained why Microsoft is making this move, stating that it knows many businesses continue to use Windows 7 based on its reliability and compatibility with older apps and systems:
Microsoft plans to release a list of PCs with Skylake processors that will officially support Windows 7 and 8.1 for those businesses:
Myerson also offered an update on its support dates and policies for Windows 7, 8.1 and 10:
"Windows 7 will continue to be supported for security, reliability, and compatibility through January 14, 2020 on previous generation silicon. Windows 8.1 will receive the same support through January 10, 2023. This includes most of the devices available for purchase today by consumers or enterprises.
Going forward, as new silicon generations are introduced, they will require the latest Windows platform at that time for support. This enables us to focus on deep integration between Windows and the silicon, while maintaining maximum reliability and compatibility with previous generations of platform and silicon. For example, Windows 10 will be the only supported Windows platform on Intel's upcoming "Kaby Lake" silicon, Qualcomm's upcoming "8996" silicon, and AMD's upcoming "Bristol Ridge" silicon.
Through July 17, 2017, Skylake devices on the supported list will also be supported with Windows 7 and 8.1. During the 18-month support period, these systems should be upgraded to Windows 10 to continue receiving support after the period ends. After July 2017, the most critical Windows 7 and Windows 8.1 security updates will be addressed for these configurations, and will be released if the update does not risk the reliability or compatibility of the Windows 7/8.1 platform on other devices.
Source: Microsoft
Windows Central Newsletter
Get the best of Windows Central in in your inbox, every day!
That's exactly why I think people are crazy to install windows 7 now, it's ancient in OS terms...

well it won't be stable once that chipset with legacy drivers starts crashing on you will it as it will invetiably happen due to its ancient achitecture will it?

Windows 8.1 is just as stable and far less ancient.

Exactly. Precisely why we're not upgrading right now - and we've got skylake items coming in our refresh. Glad to hear this.

Those support policies are a poor move for consumers (i.e. not businesses). I've happily been able to upgrade my computer in the past by swapping out the motherboard and CPU only, so I could continue using my existing Windows installation as I was before but on faster and newer hardware, without having to get a new copy of Windows. That worked perfectly moving from 2008 era LGA775 to Haswell in 2013, Windows 7 simply installed the necessary drivers for the CPU and continued exactly as before, just a lot faster. There are good reasons to not want Windows 10 (plenty of games refuse to run thanks to missing dll files) so blocking the hardware upgrade path for older versions of Windows will cause problems

They aren't blocking it. They're just saying you'll have to do your own integration.

they cannot be expected to support every hardware forever just to please a minority against the proper business decisions. Nobody does this. Not android, not iOS, not ever. You get a time window which matches the life of the device. Since windows licenses are per device, not granted to you, this is a non issue. Besides you're not getting the point: consumers who buy a pc will get it with 10 because nobody is going to sell them something with a chipset that isn't supported by win 7 and has tons of problems, can't properly manage modern battery life, and can't function under SOC constrains. You're basically arguing DOS should support an SOC skylake because that would be consumer friendly? They are not running a charity.

Pretty ironic. They already have a terrible time trying to support the Skylake processors in their own flagship products. The Surface Pro 4 and Surface Book reliability records are just catastrophic since launch and the culprit is mostly the Skylake support.

To be fair it's not just skylake support. Windows 10 is half baked and drivers are sketchy at best. The sp4 suffered for that.

Lol yet they seem to blindly pass any PC as fit for w10 duty when in reality unless you disable performance features or have to relay on external peripherals that dont have driver problems thats the only way to get it running on some PCs

Its about Enterprise users not consumers many businesses have structures that wont run on Windows 10 at all and redevelopment is extremely difficult and costly. So thanks to Microsoft's awareness we in business have some time frame to implement changes within our IT department.
Windows Central Newsletter
Thank you for signing up to Windows Central. You will receive a verification email shortly.
There was a problem. Please refresh the page and try again.