Microsoft to offer Windows Update for Business as a free service for enterprise devices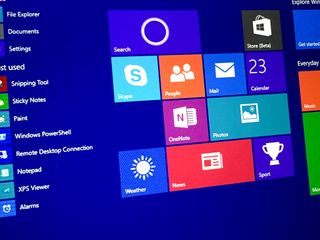 At Microsoft's Ignite IT pro conference, it officially announced Windows Update for Business. It will be a free service offered to Windows Pro and Windows Enterprise devices that will give IT employees more control over how they offer updates to Windows 10 used in the business sector.
Microsoft already offers Windows Update as a free service for the consumer versions of the OS, which allows the company to quickly sent out security patches and bug fixes to 850 million Windows devices. Microsoft also offers update solutions for Windows business users, but the options allows businesses to select which updates they want to install to their devices. Microsoft says this is not the best solution. It says:
The new Windows Update for Business service will allow enterprise users to offer the most up-to-date versions of Windows 10 on their devices, while still giving IT pros control over which updates can be installed. The features include:
Distribution rings, where the IT Pro can specify which devices go first in an update wave, and which ones will come later (to ensure any quality kinks are worked out). Maintenance windows, where the IT Pro can specify the critical timeframes when updates should and should not occur. Peer to peer delivery, which IT can enable to make delivery of updates to branch offices and remote sites with limited bandwidth very efficient. Integration with your existing tools like System Center and the Enterprise Mobility Suite – so that these tools can continue to be that 'single pane of glass' for all of your systems management.
Microsoft says this approach should help businesses cut costs in the management of their devices, while still giving them the latest Windows 10 updates. They added, "It's part of our intelligent cloud – we will update and maintain Windows devices for you, while still giving you control."
Source: Microsoft
Windows Central Newsletter
Get the best of Windows Central in in your inbox, every day!
Where did the 850 million come from? Surely there are more Windows Vista, 7, and 8 users than that.

Consumer, not business users.

Translation, delays in IT departments will slow Windows 10 adoption.

Additional translation: Once you're on Windows 10 you can no longer block updates, however we will allow you to A/B test them first. Not sarcastic, I think it's a good thing that you can no longer block them indefinitely.

If they can make at least 50% of those 850 million to upgrade to Win 10 in the first 2 years will be a good achievement...anything more than that will be bonus

I think almost all of the 850 million people will upgrade to Win10. I am predicting a number which is closer to 75%.

I think Microsoft are as well. They expect 1B Windows 10 devices in two years, which when you also count Xbox and business devices (and a few phones and some IoT) you'd be about right.

Does this in any way mean that they will extend the "free upgrade" to businesses?

Id assume it requires one of their contracts

So , now from where exactly will they earn Money?

They already had something like this for free called WSUS. Article doesn't say what the difference is.

If universal and x86 apps are sold from the app store, than they will make some money there. They have other services that they make money on. Bing is integrated with windows. So, they will make some ad money there. People can still go to google.com, but any search from within windows will use bing plus many people never download other browsers and don't switch the default search engine in teh browser. They are doing what google is doing. THe OS is now just a way to get people hooked on your ecosystem and they will make money from selling addon services and displaying ads where appropriate.

Almost every new PC comes with a Windows license, there aren't a lot of people who upgrade Windows... they just buy a new PC with you know touch screen instead of the old good fashioned gaming monitor. If manufacturers keep making better designs evetually enough people will buy new devices with W10 licenses. I bought an upgrade license from W7 to W8, the end result is I liked enough that I bought a tablet because I'm not ready to buy a new laptop to replace my non touch laptop... in the meanwhile I bought a desktop without touch screen and now I'm thinking that it was a mistake... waiting for W10 now for my new laptop.

What phone is that in the photo.?? O,o ..

Probably Lumia 640 but I'm not sure.

So thats why I suddenly received updates on my whs2011 that were published on w7 from a month ago

I hope they overhaul how updates are handled by SCCM because it gives me the shits on a daily basis!

As a power user, I want this on my home pc.

Ah, Windows Updates, the PAIN of being an IT person... Another WOW by microsoft, so Windows updates (to fix bugs and security holes in the products you already paid for) is going to be free ? Really ? Something that SHOULD be free in the first place and they are thinking of charging for it ? This could be a game changer when they decide to that across the board for home users and corportate users. Companies when it comes to PCs look at the TCO (total cost of ownership), so if Microsoft charges for the OS, then will charge for updates, companies will start looking at other options, like iOS and Linux. This is another thing that Microsoft would shoot them selves in the foot if they start doing it...
Windows Central Newsletter
Thank you for signing up to Windows Central. You will receive a verification email shortly.
There was a problem. Please refresh the page and try again.