Microsoft offers a workaround for a Windows 10 Preview installation bug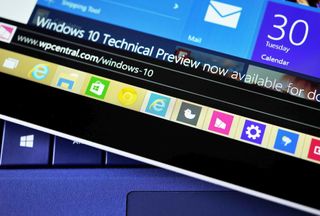 Microsoft has posted a workaround for a bug that's affecting some folks who are trying to install the current 9879 preview build of Windows 10. The problem came up after a patch for the build was released last week that was supposed to fix frequent Explorer.exe crashes.
In a post on Microsoft's community forums, Windows team member Gabriel Aul said that two bugs were causing about 12% of the PCs who tried to install the update to fail:
In build 9879 we introduced some new System Compression code that systems with SSDs can take advantage of to reduce disk usage by the OS. In some cases the logic for low-space detection gets inverted, and we compress automatically as a background operation.
On PCs have had system compression enabled, an additional bug with how the filesystem tracks deletes caused the installer to think that the temp files failed to extract correctly, so the installer fails because it thinks it cannot complete.
Aul also posted a workaround for those users affected by this problem
Restart your PC
Open CMD.exe as an Administrator and run: compact /u /exe /s:%windir%\winsxs\filemaps
Immediately afterwards run Windows Update and Check for Updates
Install KB 3020114
Restart when prompted
Aul added that if this problem had happened on a shipping version of Windows, they would have simply pulled the update from circulation, However, he wrote:
Aul said thanked the Windows Insider members for testing Windows 10 and said that the development team appreciated their patience. He concluded by saying, "The good news is that your help is allowing us to find and fix these issues much faster than in the past, which means that the final product will be higher quality as well as having features shaped by your feedback."
Source: Microsoft Community, Via Mary Jo Foley (Twitter)
Get the Windows Central Newsletter
All the latest news, reviews, and guides for Windows and Xbox diehards.