Microsoft to open datacenters in France, publishes book on how the cloud can benefit everyone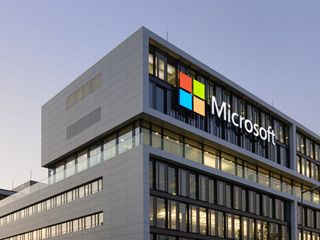 (Image credit: Microsoft)
Microsoft has announced plans to launch datacenters in France sometime in 2017 that will be used for its cloud-based services like Azure, Office 365 and Dynamics 365. It also announced the publication of a book, "A Cloud for Global Good" that offers ideas on how companies and the government can offer the cloud for everyone's benefit.
Microsoft's press release (opens in new tab) says that the company has invested $3 billion in European cloud-based services and datacenters so far, including new centers in the UK and Germany, the latter of which is expected to launch in 2017:
Microsoft's free online book, "A Cloud for Global Good" (opens in new tab), offers what the company calls a "framework" for how businesses can make the cloud more inclusive. Microsoft President Brad Smith (opens in new tab) says:
The announcements are part of Nadella and Smith's trip to Europe this week, beginning in Dublin and continuing to London, Paris and Berlin. Smith says:
Windows Central Newsletter
Get the best of Windows Central in in your inbox, every day!
Wow I think this is the first time I hear ms talk about Europe and some plans for us guys. It's a touching moment

the "cloud" is one big security breach just waiting to explode ..

All they are, are data centers for collecting data from European users to sell for profit.

If that was the case no business would bother with Azure since it won't do anything for them. Take off your tin foil hat and learn what Azure is.

It's MS not Google or Apple

exactly Bronze UK it's MS....not google or Apple....Why you think they gave away windows 10 for free instead of charging for it like every other build of windows? Becauase there is some back end profits happening...I.E. selling personal data.

As Apple and Google syphon off your email and credit card details and sell them onto China (see I can do this fictional tin-foil hat BS as well as you Stevie Adnams).

The backend profit comes from creating more Windows Store users and more revenue. In the process they can get rid of fragmentation and Win32, which both are real cost drivers. I can also safely say that I got not a single ad via email from Microsoft partners in more than a decade of live account. While emails sprained with the arbitrary errors I entered into my temporary Google account gave me 7 in three weeks. Ao, I think you don't really know, what you are talking about.

Literal expert from the book "We know, for example, that trust in the cloud is undermined when governments act outside the law to seize personal information in the name of public safety. And it is equally undermined by technology companies that use their customers' personal information to maximize profit without being transparent about when and where that information is used. We also believe it is the responsibility of technology companies that stand to profit the most from technology innovation to help protect people from exploitation and fraud. It is up to the companies that build and operate datacenters to be responsible stewards of the environment by focusing on energy efficiency and exploring how we can play a role in expanding the availability of clean energy."

Too bad there are none planned in Denmark. I work in a government agency, and we can't use Onedrive (or any other global cloud solution) because their servers are located abroad. Of course, I can't tell if locating servers within our borders in itself would be enough to qualify them from a security point of view...
Edit: I wonder if there isn't a market for locally managed Onedrive servers? Could such a thing even be possible? A sandbox environment controlled by and only available to a select group (employees) but with Onedrive functionality/UI...

Ever considered using Seafile or developing your own "cloud"?

I know a lot of companies don't like hosting in the states because of the governments access to that data. MS even changed some of its hosting options to choose Hosted anywhere in the world Hosted in a selected (available) location Hosted anywehere in the world not including X Hosting in your own country is a long wait as they have to set up data centres, Australia has slim pickings for some hosting options

People of Earth. Build. Your. Own. Cloud.

You will find that MS and others will begin to build data centres in countries where they may hit future compliance issues, UK, Germany and now France. Will hopefully create a deeper trust level between enterprise and MS and increase cloud adoption in the long run. Glad to see MS realising there are countries outside the US!
Windows Central Newsletter
Thank you for signing up to Windows Central. You will receive a verification email shortly.
There was a problem. Please refresh the page and try again.