Microsoft opens new Technology Center in Los Angeles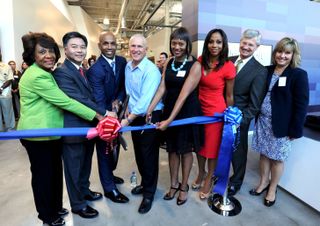 Last Thursday, Microsoft celebrated the opening of their brand new Technology Center in Los Angeles. The building was officiated with a ribbon cutting ceremony featuring local officials, non-profit partners, and consumers.
The new center is a 21,000 square foot building that shows off the latest Microsoft has to offer for consumers and businesses. The Silicon Beach Technology Center helps customers and partners to "experience how [Microsoft's] technologies enable them to seamlessly connect with colleagues all over the world."
Visitors can check out the latest hardware and software on display from Microsoft, which includes the Nokia Lumia 1020, Windows 8 operating system, and the latest Surface and touchscreen devices. Microsoft hopes that those visiting the center and seeing what the company has to offer will be able to witness Microsoft "innovation [coming] to life."
The new Los Angeles building joins other Microsoft Technology Center locations in the United States including Atlanta, Boston, Charlotte, Chicago, Dallas, Detroit, Irvine, Minneapolis, New York, Philadelphia, Reston, and Silicon Valley. Microsoft also has nineteen other locations word-wide.
If given the opportunity – would you want to step into a Microsoft Technology Center?
Source: The Fire Hose
I've been to the one in Irvine and if it's anything like that one, it will most definitely be EPIC!

I've been to the one in Irving, Texas for a Nokia Lumia 900 event,, and it was pretty cool... Very high security though.. Slightly intimidating...

MS must open stores in world's flagship cities. Sadly continues to be very much US centric. WP market share in US is merely 3.5%. In contrast across Europe is pushing towards 10%. As far as I know there isn't single store across Europe at all. Not even mention the most dynamic market in developing countries. MS wake up and smell the coffee!!!

I'm certainly not against opening Microsoft stores elsewhere, but this seems to be a case of the squeaky wheel getting the oil.

Looks like the have least a couple in the UK, and then 1 each in Paris, Munich, Cologne, Moscow and others.

I'm checking it out this weekend for sure

I will be checking out the one in Philadelphia I had no clue we had such a place!

Where do I send my resume?

Don't bother.. They probably don't hire felons..

Breaking hearts is not a crime.

Finally some L.A. Love (Luv)

Heck yeah! Totally checking it out this weekend. I've always wondered why Microsoft doesn't have a more declared presence in Los Angeles.

Who wouldn't,if it ever opens here in India.

They have at least one there, in Bangalore:
http://www.microsoft.com/en-us/mtc/locations/bangalore.aspx

I'm in L.A. Where is this at?

According to this website: http://www.microsoft.com/en-us/mtc/locations/irvine_directions.aspx the center is not only NOT in the city of Los Angeles, it's not even in Los Angeles County!! Instead, the new center is in Orange County in Irvine. I think the headline should really be changed because it's totally misleading.

Looks like Tim Cook next to that woman actress person. Lol

Wow, never heard of one till now. I will definitely check this out next time I go to LA!

Unfortunately, you'll not find this technology center in LA. It's in Orange County, in Irvine!

So is this different than a Microsoft store? Its location sounds a lot like the location of the stores

When I make my trip, I will be stopping here!

Us Only meanwhile apple will now have a store in south Africa - eastern cape - port Elizabeth All i can say is Microsoft you fucked up badly

Yeah, not having a store there is going to make them fall.

It looks like MS has a Tech Center in South Africa too: Johannesburg.

Here's the link with address and contact info:
http://www.microsoft.com/en-us/mtc/locations/safrica.aspx

XP, 7 Professional on my CAD System and 8.1 on my tablet! GO MICROSOFT... Only gripe I have is 8.1 Upgrade, but I am sure a patch will fix it someday soon its made my Acer 700Pro tablet run slower since downloading 8.1??? Love my Nokia 920 too and am planning on acquiring the 1520 if I can get an unlocked International version with 32G and Qi Wireless charging instead of the crap AT&T is trying to pull...

Guys -- the Microsoft Technology Centers are generally not open to consumers (unless there are special events). You can learn more about them here: http://www.microsoft.com/mtc.

So what's the location (address)


Third from the right, the actress Holly Robinson?

I'd never heard of an MTC before. This gives a better idea of what a MTC is: http://www.microsoft.com/en-us/mtc/locations/video.aspx

I stopped by this event. The new center is located on Jefferson in Playa del Rey. This location will be back-ended by the data center at the Irvine location. Overall, an impressive space that highlights modern workspaces as well as MS technology.
Windows Central Newsletter
Thank you for signing up to Windows Central. You will receive a verification email shortly.
There was a problem. Please refresh the page and try again.