Microsoft patents novel way to make headphone jacks thinner
By Dan Thorp-Lancaster published
Headphone jacks may be gradually going the way of the dodo, but a new Microsoft patent could offer a novel way to keep them around on thin devices.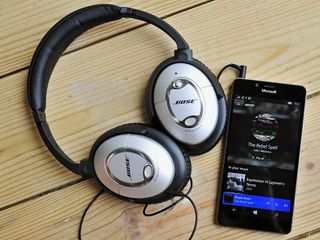 First spotted by TechSpot, Microsoft was recently granted a patent for an expandable 3.5mm headphone jack, referred to a "plug receptacle for an electronic device."
In effect, this would allow for devices like phones and laptops to be thinner than a standard headphone jack while still including one. The port would remain in a closed state when not in use, flush with the dimensions of the device itself. A 3.5mm plug could then be inserted, expanding that jack outward to accommodate it. In the filing, Microsoft demonstrates the mechanism working in three different variations, with either the front, back, or both sides of the mechanism expanding.
Apple was probably the most high-profile company to ditch the headphone jack on its iPhone 7, but Android manufacturers also have been following the trend as the industry moves to either make room for other components or simply make devices thinner.
An expandable headphone jack could at least solve the problem of keeping the 3.5mm port around on thinner devices, but it comes with the tradeoff of a more complicated design. Still, it's an interesting concept nonetheless. As for whether we'll actually see Microsoft implement this design, that's up in the air. Patents are filed all of the time for things that never see the light of day in shipping products. That said, it would make an interesting addition to a foldable device.
Dan Thorp-Lancaster is the Editor in Chief for Windows Central. He began working with Windows Central as a news writer in 2014 and is obsessed with tech of all sorts. You can follow Dan on Twitter @DthorpL and Instagram @heyitsdtl. Got a hot tip? Send it to daniel.thorp-lancaster@futurenet.com.
Microsoft will license this technology to Apple and Android manufacturers obviously, since Microsoft doesn't have its own mobile platform.

Nowhere does it say this is for phones. Microsoft has surface products that could use it. Also, if they license this to Android manufacturers and/or Apple, good for them.

Nothing in the patent drawing looks like a phone.

Good job too, 'cause this fragile little thing is clearly a bad idea for using in a device for all seasons. Here's an idea, stop making phones stupidly thin. Give us something with a bit of that good old build quality. Something to make the floor tiles fear the phone for once, not the other way around. I miss Nokia. It's the only thing that makes me occasionally think Android might be something I could try again. Not an idea that my wallet would ever back up I'm sure, but... Nokia made such wonderfully sturdy handsets. Room for proper ports on those things.

amen. Tired of these thin phones. Thin just for thin's sake. I'll bet iPhone users would trade 2mm of thickness for more battery life and to have at least one iphone in existence that doesn't shatter at the mere thought of dropping it.

That's why the SE is so cool. The design is classic!

thats why I have a Samsung Note 4. hate the iphones

Thinner phones are lighter and easier to hold by children and weaker individuals thus increasing the number of people who would use the phone and overall usage time in general. It's not an asthetic decision, it's a business decision.

Easier to drop and damage by children and weaker individuals you mean. Have you seen the level of pading applied to tablets etc. designed for children? They are never slim, always majorly robust. I'm not sure your thinking is echoed in industry.

As if apple would be interested in holes again...

I can't wait till they remove even the single USB C port.

That is what USB-C is for. This is not needed.

Except for the millions of headphones that need a dongle for USB C. This is a much better solution.

I rather deal with a dongle than a piece of "mechanical" that has more potential of breaking with moving parts.

haha well, sounds like Apple is your company then.

Uh, aitt... a headphone jack doesn't have moving parts also the dongle version would be the exact same thing. Your comments doesn't make sense.

Except for those of us who have excellent wired headphones that sit at a desk all day with headphohes AND charger plugged in all the time.

Whatever happened to their battery patent which allows battieres to be inserted any way? https://www.cnet.com/news/microsoft-tech-lets-batteries-load-in-either-d...

I've seen those dozens of places, controllers, mouse peripherals, remotes, etc... You just have to pay attention 👀

If you logically look at the writing, MS promoted the death of its own phone. Unlike everyone else, they offered no deals for Cellular companies to carry it's products and the only way to obtain a Windows phone was to purchase an unlocked one from their site last year that they buried 3 months later. In the end, they are after all a software company and it appears that besides selling mice and keyboards they would like to stay in that market...regarding thier own laptops? These also have been created well, but at a price that will not sell in large quantities, but to bring up laptop manufacturers designs. cheers, SEADRIVE

Microsoft is not looking to sell lots of Surface devices. They are wanting to be a low volume, premium device maker, like Apple have done. They don't want to be like Dell, where its profit margins are so thin, that the only way to make money is volume. And Surface is/was designed to be proof of concept to other PC makers, this is what you can do with Windows. For the Surface Studio, they are charging 1000s for the entry level, and although MS had modest sale targets for it, they exceeded their targets easily. Imagine the profit on the SS costing you 2000-4000? Apple's iPhone generate the majority of the smartphone industry's profits, but they have less than 50% market share. There are no shortage of people willing to pay $999 for Apple's iPhone X according to the news.

Look I started with an Apple 2C+ in 1987- 88, but by 1993 when I got my first Microsoft Windows 3.1 machine, I was hooked on Microsoft. It is because Microsoft products are easier to manage and maintain, with upgradability to most things. Apple products are good for specialized equipment, and used accordingly, especially when it comes to computer imaging, and insurance. They are both hard work, and I plan on returning to them after a fifteen year battle with traumatic brain injury.

It better come to the next device they create

Or else he'll post about it

- deleted - but not fully, thanks to the old WM10 app.

If I had to choose between this and USB-C I would rather deal with USB-C.

I don't understand this comment. Why would you rather deal with USB-C? The concept isn't for this to replace USB-C. The point is to have USB-C AND this headphone port.

One port to rule them all. USB-C is fine to replace the 3.5mm jack. No need to have both. Nothing stopping manufacturers from putting two USB-C ports on a device.

And what happens when you plug the charger into the headphone jack?

Do you really have to ask that? USB-C ports are universal. They can be used for anything. It won't be a dedicated USB-C just for headphones!

USB-C ports are universal? Do you know how audio works? You still need some sort of DAC if you're using the USB ports for audio.

Bleached, don't mind bebo, I think he has not been out of the cave since Noah sailed the ark.

The ark was a rowboat ;-)

That's what they make wireless chargers for.

Sure and you carry one in your bag for on the go?

It is a bloddy stupid idea, morew dongles = more connections to wear out or for more things to get lost. I notice a lot of laptops these days come swith very few USBs, you may get 2 if you are lucky and one of them is required to charge the thing up.

Eventually everything will be USB-C. Dongles are just a stop gap.

Maybe so, or until they fiond something else that is better. Hopefully it is not going to bother me for a few years, if mynew phone last as long as my old one then I will be fine for a few years and I will not replace my laptop if it goes belly up as i do nmot use it enoug, the same with my tablet. My deskmtop already have USB-c on it, but I doubt it will ever be used

Dongles in the sense of providing adapters for non-USB-C are transitional, but with the prolifieration of so many devices offering only a single USB-C port, you'll still need to dongle off a bus to plug in more than one USB-C peripheral. In that sense, dongles are here to stay - for a while ;-)

I rather deal with a dongle than a piece of "mechanical" that has more potential of breaking with moving parts. I would MUCH rather have an old fashion port. However if I had to pick I rather deal with a USB-C dongle than the component that could ponentially break and not work properly because of moving parts. Just like port covers. They always tend to have a potential to break off because of excessive use. USB-C and wireless charger is a much more practical solution to thinner phones. And eventually USB-C dongle has the potential to be made with high quality DAC. That would be awesome for audiophiles. 3.5mm inputs have their place but they are outdated tech.

I thought Apple already patented a thinner jack design with a flat edge? Writing is on the wall I can't see this making it to market with the trend being wireless.....although when did Microsoft ever follow the market...... Maybe the announcement from Panos for the Surface Notepad will feature this innovative design feature ;-)

The way wireless works in Microsoft world, it is best they stick to jack.

Meaning what exactly? Is your suggestion that Microsoft's bluetooth stack implementation is of lesser quality than those of other manufacturers? That's utter rubbish, if that's your drift.

Yes, that's the drift. Bluetooth and WiFi. Calling network calls from UI thread all around the OS, leaving UI unresponsive in the meantime, Bluetooth device management simply not seeing devices that are present or listing them connected when not, WM10 forwarding voice calls to non-connected Bluetooth devices, Miracast working rubbish with its own MS devices, Casting to not being to establish connection to whatever, but then suddenly once a month it works letting you know it's not even hardware-related issue. May be rubbish. But at least the perception of such critics explains why it remains like that.

This is similar to the network port used on my lenovo Y series laptop. The port expands when you plug a network cable in.

This was Apple's patent I believe:

But why, devices are already thin enough so now they could use this space for battery.

Exactly! In fact, IMO especially phones are too thin already

Yes. Phones are so thin people add a two inch casing over it.

LOL, guilty and my phone is not really that thin compared to others, or people will add one of those foldable caes on them.

That is one thing I do like anbout my P10 lite, the battery is pretty large, I went two days last week without charging it up, I could never do that with my old Nexus 4, even when new.

I want thicker devices. 1020 was the perfect size!

Why don't they just make it flat? You can just use an adapter on the 3.5 end, no need for a dongle.

That is exactly what everyone is starting to do. The new standard is USB-C. It isn't a big deal. Like you said, people might just need to use an adapter until everything is USB-C.

unless they standarize audio out on USB-C, i don't see it happening very soon with wired headphones. wired has a big advantage that wireless will never have. a wired accessory will have power for as long as your phone has power. the same is not true for bluetooth audio accessories.

I don't see that as being a wired connection's "big advantage", since bluetooth headsets typically provide battery life that far exceeds that of PCs and phones. The advantage lies in the elimination of bluetooth compression and the inevitable brief drops you experience occasionally when using bluetooth.

Bluetooth audio is perfectly fine for the vast majority of people. You see Bluetooth headphones everywhere there days. I don't hear any noticeable quality issues between Bluetooth and wired headphones on my S8. If you are that picky, then a phone DAC probably isn't going to be sufficient either. An external USB-C DAC would be your best bet.

"Bluetooth audio is perfectly fine for the vast majority of people." The "vast majority"? That's just a supposition on your part. Opinions on the matter clearly vary. I use both wireless and wired with a DAC, and the difference is night and day, IMO.

Not to me. The difference is almost imperceptible unless you are using high end components. I am not a big audio guy, but in that case a digital USB-C output will be ideal for an external DAC, right? Do you really think the majority of folks will find a difference? I am not talking about audiophiles either. The amount of people you see with Bluetooth headphones these days is a big indication that the sound is good enough. As the price of good BT headphones drops, the useage will increase rapidly.

My bluetooth headsets don't magically charge whenever I charge my phone though. I have to remember to charge another device. My wired headset will *always* be able to work as long as my phone can. Active noise cancelling headphones (real noise canceling) are expensive and make a big enough difference that you don't need to be an audiophile to hear. Wired vs wireless is a significant price jump, sometimes even up to 25%. Unless all phone manufacturers decide to either include a DAC or not include a DAC, you can't be 100% a USB-C hookup in your car or a specific set of USB-C headphones will work. And unless DACs are either always or never included in USB-C hookups in your car or on a set of headphones, you can't guarantee they'll work with any phone. It's. Not. Standardized. That will always be a disadvantage. You can't guarantee 100% compatibility between all accessories and phones.

You always hear these kinds of arguments when any obsolete begins dying off. I know the future is scary, but you will be ok. You really think we will be plugging anything into our phones in 5-10 years?

No, i don't think so. But I'm saying the replacement isn't ready. People will be forced to re-purchase products to achieve equivalent functionality to what they once had (possibly less). You are dropping the advantage of 100% compatibility amongst all devices and accessories. You are dropping the advantage of accessories that never need to be charged. It's not obsolete. You're just choosing one feature set over another and its only *arguably* better. Like I said, active noise cancelling headphones have significant price jumps for wireless that may even place it out of cost for people. Or if they already own an expensive pair, you just made their *just released product* obsolete for no discernible advantage. You're like a walking poster for how not to behave in the market.

I am not choosing anything, the market is. iPhone will probably not have any ports in a couple years and other manufacturers will follow quickly. At that point wireless charging will be faster and ubiquitous. Wireless headphones too. It isn't ready today, but in 5-10 years it will be and your phone will have no ports or any moving parts with an esim. This is just the start.

"i'm not choosing anything, the market is." seriously?

Yeah. The best selling phone doesn't have a headphone jack and never will again. It is only a matter of time before that becomes the norm. If you need a phone with a headphone jack, you have plenty of options today. Just be ready because that might not be true in a few years. The technology should be mature by then though.

Constructive comment : oh yeah, this is just like what oem ended up doing with ethernet ports on laptops, right?! 😎💖🗽

Not completely understanding things here. With one USB-C port, how do you charge your device and use your headphones at the same time without an additional dock or splitter of some kind?

Wireless charging or wireless headphones. It is 2017. We have the technology.

In my view, wireless charging is too slow and I use the headphone jack to plug into a speaker system, not headphones.

Yeah, I have the same feeling about wireless charging, but the new ones are faster. You can buy a Bluetooth adapter for your stereo for like $10 though or use a Chromecast Audio.

Two problems here, Wireless charging is so slow, come to think of it, three problems, a lot of phones do not have wsireless charging, Audio from cordless headphones is not that good, even the fan-daby-dozy apple pods are not all they are cracked up to be sound wise.

Good luck with that when you need to power your phone on the go...

Wireless headsets provide inferior sound to that of their wired counterparts which are of equivalent quality.

wireless charging stops working if you have a metal plate for a magnetic mount in your car. so wireless charging is 100%. and again, there are plenty of arguments provided throughout here that give wired headphones an edge over wireless. and again, you're asking for purchasing things that people may already own for no given advantage to that user.

Cars are starting to have wireless charging built in along with Android Auto or Car Play. I know the future seems scary, but you will be ok.

that's all well and good but doesn't address charging at work or charging at a friend's house. and again, if a new technology requires you to buy a new car, its not time to drop the old technology yet. Edit: I know eventually it will go away. I'm just saying its not time to drop it yet. Its the same mistake with dropping the floppy. It screwed over a bunch of technicians troubleshooting bootup problems because not every BIOS supported booting to USB yet. I get that for all the scenarios *you* want to use it, its great. However, there are still plenty of other scenarios where people use wired and you're forcing them to re-invest for no advantage. You can't do that if you want to succeed. If it requires re-investment, it needs to give them an advantage. If you can't do that, then you need to phase it out. Start releasing all the accessories and everything required but keeping the old one still there. I mean, yeah, you can simply go cold turkey and just force it, but that's a terrible way to do it. it only benefits those with money to spend and screws over those that don't have cash they can use to purchase things twice. maybe that's where we differ. I understand the technology is changing, but its cutting off the lower class from participating properly. i care about that. you don't. so, maybe we can stop arguing.

Poor people aren't going to stop advancement of technology. It will eventually reach them too. Headphone jack aren't going to disappear overnight. It will take several years.

So are we arguing the same thing then? It's not ready to replace the technology yet, but it will. That's the whole point. That's why it *doesn't* work for some people like the person you replied to. I don't even know what you're arguing *against* anymore.

You just answered your own question.

Excellent. They can use the patent in their imaginary phones!

I can see something like this wearing out after so many thousands of push/pulls, or if it got hyper extended in one direction, or the other, several times...
....
Cool idea if it was designed so that it can be replaced at least by someone with moderate technical skills, and parts would be available on EBay. Lol.

Exactly my point and why I'd rather deal with USB-C

They could go apple way and charge 29,99 for a simple replaceable part that costs ,99 to make

If people were smarter and wouldn't have bought all the crap they were fed the last few years, we now would have had phones with all these: headphone jack, usb type c, wireless charging, removable batteries, low enough thickness. Dongles are idiotic.

You mean like Samsung S8 and Note8 phones minus the removable battery?

Something like that. But still, more options wouldn't have hurt. Sealing the battery wasn't a necessary step no matter how pretty they try to paint it.

Nice to hear about some innovation from MS!!!! You know...it could be used for many things....why not a new phone....? Hmmm...MS?

Instead of making headphones jack thinner everyone should work on improving wireless headphones technology for better higher audio quality

I suggest looking at an iPod Nano to see just how thin a device can be and still have a full sized (3.5mm) headphone jack. You'd be crazy to want a phone that thin. Thicker ones than that bend. I understood the removal of the jack was more to reclaim space inside, not to allow thinnerness (I made that word up). USB-C, or lightning, isn't really any thinner, it can just be multi-purpose. USB-C with thunderbolt can support a dock that has multiple display ports, multiple USB ports, audio, ethernet, and power in all at once.

iPod Nano also don't have cell antennas, full size batteries wifi and camera... :-/

Maybe this is what it takes for them to get a headphone jack into perhaps a new Xbox One remote. Would LOVE to see that happen! My dog chewed up my current one yesterday, so as it turns out I'm in the market for a new one anyway!

3.5mm jacks can be used for anything that requires two conductors and ground. Some MIDI devices implement them now. Some of you are narrowly focused or clueless.

ONLY nobody cares about Midi sync or conducting expect for music producers and have absolutely no use for this when a regular 3.5 is suffice.

Concepts increases the expectations. Will MS stand upon their commitment about Surface/Foldable phone ?

Or people could stop living in the past and actually get wireless or USB-C headphones.

Nobody knows about MS. Maybe they will offer USB-C port in their future phablets !

I know, right? Apparently they haven't gotten the message: the future is fewer choices, worse audio quality for a higher price, and/or dongles. Get with the times, Microsoft! People don't want actually choices, they want you to be "brave" like Apple.

The main point is WILL IT BREAK? or will it break the phone or screen when its bent forcefully at a 90 degree angle. Theres a new magnetic adapter on ebay that solve these issues. and, well, theres also bluetooth. https://www.ebay.com/itm/1M-2M-Magnetic-LED-Micro-USB-Charger-Charging-C...

it appears to be a flexible material that just flexes out when a jack is plugged in. so unless it tears, it seems like a robust solution.

Please update app I like windows Phone so much

What happened to the 2.5mm jack? I feel like it should have a comeback

I was thinking about sopmething like that a few weeks backtalking to friend of mine, that it, M.S spied on me :) Bujt i really do not unstand this need to go thinner and thinner, i have a Huawie P10 lite phone ands to be hoest it is ample thin enough, i had a Nexus 4 before and it was fine as well, the only problem with my new phone is it is slightly longer than my old one. Ultra books and tablets, again do they really need to be so thin? The problem with making lpatops and ultra books so thins is the keyboard is awful, worse than normal laptops, feels like I am typing on a table top. Maybe we will go back to the ZX81 idea. Anyway, the thinner they are, the more fragile they are, plus they can chucked away with a pile of news papers if they get buried. :)

Yay, keep innovating! Just remember to cycle test this thing a million times, tug on it with some force, too, and actually bring this to market! Another suggestion would be to make the connector magnetic and open on one half of the side. That way, there is no moving/elastic closure piece needed, and yanking it while plugged in won't break things.

Headphone Jacks are a huge security issues. If you can restrict when a headphone jack can and cannot transfer data even audio securely remove it.

I guess we can blame TechSpot. They linked to a search it seems rather than the actual patent. MS has posted a new patent today and that's now where that link goes. This was a reply to a different comment. Not sure why it got attached to yours.

you can restrict it. you need to turn on options to require audio to automatically turn on when you plug in the jack. you need to explicitly give an option to allow assistants to respond to wired headsets. there are no protocols to utilize over the headphone jack to initiate any other actions that you don't explicitly need to allow in the first place (and are even given safety warnings when doing so). and those actions are all fairly locked down to begin with.

Windows Central, you linked the wrong patent. The link in your article is talking about consolidating idle virtual machines. http://patft.uspto.gov/netacgi/nph-Parser?Sect1=PTO1&Sect2=HITOFF&d=PALL... The site is simply a way to query a database it seems, hence permanent links don't really exist. However, the above link is better since it searches by patent number and not various search words which will vary in result over time.

So, if anyone looked at the patent, this is a lot less mechanical than you'd think. With the picture above, if you look at the implementation, the top and bottom half that would expand do so by being made of a flexible material, so no joints are involved. This seems like it'd be a fairly robust solution assuming the material doesn't eventually lose its elasticity.

There's a headphone jack and headphone that looks exactly like the 3.5mm but having a smaller diameter.
I see it in some feature phones in the past.
I don't know why smartphones never use them.

Having a headphone jack is a key must have for me. I am extremely picky on sound and wireless headphones just do not do it for me. Also I am concerned about more and more wireless time against my head.

Looks fragile. Would be better to introduce a flat rectangular slot.

that's a new adapter though. it doesn't solve the issue. you're just introducting another propreitary plug that requires an adapter or new headphones. the patent shows the material to be a flexing one, not a mechanical one. so its less fragile than it'd appear in only that picture. i suggest looking at the images in the patent.

My point is that perhaps it is time to come out with a totally new plug design that works with slim electronics. The old plug is so 20th century, time for a rethink. It does not have to be proprietary as the audio industry could set the standard. And I don't care how you sell it, flexing parts = fragile parts.

Perhaps headphones that connect via USB C could be an option.

The issue is that usb-c for audio isn't standardized. A set of headphones could work with one phone but not another. And thin is more fragile than flexible. And standardizing isn't simple. The industry doesn't just go, "let's do it this way." It usually takes years of competing designs.

Inspired by genitals and sex.

there's already cat-5 ports on laptops that do this.. it's nothing new.

the cat 5 ports aren't made of a flexible material. this doesn't operate the same way. they should really include the picture of the plug in use. it doesn't extend the way the ports on laptops do. those are mechanical, this is stretchy.

This isn't new, I think their application will be rejected
Windows Central Newsletter
Get the best of Windows Central in in your inbox, every day!
Thank you for signing up to Windows Central. You will receive a verification email shortly.
There was a problem. Please refresh the page and try again.