Microsoft publishes design guidelines for Windows 10 Universal Apps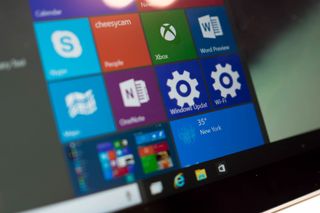 Microsoft has published its design guidelines for building Universal Apps on Windows 10. The new documentation outlines designing apps for Windows 10 on PCs, phones, and tablets.
The guide is split into three primary sections: Design basics, Guidelines, and Design downloads. Design basics covers the fundamentals of designing for multiple screen sizes. You can get a primer on different phones, tablets, and PCs, and follow Microsoft's process for planning an application.
The Guidelines section covers best practices for everything from animations to user interactions. It breaks down into articles on specific aspects of each section, such has how to add and delete animations, set up app contracts for location-aware apps, and more.
You can also download a number of templates to get started on designing your Universal app. The templates have date pickers, icons, and more. You can download templates for PowerPoint, as well as Adobe Illustrator. You can also grab the redliner tool for Adobe Illustrator.
Source: Microsoft
I hope the hamburgers aren't compulsory

They are 100% NOT compulsory. Pivots are still allowed, encouraged for when appropriate. It's up to devs to decide. In fact, there are less requirements now, freeing devs

Any little bit hint that there will be some hardware info in keynote for Lumia ....????? Just very eager to know ;)

100% no. I said as much in our 'what to expect' article. Sorry.

Man !! I read that but still expected. Atleast microsoft has some surprise that u came to know after being dere :) well its then just more waiting

So you read, but decided not to pay attention to what it said. What a nice thing to say to the writer /s

I would assume the required hardware for running Continuum on the phone will be in the next flagship, so... There's one spec I guess

They are just guidelines so technically none of it is compulsory...The hamburger is the SplitView control, the different states do a good job of making the app universal, no matter which way you cut it they make it easy for the developer to provide a nice experience.

Yep. Take the current Spotify app for Windows Phone. They basically gave two sh@!$ about the design guidelines.

Any app without a visible hamburger menu gets immediately rejected and faces lifetime ban.

I hope you aren't compulsory.

Microsoft Publishes Design Guidelines for Windows 10 Universal Apps: Actually Distributes Link to Google's Material Design site

Come on, Material is superior to this.

Come on, weaker troll following weak troll.

If only I was trolling. Modern was good, material is better. Adaptive is a step backward. Adaptive it's not. The touch UI is a poorly scaled set of desktop controls. If the desktop could work like windows, while touch worked like material then I would call it 'Adaptive'. Right now, it's apologetic at best. To the desktop for giving them modern 1.0 and to the touch users for forcing the desktop~ish on their touch device.

Link please? IMHO, this site has way too many internal links and way too few external links.

It's always after Source'. Always. In our app, it is literally the only one that says EXTERNAL under view links. But here https://dev.windows.com/en-us/design Our hyperlinking to internal content will not change, sorry. It is important for regular and new readers.

Internal links have never worked for me in the app :/

Thank you. I stand corrected. I have looked for external links many times and never noticed the separate area. I guess I am more accustomed to seeing external links being presented inline. Regardless, I appreciate your personal reply (and for not flaming me too badly). I am more than happy to adjust :)

Design guidelines: Google.com

So ...a text box, logo, and tons of white space?

Android :( http://assets.windowsphone.com/04e6b776-3564-4eb0-a4ff-5aef5053cbb7/Desi...

Can you get rid of that f**king god awful MetroPCS ad that kills the scrolling on my Icon? It's a modal (always on top) ad that prevent scrolling until you swipe the ad away vertically. It works like crap and it ends up freezing the page so I have to either refresh the page or just give up.

Have you tried the Windows Central app?

yes. using the app doesn't excuse the website from having issues, however. apps are just dumb versions of websites anyways.

Yeah the website doesnt look good on wp. Its not wp friendly

Agreed. But their app is very different than their website.

The app is useless for voting comments and finding links is a pain. It didn't work for the live blog yesterday. The website is necessary, but the ads are the most annoying ever. Incomplete app plus bad website made me start looking for other sources.

That particular ad is what made me decide to never view the website again. I'll stick with the mobile app (and never see an ad) from now on. That ad is the worst, haha.

Interesting. Guidelines for toggles show only those good looking rectangular toggles, not those ugly rounded ones :) https://msdn.microsoft.com/en-US/library/windows/apps/hh465475.aspx

I was expecting a single page with the words "Free for all".

Design ultimately should be appropriate to the context; good design guides can be so useful. Glad we have this now, and hopefully it'll be respectfully consulted for a good, cohesive Windows experience. :)

Nah, we will have some arrogant devs refusing to use a hamburger where it might be appropriate, and well end up with shitty and inconsistent apps in desktop mode

More work to do was doing my app with the Windows modern which I consider more, elegant than the hamburger reloaded of stupid effects that don't consider fluent in mobile environment where user wants quick info not transitions by millions before reach the info that look

When can we have second option for navigation-bar-less UI?

Um, where is the design guide? I went to the link for Windows 10, and only saw things discussing Windows 10. Nothing there about a design guide for writing Windows 10 apps.
Windows Central Newsletter
Thank you for signing up to Windows Central. You will receive a verification email shortly.
There was a problem. Please refresh the page and try again.