Microsoft pushes updates to Alarms & Clock, Office Preview apps on Windows 10 Mobile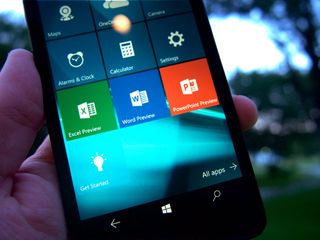 Following a stream of updates to a large number of Windows 10 Mobile core apps yesterday, it looks like Microsoft has a few more up its sleeve. In all, it looks like the Windows Alarms & Clock core app has been updated on Windows 10 Mobile, along with the touch-based Office Preview apps.
There's no changelog listed for Windows Alarms & Clock, but we wouldn't expect anything major, and it's probably mostly bug fixes. According to the changelogs for the Office Preview apps, however, it looks like Word, Excel, and PowerPoint have all picked up IME input support for Japanese, Chinese, and Korean. Additionally, both Word and PowerPoint preview now support text prediction on keyboards.
If you'd like to grab the updates, you should be able to pull them down from the Store on Windows 10 Mobile now.
Thanks for the tips, everyone!
Dan Thorp-Lancaster is the former Editor-in-Chief of Windows Central. He began working with Windows Central, Android Central, and iMore as a news writer in 2014 and is obsessed with tech of all sorts. You can follow Dan on Twitter @DthorpL and Instagram @heyitsdtl.
Text prediction in Office apps is a no brainer! In fact it should be enabled by default on all apps system-wide.

Yeah it's annoying how the keyboard is inconsistent now. In many apps including the Store itself, I can't do shape-writing anymore. The Office Preview apps can't even select or type text. This wasn't an issue in the first Windows 10 Preview. I hope they fixed it in this update.

UPDATE:
Ah! They DID fix it... To select text, you now have press and hold the word for a bit. Annoying, and I hope they remove the 'hold' part... but glad it works at least!!! I can also confirm that even though there's no OneNote update - OneNote typing NOW works. So it must be connected to the Word app. Also.. Word now has 'Smart Lookup' when you select a word... really cool.

When you hold, some cursor apear and than you can put in the right place like it was in WP8.0?

No... now you can just tap anywhere and it'll move the cursor (or you can use the nob on the keyboard to be more precise). To highlight a word, now you have to press and hold. In WP 8.0 and still in Win10 in many apps, it's just a single tap of the word. So I don't like how it's inconsistent in the Office apps. Hope that change it so it's just tap a word to highlight like in most other apps.

It's now just Android's Stock Keyboard.

Tap hold was there before. You can also double tap on a word.

I had a OneNote update yesterday that fixed the typing for me. The thing is, there is nowhere to see the recently updated apps, so if you don't catch it updating in the moment, you won't even know you had updates :(

I had a OneNote update yesterday, which made it faster and more reliable. Now you can actually delete notes and it had a performance upgrade. Maybe you updated it without knowing.

Dark theme is one of the most requested additions and would seem to be a fairly easy addition. Hopefully that shows up soon. My eyes cannot take much white for very long and these preview apps are filled with it.

Yea.. I hate it when cortana shows me all that white.. and the Outlook mail and calender apps, and the Office apps. It kills my eyes and my phone's battery.

I reported the OneNote issue in the Windows Insider for Mobile app, about text input being "broken" (the text cursor got text selection all messed up). I also attached extra information, like a recorded error reproduction log. Less than 23 hours later it was fixed in the next update in Store (yesterday)! Could be a coincidence, or there were a lot more reports filed about this, leading up to that problem getting the attention it needed. My feedback is still only received, not marked as solved or anything.

For this reason I'm wondering if they could simply enable swipe to type in every single language. The Office was always great at it, so they do have the information on every single word.

The Office apps also had a big bug fix. Previous versions would remove the entire top menu when a Bluetooth keyboard was connected (including the top left menu button). Today's update fixes that.

My Alarms tile disappeared from the Start and there is no way to bring it back!

Check to make sure the update completed and restart... That does the trick for me.

I use my old 520 and the native 8.1 app as my main alarm clock, I wish the buttons for sleep and dismiss were bigger, I am half blind and asleep and always miss the button. Maybe I need a old 1520 as an alarm...

I have the same problem on my 1520, the bigger screen doesn't help, it's very hard to discern snooze and dismiss, why the buttons are so small and lack a simple red and green color or something to distinguish them when I'm half asleep I have no idea. I've accidentally dismissed alarms many times and woke up late :(

I always set my 1020 as a back up alarm, I hate having 2 alarms its annoying, I used to use a Captivate as a alarm and I had a app that did big buttons like you said and I miss that, but my Captivate speaker blew and I gave up and used my 520.. Too lazy to get a real alarm clock...

I currently have an Samsung Galaxy S2 with Cyanogenmod (CM) 11. I have the option that when my alarm goes off, I shake the phone to snooze, which is pretty cool. Also, what I like about the CM alarm is that when I set an alarm, it shows a little pop-up showing in how many hours and minutes it will go off. It gives me a really nice idea of how much time I have left, especially when it comes to amount of sleep I have ahead of me. With Windows Phone, I have to do advanced clock/time mathematics in my head. :) Microsoft really needs to take a closer look at the cool features in Android/CM and mimic them and more. Features! Not UI elements.

I had a SG2 i777 and it was a great phone, ran Kit Kat like a champ. One day it just wouldnt turn on, I was sad, That was the last Galaxy I ever used the rest seemed lame to me.

Windows Phone can't even have a good Alarm app ¬¬
A phone that don't wake you up when it's turned off... I agree with you about buttons so small :(

It doesn't even vibrate when the alarm is ringing

im glad im not the only only who thinks it's too small. honestly i have bad experiences with the win10 alarms. there was a time when my alarm goes off every 5 mins even though i repeatedly chose 20 mins to snooze. the worse part is that i don't know if it was even a dream or not. it's really hard to identify bugs on alarm clocks because people will only tell "you only slept through it". i even question my own self hahaha

You can all thank me for the office updates. Typical i load all the office apps on my phone one day and there is updates the next. Keep them coming Microsoft!

Atta boy.Very kind of you. Keep up the good work.

Keep doing what you're doing. We're counting on you.

please sideload snapchat, kik clash of clan

I always believed in you. Keep making us proud.

Also, in the Alarm app update, is anyone seeing the error "There is a problem with RingtoneApp.WindowsPhone" when trying to select a sound from ringtones? I wonder if it's just me.

My alarm sounds disappeared

They also fixed OneNote, it work's well now...

Are you sure? I don't see it in my list of updates.

I noticed that I got updated today, I don't know if its an old update (because I turn off auto update). Try OneNote to see if it has improved, mine is certainly better after the update.

The last update made it better.. You can actually type now. But, it still has problems.. You probably just have the latest update that we all have..

I can confirm OneNote typing finally works! There was no update to the app itself strangely, but after updating the Word app, OneNote typing now works!!!

No, that's just from it's last update... W10 MTP doesn't yet notify us of updates, so it slips by you.

They broke it in Win10 for desktop. It's displaying doubles on each entrie.

OneNote!!! Needs major attention❕❕❕❕

It's still very nice though.. Without all the bugs it'll be perfection.

Kidding right? It doesn't contain all major features, long time available in other platforms.

Updating now. Does anyone know if they finally fixed all the keyboard issues in the Office Preview apps? I can't seem to type / select text / shape write / spelling in any of these apps. It's really annoying especially in OneNote when I'm trying to type quick notes, or in Outlook when typing emails. I'll report back once I finish updating.

Update: Still can't select and edit text... so it has not been fixed. Blahhhh :(:(:( Shape writing (swipe) finally works now at least. (using a 920)

Update #2: Ah! They DID fix it... To select text, you now have press and hold the word for a bit. Annoying, and I hope they remove the 'hold' part... but glad it works at least!!! I can also confirm that even though there's no OneNote update - OneNote typing NOW works. So it must be connected to the Word app.

Hadn't noticed that holding could be used, thanks. Double tapping a word has worked for ages

Tangentially: Did anyone ever download yesterday's update for Groove? And if so, what is the version number? Thanks. Confusing!

Circumferentially: Was there one? I never got anything.

I'm debating installing 10. But then with my desktop crashing almost everytime we run an app, I having second thoughts. Is it stable yet.

Yeah it is very much so. I am running it on my 1520. It's really smooth but more work can be done. My battery last as it normally would on a typical day, the apps are very responsive and there are no over heating problems.

Thanks. As say desktop version shafted my machine rolling back to 8.1. Sadly no real back up method on mobile.

You are right for holding off, too many bugs.

Dan, Can you list the new version numbers? With the Store not listing versions nor release dates yet, it gets confusing knowing what's been updated (or not).

Alarm added vibrate only ? Please ask me

Did alarm add vibrate only?

Hehe. This place is always comical

I wish Microsoft let us uninstall system apps. There are so many it makes a mess of the app list, and it's irritating.

There's a few apps that constantly try to update but always fail, like drive+. And I can't install lumia camera so I'm using windows camera which can't do raw files :(

Is Windows 10 for Mobile ready for everyday use yet? I am considering buying a second phone just to test it out.

It's definitely ready now. Especially since the Office Preview apps finally work properly. It's really fast too. I'm using it on my daily driver (Lumia 920) and have had no issues.

My l920 is my second phone, using my old e63 as main now as I get 3 days battery life.

Use it on my second device, 630. It's workable now. Although very slow on my 630. Too slow really. Battery life is good.

After using it since Saturday, I've chanced my answer from "yes" to "no". There's a bug in the start screen that'll cause it to crash often, or not load at all. Everything else is stable and nice, but the Start screen fails for me 100% of the time since Monday.

Do you have a background set? I switched mine off and it's become quicker, more stable and with no resuming.

Call and SMS filter has been updated to block and filter and been merged into the messaging app via the menu

I even received for mail and calendar, news and weather apps

The one thing I wish Microsoft would work out is, getting the alarm still to work even when the phone is turned off. I have phones from over 10 years ago that sounded the alarm when the phone was turned off and it even asked 'turn phone on'. You could say yes or no, but if left the phone stayed off until you turned it on. Come on this is modern technology and i'm sure this could be made to work, as I bet I'm not the only person who would like to turn there mobile off overnight and still use the alarm. Also is there a good reason windows phones have to turn themselves on to charge?

No reason that I know off, Android (and iOS?) phones are capable of that too (which as you mention, was available in my LG flip phone from 2003).

Your phone was not turn off it was in a low powerstate, which could work, but it could be like holding the power button gives t option, off or deep sleep mode

Alarm app sound selection broken after the update.

I did a hard reset and went thru the whole rigmarole again...., and was wandering why it took longer than before.. Then I saw a these new apps getting updated... The phone is really fast now

My alarm sounds disappeared. Only thing there is "default"!

Any update to Cortana. Bug : Send text 2087656 sends to 208. (example number).

I can't choose ringtones for my alarms but I can use one of my songs.

News app live tile is not fixed. The animation freezes in the medium tile and non existent in the wide tile!

If these apps are truly universal with a single binary how did Windows 10 office apps drop the preview tag and W10 mobile didn't?

Ok. Bought my 640. Time to play with mobile 10.

I was hoping that the alarms update would have added the notification to the lock screen, maybe next time. However, I am impressed with the latest W10mobile build 10166 running on my L920.

Looks like outlook can pin multiple inboxes to your start screen now. If you pick an inbox and tap the hamburger, you can tap and hold your account name and pin it...is this new, did I miss it when it was added? Also looks like the medium tile has more details on the live tile when you receive new messages.

has been there for several builds now. The new Outlook and calander UI is terrible! Very non inutitative and visually ineffactive. While you can pin individual accounts as live tiles, the new mail count on each tile is aggregate and not just for that account. In addition you can't add individual email account notifications to the glance screen - terrible!

What's the current version of the alarm app ??

There is still something that bothers me in Alarms since first W10M build (I use all of them daily.. is the only phone I have) - Turn volume off for both System and Apps - Turn off vibration - Set some alarm - Turn off screen - Wait until it shows up The alarm shows up but with high volume. In WP8.1 it start very low and then it increases step by step. My 6am alarm sometimes scares me Btw, still Preview tag on Office apps here

Off topic guys.....how do you delete a note in OneNote? Wp10

You long press a note in the list and you get a contextual menu proposing to delete the note, amongst others.

So its safe to say windows mobile 10 supports Alternate input now or no? Also when will we ever get a keyboard that can remember things like email addresses etc like the android keyboard

Keep in mind these are beta builds. I'll submit your feedback though

Great updates these days; there's still an issue when trying to use 2 accounts (personal and a pro one). OneNote won't open the office365 pro notepad (requires 365...) when it opens nicely on the PC running w10. The same for word: can't switch from an account to another. I guess it has to fix at the OS level (before 10166, we couldn't even add another account).

I personally feel for anyone not experiencing WP10 or whatever you'd like to call it. Finally Apple or Microsoft have moved desktop functionality to mobile. They tried moving mobile to desktop but it only worked the other way around. So amazing thus far (10166).

If now might.be deleted or edit data in OneNote or Callendar?

But already don't get downloaded the updates it's an eternal pending, are sure that the store was ready for get out of beta?

Cortana Needs tweaking still just on the voice on build 10166 it jerks a bit on the 830 might be just me but it works fine on the 1520

I am no developer, but I M not entirely buying this universal app thing, I still see apps update separately over different devices, or is there a catch that I don't understand?

I'm the last two days, every app update I get, I get for both desktop and phone. I am not sure if the developer has the ability to send the binary to desktop/phone only. Maybe they do?

After the latest update to the outlook email app, I'm unable to pin each mailbox.... eg outlook & gmail. Also the Calendar app doesn't show the live tile.

Cannot download Office Preview from Store for Lumia 930 WP10 insider Build 10166.


Am still stuck at 0% download to latest build 10166 ☹. Many days now. Did hard reset. Still won't download! Using L630

You need to wind back to 8.1 with WPRT, download insider again and do a clean install. Seems a lot of ppl including myself had issues updating from 149 to 166 but no issue when updating from 8.1. Good luck

Its more stable now than before and faster, i really hope though that they add a unified mail view for all your emails and dark background for the same. otherwise, its taking shape so well

Possibly another build available this friday for fast ring.

No leaks for future builds so no build release this week..

With the alarms&clocks app I've noticed that the world clock live tiles finally work after staring at a grey empty live tile between updates 10158 and 10166. I can also pin more world clocks. I can unfortunatly not pin individual timer clocks as quick launch live tiles. I hope this will happen soon. I also still cant relabel the text label "local time" to my hometown. Also search of clocks seems limited to a curated list of cities. It can not find my town. Also, as far as I can tell the clock tiles can also go big. But I hope it doesnt stay that way. There is so much empty space in the big tiles. Microsoft should do something quickly with those, like add a dynamic tile with the globe pictogram and perhaps a moving shadow to show light/dark as time passes, or three world times on a single tile or something. POST EDIT: Ow, oops. Just realized the title said windows 10 'MOBILE". I thought it was for windows 10 as there was also an update for the alarms&clock tile for windows 10....Sorry don't know about the changes in mobile.

Aren't they both the same?

Yes. If one is updated, the other one is automatically updated too. At least that is the principle behind Universal app. One binary to rule them all.

I feel like we're going to get lots of updates in the next days :)

Now we Can use own custom music as alarm tone !

awhh Thanks for pointing that up :D

Week view in landscape mode. Is this new in this build? Missing Tasks...

Havent seen the updates to the alarm apps, but the time picker is up there with the hamburger button on the worst ui changes in W10. What a mess

The time picker needs a better look for sure. I find myself picking the required time faster than in 8.1 version though. So, in terms of utility, it is an improvement Imo.

I am tired to install preview build 10166. After 5% downloading it shows temporary server error 801881d0. How can i solve this problem? :(

Have you tried hard reset? If nothing works downgrade and install 10166

Does anyone know why Office 2016 on Windows 10 Mobile requires 365 subscription for editing documents while Office for iOS allows to do it for free?
Should I switch to iOS product line from that of Windows then?

Wow someone with same problem than me... I need to use iOS these days because of this... Paid subscribe using just the phone??? And I make the same question... Is ridiculous the windows Platform need pay and other they offer for free

I suspect Nadella is killing mobile Windows softly enough. Every new MS mobile app or service related to business is released for iOS first and sometimes never for Windows Phone/Mobile. I am seriously thinking about dumping my Windows laptop, tablet and phone switching to Macbook Air, iPad and iPhone and be just like my colleagues around.

MS screwing us all again. What is madness is personal is tablet, pc and phone.. Would be better to include laptop as well.

Is the ability to compare multiple time zones with hypothetical time a new thing? It is a nice feature.

Office cant let me edit documents without a paid subscribe... This happen to you guys????

Before I at least had a few (very few) of the W8.2 sounds available in the alarms app. Now I only have the terrible default one. Is this app going backwards?

Oh my goodness! What happened to my alarms app!??? All the alarm sounds are gone!!!!!!!! It seems they were not installed and asking me to download it from the store!! I can only select my own music as alarm sound (that's new)!!! I will be late tomorrow for sure! :s

Can someone explain how to actually update apps on windows 10 mobile and windows 10? I keep seeing these posts about updates being available BUT I DONT SEE ANYWHERE ON MY COMPUTER OR PHONE THAT SAYS "UPDATE NOW" ...... so how the hell is there an update if I'm not ever getting any notifications and its not giving me the ability to update... Seriously, its pissing me off now.

The updates are available in the Microsoft store. Look under downloads and installs.

Store - downloads - check for updates. By the way, your phone updates automatically so you will be up to date most of the time.

Updates on windows 10 Mobile are not working fine.

What most folks are missing and what's not being mentioned except by one user in this thread is that you can set your DRM Free music as the Alarm Sound! Now that's what I've been waiting for!!!

Who use Office Apps on less than a 6" screen raise your hands?

Can I go back to WP 8.1 if WP 10 preview is a disaster?

I finally fixed my ringtone issue by deleting my ring tones and them re-adding them from my computer back on to the phone but I still have an issue that may be known where I can't assing text or ring tones to individaul contacts. Does someone have a fix, work around or is this something that we have to live with for now until the next update? http://answers.microsoft.com/en-us/insider/forum/insider_wintp-insider_personal/selecting-ringtones-for-individual-contacts-not/5b1ecdaa-d0bd-42b0-bf0e-7b25f6138251?auth=1&rtAction=1437061388765

Alarms are still broken... it wont ring it will just disable the selected time:/
and groove music found songs of apps and inserted them on music while i believe it should only pick music from Music Files and the Ringtones one :/ it was too late when i deleted them btw i noticed it too slow..;p
Windows Central Newsletter
Thank you for signing up to Windows Central. You will receive a verification email shortly.
There was a problem. Please refresh the page and try again.