Microsoft pushes updates for Outlook Mail and Wallet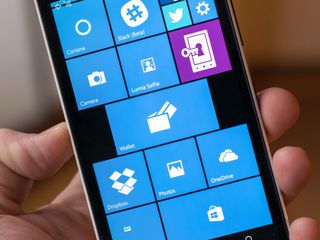 Microsoft has just pushed an update for both its Outlook Mail and Wallet apps, and not all of it is good news. A number of features in Wallet are being depreciated, such as support for credit or debit cards, wallet PIN and more. The change log for Outlook appears to be an old one, so we aren't quite sure what has changed in this build. A full list of the features being depreciated in this Wallet update include:
Credit or debit card support
Wallet PIN
Location awareness
Date awareness
Microsoft gift card
You can grab both updates from the Windows Store now. If you notice any changes that aren't mentioned in either app, be sure to let us know about them in the comments below.
Thanks to everyone for the tips!
Jared started off writing about mobile phones back when BlackBerry ruled the market, and Windows Mobile was kinda cool. Now, with a family, mortgage and other responsibilities he has no choice but to look for the best deals, and he's here to share them with you.
Lol what ?
Wallet was already useless since I'm on W10m (not seeing any of my cards or my MSA - that was working great on Wp8) and now they remove stuff and thangs ? Lol ok

It's never been useful to me....I assume they'll replace it with a Microsoft Pay app of some sort, eventually. It's one thing I'd like Windows 10 Mobile to support in the UK which it doesn't currently - Contactless with a Debit Card is just as convenient but not as secure since anybody could take your card and use it, at least you can secure your payments with a PIN / Iris Scan on a phone

Well I hope that Microsoft realize that they're already losing the mobile payment market (actually they're already late again). They need to come up with Microsoft Wallet soon. This depreciated feature hopefully is just temporary for a very short time. Its already not really useful in W10M. Thankfully my bank still have the functional app for both phones and Windows 8 version. Sent from Windows 95

I'm glad my bank has an app too, and it gets updated pretty regularly as well - It's a Windows Phone 8.1 app and not a UWP rewrite yet, but I wouldn't expect them to jump on that right away to be honest, with the minimal number of Windows 10 Mobile users - and I'm just glad to have it available as you say.

Good guy bank. Looks like your bank is at least considerate to update the app. I haven't noticed any updates from my bank app for along time. Hopefully they're at least working with someone to make UWP app replacement, but at least the current ones is usable enough. I hope Microsoft really need to do something about this situation to at least compensate. For other people this can be a big deal. Sent from Windows 95

I just keep hoping it never changes, it gets a most if not all the updates the iOS app gets, but usually a little later once the iOS changes have launched - I just need the basics that it offers. Until I had an app for banking I didn't know I'd rely on it so much. If they took it away now it would be really annoying. Sent from Microsoft Band

Microsoft Pay, Microsoft Cars... everything will be US only in the beginning. Maybe in 2020 everyone will use MS products...

There is no Microsoft pay. Check your bitterness. Posted from Windows Central for Windows 10

There's no cars with a microsoft OS either. He's not bitter, he's making his future prediction. Also, MS has stated they are working on a payment system, so check yourself before you make yourself look like an A$$ on the internet.

I have been waiting for this replacement since WP8

The changelog mentioned in the article isn't correct, it's an old one.

Yeah, that stuff has been gone since the initial W10M launch. But it shows how frequently even an enthusiast like the writer uses the (completely pointless still) Wallet app.

It sounds like they actually are removing all the stuff from 8.1 that is already gone in 10. because i dont have any of this. so much potential .. not used at all.. again

So Wallet is as dead as Windows Mobile then? Seems like a fit.

Looks like it. More worryingly, where does this leave the MS store? Currently I use a bank card to pay for Store goods. Once this removal is complete, I suppose it'll be Paypal or taking cash direct from my phone bill as that'll be all that's left? What a backwards step. I used to hope contactless payment would be fixed, now the basic paying of monies to MS is even being given up on. I can only conclude that MS just doesn't like money.
Here's hoping it continues to work on WP8.

You still can use those cards as payment cards. It's just that you don't see any of that in the Wallet app any more.

OK, Wallet Pin never worked here anyway.

Wait... so what exactly does Wallet do now?

Never did do anything in my country... Posted from Windows Central for Windows 10

Since W10M it does actually nothing

Nothing, never did anything in my country as well...

Same it did before, nothing. Posted from Windows Central for Windows 10

...I think Now Wallet is just used to keep pictures of your kids, without money...you know like when you're married.

In Canada, you needed to have a special SIM card in your phone just to make it work (only 2 carriers supported it). So it was pointless. Microsoft should make it user-friendly and without any strings-attached

Wallet definitely seems faster.

Yeah, they removed stuff... ;-)

Seems faster to remove things... Sent from Windows 95

That's the idea. Go back to simpler times and it will run faster. Like you running Windows 95. I gotcha beat on that one. Sent from my Commodore 64

10011001 11001010 11100111 10100000 00101110 11110111 01100000 10001100 Sent from my Altair 8800

There's not much left besides an App Studio template.

I think the tile is more transparent too.

That changelog for Wallet has been there for quite some time. I don't think this is new news.

This would certainly explain why there's no visible difference at all ok the wallet app post-update. I had a slight delay of about a week in receiving my 950 XL from launch (UK) and these features have been missing from the beginning which confused me as they still exist on WP8.1 (which doesn't have this update either). On WP10 Wallet has only ever given me the option to add apps...

At this rate we are never going to see contactless payments, are we? Unless they are working on a new app to replace all this and more? (Wishful thinking)

@Gorki247. Go to settings -> NFC and you will see at the bottom that provisions are there in terms of UX however it depends on what implementation they have gone for a)secure element on sim (old model) or b)secure element on phone (in laymen terms similiar to apple pay).

I know the provisions are there, but I would have expected MS to set the example. It used to rely on a secure element on sim, which without support from the operators was always going to fail. However, with Windows 10 this is no longer a requirement. Only recently, there was a Polish Bank that brought NFC payments to W10M so that's a good start (for people in Poland that use that bank, at least). However, why can't MS themselves introduce something like Android Pay or Samsung Pay. Apple Pay is stupid as it requires vendors to support it. MS and Google/Samsung support HCE-based payments which works with existing terminals that already accept contactless cards.

Smh, Joe Belfiore said mobile payments were coming soon to W10. That was back in September/ October. No one has said squat since Joe quit/ fired....oh that's right took a year off to use the Iphone.

Does option B require specific hardware on the phone? I hope they aren't stick/going down the path of A because it will require carrier support usually and in the UK AFIAK EE would still require you to have a phone locked to their network to use "Pay on Tap" via their own app. Sent from Microsoft Band

Other than NFC of course, rather does it require any specific hardware security wise or could any phone with NFC perform the payment in that way? Sent from Microsoft Band

Yes, it also requires a TPM chip for the MS implementation. No fear there as all WP8.1 handsets have TPM. TPM required was the reason WP7 phones were not upgradeable.

Oh I thought this was covered lol, that wallet update has been there for the past few builds or it could be more (i noticed it at .71).

Both show on the store as installed. Too bad they don't spend time making wallet as good as several third party apps out there. The ability to generate bar codes from number input would be a solid enhancement.

Wow I skipped right to the bullet points and though they were features being added and almost got too excited but then read "deprecated" and wanted to cry/shake my head at who ever wrote this article because they should know that those features have been gone since the beginning of windows 10 mobile.

Not for those in the release preview ring, we have to wait about a week for them to filter down from the fast ring!!?!

IMAP still not solved in outlook mail

The date doesnt show on the calendar on the start screen. Tsk

Happens a lot Posted from Windows Central for Windows 10

Lol. What can it even do now?

Debit card payment is not supported by windows store then why to add debit card support in wallet?

Debit Cards are supported on the store but not in all regions. If you reread the article that feature was removed

what's the point of the wallet then? just for coupons?

You can add other cards but you need an app like Stocard to add them

It's strange that the Wallet app is being stripped back further. Is Microsoft preparing to radically change it with something like Microsoft Pay?

That's what I'm thinking as Tap to Pay has some extra options on W10M

Eh? Wallet has already been a lifeless husk. It doesn't even do anything other than take up space.

MS must be careful on this as they may end up making the OS for selected Countries as their OS/Phones becomes useless in other countries that have not yet advanced technologically. most would end up going for android phones that have all the features that MS is removing

Now, the Wallet app doens't have any functionality left at all.

wallet really? The useless feature...

Wallet is completely useless in Win10M anyway. Really hope it means they're making something better!

Well I know that Microsoft is working on NFC support for credit cards like Samsung and Apple Pay so I'm guessing this is a precursor for that. I also got an update for Windows Camera for my 950 and it is stupid fast now.

Now Microsoft needs to fix data update and syncing in People. I have contacts that I cannot correct their name on the W10M version, but seem to work on the W10 version.

There's major synching issues going on. It's a huge problem. People on my Surface refuses to download and sync any contacts whatsoever.

The new Sounders FC app allows me to download and keep my season tickets in my Wallet for scanning at the stadium gate. Which is handy. Other than that, I haven't been able to use the Wallet in any meaningful way.

They said last year they'd be working on a new pay system. This might be part of the process. It was a mostly useless app, so I wouldn't personally read much into it.

And this is the OS some are desperate to upgrade to.....

Why bother with Wallet. How can I uninstall this POS.

Thinking the same exact thing... Sent from Microsoft's best OS ever Windows 95

And you can't even uninstall this POS. Sent from Windows 386

I am now convinced that Satya Nadella's plan of ostracizing the private consumer users of Windows Phone is working with this oft-delayed release of Windows 10 mobile. Since Nadella's start, this group of developers under Gabe Aul have either been slow or incomptent throughout this process. Floating periods of time have been the milestone dates for offiicial release of the OS.True Windows Phone stalwarts are growing rightfully impatient because of these mystery drop periods. Why must we tolerate this behavior going forward. It only helps deterioate the trust and the relationship we have with Microsoft. Apparently, Nadella is most appeasing to the enterprise sector; that's ok, just don't mention anything to the average consumer about your product nor release any mentions on the new features coming to Windows Phone unless it's done or its for us. Otherwise, just tell us to jump to Iphone or Android. Nadella has done a lot of things right but not this. Steve Ballmer was right to say that Nadella is ignoring the mobile market with his lack of focus on Windows phone. I, too, am afraid that by the time the UWP is established there will be hardly any users of the WP. I wonder if this is the plan?

Agreed, the strategy of MS toward mobile baffles me too. I agree with your take on the situation.

They will create a new wallet and slowly, with great fanfare, add features that they removed from the previous version. Posted from Windows Tactical Neural Implant for Windows 10

They must be changing strategy, either by replacing it with MS pay, or opening their platform to a Samsung Pay App or Apple Pay App for windows?? Eitherway , there if more to this story we dont know.

Can't see any noticable changes in Outlook, my email formatting is still rubbish.

So I still have some questions because at first glance, this is quite a regressive action. Then, looking at the app page, I breathed a sigh of relief, this is for the W10 version of Wallet so we're safe on WP8.1 for now. To those people who say that Wallet is no good in their geographic region anyway, I'm curious to understand how Windows Store purchases and IAPs work from their phone currently? I'm in the UK and I use Wallet to make store purchases and redeem gift cards added to my MSA. For those on Windows 10, how will you be able to make use of the Store going forward, clearly I'm missing something here?

Emails still not rendering properly.

Depreciated how wallet was already useless with no plans announced to make it better

Misleading article content. That Wallet changelog is old. These were never there in W10M.

It's "deprecated" not "depreciated." They mean different things.

Wallet for Windows phone 10....The biggest joke on the whole OS, completely worthless. Why even have it ? Give me the option to be able to UNINSTALL THE WORTHLESS APP. Oh, where's Tap to pay ? Microsoft claimed 6+ months ago they were working on something... sigh.... Microsoft Coming soon !

Typical of MS. It took them "soon" to downgrade the wallet app. Nice to know they're consistently slow to update and downgrade. Not sure how long MS took to take away features, but it definitely took longer than I would think it takes to simply strip away things from an app would take.

It's funny they actually removed things that weren't working anyways. Why have the app then? No wonder most useful apps are not available for W Phones.

If you go to the store link it's pretty clear the wallet app has no useful purpose; Version notes The following features are deprecated in Wallet: • Credit or debit card support • Wallet PIN • Location awareness • Date awareness • Microsoft gift card Deprecated means these are features REMOVED from the 8.1 release. The 'features' themselves depend on linking to wallet aware apps in the store. The app is an embarrassing advertisement of complete failure by Microsoft in the mobile payments space despite having an original partner (Nokia) that pioneered mobile payment technology years ago in Symbian OS in the far east. They even put NFC on their phones to faclitate it. The only thing the wallet app actually does is take up space. I am in the UK and people are using Apple Pay and Android Pay will be released shortly. I can't even put a Microsoft gift card into the wallet app. My Copay Bitcoin wallet is more use. Awful.

Bloggers shouldn't post "news" when they are not familiar with apps. In this case win10 wallet never had these "depreciated" features. Ugh. Wallet actually works great in conjunction with "Barcode Wallet" app to push reward cards into wallet for fast performance (barcode wallet has a lot of lag standing in line). For example you can add Dunkin QR codes or Charbux scan/pay in BW and add to Wallet. The missing component obvoiusly is tap/pay via credit card.

Can we just adopt Samsung Pay or something? (lol, I know, far-fetched, but I saw how amazing it could be to manage gift cards, vouchers, coupons, credit cards on my friend's Android device that I look at my Wallet app and just think we're in a totally different decade).

After 5 years on WP, I just moved to an iPhone 6s+. Miss my tiles but have to admit the app gap is gone and I have enjoyed making "Apple Pay" purchases through my bank app that was never available to me on WP. But I DO NOT like standing around all the iSheep. Hoping once W10m launches officially with the Surface Phone I can migrate myself back.

MS Wallet is an empty app. Why don't they just kill it? It's useless.

Really? Microsoft gift card among one of the depricated features? What does this Wallet do any good if it doesn't support its own Microsoft gift card? In that case does it still support PayPal?
Windows Central Newsletter
Get the best of Windows Central in in your inbox, every day!
Thank you for signing up to Windows Central. You will receive a verification email shortly.
There was a problem. Please refresh the page and try again.