Microsoft quietly cuts UK prices for Lumia 950, 950 XL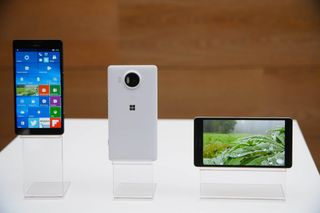 Microsoft seems to have quietly cut the prices for both the Lumia 950 and Lumia 950 XL in the UK. While the 950 was originally to cost £499.99 and the 950 XL £549.99, they will now be priced at £449.99 for the 950 and £529.99 for the 950 XL, both including VAT.
No reason for the price cuts has been given at this time.
The Lumia 950 and 950 XL were originally announced in early October as the new flagship devices of Microsoft's Lumia line. The 950 features 5.2-inch 2560 x 1440 display, a hexa-core processor, 3GB of RAM, and a 20MP rear camera, with a 5MP front-facing camera. The 950 XL features a 5.7-inch display, also at 2560 x 1440, with a 64-bit octa-core processor, with the same RAM and cameras as the 950. Both phones feature 32GB of storage, expandable with a microSD card, and both also support Windows 10's Continuum feature, which allow the phones to act like PCs.
Source: Microsoft (1) (opens in new tab), (2) (opens in new tab); Via: All About Windows Phone
Better do it in the US....
If I were MS I would be ready to drop the 960/XL by late Summer... Without extremely good marketing these devices are destined to fail miserably... With good marketing MS might turn a slight profit, but more importantly create some amount of awareness,, which is greatly needed..

The cut price right now is still more then you would pay in the US. So pssst. The EU citizens pay alwats 15-30% more then users in the US.

This is true (which SUCKS, and always has), but just for Microsoft's own sake - I still think it's a good idea to consider competitive pricing since new Nexus phones with similar specs cost less than the new 950s

Not so similar specs man.

The 950 is pretty damn close to the new Nexus specwise, Not sure what you're looking at.

Nope. Look at the overal specs. Nowhere near a Lumia 950.

Can't tell if you're trolling, or dumb. The Nexus has a better front camera and better availbale internal storage. other than that, they are virtually identical. http://www.windowscentral.com/nexus-5x-and-6p-vs-lumia-950-and-lumia-950-xl

The 950 specs are better than the 5x by a long shot. More RAM, Better rear camera, Qi charge, triple LED flash, higher resolution display, better battery, SD card support. Even the 950XL has better or equal specs than the 6P. Plus both have liquid cooling to mitigate any overheating, how effective this is remains to be seen. Overall both Lumia products overall are more than marginally better on a lot of levels. The link you provided are the rumoured specs and if you refer to the MS site you will see the proper specs for both phones.

"liquid cooling" is just a marketing ploy to name the heatpipes inside the phone. They're most definitely NOT the only phones with them. Sony's new Z5 series has the same "liquid cooling" and I'm really to bet the Nexus 6P has it too. The specs of the 5X are NOT meant to be compared to the specs of the 950. Because, unlike the 950/XL, the Nexus 5X and 6P are NOT meant to be the same phone. They're meant to be a flagship and an "affordable flagship" (the kind the 830 was supposed to be but failed). So if you want to compare the 950 with a Nexus device, you should compare it to the 6P. That said, the 5X is closer to specs to the 950 and yet it costs a lot less.

Nexus 5X has no Optical Image Stabilization. What about dual antenna, wireless charging, missing SD card, less RAM, lower resolution, HAAC microphones, super sensitive touch? Nexus devices always had bad to average battery life and subpar cameras.

Yes but they have a far better apps store Posted via my Motorola Startac.

Tear down of nexus 6p does not show a heat pipe like the 950XL. Further more the front camera has a wide angle lens which is more ideal for selfies. Even LG has the Vostro coming out has dual lenses for more wide angle shots. Camera is superior as well. I mean even the shots published by MS are amazing. 6P has been reviewed and it's not the best thing out there. Most people already have SD cards so they can just pop them into their 950Xl. The Iris scanner is a great addition too and has some great implications for future use. Definitely a futuristic hardware implementation that with the right adoption can be the most secure way to do pay transactions and login to bank apps. But again it requires the implementation side of things. It's also much smaller and thinner. Has the ability to customize back covers, the additional positive of continuum if more Universal apps are released, etc. And the apps are obviously not going to release if the OS is not finished so keep that in mind. So really it's sort of an investment on your part, whether you want to do it or not is your choice.

""liquid cooling" is just a marketing ploy to name the heatpipes inside the phone." You are very wrong. The name "liquid cooling" actually is inaccurate, but not in the way that you seem to think. A heatpipe is simply a solid piece of metal, usually copper, that conducts heat from the place that it's generated to a place that it can be dissipated. That is NOT what is inside the 950 and 950 XL. Strictly speaking, liquid cooling refers to a system where, instead of solid metal simply conducting heat away, it is carried by actual liquid, which is generally pumped from the heat source to the point of dissipation. Again, that is not what is inside the 950 and 950 XL. What they actually contain is a vapour chamber, where liquid is heated by components and evaporates, at which point the vapour carries the heat away to the point of dissipation, at which point it condenses and returns to the hot components. Microsoft chose to use the term "liquid cooling" because there is actually liquid inside the 950 and 950 XL and it is far more familiar to people than the seemingly more techy "vapour chamber". The cooling system in the 950 and 950 XL is the same as that inside the Surface Pro 4 and Surface Book and no other phone on the market uses anything similar as far as I'm aware.

Not even close, boy. Not even close. And i give it a long shot.... Nope, still not close enough. Now, go dream on;). And here we talk about hardware cause... OS wise... Android is a piece of sh*t or a parazite on technology back. Ios and appller are not to far from this either.

We all know that you have always something negative to say about Whatever Microsoft does. If you think you are a critique, My good sir, you are not.

You must be blind Posted via the Windows Central App for Android because it's superior to the Windows Phone one

The 950 has the same CPU, ram, storage and screen resolution as the LG Flex 2, which came out in FEBRUARY. You can get tat phone on eBay brand new for 249 right now.

Does the LG Flex 2 runs Windows - NO - then it could be free and I would have no interest!

But it's Android. Don't care about good hardware specs on a puss filled OS

Would you people stop comparing crapphones with Nokia? Wtf is going on here, since when a phone is all about RAM and cpu and gpu? Get a freaqing life, for God sake!

Come to Canada then ask us if it sucks. $849 for the 950XL and then an additional 13% tax. $960. :D

Come to Argentina. They still charge that for a 1020.

& Colombia *ThirdWorldProblems*

You should get someone to smuggle some in for yuo...you would make a killing. But is it not to do with your import taxes?

Yeah if it's marked as a gift with under 50 value no fees. But then insurance of the package is also void.

Columbia is/was great at smuggling ala Escobar...

I hear ya. It's even worse over here. In PEI we pay 14% HST. Make me miss living in Toronto.

So what your saying is you can get an XL for £476 ($960) in Canada while in the UK after the price cut we will have to pay £529? Yeah must suck a lot.

Ok that sucks. But from looking it up, your minimum wage is about 3 dollars higher and earnings in general are higher there. Not sure about cost of living though. Here everything is insanely high.

The cost of living varies, in the cities i.e London... Is astronomical. I remember when the bus fare was 70 pence, now it's more than twice that. If your going into into city (zone 1), good luck to you. The price you pay to squash into a tin can, tighter than sardines is just way too high lol. If commuting into London via national rail, good luck paying the season ticket on less than 18k per annum and save money. After food and bills you don't have much left.

Includes 20% V.A.T. though!

Wow that's unbelievable. I wonder how they came up with these prices?

Similar...hmmm. I don't see it. The 950s offer much more than the Nexus 6s...that has to cost something.

What do you think the 950 has that's "much more" than nexus 6? The 950 has a weaker cpu FFS. The only thing better about the 950 is the camera, and no matter what anyone tells you, it still isn't on par with even an entry level DSLR.

It is called build quality, microphones, anntenas and OS. Battery and form. Minding all "specks" i've just said.

Yep, we saw the article from the other day. Ms mobile is fucked, ATM. Not hopeless, just fucked.

Yeah, and I think that's ridiculous...

Yup. Currently sitting at 700 euros for the 950XL in Spain. What a disgrace... Oh well, it'll be on sale soon. I don't know many people who would pay that kind of money for a lumia having Android devices with similar specs that cost a lot less. My LG g4 is an awesome device with very good specs and I got it 6 months ago for under 500 euros. Also, you're ever so slightly under the cost of an iPhone. I don't know anyone who would invest 700 euros in a device that lacks a lot of apps and whose future isn't certain even for a year from now... Posted via the Windows Central App for Android

These phones were built for the Windows enthusiasts not the general masses. Much like Surface and Surface Book.

Surface book and pro are for the masses. You're kidding yourself if you think they made these devices to please a tiny tiny market share. 4% use Windows phone. Would you like to take a stab at what % uses a 1520 or 928/30? Almost none. I've seen numerous people with a lumia. I've seen none with a 930 or 1520. They've all used that cheap one you get for free because it literally costs 100-120. So no, don't believe for a second that they made this device to please the 5% of the 4% of the market share. They made this device to compete and sell. It competes. But it won't sell well at this price point.... Posted via the Windows Central App for Android

Correct. It has to be competitivley priced. It can't cost any more than phones of comparable spec. Also, in order for it to be successful on any level, it must be able to run (or boot into) Android. I love ans still use my 1020, as it saves me from carring around a point-and-shoot camera. Let's not kid ourselves about the app-gap. It's the real thing holding Windows Phones back. I want one phone to carry that does everything I need. Windows Phone won't cut it.

@kittyburgers, well if you want it to boot into android. Why not just get an android phone? As it does sound like you're going to be spending more time "booted" into Android as opposed to WP10.

The typical shopper does not drop $1500-3200 on a laptop. They may desire it though...

So... All those people with macbooks and macs in general are.... atypical shoppers? I'd argue that a Surface Pro is VERY competitively priced. I think you get A LOT for what you're paying. It's a FULL PC in a TABLET format! Eat that iPad!

*the typical poor student. People with jobs will buy what is good for their purposes. There's is no way I'd buy a $500 laptop unless it's sole purpose is as a knockabout device for travel or kids. I would've said for sitting on the couch too, but a tablet is much better suited for that. I buy a laptop to do work, take to meetings etc... so $1500 is chump-change. It's like 1-2 weeks salary for most people, so it's not exactly excessively expensive.

Precisely. I also don't think there's a large inventory. 1,000,000 max and more like 600,000. It's available for those who want it. For everyone else there's the 640, 740, or 840.

If that were true, they'd be better phones.

Built for the enthusiast?.... Well, they failed at that... The 930/Icon/1520 were real enthusiast devices...

I think what Tony means is that the prices are always inflated at first to take advantage of the early adopters who will pay anything. I'm sure they'll be cheaper within a few months to encourage more sane people to buy them. Like me.

I would rather invest a €1000 in 1 Lumia than buy Wm2 G4's

Ironic xD I had the 1520, and 2 930s, and I returned them or sold them off to buy a Nexus 6 which was great but I'm not a nexus person, but eventually fell in love with the G4! But I want me a 950XL! I really do think WP has a superior UI and usability. I could say that iOS is very fluid, but i wouldn't pay the money for an iPhone either xD So... Here I am until the 950XL drops in price! Not to mention, my G4 is a very very good device. Well worth the money.

Does the LG g4 run Windows.....no.....it could be free and I still wouldn't be interested!

This number is almost zero...

Are you listening Microsoft?

The retailers probably trying to cash in on rich & famous. I AM expecting drastic price drops (droppings ;) in a couple of months.

The UK price isn't 15-30% more than the US - it's actually about 4-5% more. Don't forget that UK prices are quoted inclusive of VAT, but US prices are always quoted exclusive of any sales tax. So taking the 950 as an example, if you strip out VAT (20%) from the UK price to get the equivalent cost, it comes to about 375 GBP, which converts to $574. The US price is $549. A $24 (16 GBP) difference.

You forgot import taxes, whilst that's not obvious to the purchases importing of goods into Europe does have charges which are passed on. These charges vary on a per goods basis.

This would be 100% true if these devices were made in the US. But they're not, Just like most devices, they're manufacturered in China. From China they're imported to Europe and the US. Now, actually, thanks to the EuroLine (direct train line from China to Spain), it saves A LOT on taxes. It should actually be cheaper to import it from China to Europe than to the US. But hey... US market is generally more competitive.

I think a better way to do it is to include the VAT and use an average sales tax figure for the states since VAT will usually be more than any sales tax charged here.

Is VAT typically included in prices in UK? One thing that closes the gap a little is that US prices don't include any tax.

This is due to taxes being different for every state. They can't sell the device WITH 9% tax because states with 8% or 10% will have a difference prices. That's why every store has a price, and then you have to add the appropriate tax to it based on where you are.

8? Where is that? Most states I've lived in were 5. In Canada most provinces are 13 with Alberta being the exception.

For example purposes only. I have no idea. I haven't been living in the US for about 10 years! I left when tax was 4% haha. Now, in Spain, I'm living with 21%!!! OUCH! But at least, by law, all prices have to include tax. so if you see something for 99 euros, you can walk in there with 99 euros and walk out with the device. Living in the US you had to do a small mental calculation, which was automatic, but none the less a calculation.

Yeah I lived in Chile for 3 years. Their dales tax is 20%, but like Spain is always included so it didn't seem so bad. But Canada is like the US it's always the price plus sales tax. So you have to figure out the final price, because it's the price listed plus 13-14%

It's 8.25 here in Fort Worth, Texas. 6.25 for the state and 2% for Fort Worth.

I could live with that in Texas. At least you don't have state income tax.

State sales tax is usually low, then city and county taxes can bring it up. I live in Georgia with an 8% sales tax

Where I live in Utah we've got a 6.85% sales tax but my property taxes are sky high...

Where are you in Utah? Park City? Most of the state has very low property tax. Oregon has no sales tax, but higher property tax.

Yes. This price includes 20% VAT.

Does UK pricing already include taxes?

It costs more for many reasons, stricter consumer rights, longer return periods, longer warranty, etc.

Nope. The price in USA doesn't include tax.

There's no way we pay that much more, for example the 950 is only£372 ($570)once you take the tax off. My 640 was only £90 ($137} without tax.. That's cheap to me.

We should have this thing where the community can help each other out to be able to afford the Windows phones we want. True WP fans deserve to get the best of the best. Unfortunately I won't be able to contribute since I am a recently graduated poor college student with no job yet. But if I ever had the money I would be more than willing to help out.

You're just forgetting the US price tags don't display VAT while they are included in Europe.

That is why i am getting mine from the US. Then shipping it to the UK.

Yes, because 20%+ sales tax is included in the European pricing. Sales taxes are added to the advertised price at purchase in Canada and the U.S., so there's most of the 15-30% price difference right there.

Do you factor in that each state has it own sales tax? We don't advertise with tax included

How about a price increase in the US instead. Be thankful you're getting it as cheap as you are.

You might wanna do a little math there bud. The price drop makes it closer to what we pay here in the US, but still higher.

I wish Dan would do a piece where they take a S6 Edge and completely configure it with all Microsoft apps to see how much of a Windows phone can live on another platform.

Allow me to answer it for you, based on my 1 year experience with my recently deceased Z3Compact and the G4 I'm currently on: - I'd say more than 90% of it. The only thing that you can't have from Windows Phone on Android is basically the LIVE tiles. And I put emphasis on "live" because you can even have the tiled interface on Android through a Launcher. - Microsoft apps all work flawlessly (often much better than on WP, like the Microsoft Account app ie. Authenticator on WP), services like email, calendar etc all sync on Android... - The only thing I miss is Xbox games...but then again, they're not that many anymore on WP either (and that's why I have the Nokia 930 - to play them). On the other hand you have a plethora of apps that you can sit while you wait for them to reach WP.

How is Cortana on Android - working better than on WP and working even under lock screen - didn't think so :/

I never use hey Cortana except in my PC. I do like how she reminds me of appointments and tunes to leave to reach a particular destination at a certain time factoring in current traffic. Does that work on Android with Cortana?

They were never meant to, anyways. They said it themselves when introducing the devices - "we are rewarding our fans" That's their way of saying that if you are a Windows Phone user and have been waiting around for an upgrade to your flagship, there you go. I wouldn't underestimate their comprehension of reality. They already know their current strategy doesn't work. Pretty sure a new surface phone will be coming along by next year.

At this point, I'd say that's a given. They really mismanaged the whole Lumia line with the flood approach instead of establishing themselves as premium brand, which I imagine is their next approach with a benchmark Surface phone. But the app situation still exists. They need to partner up with apple with some cross licensing agreement or something to get access to their app store. Why wouldn't apple want some extra cash for app purchases through their store? Seems like a win win.

If it's only for the fans then I dont think these devices will do well on the market. If they cost nearly the same as the top end androids or iphones, then why would the masses take the risk on a W10 phone which is not well known and pay a bit more for a well know brand? Also when they find out the lack of apps, dissapointment will spread by word of mouth :(
Continuum seems like the main new feature that is cool, but it's only on flagship phones. Personally, I feel this awesome feature is a bit ahead if its time. I can imagine Apple doing something similar when 8gb ram phones are around when the experience is very good (magical) on a mobile device. There's also the problem of needing the accesories to get continuum, so it seems a laptop would be a much better choice for productivity. Maybe MS will be able to make phone calls from a W10 PC like the new messaging feature :) That way the continuum experience uses thr PC's power and lets the phone do simpler tasks.

I hope this brings the price down on the U.S. As well.

Otherwise I find it difficult to believe people are going to pay within $100-200 of the cost of an iPhone. They need to be competitive

Remember it's $200 with the increased base storage.

There's no 32GB equivalent. $200 difference includes a jump to 64GB... $100-150 is more realistic.

Doubtful. This is just bringing the UK price closer to the US one. 529 pounds is around $690.

You do realise we still pay more than you, do the math

Bringing the price down in the US on a product that hasn't even been made available for preorder for any amount of money? I would just like to have the opportunity to actually buy one...

Since the competition is the iphone6 and the Galaxy S6 Edge.

Now get CDMA added and we're set.

Why CDMA? These phones support VoLTE. You don't need CDMA for voice one this carriers anymore.

Only need cdma for areas not volte. Or.... Just need Verizon to not block it. That is such a bitch move...

Rumor has it, it has cdma but they disabled the radios because Verizon won't authenticate the phone. They wanted to avoid a person buying it in hopes to use it on Verizon only to be denied. But if that's true it's a firmware update from that...

I guess they do this to compete with Acer. Too high a price for a windows phone might scare of new users.

For once!!! The UK price is always way out of whack with the US price and its good to see a tech company being fair for once!! Now I just need to decide xl or not!

"Fair" is not a word used when determining price.

Yes, it is. Unless you are talking high end phones these days apparently.

Yep, HTC are even worse not only are we getting charged way more for their new Android A9 but getting a poorer spec'd device with 2GB ram compared to 3GB in the US. Disgrace. Google used to be better, when I got my Nexus 4 UK on launch it was only 10% more than the US, but now were back to getting ripped off since last years Nexus 6. We need a British manufacturer asap.

Blame the taxes, not companies who make the phones.

Exactly, VAT is the reason for most of the price differences.

Ouch. First price cut already before the release. But from what is known the demand for the new Lumia 950 is really low in Europe at the moment. Amazon.de sending out notices to their customers that the release got posponed to Feburary 2016 didn't help neither I guess.

In that case I was right in my prediction of half a years delay between presentation and availability... If this is indeed the case, it once and for all proves the ineptness of MS in getting into the smartphone market. I would need hands on experience with the 950 XL to decide whether to commit or not, but a release date in 2016 is a definite deal breaker. I'll reluctantly start surveying the Android market for the best alternative while waiting for confirmation...

The Surface Pro 3 had a reduced sale price at launch then returned to full price. Didn't hurt success - in fact, it was a great deal for those who jumped in at the beginning. Also, the 930 had a free wireless charging plate and speaker at launch for a limited period. So, no ouch, just giving fans a great deal :)

Reason is they probably got 3 preorders.

Don't be absurd... I'm sure it's... At least.... Double that! Haha xD. Posted via the Windows Central App for Android

Troll harder. Troll better.

You're kidding, right? I'm a huge supporter of Windows and Windows phone. I have a surface pro 2 and 3, and I can't wait to get a sp4! Those are full blown pcs which cost marginally more than this device. Haha. I just think this price is too much for what it is. That is trolling for you? OK... Posted via the Windows Central App for Android

These devices are the phones you can almost use as PC, no need to mention any other lagdroid or meTelephone let you play the last candy crush only. Nice bait though

Right back at you! Let me know when I can run my EXEs on it, like Adobe Fireworks and LINE desktop edition :). WHEN AND IF it does get that kind of abilities, then we'll revisit your very lame remark. ANY phone can take pics, email, download from the web, enter captchas, blah blah blah. But only a PC can run EXE files. Something a Surface Pro can and a top of the line 700 euro Lumia can't. I can snap 2 windows, Powerpoint on one side and Browser of my choice on the other and find content to copy and paste, pictures, links etc to PowerPoint. That kind of productivity doesn't exist on Windows Phone, yet it does on what you call, lagdroid. So, please, get off your super high horse. Every OS has its pros and cons.

You should watch how continuum works... Here is a hint, you can use a monitor, keyboard, mouse, and be productive like a boss on your phone.

I understand how it works. It doesn't replace the Surface Pro, or any desktop or laptop. It doesn't run EXE files. It runs windows RT basically. And I understand how it works. You'll need a monitor, a keyboard and a mouse, and an eletrical outlet to "be productive like a boss on your phone." So basically, it's a workstation! Not a laptop or desktop replacement.

Linux doesn't run exe so that's not a pc

So WP can be connected to a monitor, mouse and keyboard to act as a workstation - just like Lagdroids - lol

Except it doesn't. Windows Phone can power 2 independent displays and run full Office apps

I am still not convinced by continuum. You'll need a monitor and the continuum box with mouse and keyboard, which all clutters the desk almost the same as a regular desktop pc. Furthermore, I think many users on a budget are better off buying a cheap 540 AND a pc which is upgradeable.

Yes, but isn't that true for other high end flagships too? Compare it with Apple's offerings and they seem like bargains. Bigger isn't always more expensive to produce. More technology goes into these smartphones than our laptops. Packing all that power into a device that fits into the palm of your hand is certainly more challenging than a conventional notebook. And this is coming from a guy who still thinks the devices are overpriced in Canada.

How about a price cut in Canada!! I'm paying $960 after taxes for the 950XL. Literally the most I've ever spent on a phone. Plus another $40 or more for a Mozo case. So $1000 at the end of the day. I didn't even spend $1000 on my unlocked 1520 during it's first week of release. I'm beyond annoyed.

So send a message to Microsoft.... Cancel your pre-order. You know the price will drop within a month. I don't think the device is worth 700 euros, as it is here in Spain. I refuse to pay that much. If it ever drops to 500ish then I'll give it a chance. Until then, my G4 takes superb pictures and lasts more than a day and has very similar specs and a thriving ecosystem. Why pay more for, arguably, less.... I know I can't do the same stuff I can on my Droid device.... But I love WP. But what they're asking is outrageous in my opinion... Posted via the Windows Central App for Android

Then grab an Acer Jade. The high end Lumias are meant for true Windows enthusiasts who want the best of the best and not the cheapest of the best.

Not true. You don't have to pay that much money to get a very good device. If you're OK with spending 700 euros on it, then great. I know that Windows phone has a great product, but it's lacking in support. I would not and will not pay 200 euros more for a device with less support than my android brethren... I can wait for the 950XL to drop in price, and I hope it does soon, because it looks like a keeper! But it's a lot of money considering the competition's prices. They are like blackberry charging 750 for their uncertain device. I really hope these devices do well. Because the more competition the better. Posted via the Windows Central App for Android

Oh I'll be buying the XL. But I'll be spending that $1000 grudgingly. I think it's completely absurd to think I'm spending this much on a Lumia.

I don't think that is a fair statement. 1k is a lot, enthusiast or not.

"Best of the best." Seriously? When did being an enthusiast meant not being objective?

Really? I got my 1520 for $450 CAD and a 930 for almost the same price. Were they not "high end Lumias meant for true Windows enthusiasts"? If they launched in May 2014, they would be a lot less thanks to the exchange rates. Has nothing to do with the fair price of the phone. Just an absurdity that we Canadians have to deal with.

1000 CAD are 495 GBP. So even now you are still cheaper than UK.

Yeah with this being the holiday season i had to say no to the 950XL for now. Sometimes I hate living on PEI

Yeah, I wasn't too happy about that either. The recent oil drop has meant we are paying absurdly high prices for imported goods. Hard to digest. I was pricing out a package with the Surface Book, Band 2 and the 950XL and the price topped $4,000. Uh yeah, no thanks. I'll go to Costco once in a while to touch them instead.

Then stop electing liberals and socialists.

But Liberals weren't in power when we had this huge drop in the economy.

While I do agree 850 is a lot... it's not MSFT's fault. It's quite literally the same price when you convert it to USD. Why would they price CAD cheaper than USD? It's either equal or a bit more. And yeah, it sucks, I paid 630 shipped for my L1520.3 in it's first week as well.