Patch Tuesday: Microsoft releases firmware updates for Surface, Surface 2, and Surface Pro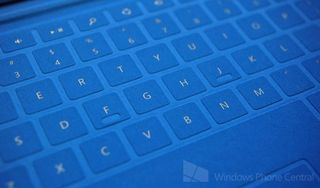 It's the second Tuesday of the month, which means it's Patch Tuesday for all of us in the Windows ecosystem. Head to the settings on your PC and you'll see things like security updates for Internet Explorer and firmware updates for your Surface devices. Let's check out what's new for your Surface today.
Today's firmware updates apply to Surface RT, Surface 2, and Surface Pro. Nothing new firmware wise for the Surface Pro 2 today. Let's check out the updates you'll be getting today.
Surface RT – Update notes (opens in new tab)
The update for the Surface is only for Windows 8, not 8.1 and is to allow the use of the Japanese Touch and Type Cover 2 accessories.
Surface 2 – Update notes (opens in new tab)
The updates rolling out for the Surface 2 have a variety of improvements across the device and its accessories. We're excited to see improvements in with the wireless display technology for example. Here's the full update notes:
Performance improvements for all Type Cover and Touch Cover versions.
Wi-Fi and Bluetooth driver updates to improve wireless display performance.
Camera improvements.
Audio improvements including switching to speaker playback after disconnecting a headset.
System performance and stability improvements.
Battery life improvements.
Surface Pro – Update notes (opens in new tab)
You'll see a few updates for your Surface Pro depending on whether you're running Windows 8 or 8.1 Those of you still on Windows 8 (seriously, update to 8.1 now) will just be getting an update that allows you to use the Japanese Touch and Type Cover 2 accessories. While those of you on Windows 8.1 will be getting:
Update to the LifeCam driver to increase TrueColor fidelity.
Update to the Wi-Fi and Bluetooth drivers to enable improved wireless display performance and to further enhance Wi-Fi network performance and stability.
There are also general updates that are part of Microsoft's regular Patch Tuesday. For example, MS13-088 is an update that resolves ten privately reported vulnerabilities in Internet Explorer. Read the full info on the security bulletin (opens in new tab) to see what's in Patch Tuesday.
Your PC will automagically update itself, but you can get these updates right now by heading to your PC settings -> Update and recovery -> Windows update -> Check for update.
Via: WinSuperSite
Yes, got it some hours ago on my Surface 2. No luck with Bluetooth.
HTC 8X still won't connect with Surface 2 but that could be a GDR2 issue, solved in GDR3. Still waiting, T-Mobile branded.

Yea, Release 3 (simple to update) allows for your Windows 8.1 PC/tablet to automatically connect to your phone's WAN via a Bluetooth handshake - much nicer than having to turn on Network Sharing manually.
That said, other than that the Bluetooth connection disconnects after the WiFi connection has completed - AFAIK

Sadly doesn't turn it off though, when you disconnect. It's a battery drainer..

Will gdr allow wireless connection to pc like windows 7.8 did

Got a few for my hp too on 8.1,for fixes for blank log on screen etc..

Yes, its via Windows update. Straight from Microsoft :)

"Automagically update itself"?
Really Sam? :P

Well it *is* almost like magic.

Yeah, pretty sure Apple has"magic" patented.

Yeah, along with "revolutionary".

Screw that❕ I need a patch for the stupid Synaptics Driver for my touch pad❕.. I can't use the gestures on my laptop because the driver is FOS❕

I'm using my imagination but I just don't know what that means. Hint?

It's a shout / words of power from the game Skyrim!

The 8 driver works for me, install it then run windows update. When you see the generic driver in the updates list, right click and hide update to avoid roll back

Yeah I wish I could pair my WP8 Lumia 920 to my surface pro via Bluetooth. Its kinda half baked to share files via Bluetooth.

System performance improvements are a welcome addition for the Surface 2. Don't get me wrong, this thing is lightning fast (especially compared to the Surface RT) but every now and then there seem to be a hiccup with the memory making applications crash (especially Mail and Twitter) and giving me a memory full error on the desktop. And that's with only a few apps open. So let's see if this solves that! :)

Mail is very buggy, i have an account that gets a 1000 emails a day from a web cam. Messages don't download or cannot see attachments. Reboot is needed to fix it. Need to reboot every other day, or every day.

And an hour or so after completing the updates on my Surface 2 I was presented with my first NVIDIA display driver crash! :'(

NVIDIA has big driver problems with 8.1. basically all drivers in the 331 line for win 8.1 are broken. See forums.geforce.com for all the complaints there. Best is to not update to Win 8.1 if you use a NVIDIA gpu.

Seeing as it's a Surface 2, that ships with 8.1 preinstalled, I don't think he has much a choice. ;)

Tell me it isn't true that windows 8.1 on the surface two is crashing due to a microsoft update!!!!???? How is that possible?

My surface 2 crashes a lot. Hopefully this will fix it. Type 2 cover stopped working all together, had to reboot. Never seen that problem before.

how much is added to the battery life?

IE11 wont install on windows 7 .

You may want to try and do further research online about this. I updated my desktop and laptop running Windows 7, plus two servers running Windows 2008 r2 at work and it was fine.

Nothing except for the regular Patch Tuesday updates, mostly security fixes. But keep in mind, we /did/ get an update a few weeks ago that significantly improved battery life, so I'm not going to complain.

For some reason, actually, I got a shit load of updates to install!

Wifi seems more responsive for me

Hmm maybe this will address the random WiFi glitch I get on the surface pro every week or so. I won't be connected to the internet and it won't let me tap on the network list in the charms settings. Basically I have only been able to fix this with a restart. At least the thing restarts in less than 1 minute. SSD FTW

Yeah, once in a blue moon my Surface Pro 2 is doing something weird that requires a restart. It's annoying, but since a restart always fixes it, and it only takes 27 seconds to do, I'm not going to complain much. Still, it'd be nice to not require the restart to begin with.

OT I know, but I nearly bought at Surface 2 last weekend. Had a play at my local Currys (electrical shop) and loved it. Fortunately it was oos in that site, as on reflection the lack of Silverlight support would have led to serious buyers remorse. Hopefully MS will see sense and add it soon.

No, just no. Browsers should not have plugins. Plugins must die. Java, ActiveX, Flash, Silverlight.... DIE Until we get a nice HTML 5 standards web we will continue to suffer until all plugins DIE.

All you're effectively doing is shuffling code from one layer to another, moving the plugin's capabilities into the core browser, making it bigger and slower. The same thing is happening from the other direction, the OS is getting thinner, and direct hardware access APIs are appearing in the browser. It's just a code shuffle, piling everything onto the browser layer.

Surface 2 is out of stock.

Is the surface 2 loud now with this update?

Also does it improve the sound quality issues while in IE? For example using Amazon Prime video in browser?

Today's updates didn't fix that issue for me. The sound still crackles when I stream Amazon Instant Video in the browser. :( I never had this problem with my Surface RT. I should also mention that I do have the same crackling sound issue when streaming Amazon Instant Video on my Dell Venue 8 Pro, through the metro IE browser and the desktop browser. However, I have no issues on my Win 8.1 Dell desktop PC. This problem is really strange. The crackling makes watching videos unbearable. I wish Amazon would hurry up and make an Amazon Instant Video app for Windows like the one they have for Ipad.

Ugh that stinks, I agree I would love a Amazon Instant Video app, hopefully they are working on one. If so, I can deal with the crackling a bit longer.

No go for me (and it seems for many others on the Microsoft Surface forums. Earlier there was the all-but-silent sound on the device's speakers. Now speaker sound is completely gone, and line out is also gone. Great.

Mine is even more crackly, and definitely quieter

Can't wait for my Surface 2 to arrive tomorrow!!

I still have the caps lock bug on my type cover 2, when i turn off the backlit on the keyboard and when i want to activate caps lock, the light turns off and after a few times pressing it it will stay onn, anyone who is expieriencing this? Anyway nice to see improvements, i just love them!! And i love the new Type Cover 2 in Cyan, i used to use a gen 1 Touch Cover and what a hell of a improvement (actually i'm typing this much because i love to type on it!! :) ).

"Surface RT The update for the Surface is only for Windows 8, not 8.1 and is to allow the use of the Japanese Touch and Type Cover 2 accessories." That's it?? Damn, talk about writing is on the wall. I think I get the hint Microsoft. Put my Surface RT on Ebay while I still can.

I got a heap of surface RT updates today including new firmware. I'm seeing massive performance improvements in IE11 plus some bug fixes. Now seems almost as smooth as surface 2, other apps seems smoother than before too including Facebook. Not sure if this is just Australia catching up or new updates, but it sure is nice.

"The update for the Surface is only for Windows 8, not 8.1 and is to allow the use of the Japanese Touch and Type Cover 2 accessories." Are you sure about this?, I updated my original Surface with windows 8.1 and have 13 updates installed on 11/12, this were a mix of updates for windows 8.1, office, explorer 11, one note, active x killbits and security updates as well. I can post the KB numbers and this is for a Surface in the US as well.
Windows Central Newsletter
Thank you for signing up to Windows Central. You will receive a verification email shortly.
There was a problem. Please refresh the page and try again.